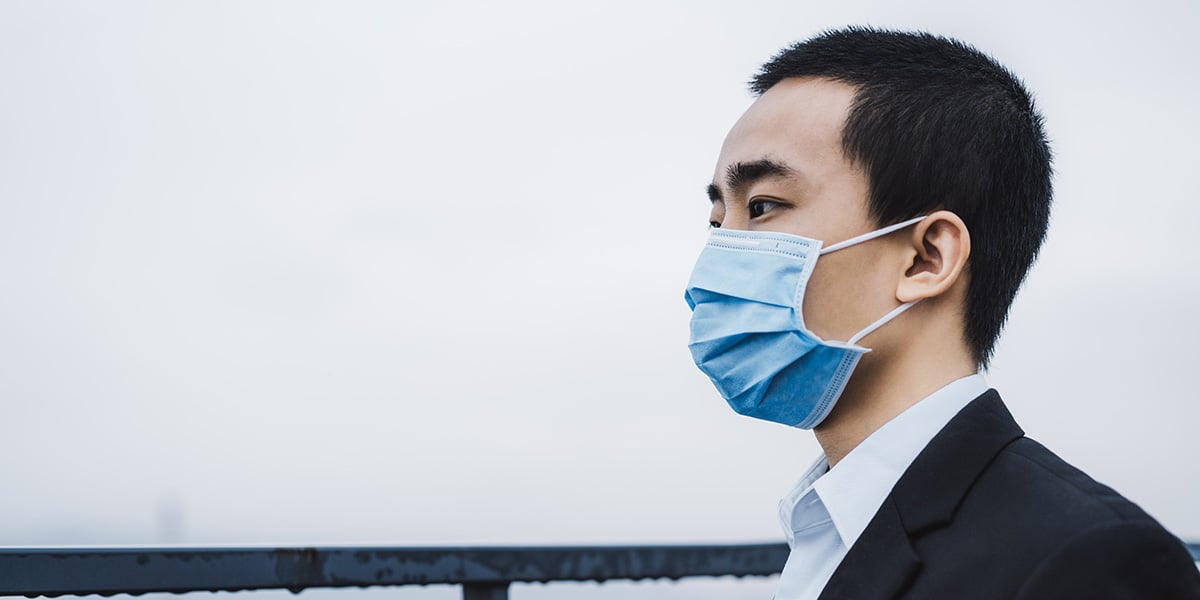 Fears of an imminent recession aside, has the coronavirus outbreak already affected the Singapore property market? Diving into transaction data, we certainly found evidence to suggest that the outbreak (and the lockdowns) dampened buying activity among Chinese buyers in the first two months of 2020.
The background on Covid-19
As early as December 2019, China had detected a new strain of viral outbreak originating from the city of Wuhan. By the time this was officially reported on state media until 12 January 2020, Chinese netizens had already been circulating messages that mention the possibility of a new and potentially serious virus emerging in the country, with keywords such as "SARS", "coronavirus" and "shortness of breath" peaking towards the end of December 2019. On 31 December 2019, Chinese health officials belatedly informed the World Health Organisation (WHO) about a cluster of 41 patients with a mysterious pneumonia.
As what is now known as Covid-19 began to spread, China began the lockdown of cities on 23 January 2020. Although the lockdowns barred tens of millions from leaving their cities, thousands of Chinese citizens had already fled travelled to other countries by air. (Some of them were infected, hence the global pandemic that is ongoing now.)
[
Recommended:
Want to know what's hitting the market? Check out our
FULL list of 2020 New Launch Condos in Singapore
]
Chinese buyers are a big deal for the Singapore property market
Like it or not, our property market is surprisingly dependent on foreign buyers, especially buyers from Mainland China. In 2017, 2018 and 2019, buyers holding a Chinese passport accounted for 7.8%, 8.0% and 6.2% of total private property transactions in the years respectively, with the lower percentage in 2019 possibly due to the effect of ABSD cooling measures. It's also important to note that these figures exclude those who purchased property in Singapore using other country's passports, as the wealthier Chinese are known to hold multiple citizenships.
Today, by far, Chinese buyers consistently make up the largest percental of foreign buyers for private homes in Singapore.
It hasn't always been like this. Comparing to a decade earlier in 2007, 2008, 2009, buyers holding Chinese passport only accounted for 2.3%, 3.2% and 3.7% of total private property transactions in the years respectively. The increasing spending power of Chinese buyers and their growing economic influence over the years, be it from aspiring Singapore citizens or globetrotting serial investors, has transformed the local property scene. It also helps that the stability and reputation of Singapore's economy, business and political environment remain a huge draw for Chinese buyers.

So how has the outbreak affected Chinese buyer activity?
Lockdown or not, an event as major as the Covid-19 outbreak was sure to take Chinese buyers' mind off of purchasing a property in Singapore, at least in the near-term. To understand the impact, we examined transactions for the first two months of 2017 to 2020 (i.e. Jan and Feb) and looked at two things specifically:
Chinese buyers as a percentage of the whole across all price ranges
Chinese buyers as a percentage of the whole for private homes transacted above S$3 million (i.e. wealthy buyer segment for upscale and luxury properties)
In the three years from 2017 to 2019, the proportion of Chinese buyers in the first two months of the year has been a consistent 8.3% to 8.8%. In July 2018, property buying curbs in the form of a lower loan-to-value (LTV) ratio and raised Additional Buyer's Stamp Duty (ABSD) were put in place, and although the overall volume of private home sales fell in the following months, the statistics appear to show that the buying appetite from Chinese nationals did not significantly due to the cooling measures.
The resilience of Chinese buyer demand is because of both push and pull factors: they had buying power and had strong intent to enter the highly-regarded Singapore property market sooner or later, and at the same time competing markets such as Australia had levied even stronger tax disincentives and restrictions to Chinese ownership of property.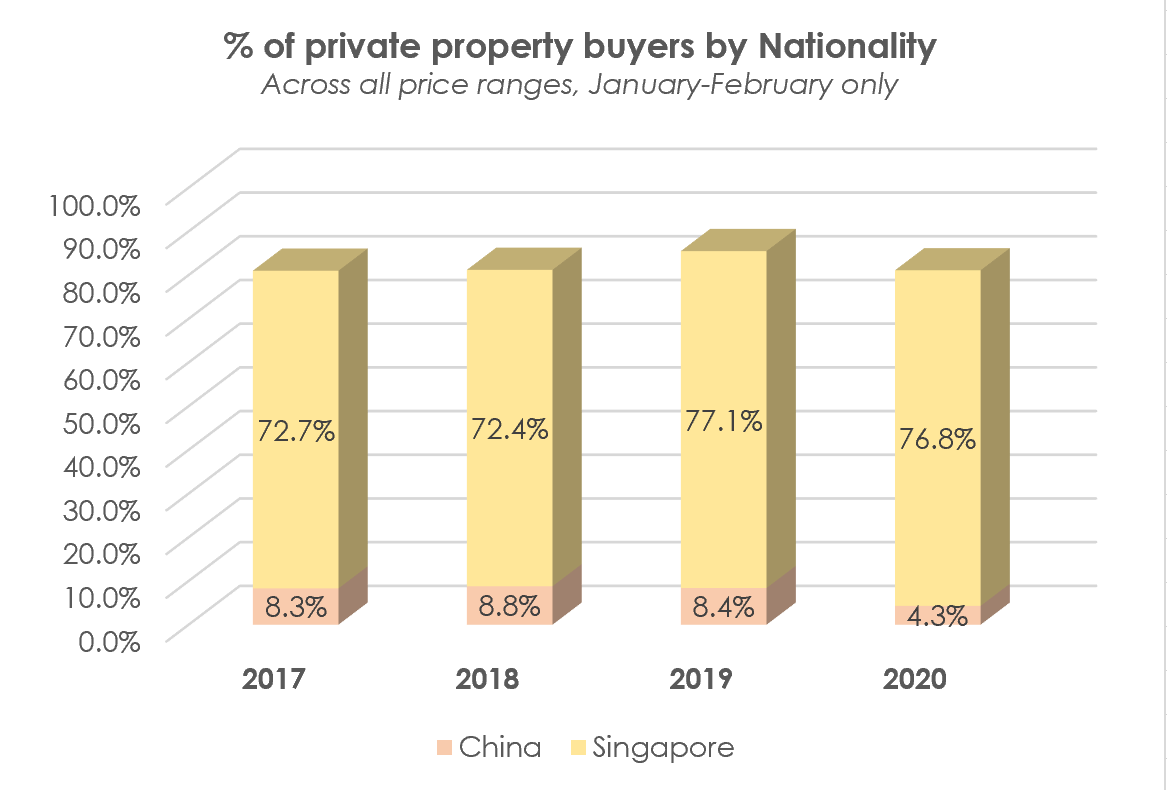 In the first two months of 2020, we see that the percentage of Chinese buyers fell sharply to about 4.3% of total buyers. In absolute terms, there were 144 units sold to Chinese buyers in January and February of 2019, compared to 107 units in the same period of 2020 — a drop of almost 26%. The decline for Jan-Feb 2020 came at a time when the volume of foreign purchases by most other nationalities increased compared to the same period last year.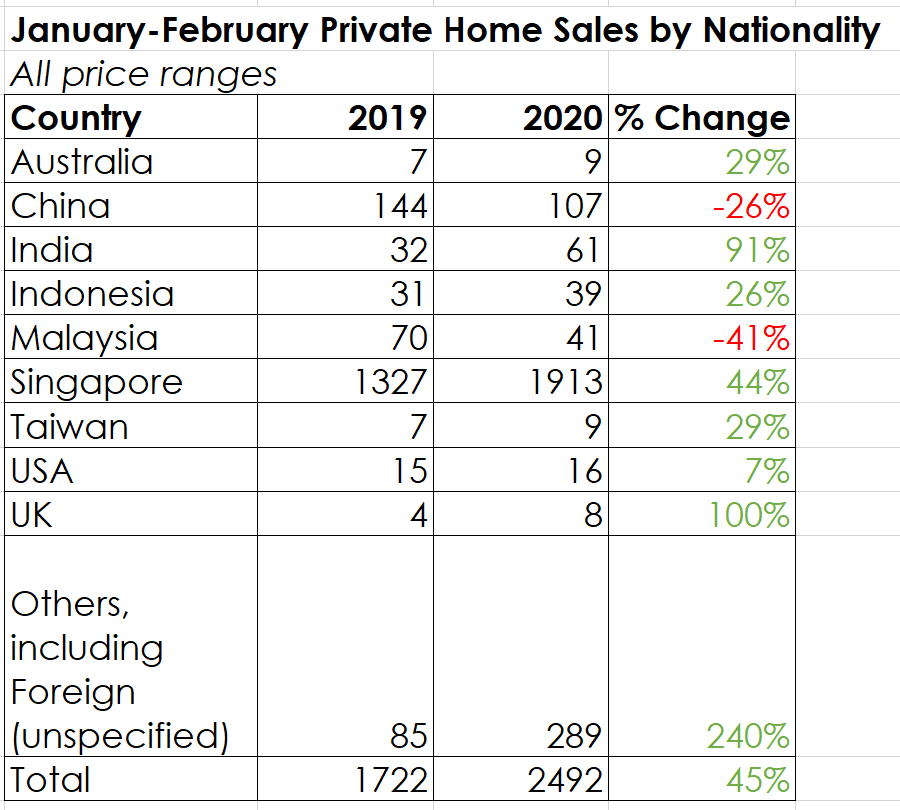 But are wealthy Chinese buyers still in the market despite Covid-19?
Even as overall transactions fell among Chinese buyers in the first two months of 2020 compared to the same period in 2019, the number of transactions for homes above $3 million by Chinese buyers actually increased from 18 to 24 units. So it can be said that while the virus has kept the average Chinese buyer out of the market, it hasn't deterred wealthier clients from sniffing out a good buy.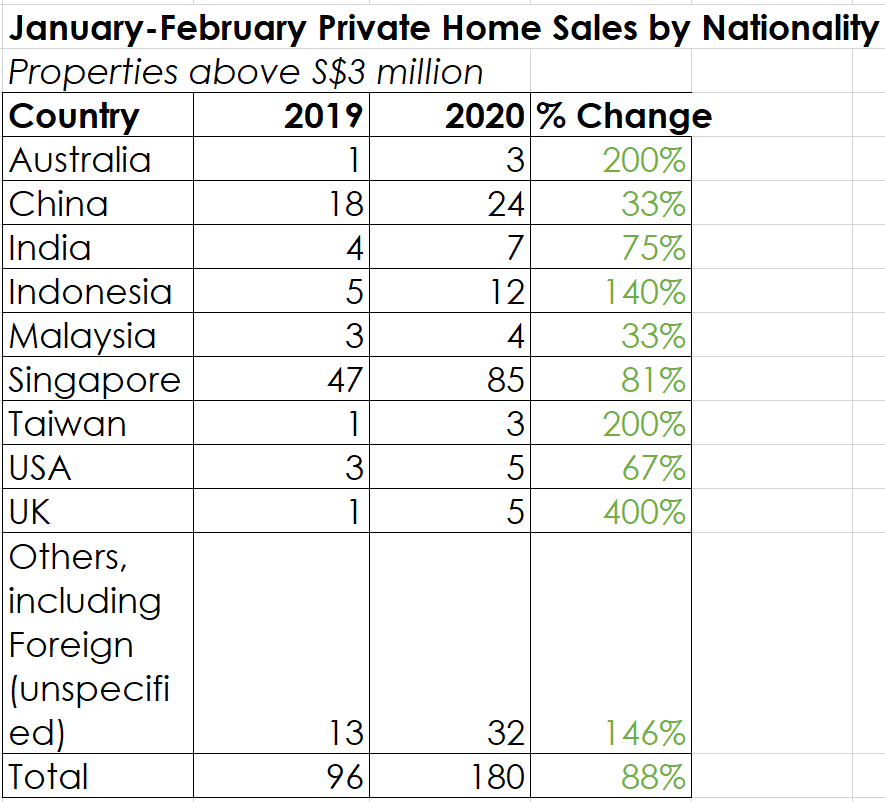 And here's the thing: Once the situation in China improves, wealthy Chinese buyers could return to the Singapore property market in droves. The number Chinese who splashed out more than $3 million to buy homes in Jan-Feb 2020 is 13.3% of the total, which is lower than what was observed during the same period in the preceding years.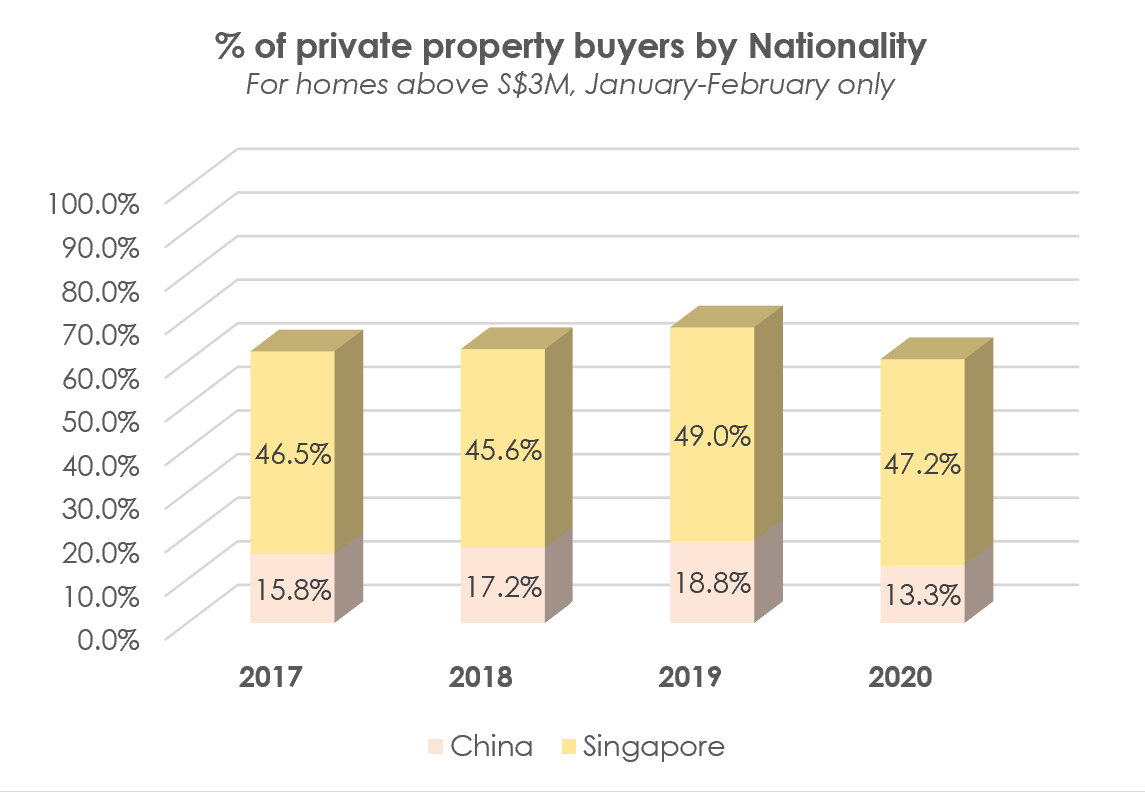 We believe the fall in share of Chinese buyers is only a temporary blip caused by Covid-19. After all, the proportion of Chinese buyers for Singapore homes above $3 million has been consistently trending up. When China does get going again, it's just a matter of time before it's business-as-usual for Chinese buyers, especially since residential property in Singapore is considered a 'safe haven' in uncertain times. And by virtue of having 'advance' notice of the outbreak, savvy Chinese investors who sold off risker assets (e.g. stocks) before the virus-induced financial market turmoil (that only really begun towards the end of February 2020) might also decide to assign additional funds from their freed-up liquidity towards a 'safe haven' residential property purchase, especially if economic recovery is forecasted to be prolonged.
What's in it for local buyers?
It's no secret that wealthy Chinese buyers and developers have been exerting upward pressure on property prices in recent years. Even the 2018 cooling measures hasn't really dampened their enthusiasm for Singapore private property. If anything, how the Covid-19 situation was handled in China has probably convinced and strengthed the resolve of a number of Chinese nationals to relocate and settle down in a country like Singapore for good.
For Singaporean buyers who are in the market, the temporary drop in the number of Chinese buyers during the pandemic could translate to a rare window of opportunity for local buyers to land your dream property (as long as the Singapore economy remains resilient, which is what we'll discuss in an upcoming article). For now, not only will any upward pressure in prices evaporate for the time being, there'll likely be fewer competition for choice units both in the new launch and resale market, which could explain why Singaporeans are throwing caution to the wind in recently days and flocking to new launch condo showsuites, sans masks. Yes, we do know an opportunity when we see one.
Have your say on how Covid-19 will impact the Singapore property market. Voice your thoughts in our comments section or on our Facebook community page.
If you found this article helpful, 99.co recommends Why Foreign Investors Buy Properties in Singapore and 3 reasons why foreign property investors still prefer Singapore
Looking for a property? Find your dream home on Singapore's largest property portal 99.co!
New launch alert! Welcome to Grand Dunman
About Kyle Leung
Content Marketing Manager @ 99.co
Looking to sell your property?
Whether your HDB apartment is reaching the end of its Minimum Occupation Period (MOP) or your condo has crossed its Seller Stamp Duty (SSD) window, it is always good to know how much you can potentially gain if you were to list and sell your property. Not only that, you'll also need to know whether your gains would allow you to right-size to the dream home in the neighbourhood you and your family have been eyeing.
One easy way is to send us a request for a credible and trusted property consultant to reach out to you.
Alternatively, you can jump onto 99.co's Property Value Tool to get an estimate for free.
If you're looking for your dream home, be it as a first-time or seasoned homebuyer or seller – say, to upgrade or right-size – you will find it on Singapore's fastest-growing property portal 99.co.
Meanwhile, if you have an interesting property-related story to share with us, drop us a message here — and we'll review it and get back to you.
Join our social media communities!
Facebook | Instagram | TikTok | Telegram | YouTube | Twitter