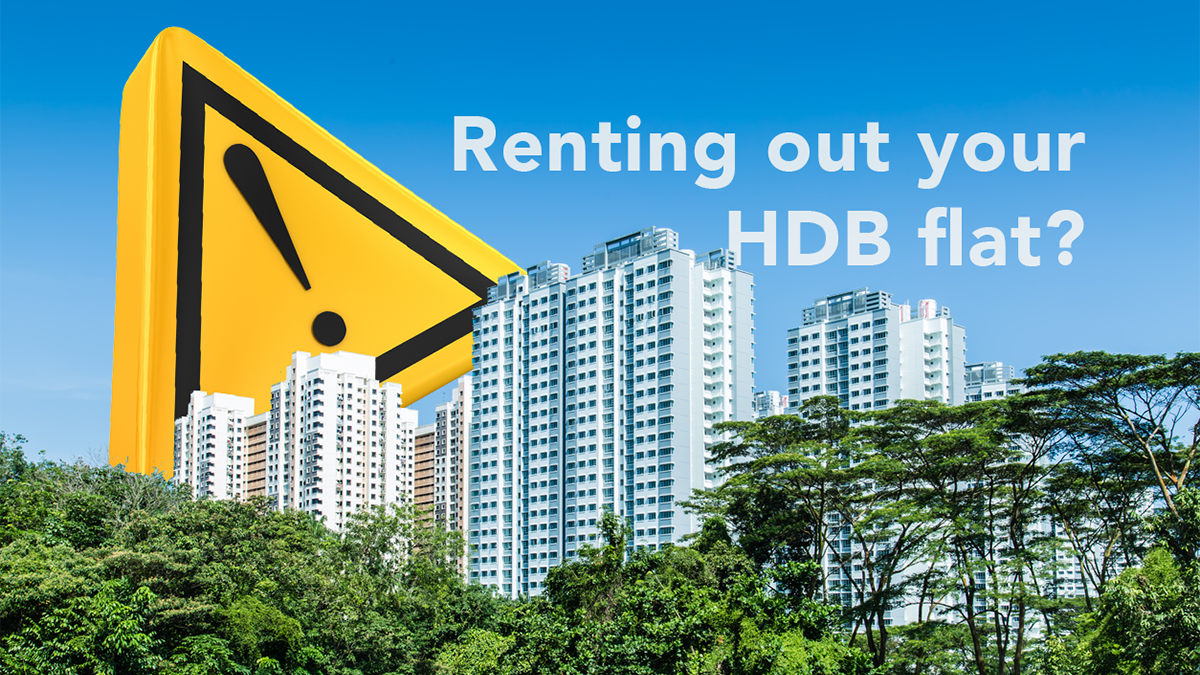 Keen on renting out your HDB flat to make some passive income? If you're renting out a single room in your HDB flat, you can expect an extra S$500 – S$900 in your pocket each month. That's between S$6000 and S$10,800 you'll be raking in in cold, hard cash per year. If you're renting out an entire flat, your income will be even more substantial.
Before you put your bedroom or flat for rental on the market, here are some key guidelines you should know.
1. Check your eligibility
You must be a Singapore Citizen to be able to rent out your entire HDB flat. SPRs are not permitted to do so, but may rent out bedrooms in the flat.
Bedroom rentals are only permitted if you own a flat that is 3-room or bigger. Plus, you may rent out your flat only after fulfilling the five-year Minimum Occupation Period (MOP). (There have been exceptions though, for example if you work overseas. You can read more about it here.)
The minimum rental period for each tenant must be six months. This applies to both private property and HDB flats. Yes, this means that listing your bedroom as a short-term rental on Airbnb is illegal. Don't do it!
Ensure that you follow the regulations to the letter, as the HDB does conduct regular checks. They will take action against unauthorised rentals and actively investigates suspected cases.
2. Check who you can rent to and how many tenants you can have
Tenants who are not Singapore Citizens (SC) or Permanent Residents (SPR) must possess any of the following passes: Employment Pass, S Pass, Work Permit, Student Pass, Dependant Pass, or Long-Term Social Visit Pass. (Remember: Tourists are not permitted to rent HDB flats.)
You should check all documentations thoroughly during the rental process.
While there's no racial quota (unlike buying an HDB flat), do note the Non-Citizen Quota for Renting Out of Flat. This applies if your tenant is a non-citizen and non-Malaysian, i.e. PRs and foreigners. You may use HDB's e-Service to check if you can rent out your flat to them.
There's also a limit on the number of tenants you can have in the HDB flat you're renting out.
| | |
| --- | --- |
| Flat type | Total number of tenants |
| 1-room and 2-room | 4 |
| 3-room and bigger | 6 |
If you're renting out your bedrooms, there's also a limit on the number of rooms you can rent out and tenants in each flat.
| | | |
| --- | --- | --- |
| Flat type | Max number of bedrooms that can be rented out | Max number of occupants* in each flat |
| 3-room | 1 | 6 |
| 4-room and bigger | 2 | 6 |
*The occupants include owners, authorised occupiers and tenants.
3. Set the rental price
Start by taking a look at the median rent of flats published by HDB or this infographic by us: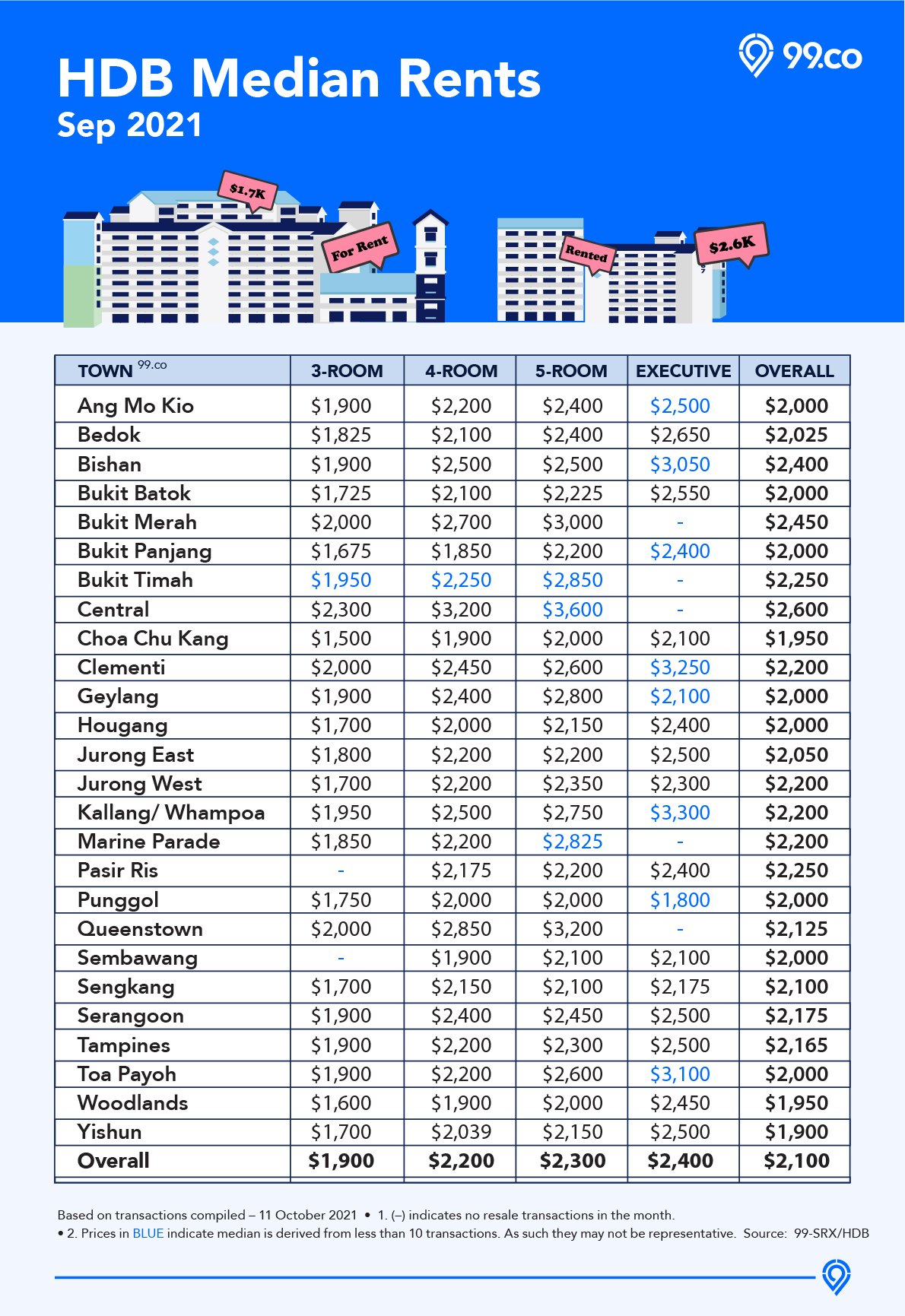 You can also do a quick search of HDBs for rent on our portal to see how much you should set for the rental price.
In addition, consider other factors such as the furniture provided and if the utility bill is included.
4. Decide whether to engage an agent
Take this time to plan and prepare how you would like to manage the leasing process. Decide if you would like to engage a property agent. There are pros and cons to hiring an agent. On one hand, you save on the property agent commission if you don't engage one.
You can go the "D-I-Y" route by sharing on your Instagram stories, Facebook posts or by word-of-mouth. Or save time scratching your head by engaging an expert for help. Engaging a property agent can help you save time marketing your HDB for rent.
5. Arrange for meetings and viewings
It's time to start 'swiping left or right' on your prospective tenants as you meet them (and their agents) in the flesh, for viewing appointments.
Viewings typically take between 15 to 30 minutes, during which the potential tenant may ask you a number of questions about the property, furnishing, your expected rental prices. So it's wise to prepare yourself for these and other possible queries that may arise.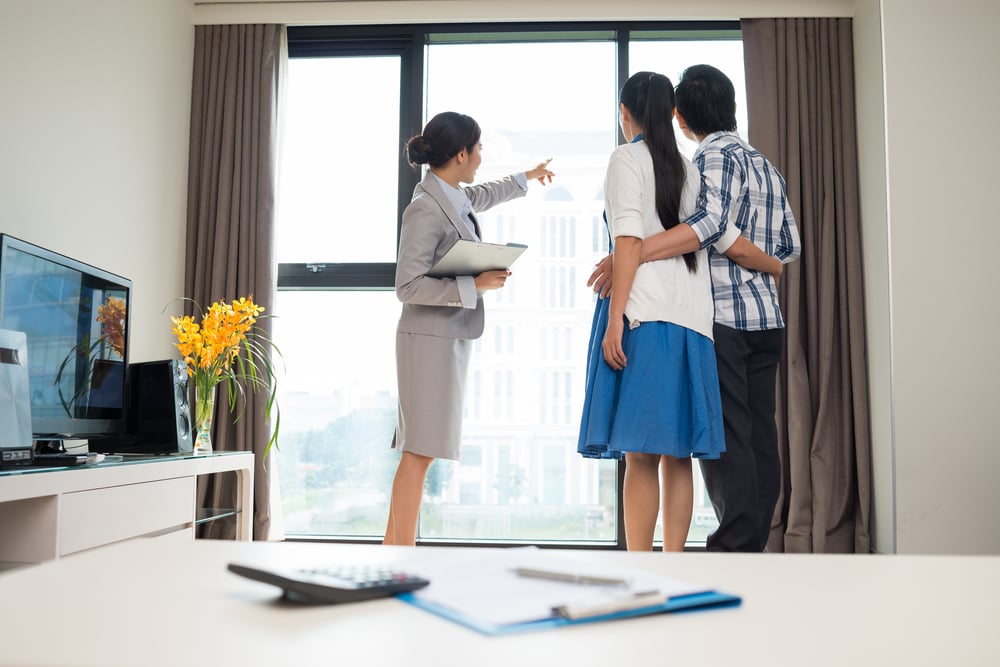 While you're preparing for the viewings, consider the qualities you're looking for in a potential tenant, such as reliability and trustworthiness. Use the viewing as an opportunity to get to know them better. So that you have an idea of what their lifestyle is like and how it may affect their suitability as a tenant.
For example, would they be likely to throw wild parties that could be a liability to the property, or are they generally mindful and considerate? These may be some of your considerations when looking for a tenant.
6. Start negotiating
Once you have a few tenants vying to rent your HDB room or flat, it's time to put your cards on the table and discuss the terms of the deal.
Negotiate the tenant's expectations, such as whether they would like the flat to be renovated or repainted, how much furnishing to include in the agreement, as well as the price that they pitch to you.
Following that, once you have mutually agreed on the terms of the deal, the tenant would usually issue a Letter of Intent (LOI). This is a brief formal document stating their intention to rent your property and stipulating the terms that both parties have verbally agreed upon.
While the LOI is optional, it is used especially when the rental period is a year or longer. The LOI would be accompanied by the good faith deposit. This deposit is mandatory, and is usually the price of a month's rent payment. The tenant pays this to secure the deal.
7. Apply for HDB's approval
It's mandatory that you get approval from HDB when renting out your flat or bedroom before the tenancy period commences. You can submit your application via My HDBPage or the Mobile@HDB app (available for iOS and Android).
You must notify HDB if there are any changes in the rental within seven days. These include changes in your tenants' particulars, or if the rental is terminated.
8. Prepare and sign the Tenancy Agreement
The final stage of the deal is signing the Tenancy Agreement (TA). This is a crucial document to pay attention to. It is a contract produced by the landlord (or the landlord's agent) specifying the terms and conditions of the rental.
It's also when you collect the security deposit, which is used to cover any damages other than those caused by wear and tear. If you have collected the good faith deposit previously, this usually becomes the security deposit.
Afterwards, get your tenant to stamp the tenancy agreement. This can be done via the IRAS e-Stamping Portal.
9. Pass the keys to your tenants
Before you hand over your keys to your tenants, prepare an inventory list for you and your tenant of all the furniture and appliances in the HDB flat you're renting out. You may also want to take pictures of your place as a way of recording the state of your house before you rent it out. This can come in useful should you have any rental disputes.
Do a final walk-through with your tenant and you're ready to hand over the keys to them. But it's not hands-off for you yet!
There would usually be a "30-day problem free period" clause in the LOI and TA stating that within this period, the tenant has the right to alert the landlord to any defects in the property. As the landlord, you would be liable to any cost to do with the repair or replacement of the said problems during this period.
Cons of renting out your HDB
Before you jump into putting your HDB up for rent, slow your roll. Here are some cons to consider.
1. Unreasonable tenants
We've talked at length about crazy landlords, but on the flip side, landlords also have to deal with unreasonable tenants. Some constantly leave dirty dishes in the sink. Some might try to run a business (one that may be illegal!) from your home.
And of course, there are those who will only deign to pay their rent after repeated reminders each month. At the end of the day, don't expect life as a landlord to be easy.
2. Lack of privacy
Even if your renter doesn't have any "dealbreaker" habits, you'll still have to contend with the lack of privacy which comes with being a landlord. For one thing, you probably won't want to leave your valuables lying around unattended.
Also, you'll have to ensure that you're appropriately attired when you're at home. That means no more watching Korean dramas in the living room in your underwear.
3. Less than ideal rental income
Last but not least, you might not actually make as much as you hoped you would. Unless your property is located in a fantastic area and you're fending off offers left and right, you'll probably have to fork out extra to accede to requests from your potential tenants. Some might ask you to repaint the room before they move in; others might ask you to provide basic furnishings like a sofa, dining table and shoe rack (if you don't already do so).
Needless to say, this will eat into your rental income. Don't forget that the rental you earn is also subject to income tax.
If the idea of renting out your place still sounds appealing to you after considering all the cons, by all means, go ahead and assume the title of landlord!
[Additional reporting by Jamie Wong]
---
Have you rented out your HDB flat? Let us know in the comments section below. 
If you found this article helpful, 99.co recommends Here's why renting in Singapore isn't as expensive as you think and Diversity-Friendly property rentals In Singapore.
---
Frequently Asked Questions
Is it illegal to rent our your HDB flat?
Not if you meet the eligibility criteria. For instance, only Singapore citizens can rent out the whole HDB flat. Singapore citizens and PRs can rent out their bedrooms if their flat is a 3-room or bigger.
Can I rent out my HDB before the MOP?
Typically, you cannot rent out the whole unit before the five-year MOP. But there have been exceptions, e.g. you work overseas.
Can I rent out my BTO flat?
You'll have to fulfil the five-year MOP first before you can rent out the entire BTO unit. However, you can rent out bedroom(s) within the MOP.
Upcoming Freehold Condo Launch: The Arcady @ Boon Keng
About 99.co
We are a property search engine with the overarching goal of building a more transparent and efficient property market. We are working towards that future by empowering people with the tools and information needed to find a place to live in the best way possible.
Looking to sell your property?
Whether your HDB apartment is reaching the end of its Minimum Occupation Period (MOP) or your condo has crossed its Seller Stamp Duty (SSD) window, it is always good to know how much you can potentially gain if you were to list and sell your property. Not only that, you'll also need to know whether your gains would allow you to right-size to the dream home in the neighbourhood you and your family have been eyeing.
One easy way is to send us a request for a credible and trusted property consultant to reach out to you.
Alternatively, you can jump onto 99.co's Property Value Tool to get an estimate for free.
If you're looking for your dream home, be it as a first-time or seasoned homebuyer or seller – say, to upgrade or right-size – you will find it on Singapore's fastest-growing property portal 99.co.
Meanwhile, if you have an interesting property-related story to share with us, drop us a message here — and we'll review it and get back to you.
Join our social media communities!
Facebook | Instagram | TikTok | Telegram | YouTube | Twitter