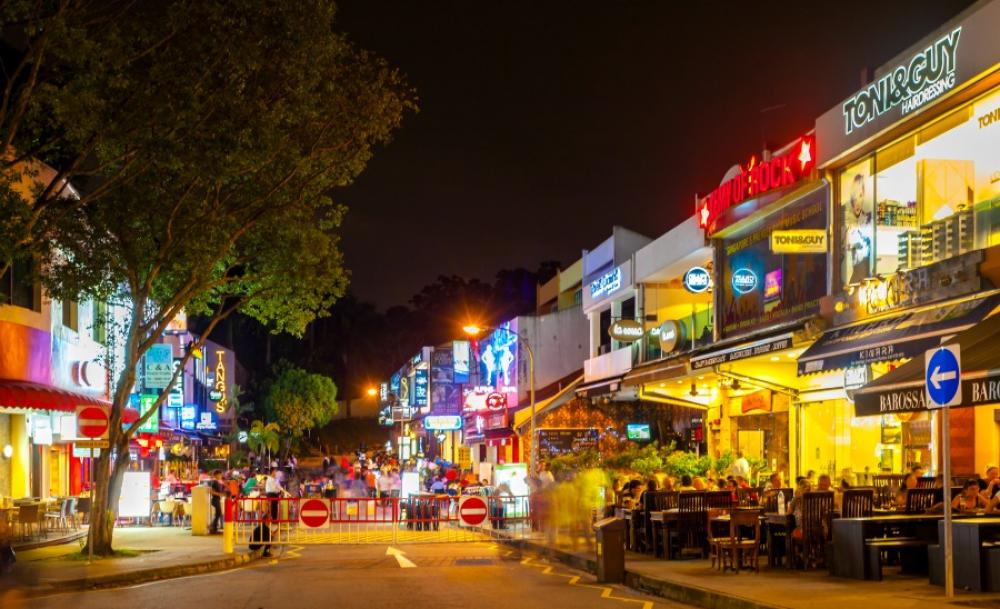 Do you like upscale entertainment? Bars without sleaze? A place where drunk people take the time to courteously vomit around your shoes? Then you want to start frequenting Holland Village instead of Clarke Quay. Since it's a pricey area, here are some nearby and affordable Holland Village rental units for your to choose from:
The Coterie@Holland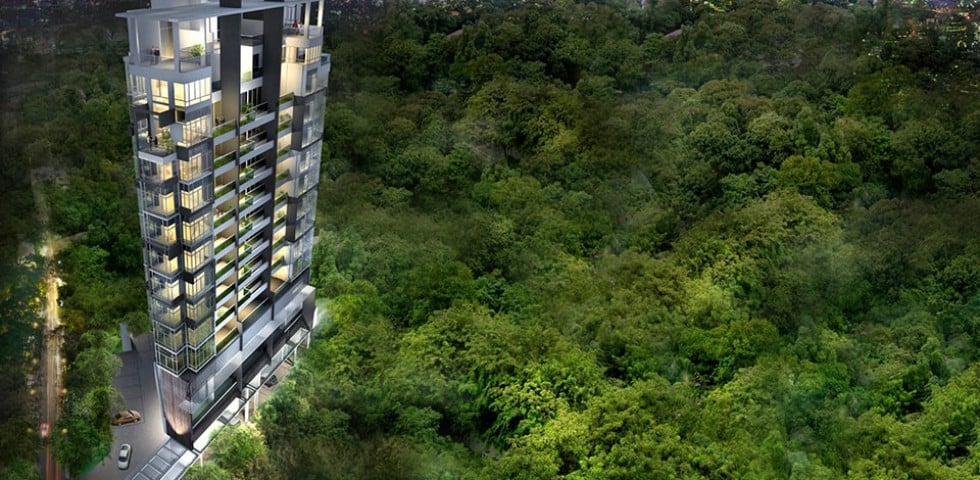 Location: 72 Holland Road
Condo details: 1 Bed, 1 Bath, 463 square feet, $2,800 to $3,000 per month (Up to $6.05 per square foot)
This unit is located close to the action in Holland Village, but is surprisingly quiet even at night. Nearby amenities are typical of a Holland Village unit: an eclectic mix of wine bars, specialist diners, and boutique shops.
Retail only consists of small shops, but that's never been the main appeal of Holland Village anyway; and you're just a 10 minute drive from Orchard for your retail therapy fix. There's also an old shopping centre (Holland Road Shopping Centre) near the MRT station.
One thing to note is that the Holland Village MRT station is quite far; over a 15 minute walk. Unless you're up for the exercise, you may want your own car before moving in.
Condo amenities include the usual pool, gym, clubhouse, and so forth. The main appeal though, is being a short walk away from a lot of chill-out spots; especially if you like dropping into these places late at night.
One other thing we like about this unit: it seems unusually "opened up" and bright for a shoebox apartment. It could just be fewer partitions, but it seems a lot bigger than its 463 square feet would suggest.
Rent if:
You're the sort who likes wandering out the house at 10pm, and expect to find a cafe or bar open nearby. Also, if you like it bustling and noisy outside yet quiet at home.
The Ford@Holland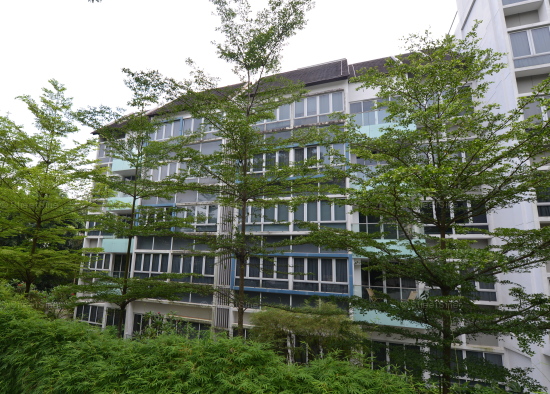 Location: 1 Ford Avenue
Condo details: 1 Bed, 1 Bath, 700 Square Feet, $2,600 per month ($3.71 per square feet)
This unit is about 12 minutes walk to the Holland Village MRT station, so not exactly close (by our standards). That said, if you don't mind a short morning walk before work, accessibility isn't an  issue; even without a car.
As with most properties in this area, cafes, wine bars, and specialist retail shops dot the area. The main appeal of this unit, however, is the price given its size. At 700 square feet, there's ample space for any tenant.
The condo itself is fairly new (five years old), so facilities like the gym and pool are still in top shape. Usually, for properties of this size and cost in Holland Village, we expect a 15 year old pool that's growing indigenous life-forms, and a gym that contains one working exercise bike.
Rent if:
You like staying in a more spacious unit, and care that facilities are still new and shiny. This is one of those units that's not exactly near or far the MRT station – if you're the sort who doesn't mind a bit of walking, the location is great for the price.
The Levelz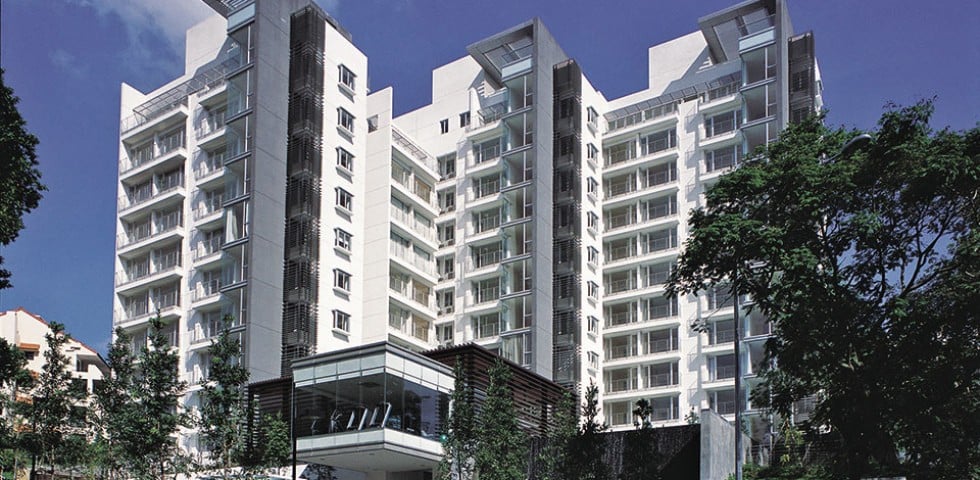 Location: 38 Farrer Road
Condo details: 1 Bed, 1 Bath, 785 square feet, $3,000 per month ($3.82 per square foot)
The Levelz is not exactly in Holland Village, but it's situated along Farrer Road and is about a five minute drive from Holland Village. Most residents won't find the amenities of the Village too far away, and they might appreciate that the unit is also close to the Botanical Gardens.
This is the largest unit on the list, at 785 square feet, and the price reflects it. At this size it's a good rental option for those who see themselves needing a lot of room; if you're the sort to move in a drum kit or a model train collection or something, this is the unit you should consider.
Do take note that Farrer Road can get crowded on rush hour (you're living just minutes from Orchard by road, so on weekends it can get packed too). If you're driving home at 6pm, for example, you may encounter the occasional bit of congestion.
Rent if:
You have a need for extra space, and you're not put off by the occasional traffic issue. This unit is also a viable alternative for those who want to live in Orchard, but can't get an affordable unit there at this size.
D'Leedon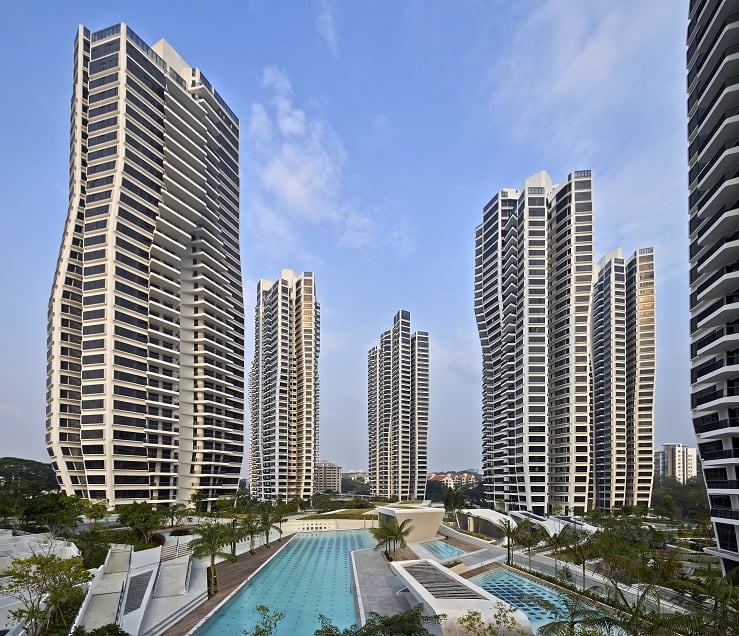 Location: 9 Leedon Heights
Condo details: 1 Bed, 1 Bath, 635 square feet, $3,000 a month ($4.72 per square foot)
We're a little surprised to see this unit from a high-end condo like D'Leedon fit on this list's price point. Now it's not exactly in Holland Village, but it's practically next door (a five minute drive at most). This development is also situated close to the fancy area of Dempsey Hill, and other Good Class Bungalows.
If you want to have access to Holland Village, but also want a quiet, high-end enclave, this unit is a perfect complement of the two. Besides the Village being next door, you'll also have quick access to the PIE and CTE. You also have the ritzy dining spots on Dempsey Hill to choose from, if you ever get tired of Holland Village's cafes and bars.
For those who don't drive, the Farrer Park MRT station is a walkable distance (about a seven minute stroll).
Rent if:
You want to live in a high-end Holland Village rental unit, but don't want to pay the equivalent of the Venezuelan national debt for an Orchard road apartment.
Holland Close HDB estate
Location: 4 Holland Close
Condo details: 2 Beds, 1 Bath, 920 Square Feet (three-room flat), $2,350 per month ($2.55 per square foot)
This is a HDB unit, so there are no condo facilities. But you know what? Who cares. Look at it: it's a whopping 920 square feet (negotiable!) and it's five to seven minutes from Buona Vista and Holland Village MRT stations.
A 12 to 15  minute stroll will take you to the main area of Holland Village, where you'll have access to the same amenities that other residents pay through their noses for. You also have quicker access to One North or the Biopolis than other units on this list; if you work at those places you'll want to seriously consider this flat.
Rent if:
You don't mind staying in an HDB unit, and you'd rather pay for just the location than stuff like swimming pools and tennis courts.
Check out other rental related articles here: Rental features to look out for: pet, wifi and cooking friendly places to live and 7 things to do before vacating your rental premise
Find the rental home of your dreams today at Singapore's largest property portal 99.co!