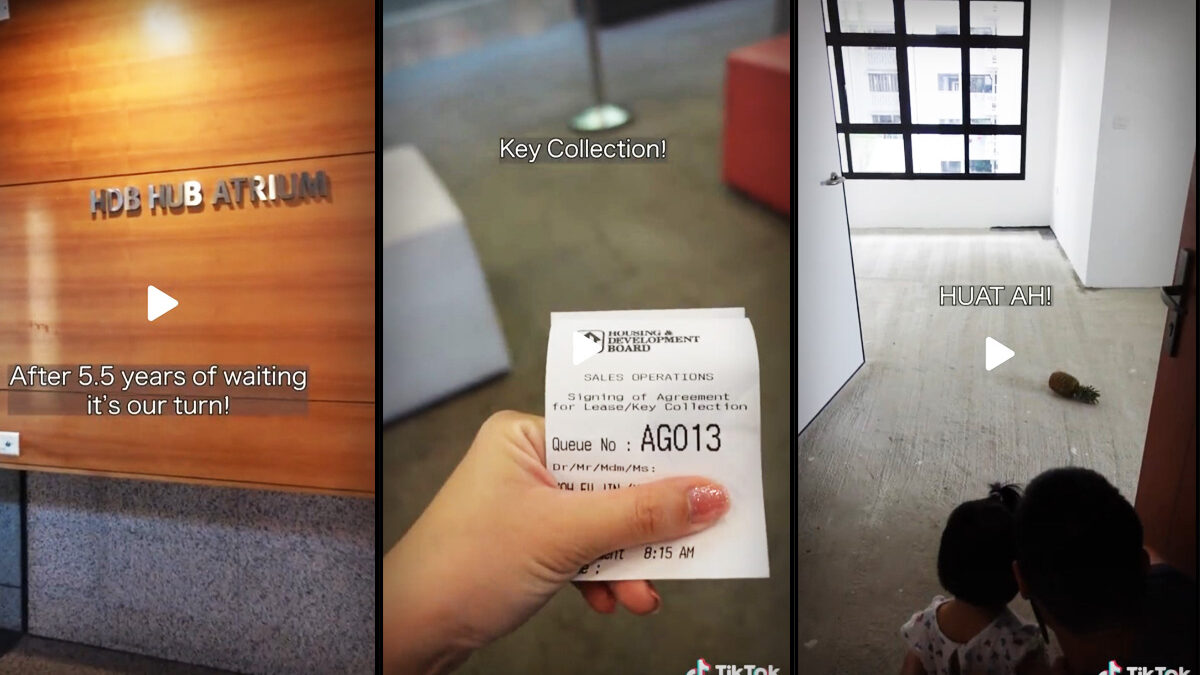 When it comes to sharing our first-time home-buying journeys, it's usually a Facebook photo, Instagram post or a long rant on Medium or Reddit. For 33-year-old Gwendolin Mah, mother to a one-year-old girl, who's just collected the keys to her Bidadari BTO HDB flat, sharing her experience through TikTok seems like what this generation needs.
Here's the vid, which was posted 6 days ago.
In the video, Gwen shared that it's been a 5-and-a-half-year wait from the time she registered for the exercise in February 2016 to the day she finally got the appointment to collect her keys. The video also shows Gwen and her family heading down to their flat to check out their rooms. In a subsequent funny video, Gwen talked about what's so unique about the new "environmentally-friendly" toilet bowls.
According to Gwen, her husband and she opted for a 4-room flat because they like the open kitchen concept and bathrooms no longer have those "terrible-looking" mosaic-style feature walls. "The kitchen has a decent-looking backsplash, which gives families the option to save from additional renovation work." She's now hoping to start renovations for her flat.
99.co covered the BTO craze in 2016, including Bidadari being the rock star among BTO launches. In the Feb 2016 launch, three-room flats were going from S$303,000 before grants, while four-roomers start from S$440,000 before grants. For Gwen, her 4-room HDB flat costs S$480,000.
The Bidadari BTO HDB flats are located close to Cedar Girls' Primary and Secondary Schools and is a short walk from Woodleigh MRT station. When it was announced, it was one of the first few BTOs to be fitted with high-tech waste collection infrastructure (pneumatic waste conveyance system) for cleaner waste disposal. It was originally expected to complete by Q4 of 2020.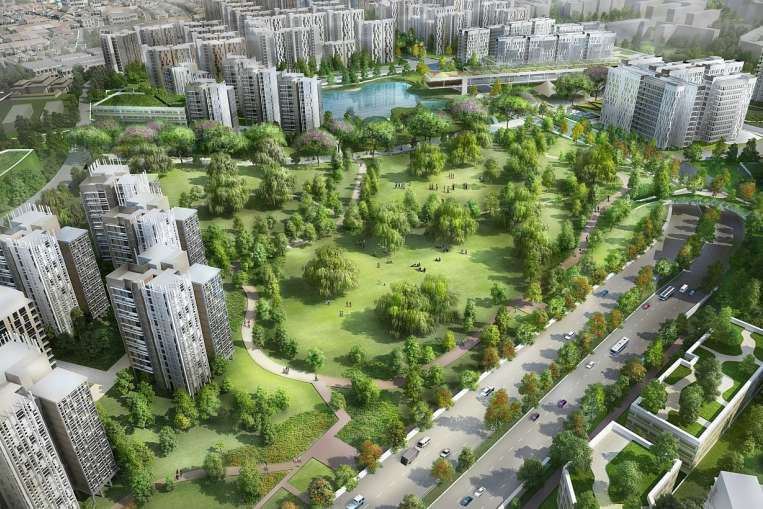 Here is 99.co's conversation with Gwen as we find out about her home-buying journey. More importantly, we wanted to know if she has any advice for millennials like her who are setting out on their own home-buying journeys.
How long have you and your husband been working?
I was working for 8 years before taking a break to look after our baby. I'm also currently doing my post-graduate diploma. My husband has been working for 13 years.
What made you decide to apply for a BTO? Did you consider other alternatives (resale, SBF, EC, condos)?
HDB BTO comes at a decent value and the house is brand new with a 99-year lease. So we figured for the first few years, there will be fewer wear and tear problems that we have to deal with. Furthermore, the renovations for BTO also require less effort than we envisioned.
At the current moment, we're staying with both our parents – half a week at each parents' place. We may go back to doing that in the future but for now, we can't wait to experience having our own place. Executive Condominiums (EC) and private condos are currently out of our financial range for now. We decided to go with the Bidadari BTO mainly because it's near where my in-laws are staying.
What were your initial concerns when you decided to apply for a BTO?
It was definitely the time it would take for us to get our flat.
How many attempts (ie. exercises) before you finally got your BTO?
We were very blessed when we got it on our 2nd attempt.
Was it a smooth process?
Yes, it was a smooth process so far. The only frustration is the COVID delay, which was inevitable. We were hoping that we would get the flat in 3 to 4 years like most BTOs before us but it took 5.5 years. We did write to HDB to explain that we are living with our in-laws and that we have a child. We asked HDB to prioritise for us and they did. We were the first homeowners in our blocks to receive our keys and I'm very grateful for that.
To overcome the anxiety of waiting, my husband and I started planning for renovations early. We sourced for interior designers so we felt like things were moving on our part. Once we got our keys, we could jump right in to start renovations.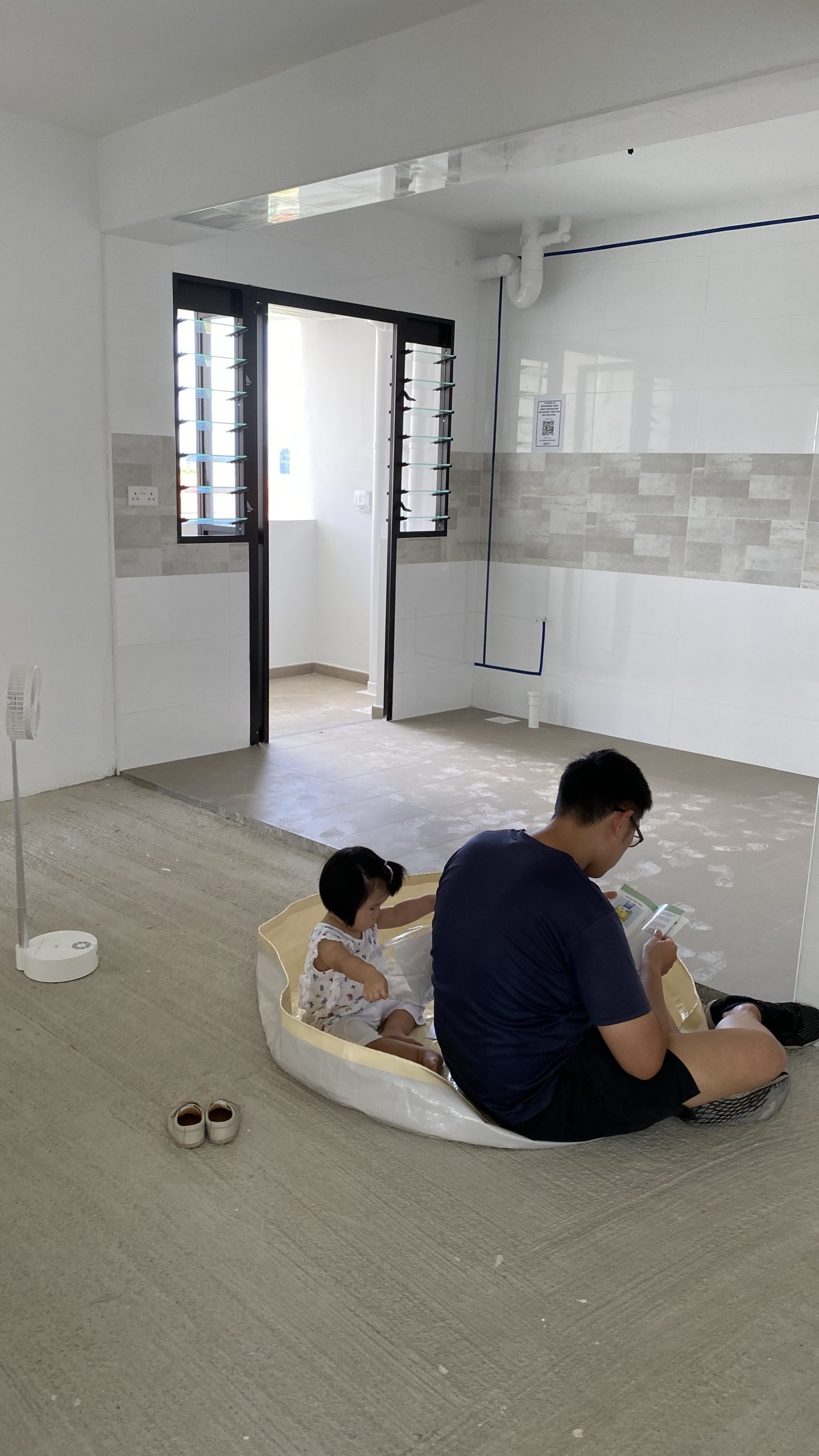 Did you secure any housing grants with your husband for the flat?
Unfortunately, because Bidadari is located in a mature estate, we did not get any grant. We got our flat through the extra ballot due to parent proximity. Also, for now, we're taking a loan from HDB but may opt for a bank loan eventually.
(Gwen's right. Before the Enhanced CPF Housing Grant (EHG) was introduced in 2019, there were the old Additional CPF Housing Grant (AHG) and Special Housing Grant (SHG) schemes. While the AHG had an average gross monthly household income ceiling of S$5,000, the SHG had a ceiling of S$8,500 but only for 2-room Flexi, 3-room or 4-room in non-mature estates. With the EHG, the ceiling is now S$9,000 and there are no restrictions on flat type and location) 
As a Singaporean mother and wife moving into your new home, what insights have you gained through the experience?
I think my husband and I were "forced" to live with our in-laws (we could have forked out money to rent a place but chose not to). We realised it is not that bad and we may explore doing that in future should we need to take care of them or for child-care purposes. Living with in-laws may also mean that you live under their rules because it is their place, so there are frustrations in not being able to live that freely.
Moving into a new home after having a child has its positives because her grandparents will get to spend time with her and we have more help at home while she's young.
Hopes and dreams for your next step in your home-buying journey?
In an ideal future, we hope to eventually move into a condo with facilities or a bigger place so that our children can grow with more space.
Any advice for young, millennial Singaporeans making their first home-buying journeys?
If you know that your significant other is the right one early on, please start applying early, especially if you want to enjoy your exclusive space for two before a baby comes along. Don't be discouraged during the long wait. It buys you time to save up for a nice renovation!
–
Did Gwen's story inspire you or do you have your own BTO home-journey stories to share? Let us know in the comments section below or via our Facebook post. 
If you or your loved ones are planning to apply for a BTO, check out our August 2021 BTO reviews here:
Looking for a property to buy or rent? Find your dream home on Singapore's largest property portal 99.co! If you have an interesting property-related story to share with us, drop us a message here – we'll review it and get back to you.