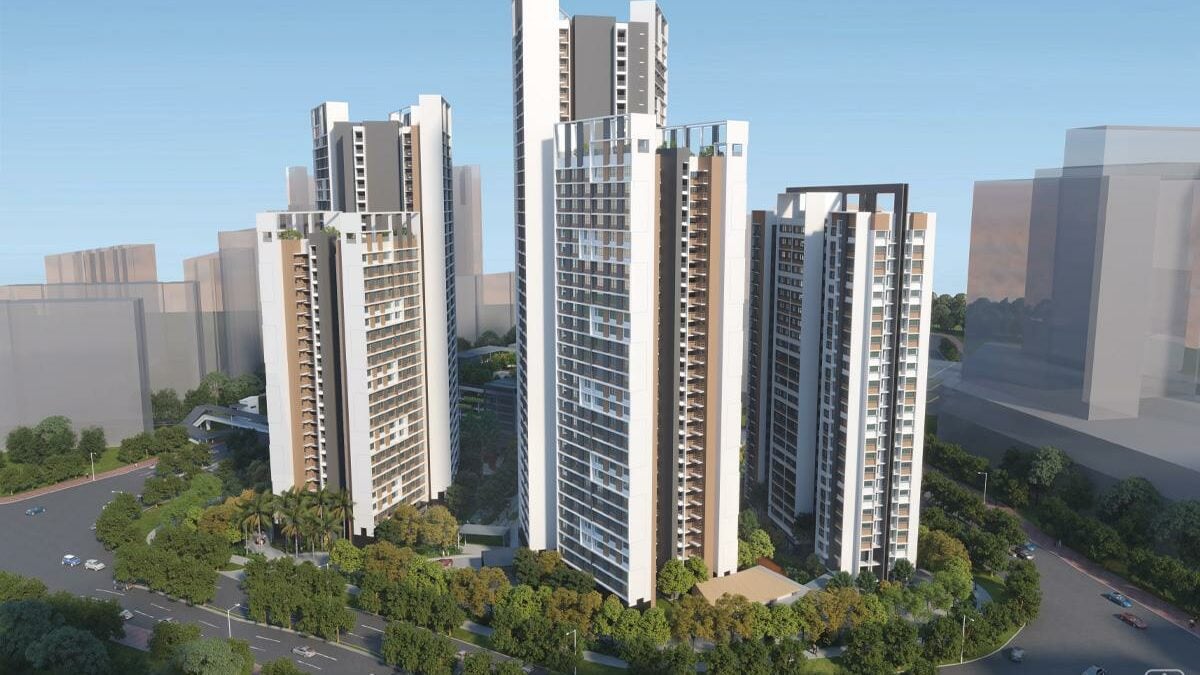 Update as of 11 August 2021: This article has been updated with new information released during the August 2021 BTO launch. 
Missed the May 2021 BTO? Not to worry, the newly-launched August 2021 BTO has 4,989 flats being offered across seven projects in three mature and two non-mature estates. This will also be the biggest launch of the year, as HDB will launch around 4,400 units in November.
One of the projects in this August 2021 BTO launch is at Queenstown, with 610 units of 3-room and 4-room flats up for grabs.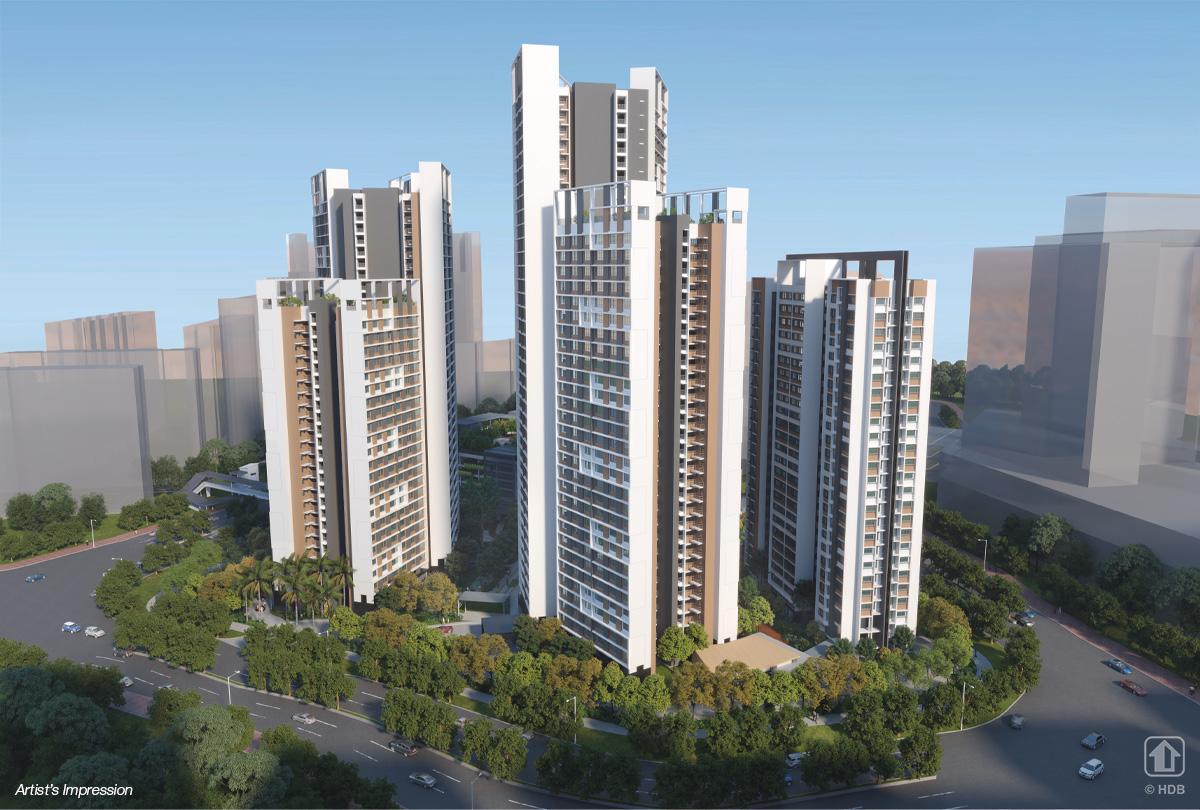 Here's 99.co's detailed review of the August 2021 BTO at Queenstown
Project name: Queen's Arc
Location: Along Queensway
Classification: Mature estate
Number of units: 610 (3-room and 4-room flats)
Number of blocks: Two (excluding one rental block at the site)
HDB's estimated completion date: Q3 2027
Indicative price range:
| | | | |
| --- | --- | --- | --- |
| | Estimated floor area (sqm) | Number of units | Price range (excluding grants) |
| 3-room | 69 | 76 | ​​S$382,000 – S$464,000 |
| 4-room | 93 | 534 | S$540,000 – S$670,000 |
Given how Queenstown is one of the most popular estates, we expect this BTO to be the most oversubscribed project in this August 2021 launch. After all, we're talking about an estate known for its high number of million-dollar flats. Plus, the last time there's a launch here was nine years ago in November 2012 for Ghim Moh Edge.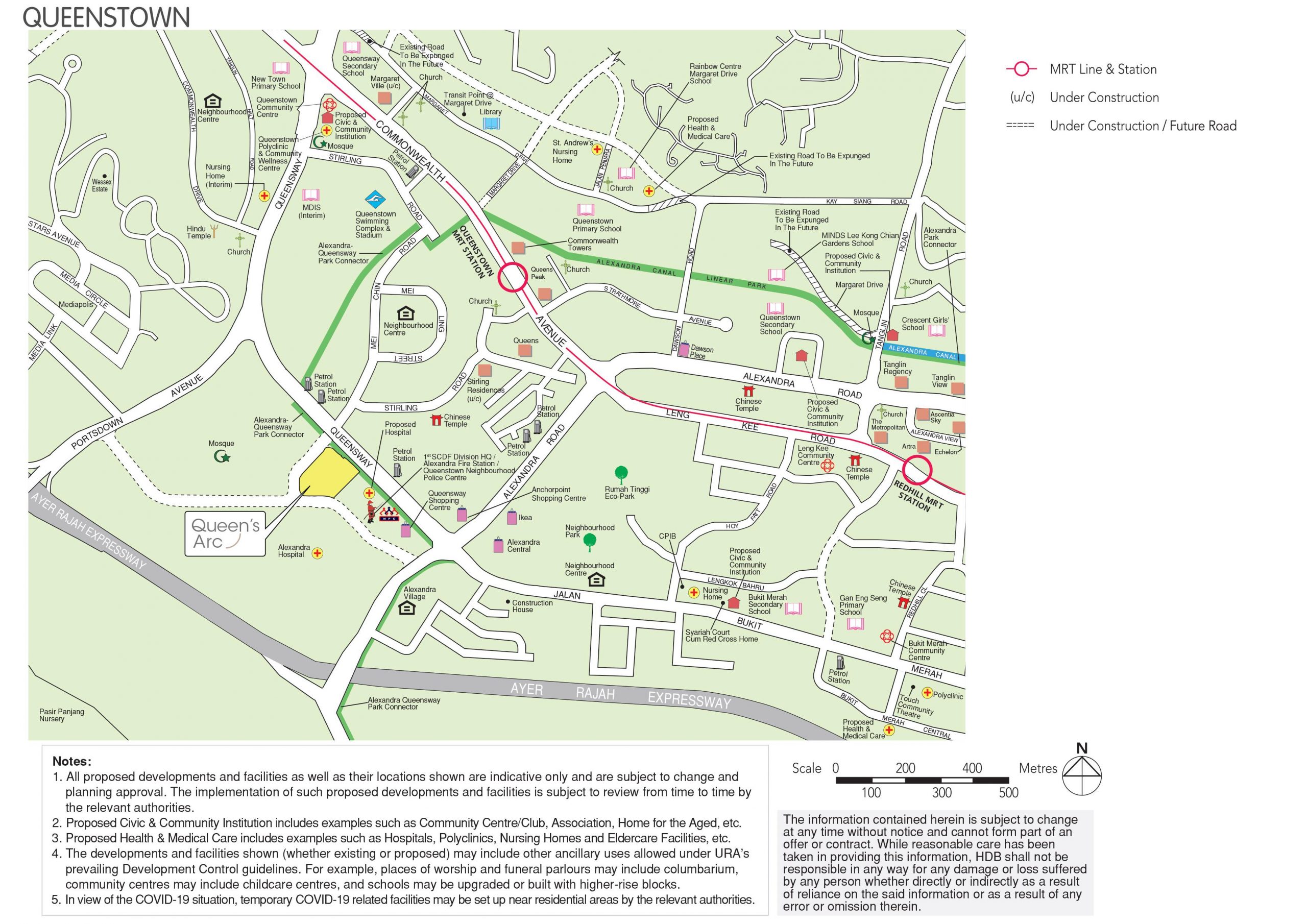 Let's dive into the pros and cons of the August 2021 Queenstown BTO project.
August 2021 Queenstown BTO — The Pros
Accessibility
Queenstown MRT is around a 10-minute bus ride from Queen's Arc. So compared to a few projects in the August 2021 BTO launch, the MRT isn't as accessible for residents.
On the other hand, Queenstown MRT offers easy connectivity to other MRT lines. It will just be two stops to Circle Line, three stops to North East Line and four stops to Downtown Line.
This also means that you can get to the CBD in five stops, and one-north in three stops if you're working at one of these commercial districts.
For drivers, Ayer Rajah Expressway (AYE) will just be a couple of minutes drive away.
Food and retail amenities
IKEA, Queensway Shopping Centre and Anchorpoint are all within a five to 10-minute walk. Perfect for meatball lovers and bargain hunters!
Or if you're looking for hawker fare or are just too lazy to cook, there's also Mei Ling Market and Food Centre within eight minutes walking distance.
The nearest supermarket will be NTUC Fairprice at Stirling Road, which is just across the street.
There will also be a community hub on the ground floor of Queen's Arc, with various facilities such as an eating house, a minimart and shops.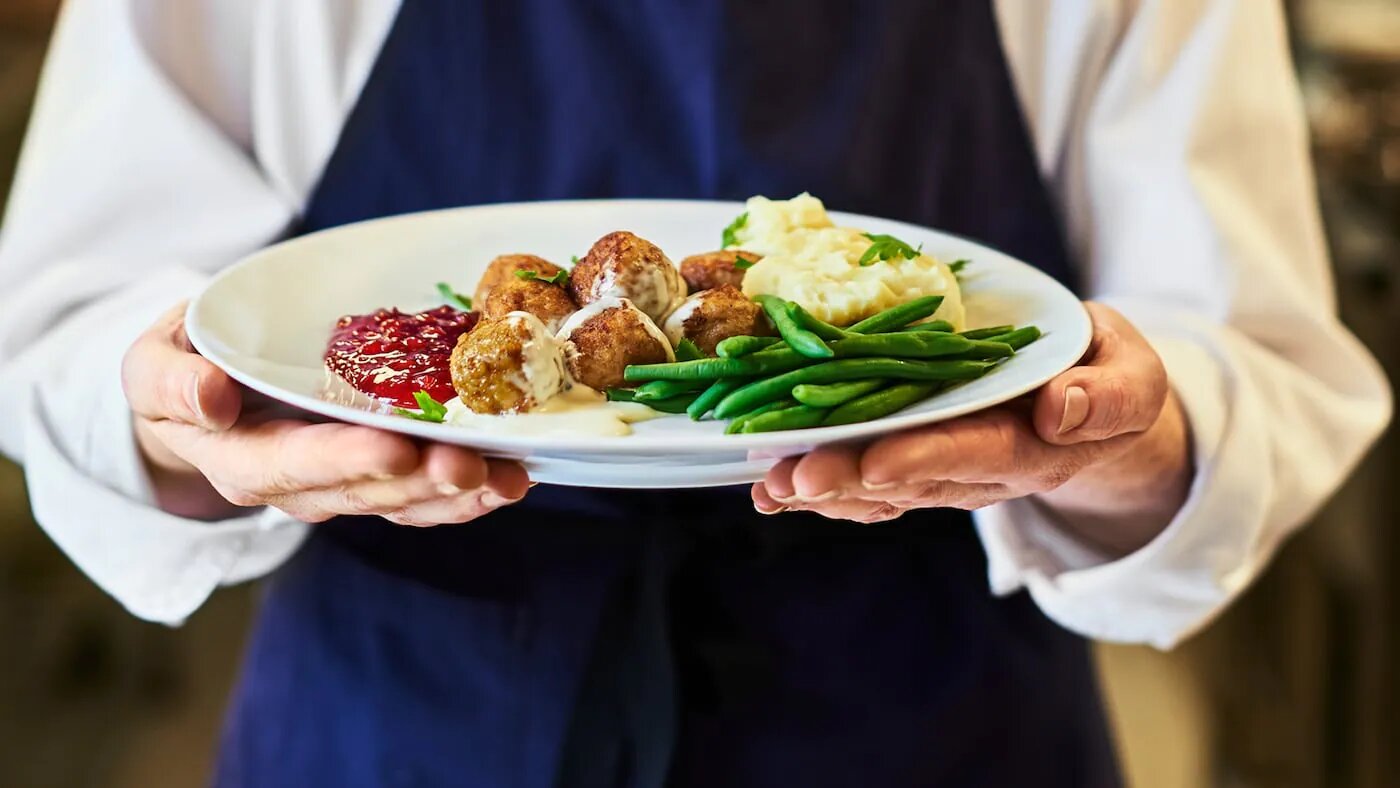 Childcare centres
For those looking to have children, the good news is that there are a few childcare centres nearby.
This includes Bridging Stars, The Little Skool-House and Maple Bear Playhouse. All three of them will be around a 15-minute walk.
A childcare centre will also be available at the community hub of the Queenstown BTO.
Healthcare facilities
Another highlight about this Queenstown BTO is that Alexandra Hospital will just be across the street.
Plus, a proposed health medical care centre will be built right next to it.
In the meantime, for minor ailments, residents can head to Queenstown Polyclinic, which is eight minutes away by bus.
Price appreciation
If you're lucky enough to secure a unit here, you can expect pretty high price appreciation here. After all, there's been a lot of million-dollar flats sold in the vicinity over the years. Over the past one year alone, five units at the nearby Mei Ling Street have reached the million-dollar mark.
But the high price appreciation isn't just limited to 5-room flats or the rare flat types. For instance, a 4-room unit at Commonwealth Drive fetched S$880,000 in October last year.
August 2021 Queenstown BTO — The Cons
Oversubscription
Queen's Arc will definitely be one of the most oversubscribed projects in this launch, given the estate's popularity.
The high demand is also due to the fact that it's been nine years since the last BTO launch here.
In addition, Queenstown has one of the highest resale prices. For instance, its

median resale price last month in July 2021

was S$738,500 — the highest for that month. So the high resale prices over the past few quarters may also drive more people to turn to BTO.
But the application rate here will probably be not as

high as that of the May 2021 Bukit Merah BTO

.
Price
With the high resale prices and city-fringe location here, Queen's Arc has the highest starting prices in this launch as we've predicted. But it's still not as high as the prices for May 2021's Telok Blangah Beacon.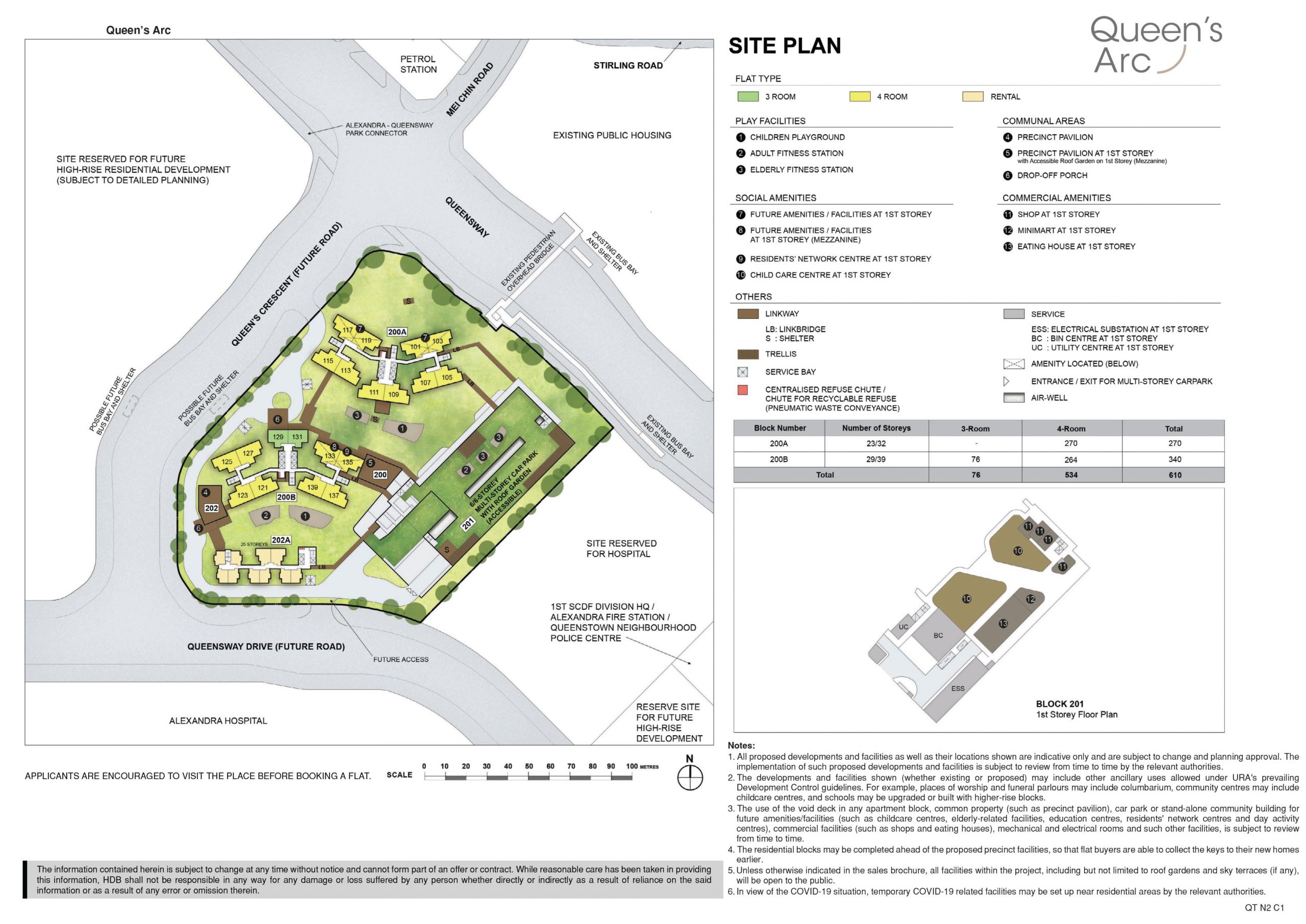 Type of flats
Like the Kallang/Whampoa BTO — the other city-fringe BTO in this launch — only 3-room and 4-room units are offered here. So it may not be suitable for those looking for more space or have a bigger family.
Schools
While there are a few childcare centres nearby, the same cannot be said for schools. There aren't a lot of options here. In fact, there aren't any schools within 1km of the flats.
The nearest schools — New Town Primary and Queensway Secondary — will be around 10 minutes by bus.
Other schools in the vicinity include Queenstown Primary and Secondary, and Crescent Girls'.
Recreational facilities
Likewise, there aren't many recreational facilities in the area. The closest one will be Queenstown Swimming Complex and Stadium, which is a 10-minute bus ride away.
If you're a nature lover or have taken up hiking as a hobby (like many residents in recent months), Hort Park is around 15 minutes by bus. A little further are Kent Ridge Park and Southern Ridges.
What else we noted about the August 2021 Queenstown BTO
The fire station will just be around 350 metres away from the Queenstown BTO flats. And there's a Chinese Temple just across the street. So expect some level of noise once in a while.
Right now, the healthcare facility next to the project is still being planned. So we don't know if it will be built at the same time as the BTO or afterwards. If it's built sometime later, residents will have to be prepared for noise pollution.
There's also probably a lower chance of getting an unblocked view here. Looking at the URA master plan, the BTO will be surrounded by housing and healthcare facilities.
If you manage to get the west-facing stack, you may be able to enjoy an unblocked view for a few years. As you can see in the latest master plan, the plot of land at the west side of the BTO is marked for residential. But it's still subject to detailed planning. So it could be for another BTO or a condo.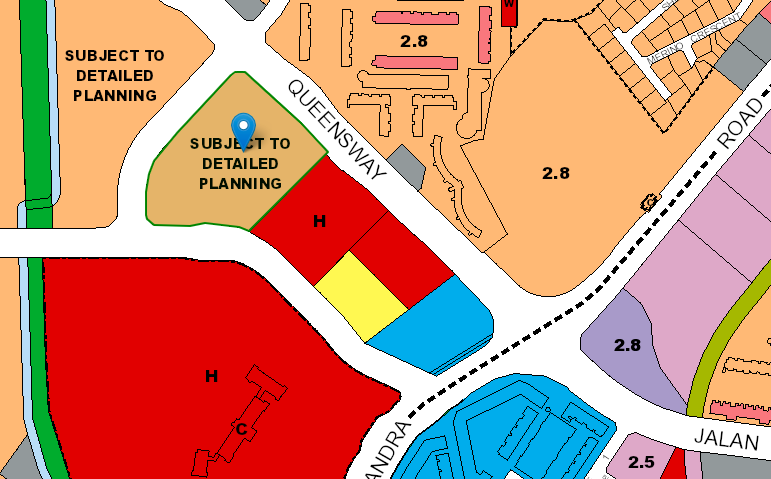 Our verdict on the August 2021 Queenstown BTO
Queen's Arc is probably one of the most exciting BTO launches this year. We like the location as it's very close to IKEA, Anchorpoint and Queensway Shopping Centre. It's also where you can find lots of bargains. Besides these malls, healthcare facilities are also close by.
On the other hand, the MRT isn't very accessible since it will take residents around 10 minutes to reach. At the same time, this BTO is in the city-fringe, so it gains a few plus points for its connectivity to other parts of the city.
In terms of location, the only downside is the lack of school options nearby.
August 2021 Queenstown BTO: Should you apply? 
Expect very stiff competition since Queenstown is a very popular estate (yes, we know we've said it a few times in this article) and the last BTO here was nearly a decade ago.
If you really want to try your luck to secure a city-fringe BTO, you may want to ballot for the Queenstown BTO. With 610 flats to be offered here, it's twice the number of units available at the Kallang/Whampoa BTO.
Otherwise, if you really, really want to secure a BTO flat in this launch, you might want to try elsewhere, like the Hougang BTO or Tampines BTO.
Will you apply for the August 2021 Queenstown BTO? Let us know in the comments section below or via our Facebook post. 
If you found this article helpful, check out our August 2021 BTO reviews of the other projects here:
Looking for a property to buy or rent? Find your dream home on Singapore's largest property portal 99.co! If you have an interesting property-related story to share with us, drop us a message here – we'll review it and get back to you.
New launch alert! Welcome to Grand Dunman
About Virginia Tanggono
Virginia covers the property news in Singapore, from record sales to profile stories on home ownership. In her free time, she occasionally searches for spoilers of movies and TV shows.
Looking to sell your property?
Whether your HDB apartment is reaching the end of its Minimum Occupation Period (MOP) or your condo has crossed its Seller Stamp Duty (SSD) window, it is always good to know how much you can potentially gain if you were to list and sell your property. Not only that, you'll also need to know whether your gains would allow you to right-size to the dream home in the neighbourhood you and your family have been eyeing.
One easy way is to send us a request for a credible and trusted property consultant to reach out to you.
Alternatively, you can jump onto 99.co's Property Value Tool to get an estimate for free.
If you're looking for your dream home, be it as a first-time or seasoned homebuyer or seller – say, to upgrade or right-size – you will find it on Singapore's fastest-growing property portal 99.co.
Meanwhile, if you have an interesting property-related story to share with us, drop us a message here — and we'll review it and get back to you.
Join our social media communities!
Facebook | Instagram | TikTok | Telegram | YouTube | Twitter