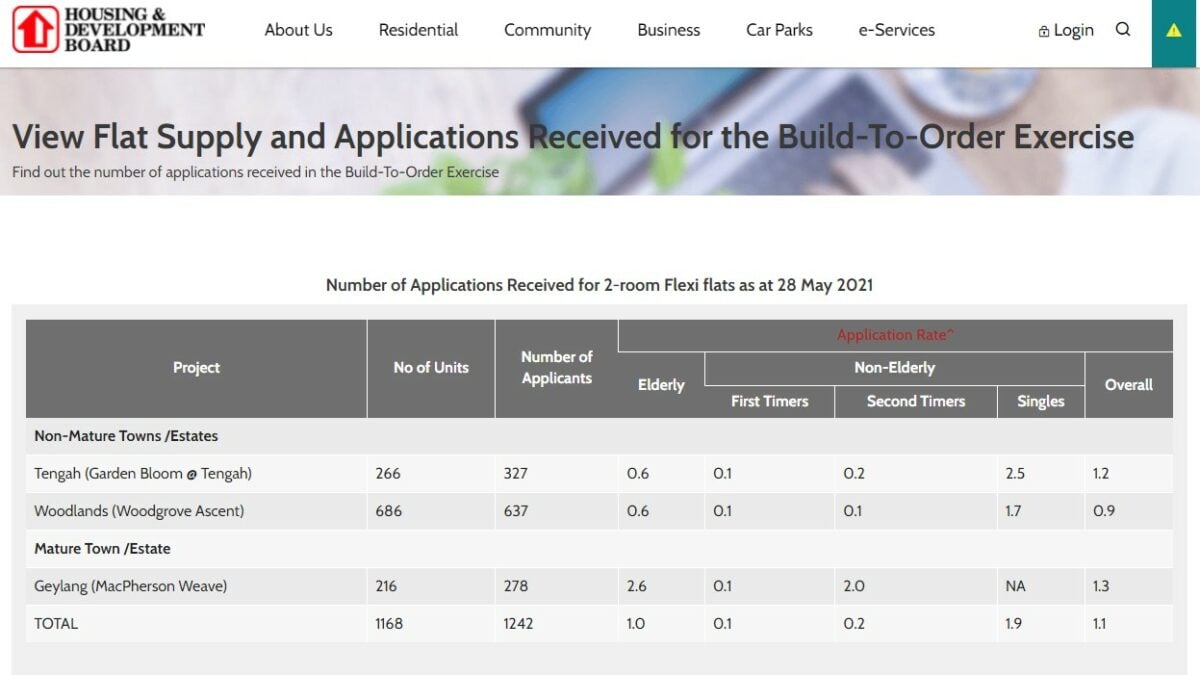 HDB recently launched the May 2021 BTO last Tuesday 25 May for 3,879 new flats across four estates: Bukit Merah, Geylang, Tengah and Woodlands. The application period runs for a week and will end on Monday 31 May at midnight.
Over the week, HDB will update the application rate daily at 8 am, 11 am, 2 pm and 5 pm, allowing applicants to gauge their BTO chances.
Here are the application rates for the 2-room Flexi flats, as of 28 May at 11 am.
And here are the application rates for bigger flats, as of 28 May at 11 am.
If you're keen on balloting for a 4-room flat in Bukit Merah, you might want to note that you'll be facing very stiff competition. Within three days, the application rate for these flats has reached a whopping 30.3. As we've predicted in our Bukit Merah BTO review, flats here will be the most oversubscribed.
On the other hand, so far the Geylang BTO isn't as oversubscribed as the previous launch last August, which had an application rate of 19.1 for 4-room flats.
To increase your chances of getting a BTO this time, you might want to try your luck at Geylang, Tengah or Woodlands instead. Flats at these estates generally have lower application rates for now.
---
Still considering which estate to ballot for? Check out our May 2021 BTO reviews here: