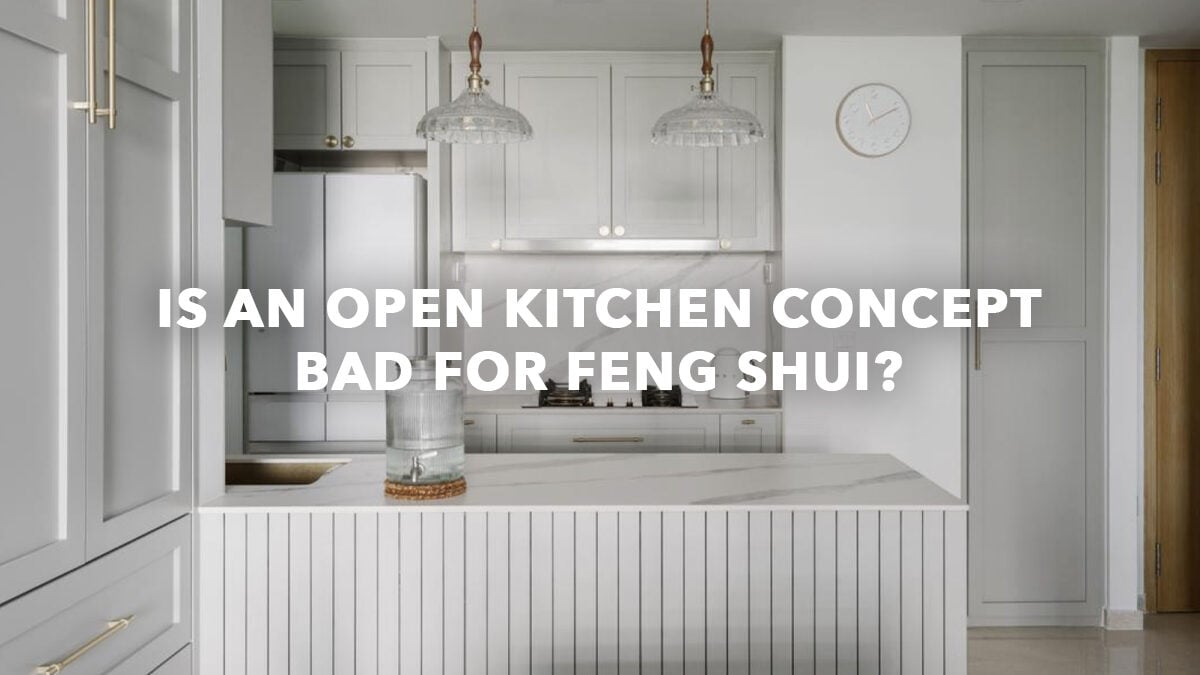 Be it in HDB BTO flats or newer condos, open kitchens are becoming the norm. Naturally, this has spurred the discussion of whether or not this will have any impact on the feng shui of the house. Personally, I love the idea of an open kitchen, and I intend to have one at home too! But of course, me doing what I do, I'm racking my brain as to whether or not an open kitchen is a good idea from a feng shui perspective. After all, open kitchens did not exist in the past, so a good way to approach this is to look at the fundamentals of feng shui.
Let's start the discussion by exploring exactly why the kitchen has always been given much attention in feng shui.
Feng shui will never veer away from the concept of 'qi' (氣), which the Chinese ancestors saw as the ether which binds everything together and the unseen energy which determines how well life thrives. It sounds very "pseudo-science", but that's just the way feng shui currently is – a very abstract way of viewing the world.
As long as you're applying feng shui, you're applying these traditional views the Chinese ancestors held as well.
We all know the kitchen is a part of the house that we can't ignore when it comes to feng shui, but what exactly warrants the kitchen to be given so much attention in the past and even till today? Let's explore some of these reasons:
The kitchen is one of the "Six Preparations"
We call this the 六事 (liushi) in Chinese – the six must-do tasks when building a home. But some of the tasks – such as building a well, our own roads and the setting up of a vault for storage for grain storage – no longer apply to us in modern times.
So, priority was of course given to the kitchen and main door, which eventually led to the writing of the the feng shui classic《阳宅三要》(yangzhaishanyao) book, which focused on the positioning of the main door, master bedroom and kitchen – a topic I wrote about some time ago.
What exactly does the kitchen do in feng shui?
The ancient Chinese believed that whatever laws that can be observed in nature will unfold in the same way within your house as well. Your house is still as a little universe unto itself that aren't free from these laws, which is why you'll often hear of certain sectors being negative and others being positive.
Trying to give a 'scientific' explanation on why the kitchen is so important goes back to the concept of 'qi'. In traditional feng shui, there's a term we call 藏风聚气 (jufengzangqi), which basically refers to the ability to hold and retain positive 'qi' within the house.
The kitchen was of course seen as the only place in the house that's able to generative positive 'qi', whereas the 'qi' of other areas are out of our control and at the mercy of things not within our control.
The Chinese classic of feng shui《八宅明镜》(bazhaimingjing) puts it in another way, mentioning that the kitchen is described as a sector in the home which has to ability to 压煞迎生 (yashayingsheng), which means the kitchen is believed to be able to negate a bad sector of the house.
The concept the kitchen generating good 'qi' was so deeply held by people that that they even had a ritual for it. In a practice known as 进火 (jinhuo), the stove is lit for almost the whole day and this is believed to get rid of the impurities of the house, which I suppose translates into the removing of unwanted moisture or scent after the house is completed.
This traditional practice is something I still encourage my clients to do, albeit in a more evolved form of cooking a sumptuous home-cooked dinner on the first night of them moving into their new home.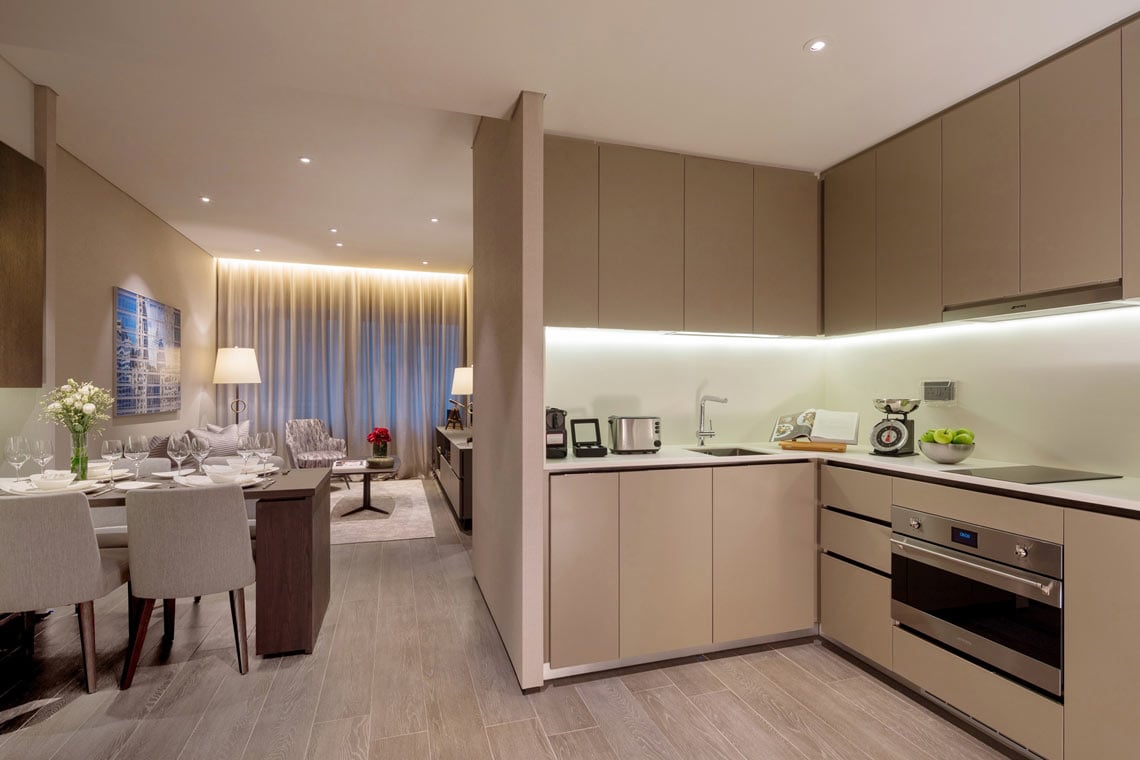 The taboo of having wind at the stove (炉灶忌风)
The whole worry behind having an open kitchen in the house is related to the taboo of having wind at the stove.
There's an old saying called 炉灶忌风 (luzaojifeng) where 炉灶 refers to your stove and 忌风 basically means "having wind at the stove is a taboo". Very much like us in the modern times, people in the past shared a similar concern of not wanting fumes or ashes from the fire wood or coal to drift into other areas of the home.
The points in the previous section also play a role as well, in that we don't wish for the air or 'qi' within the kitchen to unnecessarily dissipate into the other areas of the house.
An enclosed kitchen would of course alleviate all these issues, but it doesn't mean that an open kitchen would be an absolute taboo as long as the required measures are taken to adhere to the rules stated above, which is to prevent too much air flow moving from the kitchen into other areas of the house.
Should you have an open kitchen in your home?
Open kitchens can be nice, but my opinion is that, ideally, these open kitchen concepts should not contravene the rules set out above. If your open kitchen makes your living room feel like a kitchen as well, then we have a problem.
What I mean here is that as long as you take the measures to make sure your kitchen does not end up contaminating your living room or other areas of your house, that's perfectly fine and I'm sure everyone already has already considered this.
You could, of course, consider designs that allow you enclose or open up your kitchen as and when you want it, which many people have done.
The bottom line is, I don't think there is a need to worry about having open kitchens in your home. I don't feel it degrades the quality of the house from a feng shui perspective.
Of course, there's a lot more to feng shui than this, but to eventual new owners of HDBs or condos with open plan kitchen layouts or anyone wanting to have an open kitchen: don't worry about too much about this for now and always go with a practical design first.
---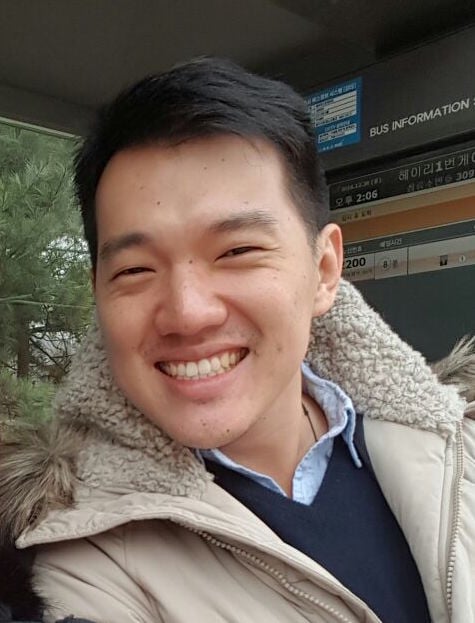 This article was written by Sean Chan. Born in Taiwan and raised in Singapore, Sean Chan is an old soul and a modern day Feng Shui Master. He works in a tech unicorn by day and as a Chinese metaphysics consultant specialising in BaZi, Zi Wei Dou Shu and Feng Shui by night.
Through his blog, he hopes to dispel the myths and superstitions surrounding this field, and help people from all walks of life benefit from metaphysics the way its founders intended. Sean Chan is 99.co's feng shui Key Opinion Leader.
Looking for a property?
Find the home of your dreams today on Singapore's fastest-growing property portal 99.co! If you would like to estimate the potential value of your property, check out 99.co's Property Value Tool for free. Also, don't forget to join our Facebook community page or Telegram chat group! Meanwhile, if you have an interesting property-related story to share with us, drop us a message here — and we'll review it and get back to you.
Note that this content may be reproduced in edited form on our content partner sites. They include AsiaOne and Yahoo South-East Asia but are not limited to these.