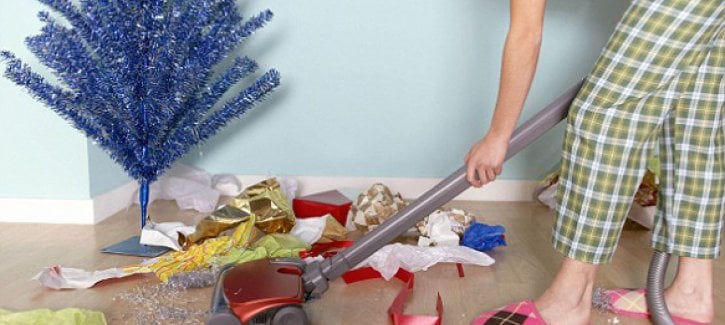 We love plenty of things about Christmas: the amazing food, the gift-exchanging, and the festive atmosphere that's present regardless of where you go. But here's the one thing which we would gladly do without: post-Christmas cleaning. (Cover image credits)

In this article, we've rounded up 9 post-Christmas cleaning hacks that will (hopefully!) make the days after Christmas a little less tiring. Time to roll up your sleeves, and get your hands dirty!
#1: Get rid of the lingering smells
A freshly cooked turkey smells amazing, but the smell of leftover turkey three days after Christmas? Not as much.
Here's the trick to getting rid of any lingering smells in the air: just fill a few bowls with vinegar and hot water, and place them around your home. Any aromas or odours present will be gone in no time!
#2: Cleaning your oven
After being heavily utilized throughout the festive season, your oven is likely to be full of grease and residue.
Here's a handy trick that will help you clean your oven with zero fuss: sprinkle table salt around the interior of your oven (this helps absorb the grease, and loosen the dirt). Following which, heat the oven to 50 degrees Celsius, then wipe off the crust with a damp cloth. That's all there is to it!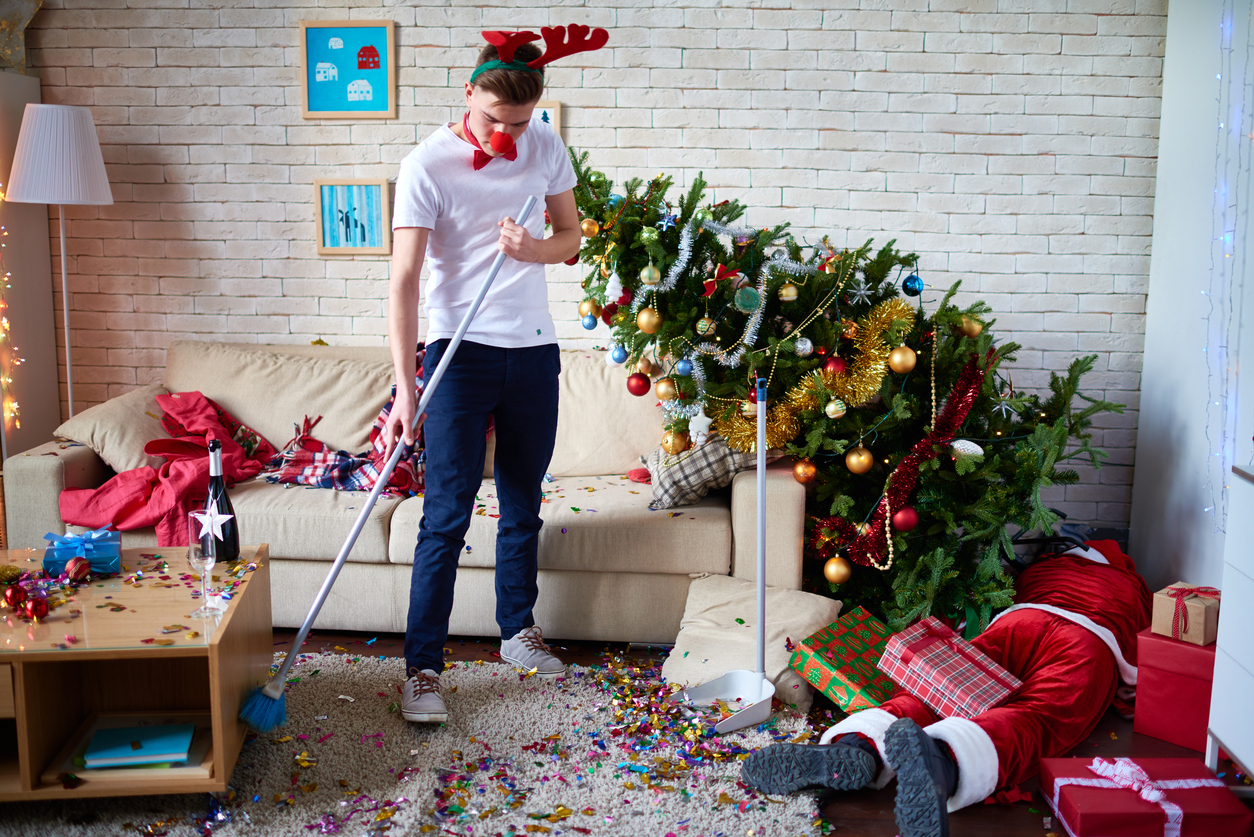 #3: Keep your Christmas ornaments
How do you keep your Christmas ornaments neatly, without them tangling? A nifty hack is to wrap them around empty toilet paper tubes.
Here's how you do it: starting with the side opposite to the plug, loop the cord around the roll, and insert the plug into the tube's opening. Simple enough!
#4: Dispose your tree…
…without getting needles all over the house. If you have a plastic tree bag, wrap it around your tree, and carry it outside. Alternatively, you can also clip off some of the branches and place them in a bag, before wrapping the tree in a large sheet and carrying it out.
Once you've gotten your tree out, sweep up the remaining needles on the floor. As much as possible, don't vacuum these up – they're known to jam up vacuum cleaners!
#5: Get rid of that sappy feeling on your hands
One last trick when it comes to disposing your Christmas tree: if you find yourself with a ton of sap on your hands after removing your tree, simply rinsing it out with soap and water won't help. Instead, grab a spoonful of mayonnaise (or milk!) and rub it all over your hands.
#6: Keep your silverware clean and sparkling
If you're one of those fancy folks who brings out their good silver every Christmas, here's a hack for you. When you pack these up after Christmas is over, be sure to store them in a tarnish-free fabric. These will keep tarnish-causing gases at bay – meaning you won't have to polish your silverware when you bring them out next year!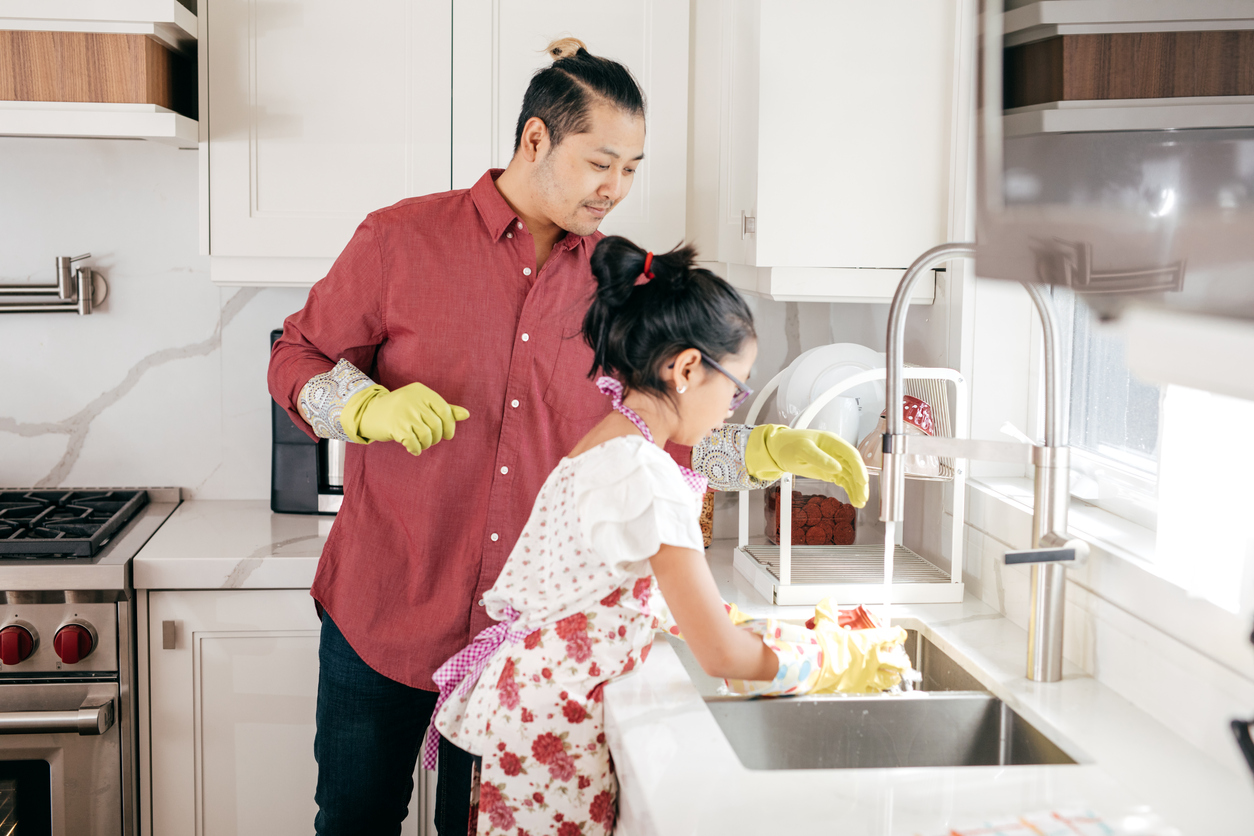 #7: Clean artificial spray-on snow
We don't have real snow in Singapore, but spray-on snow is the next best thing… until you try to clean it, that is!
Why is spray-on snow so stubborn to clean? Because its chemical composition includes fats, you won't be able to just wipe it down and be done with it. Go ahead and use a ceramic hob scraper to remove the sticky top layer, and then wipe any remaining residue with a solution of alcohol and warm water.
#8: Get rid of candle wax on the tablecloth
Candles are a lovely way to create some ~mood~ during Christmas, but once you get candle wax on your tablecloth, it's a pain to remove.
Here's the easiest way to remove pesky wax: firstly, using a knife that isn't too sharp, scrape as much wax as possible from the cloth. Next, place blotting paper over the area with wax, and blow with a hairdryer (the oil from the stain will start transferring onto the blotting paper). Last but not least, put your tablecloth in the washing machine – and you're done!
#9: Deal with wine spills
Happens to the best of us. You have a glass of red in your hand, you're talking animatedly to your friends, and before you know it, your glass is empty and the rug is turning a bloody shade of red. If you've spilled some red wine, use white wine to get it out; for white wine spills, white vinegar will do the trick.
If you found this article useful, 99.co recommends Cleaning hacks for the ultimate low-maintenance home and Home sweet home or bacteria haven? Here's how often you should be cleaning your home.
Find the home of your dreams today at Singapore's largest property portal 99.co!