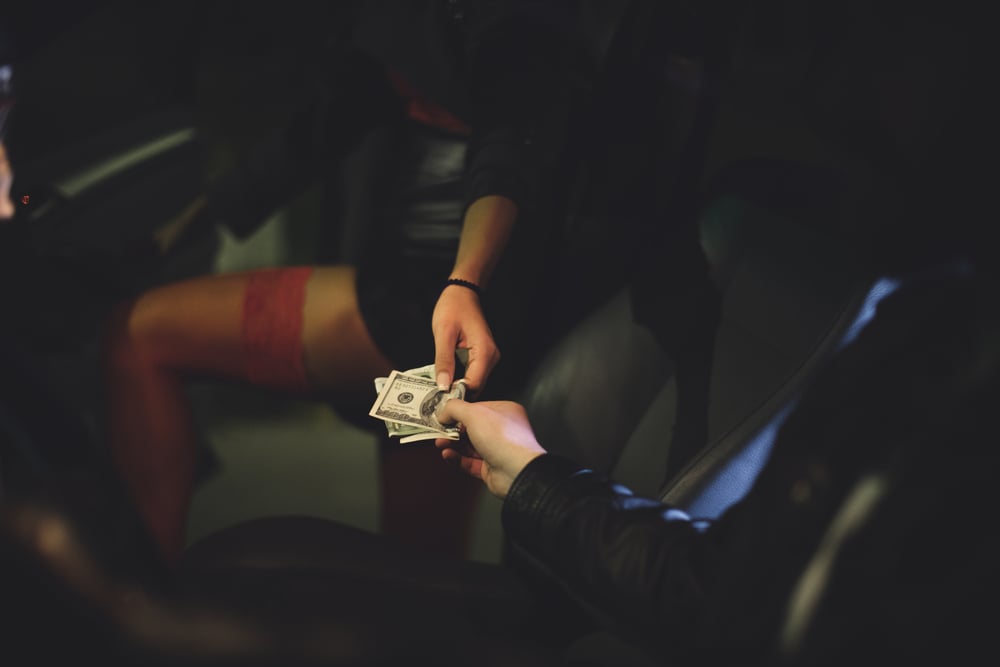 A while back, we mentioned that Geylang might be an underrated property hot spot. Now, we take a look at how the properties there have fared over the past 10 years:
How has  Geylang changed?
If you haven't been to Geylang for a while, here are some of the bigger changes we've spotted:
The Red Light areas have cleared off the streets; they're more strictly confined to the (licensed) brothels.
The gambling and illegal DVD businesses have largely packed up (although contraband  cigarettes are still an issue)
The traffic situation in the lorongs have eased up, but parking space is still an issue
The eateries have also seen notable upgrades; they're generally cleaner, and with proper lit signboards. You can almost mistake it for a stretch like East Coast Road from a distance.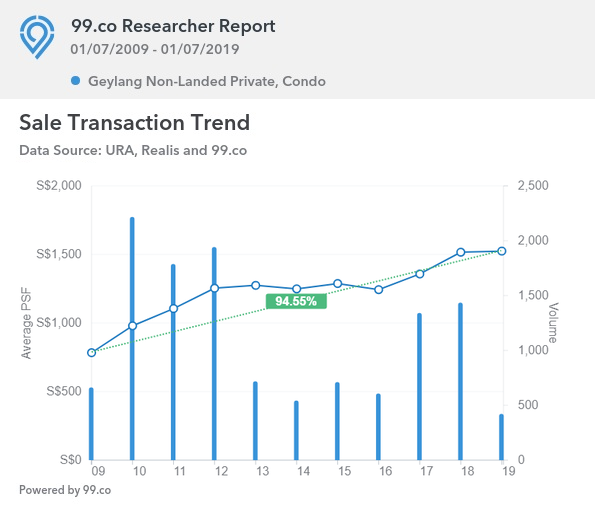 Overall non-landed private property prices have risen from an average of $783 psf, to $1,524 psf over 10 years; an increase of around 94.5 per cent. By contrast, non-landed private property prices in Singapore averaged $1,017 psf in 2009, and rose just around 53 per cent to $1,556 psf: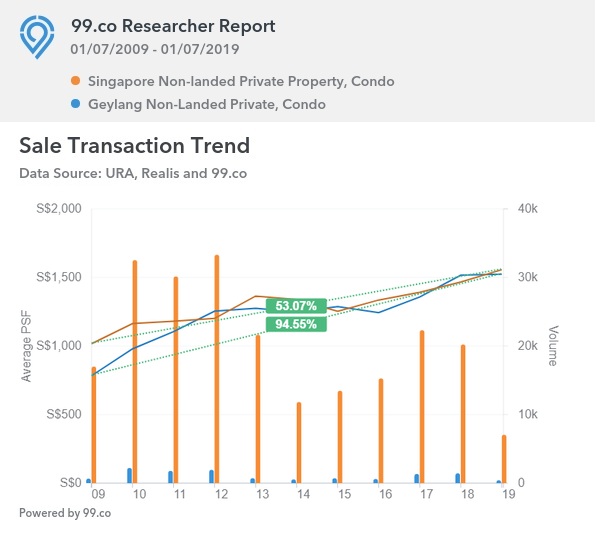 For rental information, we only have data reaching back to 2012. Nonetheless, we can see that Geylang's non-landed private properties also fared better in rental, compared to the rest of the country: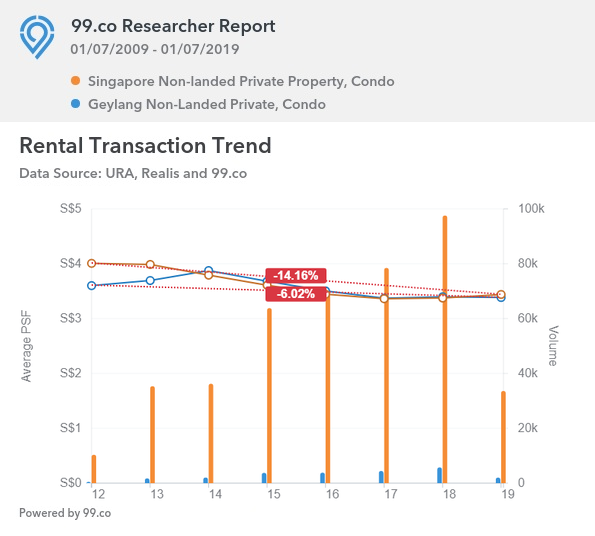 Average rental cost per square foot has fallen from around $4 in 2012, to $3.44 today. In Geylang, the decline has been less pronounced; from $3.60 psf, to $3.38 psf today.
In addition to this, several property agents that we spoke to highlighted the area's high rentability. Whatever its reputation, Geylang is a highly developed area loaded with eateries, convenience stores, a sports centre, and relatively fast access to the CBD (about a six minute drive). It's also serviced by Aljunied MRT station on one end, and Kallang MRT at the other extreme.
If you over look the two main issues – vice activities and bad parking – we daresay the area has better amenities than places such as nearby Kallang.
What's causing the turnaround?
Geylang property currently benefits from scarcity value. The area between Geylang Lorong 4 and Lorong 22 is no longer being zoned for residential use. It's only for commercial, which promises two things:
First, there will be limited supply for tenants who want to stay in Geylang (and given its good location, this is more people than  you'd probably imagine). Second, large swathes of commercial development will mean even more food, shops, convenience stores, etc., adding to this already well built-up area.
The other factor is the slow, creeping clean-up of the streets. There are no longer streetwalkers lurking along Sims Avenue, for example, and many of the gambling dens / obscene DVD sellers have been cleared out. In the most notorious lorongs (18 to 24), a casual stroll will reveal plenty of CCTVs, and dead silent alleyways.
Many investors are counting on eventual gentrification: remember, Bugis used to be just as seedy as Geylang, in the 1980's and before. And the infamous Blue Triangle, Singapore's former red-light hot spot, is today home to co-working spaces and hipster cafes. Just take a stroll along Keong Saik Road; you wouldn't guess that, a mere decade ago, licensed prostitution was still rife in the area.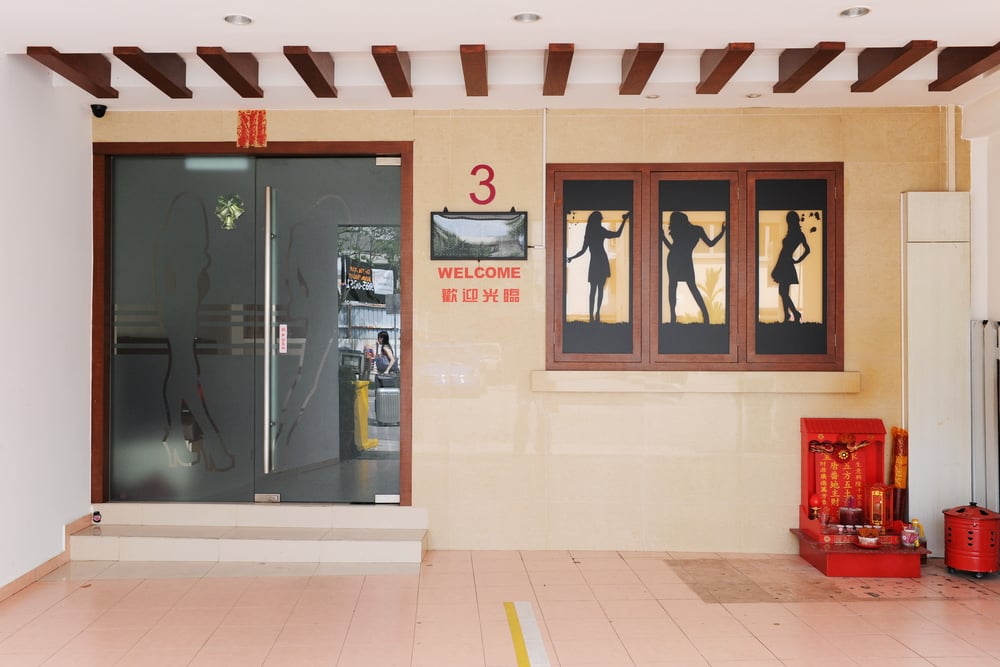 Does that mean Geylang is a great place to buy property?
For new investors, things can get complicated. One particular difficulty is that banks sometimes refuse to finance properties in the area, thus leaving you to use cash, or private contracts. Neither are advisable for new investors.
We'll confidently say you shouldn't ignore the area, and that it's quite the opportunity (for those who can bear the risk). But it's best to stick to areas further from the red light districts; and be wary of the extremely cheap, cash-only units. They may have high rental yields due to the low price, but they also tend to be old or in the seedier areas, and harder to rent out.
Would you buy a property in Geylang? Voice your thoughts in our comments section or on our Facebook community page.
Looking for a property? Find the home of your dreams today on Singapore's largest property portal 99.co! You can also access a wide range of tools to calculate your down payments and loan repayments, to make an informed purchase.