Numbers and percentages from quarterly property reports are interesting to look at, but they often don't give the full picture. On 26 October 2018 (Friday), the Housing & Development Board (HDB) released its Q3 2018 report and data on the HDB resale market. In particular, one statistic jumped out:
The volume of HDB resale transactions is up by almost 19%.
To be exact, HDB reported that resale transactions rose by 18.9% in Q3 2018 compared to the previous quarter, and up 21.6% from the same quarter last year. Such a high volume of transactions (7,063 cases) hasn't been seen since 2012.
For the curious, here are the top 5 HDB towns that saw the most resale transactions (taking total units into consideration for each town):
Punggol (377 transactions in 3Q 2018 out of 46,962 units)
Woodlands (519 out of 64,674 units)
Sengkang (551 out of 65,529 units)
Sembawang (189 out of 24,996 units)
Jurong West (489 out of 71,342 units)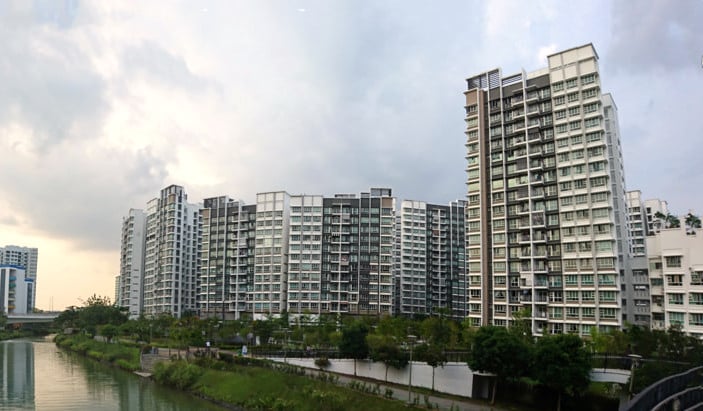 On the surface, it would seem that the stagnant HDB resale market could be finally springing into life, which spells good news for sellers. Flat owners might be thinking that the announcement of HIP II and VERS have had an effect, increasing buyers' willingness to purchase HDB resale flats. However, we are wary of jumping to this conclusion simply because the HDB resale price index has NOT risen in Q3 2018. Rather, the index fell marginally by 0.1%, essentially remaining flat.
From our data, 12 out of the 26 HDB towns in Singapore posted per square foot price gains for resale transactions in 3Q 2018.
Bukit Timah (+4.78% from 2Q 2018)
Marine Parade (+2.50%)
Jurong East (+1.50%)
Hougang (+1.31%)
Sengkang (+1.25%)
Bukit Panjang (+1.07%)
Choa Chu Kang (+0.94%)
Pasir Ris (+0.81%)
Sembawang (+0.60%)
Punggol (+0.48%)
Woodlands (+0.30%)
Serangoon (+0.23%)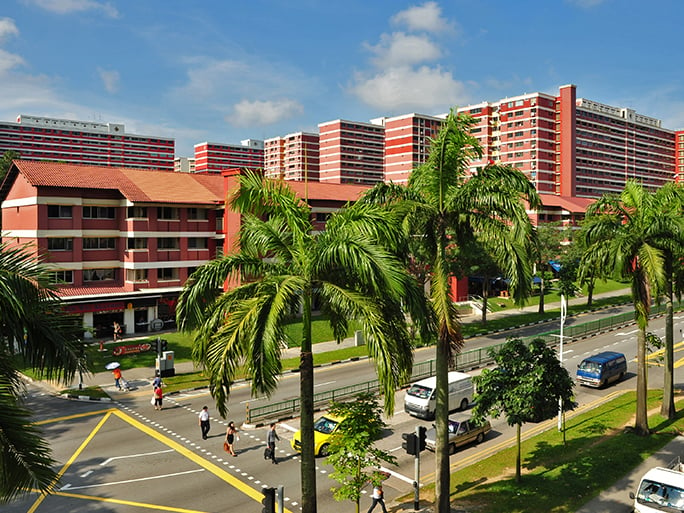 Three towns had no change in average psf prices: Tampines, Bukit Merah and Toa Payoh. The average psf transaction prices for these 11 HDB towns fell in Q3 2018 compared to the previous quarter:
Yishun (-0.28%)
Bukit Batok (-0.81%)
Geylang (-1.88%)
Bishan (-2.33%)
Bedok (-2.35%)
Jurong West (-3.06%)
Ang Mo Kio (-3.07%)
Clementi (-3.78%)
Central (-4.44%)
Queenstown (-5.20%)
Kallang/Whampoa (-5.53%)
So, what's behind the spike in HDB resale volume in Q3 2018?
What we think really happened in the third quarter is that HDB flat owners now have an increased willingness to meet the price offered by interested buyers, which on average should be about the same as recent transacted prices or lower — but rarely higher. This increased willingness to sell can be due to concerns of lease decay and asset depreciation and/or because flat owners (particularly of newer flats) believe that prices are unlikely to rise further in the short-term and are looking to cash out (and perhaps upgrade).
Considering the first reason, it's arguable that the willingness to sell has caused downward pressures on HDB resale prices in Jurong West. From Q1 2013 to Q3 2018 inclusive, the town has seen a gradual year-on-year increase of transaction volume (with a tiny number of units, about 1,200, becoming eligible for sale during the period). The psf price has, on the other hand, gone in the opposite direction, falling by more than 17% during the period, as the chart shows: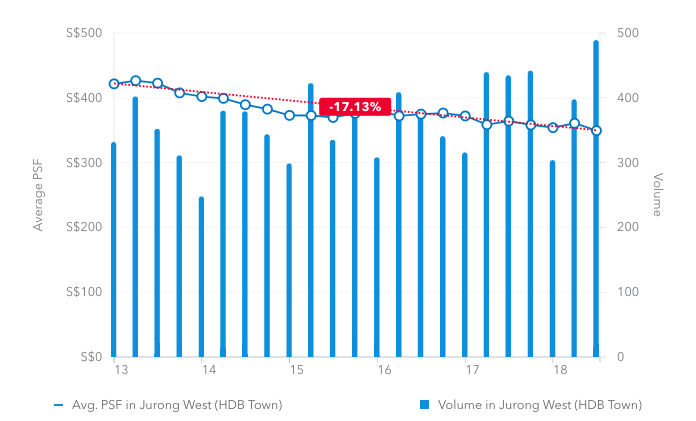 In fact, transaction volumes across the whole of Singapore also increased during that period, although newly eligible for sale (MOP-ed) units might have a part to play. Across the board, average resale prices fell by 11.37%, less that what Jurong West flats faced but still notable.
The willingness to sell can be observed in both newer and older estates. For instance, Sengkang (a newer estate) and Bukit Merah (an older estate) both recorded transaction volume highs that haven't been seen since 2009 and 2012 respectively, as the chart below shows: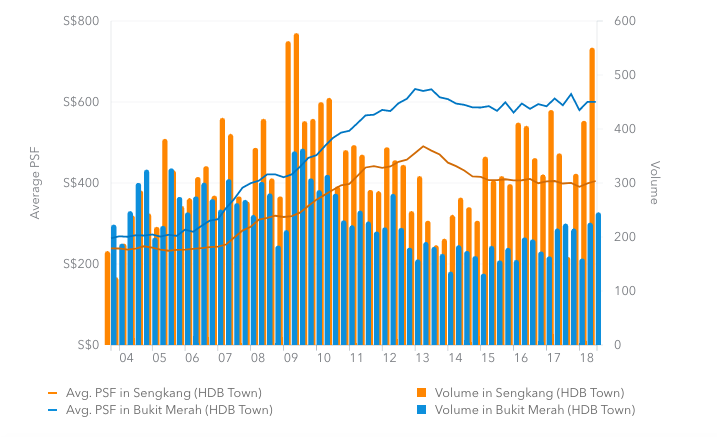 Last but not least, there are also two contributing factors to the transaction volume spike for HDB resale flats. One, a tighter loan-to-value (LTV) limit. Having to pay 5% additional downpayment for a bank loan on a private property may just be a bridge too far for middle-income buyers to bear, and a few may have decided to settle for a HDB resale flat and taking a HDB concessionary loan instead.
The other factor, described by Ku Swee Yong, Chief Executive Officer of International Property Advisor, is that older beneficiaries of recent en bloc sales could be electing to buy HDB resale, instead of pouring their proceeds into another private property.
What's notable is that of none these demand drivers appear to be exerting an upward price pressure on HDB resale flats. In contrast, when demand for private condo units in Singapore increased, a corresponding price increase would follow, and vice versa.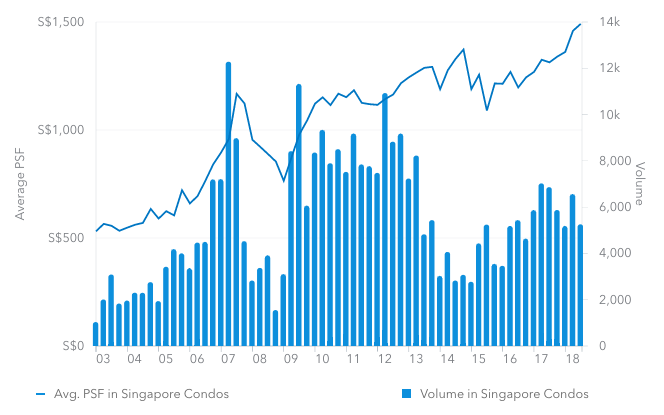 In short, the increase in transaction activity in the HDB resale market is occurring in the true definition of a buyer's market. With the exception of a few newer flats in highly sought after locations, this status quo looks set to remain for some time to come.
What's your take on the 3Q 2018 HDB resale volume spike? Voice your thoughts in the comments section or on our Facebook community page.
If you found this article helpful, 99.co recommends Chart of the Week: HDB Resale Prices in the East of Singapore and Chart of the Week: The fate of old 3-room HDB flats in Toa Payoh
Looking for a property? Find your dream home on Singapore's largest property portal 99.co!