The lease decay issue surrounding ageing HDB flats is becoming as old as stale bread. However, there are still occasional surprises, such as finding out that a group of older flats have, in just over 5.5 years, had one-quarter of their value wiped out. To be more specific, we found that transaction prices of 3-room HDB flats built before 1979 in the town of Toa Payoh have fallen — by 24.93% from the start of 2013 to the end of August 2018. Here's the chart: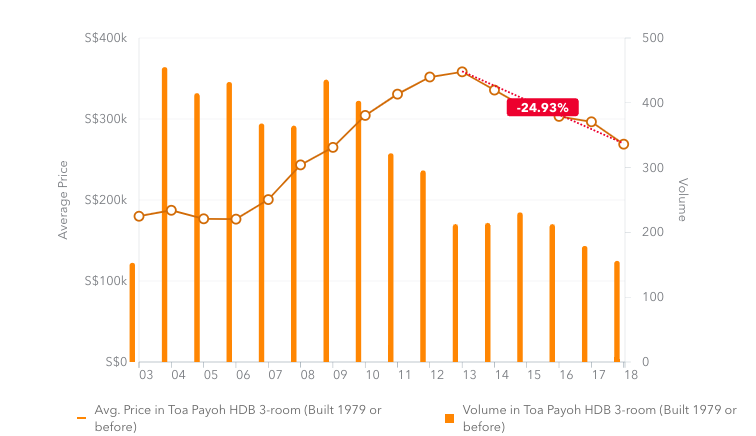 The issue of HDB lease decay aside (which happens to old flats regardless of location), these are our three reasons why old 3-room flats in Toa Payoh have suffered such a drastic fall in resale value:
Reason 1: Oversupply of old 3-room HDB flats in Toa Payoh
The number of 3-room units in Toa Payoh with less than 40 years of lease remaining is an 15,407 units. This is one of the proportions of 3-room flats of such age among all HDB estates in Singapore. This creates a situation where supply from sellers far outstrips demand by buyers, made worse by growing reservations over the purchase of older flats. Add to this difficulty of obtaining a loan or using CPF funds for flats with less than 40 years of remaining lease, and you can see why sellers are constantly forced to drop their asking prices in order to sell their units.
To illustrate just how many old 3-room units there are in Toa Payoh, there are 486 listings for 3-room HDB flats built before 1979 at the time of publishing this article. In the whole of Singapore (including Toa Payoh), there are 4016 listings in total. So, Toa Payoh currently makes up about 12% of the total national supply of older 3-room HDB resale flats, the most out of any HDB town. (Queenstown is second with 444 listings, but prices there have only fallen 14.84% over the same period.)
**[Browse all HDB flats for sale in Toa Payoh]
Reason 2: Transaction volume for old 3-room HDB flats in Toa Payoh has plunged
From the chart, it's pretty obvious that transaction volume for older 3-room HDB flats in Toa Payoh has fallen significantly since 2010. This echoes a national trend for resale flats. For Toa Payoh, transaction volume has fallen 59% in the eight-year period from 436 transactions in 2009 to 179 transactions in 2017. The fall in overall transaction volume for old 3-room HDB flats across Singapore over the same period is 56.5%, from 3,796 units in 2009 to 1,653 units in 2017.
One interesting observation: The transaction volume for old 3-room HDB flats in Toa Payoh in 2018 is set to exceed that of the previous year, despite the fact that transaction prices are on average 9.3% lower in 2018 than in 2017. This could point to the fact that owners could be finally be convinced that there would be little to no chance of value appreciation for their flats, and hence have begun adopting the 'better late than never' mindset in cashing out their dwindling "asset". Older owners who are looking to downsize to a new two-room Flexi flat could also be willing to settle for lower cash proceeds (as opposed to peanuts and scraps down the road if they continue to wait — and that's even if VERS is in the picture).
Reason 3: Lack of apparent upside in Toa Payoh HDB town
Let's compare Toa Payoh to two other city fringe HDB towns: Queenstown and Geylang. If we look at Queenstown, we can sense transformation in progress. There's land for changes to happen; URA has even earmarked large areas occupied by former colonial bungalows for redevelopment in their Master Plan. The transformation of nearby Tiong Bahru has also given some sense of what's possible. Although the term "upside" isn't a guarantee, it's pretty convincing if you're talking about upside in Queenstown.
The same could be said for Geylang, another ageing HDB town. With the upcoming development of Paya Lebar Central CBD and, slowly but slowly, the 'cleaning up' of the Geylang red-light district, Geylang could see a slower slide of resale value in older flats and potentially a rise in rental demand due to an increase in the number of jobs in the vicinity. (Transaction prices for old 3-room flats in Geylang have fallen 19.59% from the start of 2013 to the end of August 2018.)
Speaking of CBDs, the trouble is that the Singapore government is looking eastwards and westwards of the city for decentralisation — not northwards in the direction of Toa Payoh. It's not just because they don't intend to; it's also because there's no more room. The Novena business district has been fully-developed, and Toa Payoh's proximity to it represents present value instead of future upside. And hemmed in by CTE and PIE on two sides of the town, the growth of Toa Payoh itself — in terms of more amenities — is pretty limited.
What should homeowners of old 3-room HDB flats in Toa Payoh do?
For owners (or lessees, if you prefer), the stark reality is that the trend of falling resale value for your older flat in Toa Payoh is set to continue. Luckily, as the likely increase in transaction volume this year suggests, owners should find a buyer without too much difficulty given Toa Payoh's city fringe location. Of course, the following needs to be in place to find a buyer:
Getting a property agent with experience in selling older resale flats to market your property
Your home should be in good condition with no major issues (e.g. no ceiling water leakage/damage)
Start planning to sell as soon as possible if your situation allows; don't procrastinate
Planning to sell? You can get an idea of the asking price of similar flats in your vicinity on Singapore's largest property portal 99.co.
What's your opinion on old 3-room HDB flats in Toa Payoh? Voice your thoughts in the comments section or on our Facebook community page.
If you found this article helpful, 99.co recommends Can your HDB flat really appreciate after it's 50 years old? and What makes Bishan HDB Resale flats perform so well?
Looking for a property? Find your dream home on Singapore's largest property portal 99.co!