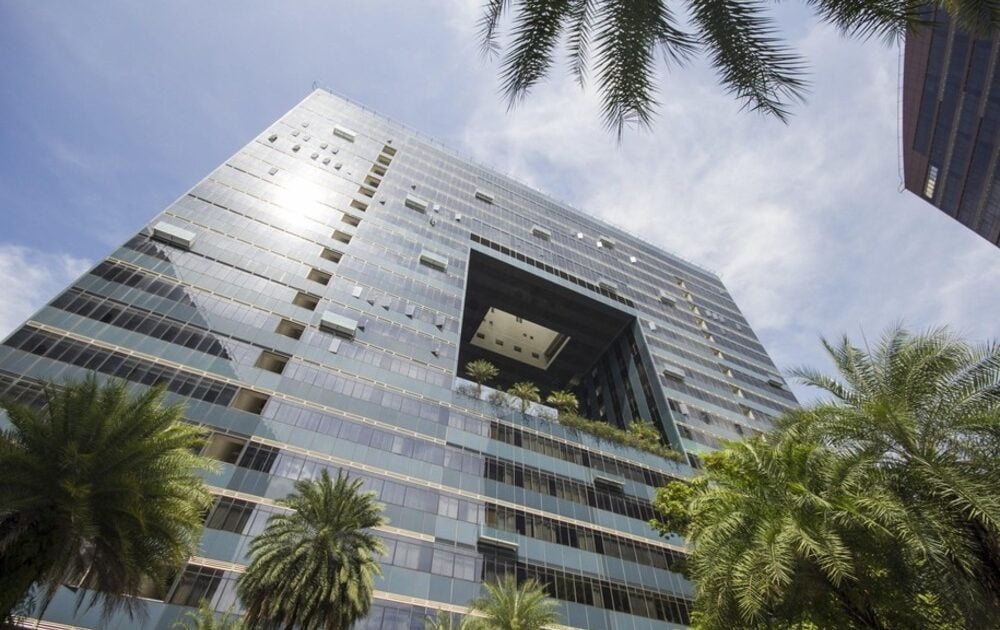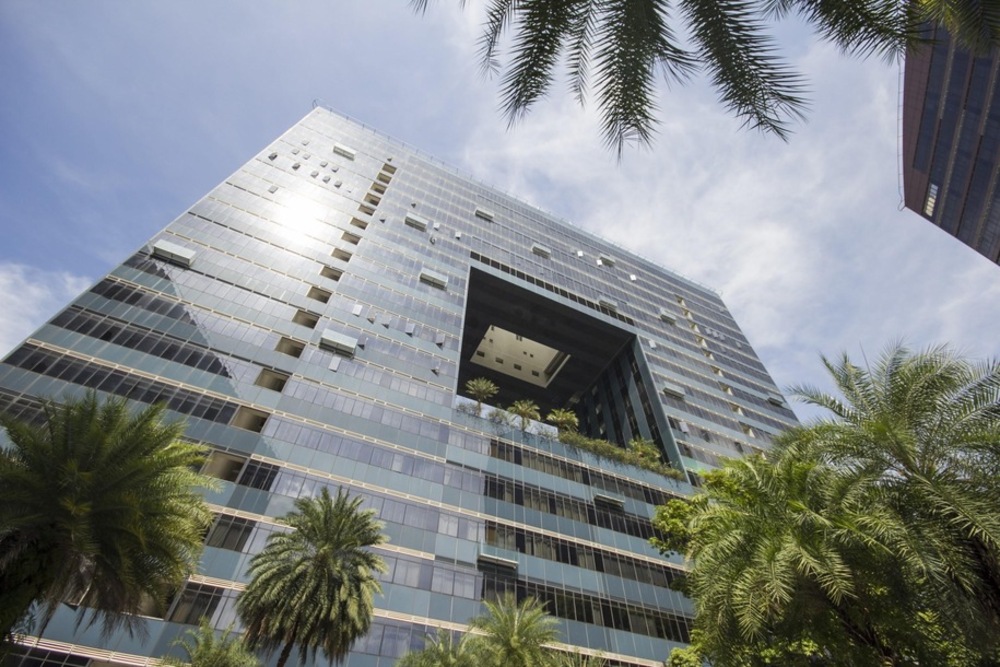 (Credits)
If you're buying property for the first time, you're probably wondering why quite a few people choose to buy a condo unit in a "reverse hamburger" way – everyone wants the unit to be located on the top or ground floor; the "patty" which is considered the middle floors are not as desirable. Your friendly property writer is here to explain the rationale behind it to you:
Choosing a ground floor condo unit
The pros of a condo unit on the ground floor:
You don't need to use the lift, which means you can zip in and out of your unit in a flash. This is also convenient for guests, especially during public holidays like Chinese New Year or Christmas. That's when the waiting time for lifts become interminably long due to the hordes of visitors.
As there are usually two lifts per block (for almost every condo), living on the ground floor can save you from a major inconvenience. The lift(s) may be used for a few hours at a stretch by movers or contractors once every few days. In older condos, lifts have been known to break down or need to be shut down for maintenance. This hinders movement in and out of the block for everyone except ground floor residents.
Some condos have a Private Enclosed Space (PES) around ground floor units, which gives you a little more room compared to other floors. It's not uncommon for many developments to have slightly bigger ground floor units, to make up for some of the drawbacks I will come to, further down the article.
One other benefit is that you may (depending on your condo rules) have the option of being more liberal with potted plants, or other decorative ornaments you'd like to put on ledges. It's highly unlikely that your toppled-over flowerpot will kill anyone when you're living on the ground floor.
It's easier to clean exterior surfaces
If you're a neat freak and want safe access to clean your windows and air-con compressors religiously, you'll want to be as close to the ground as possible. Viola! Completely possible if you live in a ground floor unit. It is highly unadvisable to climb out and do this if you live on, say, the 25th storey; unless you're armed with a parachute pack in the event of an involuntary skydiving attempt.
Safer for families with toddlers and young children
Continuing from what I've mentioned in point 3, if your young kids have Spiderman aspirations (especially if your condo doesn't allow the installation of safety grilles), choosing a ground floor may be the safer and better choice. Don't make assumptions about safety if you're raising curious and active toddlers.
The cons of a condo unit on the ground floor:
Increased exposure to vermin
This is the main problem with ground floor units. Rats, cockroaches, mosquitoes, lizards, and every kind of vermin imaginable is more likely to be found on the ground floor. This is especially true for units that have direct access to garbage chutes within their homes. The entire block's trash accumulates on your level, so don't be surprised if the infestation starts from your home.
Ground floor owners need to be proactive with their anti-pest measures and work closely with the condo's managing agent to nip a potential pest infestation in the bud. Anti-mosquito efforts also have to be ramped up if there's a dengue cluster in your area. Like it or not, you'll be on the front line of the onslaught.
Higher activity and noise levels
You have people passing by your front door every other minute. The lift lobby may be at your doorstep and you may have "kaypo" neighbours peering in ever so often. The condo's pool or playground nearby may deliver an incessant cacophony of screaming voices.
Mind you, some might actually welcome the hustle and bustle. But if being in the thick of action isn't quite your cup of tea, you may be better off purchasing a unit on a higher floor, which generally sees lower footfalls and noise levels.
Less light entering the unit
In older condos, ground floor units may get less light due to blockage from higher floors. This is not usually a problem in newer developments however, as developers have found ways around this. Even so, you should be ready to buy a clothes dryer; it may take a longer time to air-dry your laundry on the ground floor.
Choosing a top floor condo unit
The pros of a condo unit on the top floor:
It goes without saying, the higher floors get the most light and the best views. This is one of the main reasons why people pay top dollar for penthouse units. For sea-facing developments like Bayshore or Costa Del Sol, the awe-inspiring view is their biggest selling point. There's no point having a giant bay window if you're on the ground floor.
The peace and quiet you enjoy is not  just because there's less foot traffic. You're also further removed from honking vehicles, the roar of MRT trains, and buses screeching to a halt in the middle of the night.
This can be a pro or a con, depending on how you look at it. We know some people who loathe the silence that comes with living on the top floor. Older folks, who are used to staying on the ground floor and leaving the door open to chat to neighbours (the old kampung spirit) might not take to living on a high or top floor.
Units located on higher floors have a higher chance (pun unintended) of being unblocked. This allows for more air and light to enter the unit. This is a boon for those who prefer air drying their clothes as opposed to using a dryer.
When you're on the ground floor, you need to keep the curtains and shades drawn to stop every passing stranger from looking in. On the top floor, you can more or less leave the windows open; the only person who can peep in is the guy in the next block armed with a pair of binoculars.
Less litter falling from above
People who live on the ground floor (depending on the conscientiousness of neighbours living upstairs) may be subjected to a constant rain of litter. Falling cigarette butts, unsecured pieces of laundry, bits of food, candy wrappers, etc. tend to land on their window or aircon ledges, and sometimes on their patios. People on the top floor aren't subjected to having their units used as a dump site. 
The cons of a condo unit on the top floor:
If one of the lifts breaks down, or if a neighbour is moving in or out, may the odds (of getting into the lift) be ever in your favour. By the time you get downstairs, your Uber driver may have scooted off, you now need a second shave, or you might have finished reading War & Peace.
For older developments, you may want to find out about the condition of the lifts, before buying a condo unit on the top floor. Residents at People's Park Complex complained about hour-long waits for the lift due to frequent lift breakdowns among their three lifts.
Which condo unit is better? It depends if you're an investor or homeowner
For investors, it's a simple decision: look at the price histories/rental yields of units on the top and ground floors, then make an informed decision from there. You can check these out on thousands of listings on 99.co.
For homeowners, make your decision based on the needs of your family. If you have elderly parents or young children, a ground floor unit may be a better bet at the end of the day.
New launch alert! Welcome to Grand Dunman
About Ryan Ong
Looking to sell your property?
Whether your HDB apartment is reaching the end of its Minimum Occupation Period (MOP) or your condo has crossed its Seller Stamp Duty (SSD) window, it is always good to know how much you can potentially gain if you were to list and sell your property. Not only that, you'll also need to know whether your gains would allow you to right-size to the dream home in the neighbourhood you and your family have been eyeing.
One easy way is to send us a request for a credible and trusted property consultant to reach out to you.
Alternatively, you can jump onto 99.co's Property Value Tool to get an estimate for free.
If you're looking for your dream home, be it as a first-time or seasoned homebuyer or seller – say, to upgrade or right-size – you will find it on Singapore's fastest-growing property portal 99.co.
Meanwhile, if you have an interesting property-related story to share with us, drop us a message here — and we'll review it and get back to you.
Join our social media communities!
Facebook | Instagram | TikTok | Telegram | YouTube | Twitter