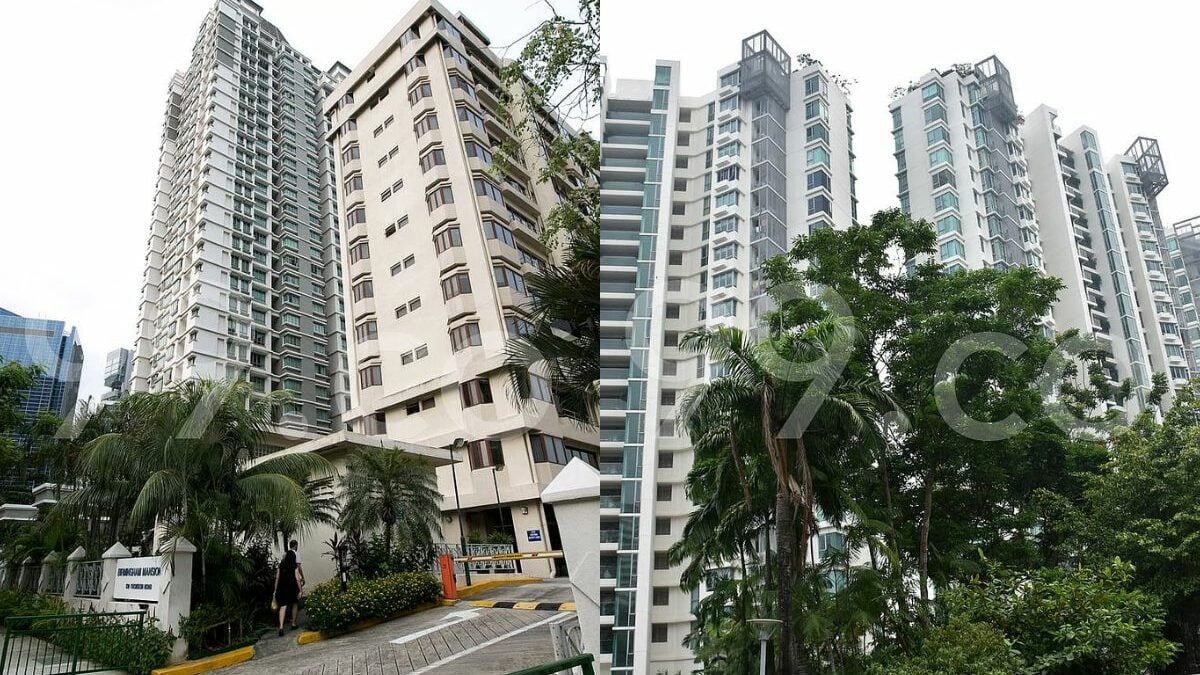 At a time when home prices are at their peaks, it can seem like it's a good time for home owners to sell off their properties. And more often than not, home owners are able to make a profit from the sale.
Today, 99.co looks at the condo resale transactions in April 2023 (from URA data, captured as of 12 May 2023). Among the units that changed hands last month, we noticed that 10 of them made a capital gain of at least 200%.
Condo name
Size (sqft)
Floor level
Purchase price and date
Sale price and date
Capital gain 
Years held
Annualised gain

The Centrepoint

732

4-6

S$550k

1 Jul 1999

S$2.1m

13 Apr 2023

S$1.55m

(282%)

24

5.74%

The Marbella

1,475

19-21

S$1.03m

26 Mar 2004

S$3.5m

24 Apr 2023

S$2.47m

(240%)

19

6.65%

The Trevose

1,765

1-3

S$1.03m

27 Feb 2004

S$3.1m

20 Apr 2023

S$2.07m

(201%)

19

5.97%

Birmingham Mansions

1,711

10-12

S$936k

30 Nov 1999

S$2.95m

6 Apr 2023

S$2.01m

(215%)

24

4.90%

Ritz Mansions

1,303

4-6

S$560k

19 Mar 2003

S$1.85m

27 Apr 2023

S$1.29m

(230%)

20

6.16%

One Amber

1,378

7-9

S$920k

24 Apr 2006

S$2.95m

10 Apr 2023

S$2.03m

(221%)

17

7.10%

The Eastside

1,012

4-6

S$600k

23 Feb 2005

S$1.95m

10 Apr 2023

S$1.35m

(225%)

18

6.77%

Bayshore Park

1,173

28-30

S$480k

3 Feb 2004

S$1.6m

10 Apr 2023

S$1.12m

(233%)

19

6.54%

Bishan Park Condominium

1,346

4-6

S$500k

23 Nov 1998

S$1.65m

12 Apr 2023

S$1.15m

(230%)

25

4.89%

Orchid Park Condominium

1,141

1-3

S$350k

22 Feb 2006

S$1.05m

18 Apr 2023

S$700k

(200%)

17

6.68%
Figures (except floor area) are rounded off to 3 significant figures.
All 10 units were held for at least 15 years
For these home owners, playing the long waiting game has paid off. After a holding period of at least 15 years, they have managed to get a profit that's at least twice the purchase price.
In fact, among these 10 units, two units had the shortest holding period of 17 years. Both units, one from One Amber and the other from Orchid Park Condominium, were bought in 2006 when prices were soaring, before reaching a peak in 2007.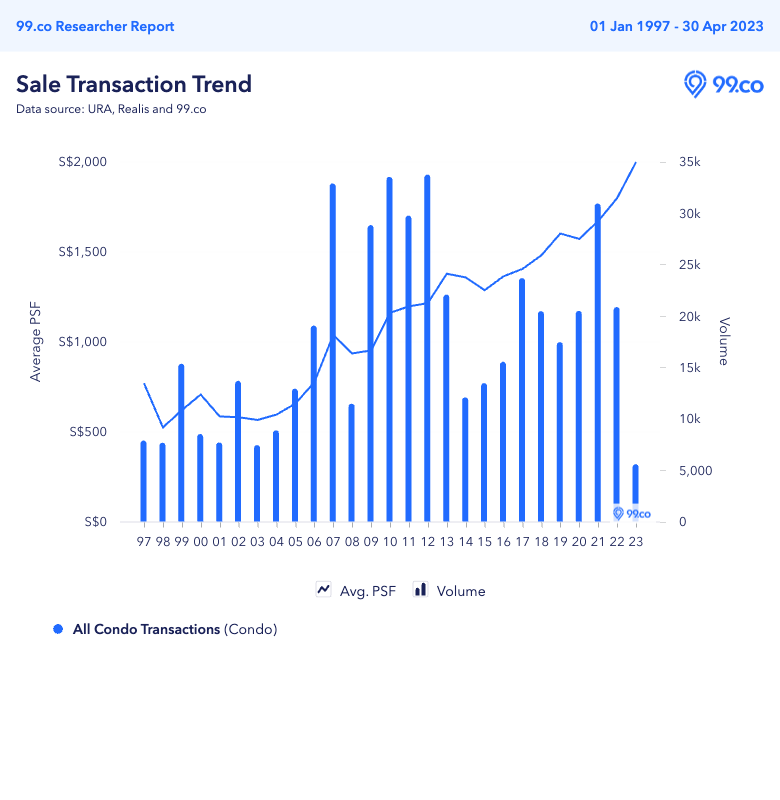 Meanwhile, another six units were bought in 1999, 2004 and 2005, when home prices had started increasing after a drop.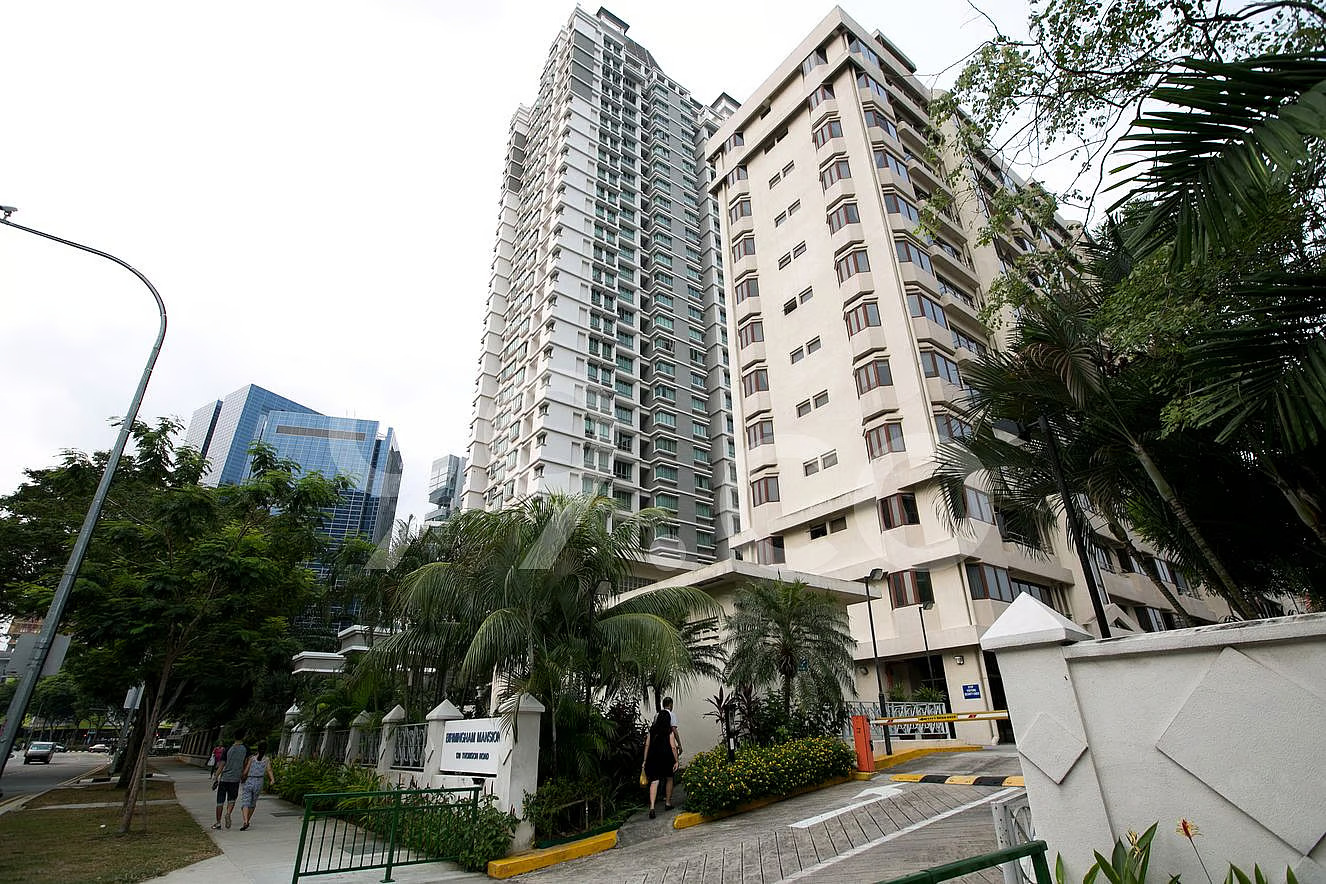 Notably, while these eight units were bought when home prices were rising, they were bought at least a year before prices peaked. On top of that, property prices then weren't as high as they are now. By selling off the properties during a peak, these home owners were able to maximise their capital gains.
Meanwhile, the remaining two units were bought in 1998 and 2003, when prices were at their lowest.

90% of the units were at least 1,000 sqft
Another trend we observed among these 10 profit-making units was that all but one had a floor area of at least 1,000 sqft.
These nine units had a floor area ranging from 1,012 sqft to 1,765 sqft, signalling higher demand for bigger space.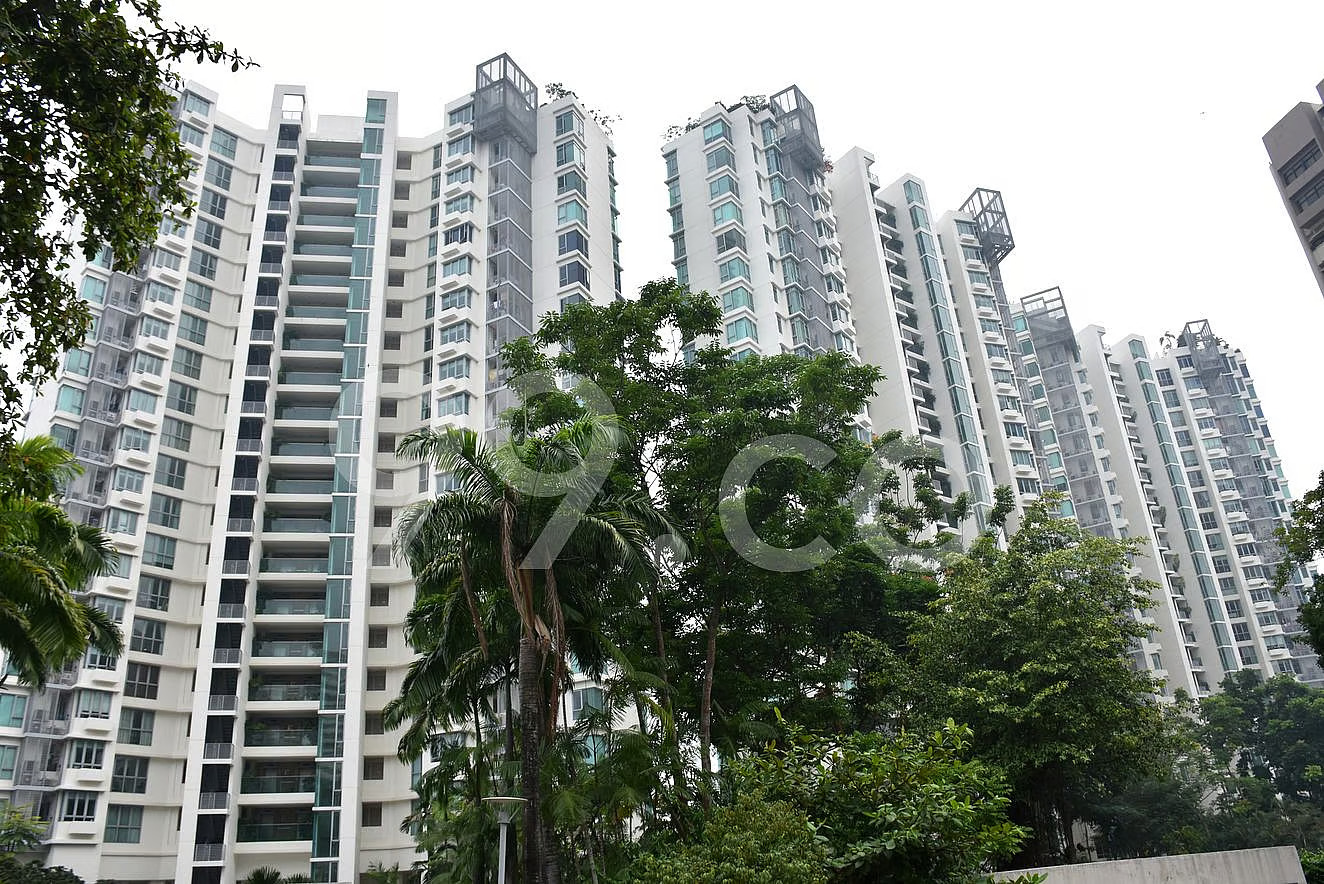 At the same time, these units don't go beyond 2,000 sqft. In fact, looking at last month's transactions, out of the 28 profit-making units with a floor area of at least 2,000 sqft, only four made a gain of at least 100%. The remaining units made a capital gain ranging from 7.1% to 91.1%.
Based on these transactions, it seems like properties ranging from 1,000 sqft to 1,800 sqft are more likely to bring in the highest returns. 
Condos from 1,000 sqft to 1,800 sqft for sale
Ridgewood Condominium
61 Mount Sinai Dr · D10
3
2
$3,400,000
International Plaza
10 Anson Rd · D2
2
1
$1,400,000
Kilat Centre
33 Lor Kilat · D21
3
2
$1,990,000
Kovan Residences
1 Kovan Rd · D19
3
3
$2,200,000
Riverfront Residences
51 Hougang Ave 7 · D19
3
3
$2,180,000
The Luxurie
21 Compassvale Rd · D19
3
3
$1,999,999
D'leedon
3 Leedon Hts · D10
3
3
$3,080,000
Wallich Residence
3 Wallich St · D2
3
3
$5,500,000
Heron Bay
55 Upp Serangoon View · D19
3
2
$1,380,000
Hijauan
63 Cavenagh Rd · D9
2
2
$2,999,990
70% of the units are lower-floor units
Interestingly, among these 10 units, seven came from the lower floors (i.e. below the 10th floor).
It goes against the general notion that upper-floor units tend to command higher demand and prices, given the higher preference for them.
In the case of these units, a likely reason is that these units were bought for owner-occupation in the first place, especially given the big size of the units and the long holding periods. The owners of these units probably didn't buy with property investment in mind, so the floor level may not be a huge factor in their buying decision.
Now, we're not encouraging our readers to time the market. But looking at last month's transactions, what led to the huge capital gain for the owners can be attributed to entering and exiting the market at the right time. They bought the units at a good time when prices weren't at a peak, and sold them when prices hit record highs.
If you found this article helpful, 99.co recommends Cooling measures 101: Signs to note based on past exercises and Why some new launches will still do well despite the latest cooling measures.
About Virginia Tanggono
Virginia covers the property news in Singapore, from record sales to profile stories on home ownership. In her free time, she occasionally searches for spoilers of movies and TV shows.
Looking to sell your property?
Whether your HDB apartment is reaching the end of its Minimum Occupation Period (MOP) or your condo has crossed its Seller Stamp Duty (SSD) window, it is always good to know how much you can potentially gain if you were to list and sell your property. Not only that, you'll also need to know whether your gains would allow you to right-size to the dream home in the neighbourhood you and your family have been eyeing.
One easy way is to send us a request for a credible and trusted property consultant to reach out to you.
Alternatively, you can jump onto 99.co's Property Value Tool to get an estimate for free.
If you're looking for your dream home, be it as a first-time or seasoned homebuyer or seller – say, to upgrade or right-size – you will find it on Singapore's fastest-growing property portal 99.co.
Meanwhile, if you have an interesting property-related story to share with us, drop us a message here — and we'll review it and get back to you.
Join our social media communities!
Facebook | Instagram | TikTok | Telegram | YouTube | Twitter