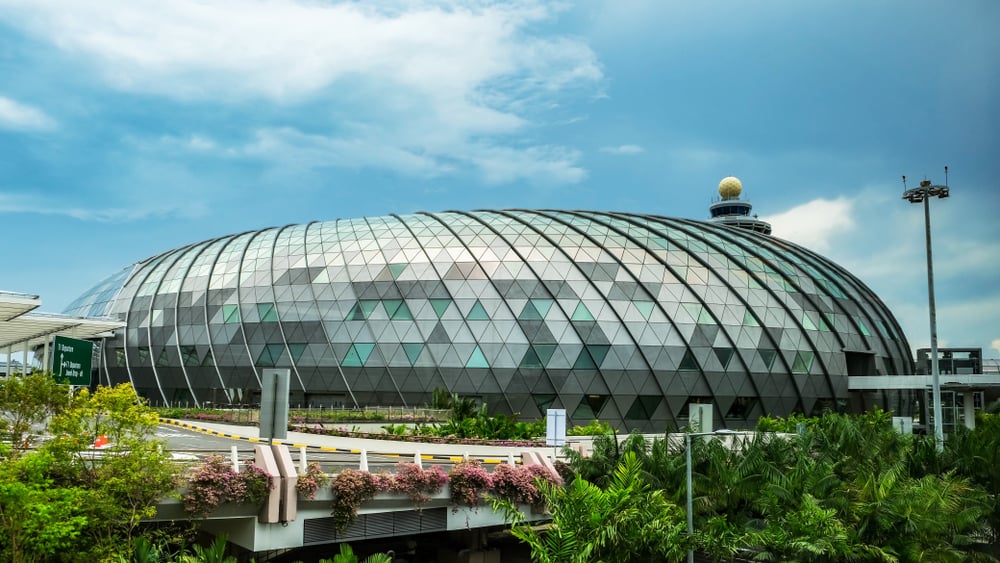 When Jewel first opened, everyone immediately flocked to it. But now, the interest seems to be waning. What's really going on in The Jewel and will it sustain its popularity? Let's find out:
What is Jewel?
Jewel Changi Airport, also known as Jewel, is a mixed-use development built recently. It consists of gardens, attractions, aviation facilities, a hotel, and approximately 280 shops.
The HSBC 40-metre high vortex is its main attraction, which is expected to be the world's tallest indoor waterfall. Its five-storey forest valley also houses one of the largest indoor collections of plants in Singapore.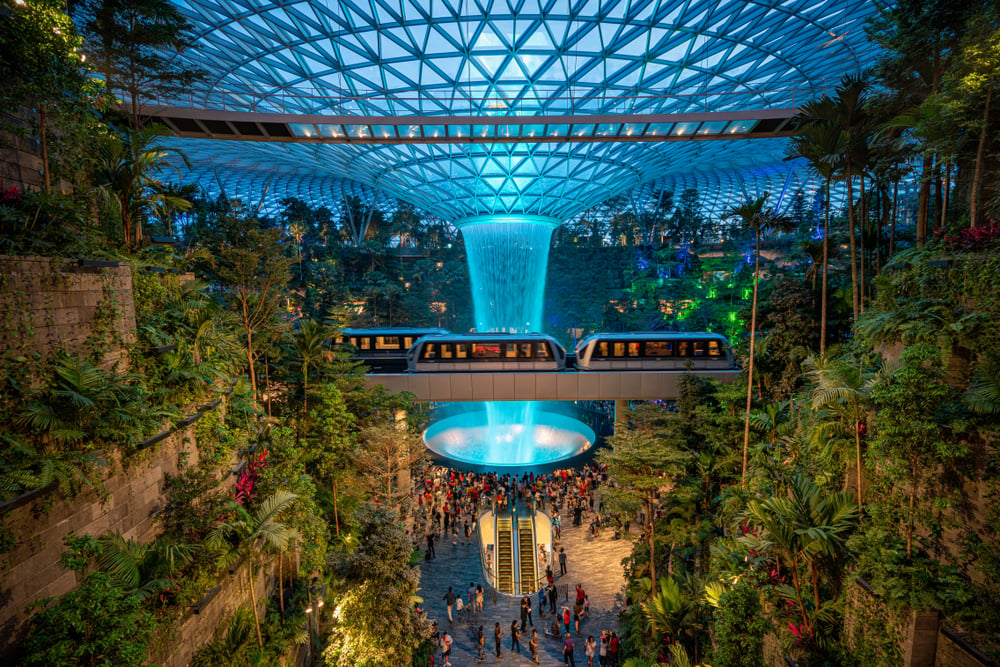 With a variety of stores, Jewel is set to be a coveted stopover for tourists and a shopping haven for many locals. It's more convenient to nearby residents, however. Easties living in areas such as Upper Changi, Tanah Merah, and Simei will have a better and closer proximity option for shopping.
Jewel's presence has even brought much attention to its surrounding amenities. 
But has interest in Jewel already faded?
You've probably already heard of Jewel or even visited it. With around 500,000 visitors over the six-day preview period, Jewel saw throngs of visitors (both locals and foreigners) flocking to the coveted mall. However, in recent weeks, there have been reports of thinning crowds and a dip in business.
To find out if interest in Jewel has indeed already faded, 99.co's writers decided to head down there to verify the rumours. They were there for the whole day: 9.30 a.m. to 2 p.m., and then again at 3.30 p.m. until 7.30 p.m. 
Here are their findings:
Level B2
The F&B shops in Basement 2 are generally doing pretty well; the famous A&W still sees a good crowd, with sales and customer volume remaining rather consistent since the opening. Since it is open for 24 hours daily, there is a good spread of crowd at different timings.
On weekdays, the peak periods are during lunch and dinner, from around 11:30 am to 1:30 pm, and from 6:30 pm onwards. As for weekends, the crowd is rather big and consistent at all timings, with people visiting the store even in the wee hours to avoid the crowd. For those who are interested in A&W, be prepared to queue for up to one and a half hours.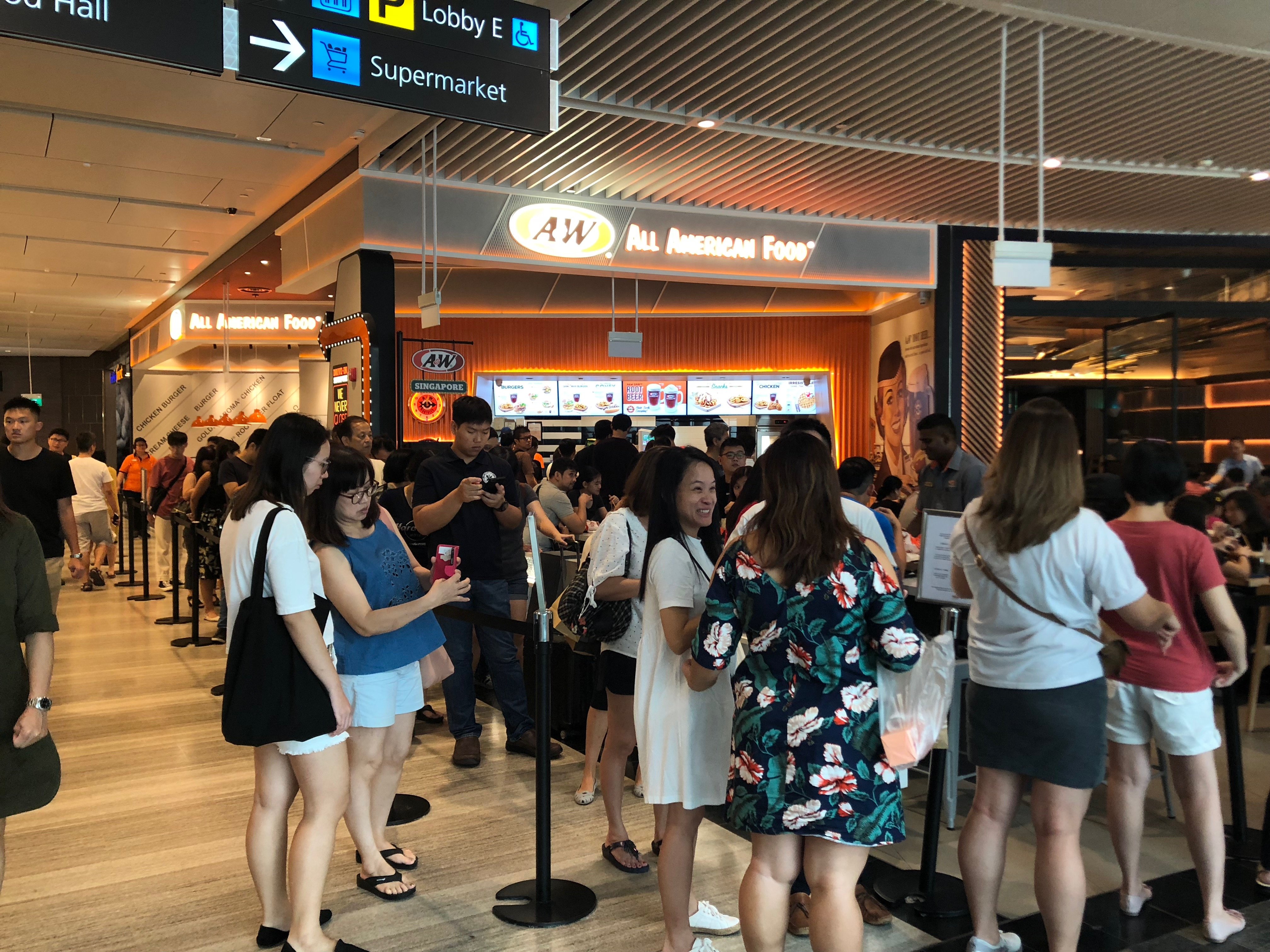 The Alley is also one of the more popular F&B stores in Basement 2. A well-known Taiwanese beverage chain, it is known for its brown sugar bubble tea and Instagram-worthy ombre drinks. Since the opening of Jewel, waiting times have not changed much; customers can expect to wait between 20 and 45 minutes even after lunch hours. However, should you go for the royal no.9 milk tea (best-selling drink), you can expect to queue for an hour for it. 
With F&B stores dominating Basement 2, coupled with the popularity of certain stores like the ones listed above, it could be a reason why footfall is so high at that level.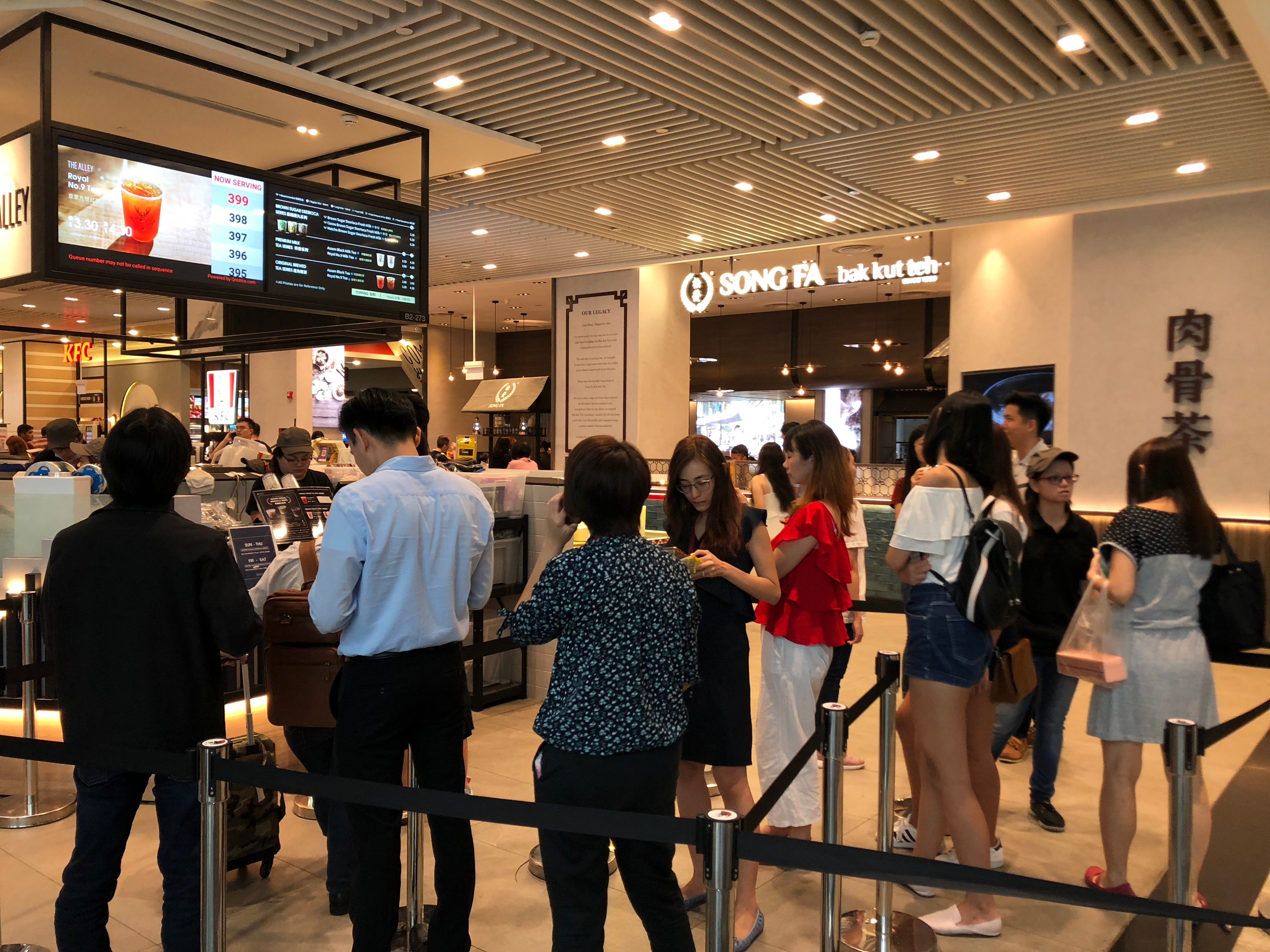 Level B1
On this level of Jewel, there is a mix of retail and F&B stores. What is interesting about this level is that F&B shops take up the spaces surrounding the vortex. These shops extend their spaces outside, along the walkway, which gives consumers an up-close of the vortex. In contrast, retail shops such as Zara and Uniqlo are located further away from the vortex, near the circumference of the dome-shaped Jewel.
Since shoppers will be immersed in shopping, they would not place too much attention on the vortex. Thus, such retail shops do not have to pay possible higher rental here. This strategic placing of both F&B and retail shops allow consumers to have the best of both worlds by just walking around this level.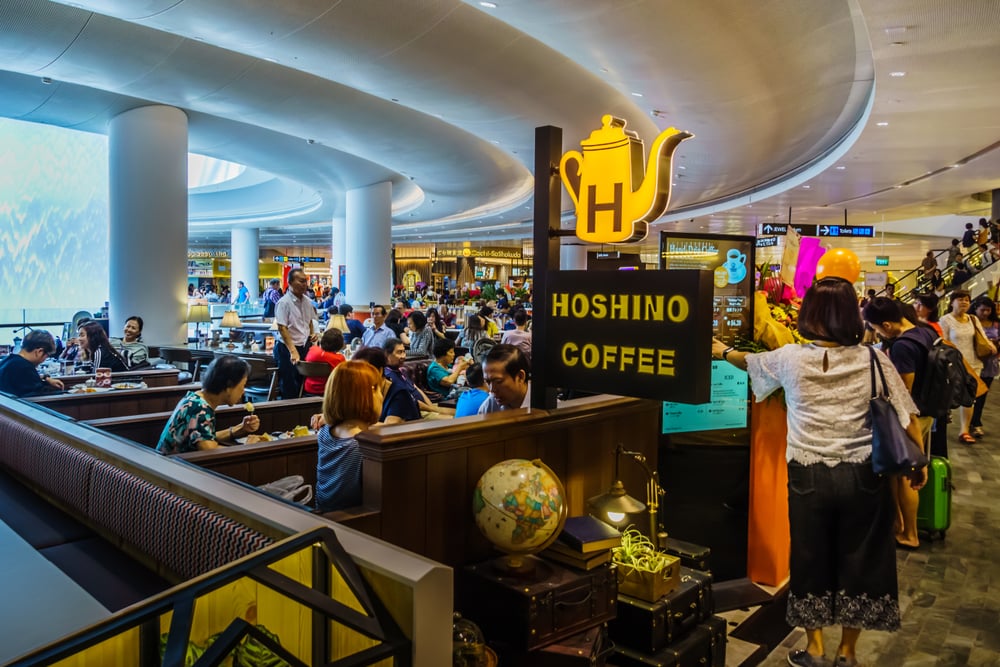 We managed to interview a few retail shops and the response we have collated from different shops were rather similar.
There is definitely a dip in sales and customer volume as compared to the private preview and during the opening period.
The peak periods for retail shops such as Zara and Charles & Keith during the weekdays would be evenings, usually after-work timing. Despite being the peak periods for weekdays, the sales and customer volume are still definitely lower than weekends. The crowd is rather consistent and even throughout over the weekends.
Being competitors after all, the sales and customer volume for each retail is different. For example, Mango has fewer sales and customer volume as compared to big names such as Uniqlo and Zara. That said, such retail shops are more often visited during public holidays and weekends.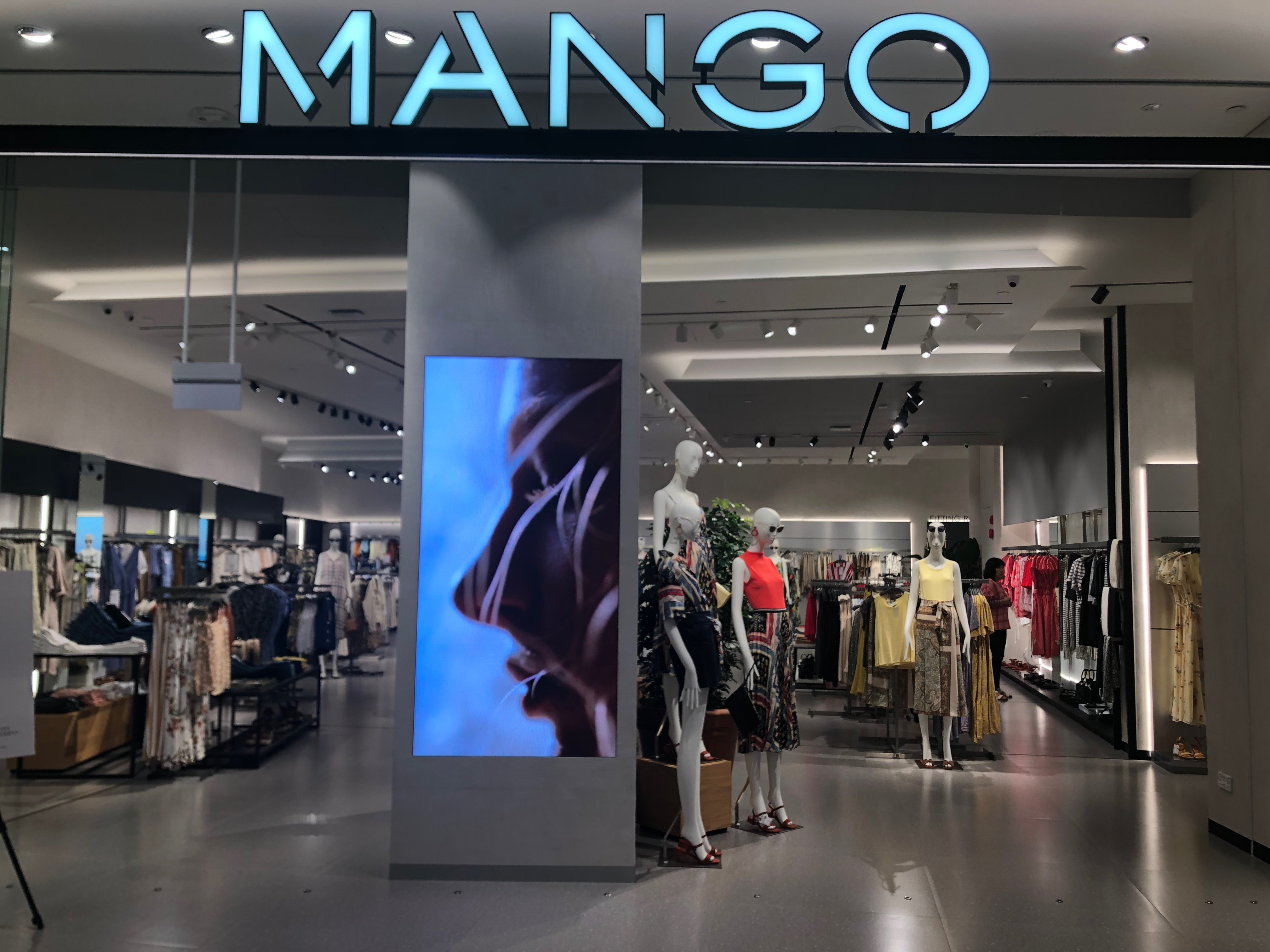 The same goes for F&B shops on B1 as there are more consistent sales and customer volume during the weekends. During weekdays, F&B shops on this level such as Jjinja Chicken and Saap saap Thai experience more sales during dinner time as compared to lunch time. When asked if they are comparable to shops in B1 such as A&W and Burger King, "of course not, those are the really popular and more well-known shops" was one of the more common responses.
Level 1
As we proceed to higher levels in Jewel, there is an inverse proportion of retail and F&B shops as compared to lower levels. In other words, there are more retail shops and fewer F&B outlets with each increasing level.
Big brands such as Kate Spade, Coach and Fred Perry are strategically located in relatively visible places. These shops are usually located right next to Terminal One or escalators, thus easily catching the eyes of both tourists and locals. The peak period for these shops is usually unpredictable during the weekdays because it depends on the flight timings, so it varies every day. However, just like other shops on other levels, there are more patrons and sales over the weekends as compared to weekdays.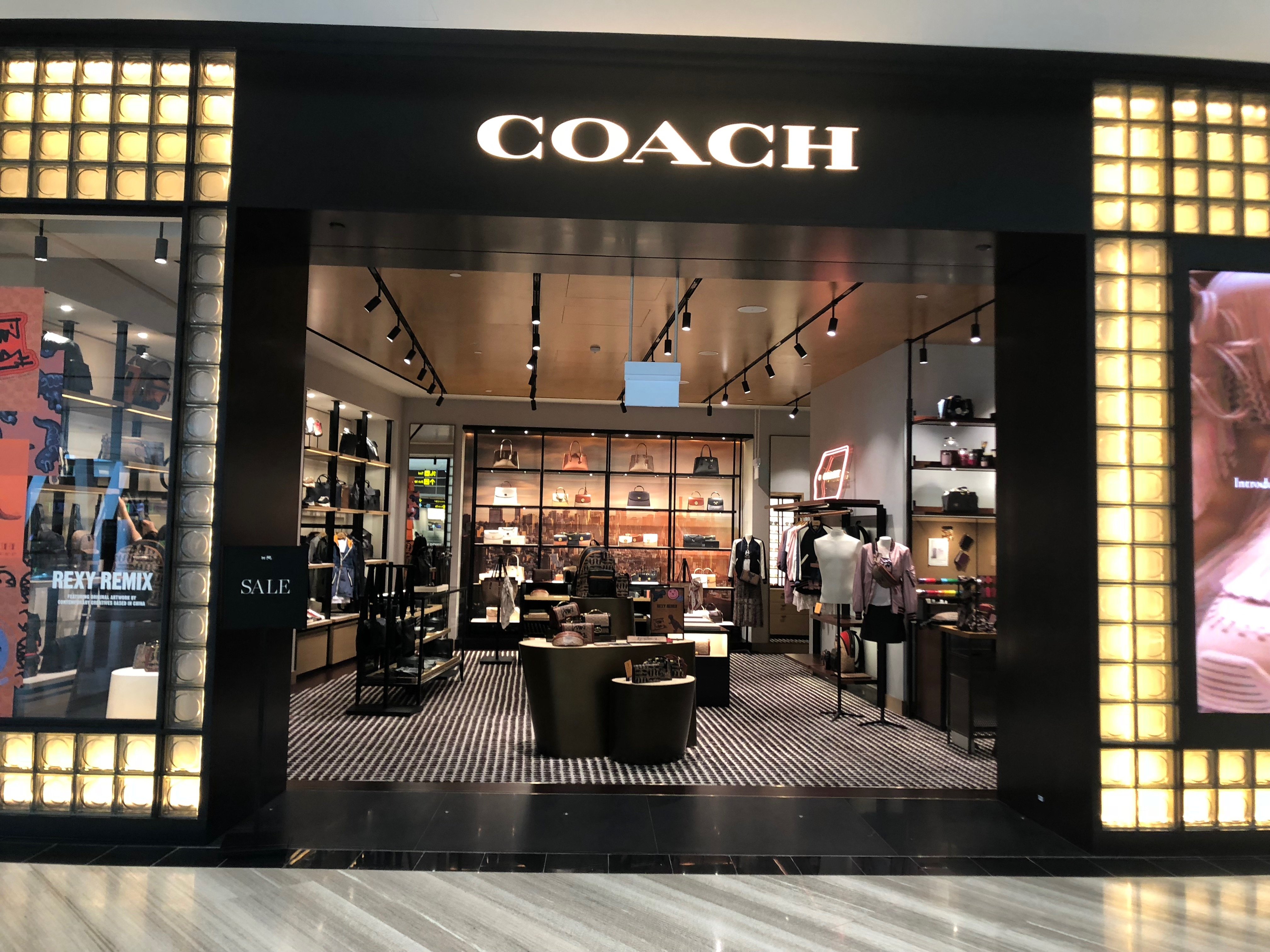 Though there are F&B shops on this level, most of them are actually hand-held drinks and small bites. These shops, such as Paris Baguette and Signature Koi, are usually more popular amongst the youths and young adults, though they appeal to older age groups too. What differentiates these shops from those in B2 is the perceived "atas feel" that they give to patrons, hence locating themselves on Level One instead. F&B shops on this level receive more customers and sales during lunch and dinner periods on weekdays. Just like the rest of the shops, they experience more sales over the weekends.
Level 2
This is where most of the action is at. Footlocker, Starbucks, Shake Shack, and Nike are all clustered together at the epicenter of Level 2. Shake Shack is the first thing you see from the street-level entrance, and what greets you is a long line. Renowned chains and brands such as Foot Locker, Starbucks, Nike and Adidas are near its vicinity. The mixture of such brands brings about economic vibrancy in this level.
The crowd is still rather consistent for Shake Shack. Peak hour on weekdays starts at 11 a.m. to 1 p.m., which picks up again at around 3.30 until 6.30 p.m. onwards. There are about 45 to 50 in Shake Shack's first, main line. The second line usually has around 35 people, but it's ever-increasing come peak hour. Waiting time is around 45 minutes to two hours long, especially during public holidays and weekends. Since it is Singapore's first outlet, coupled with a huge fan base, it is highly likely that this will persist until later this year.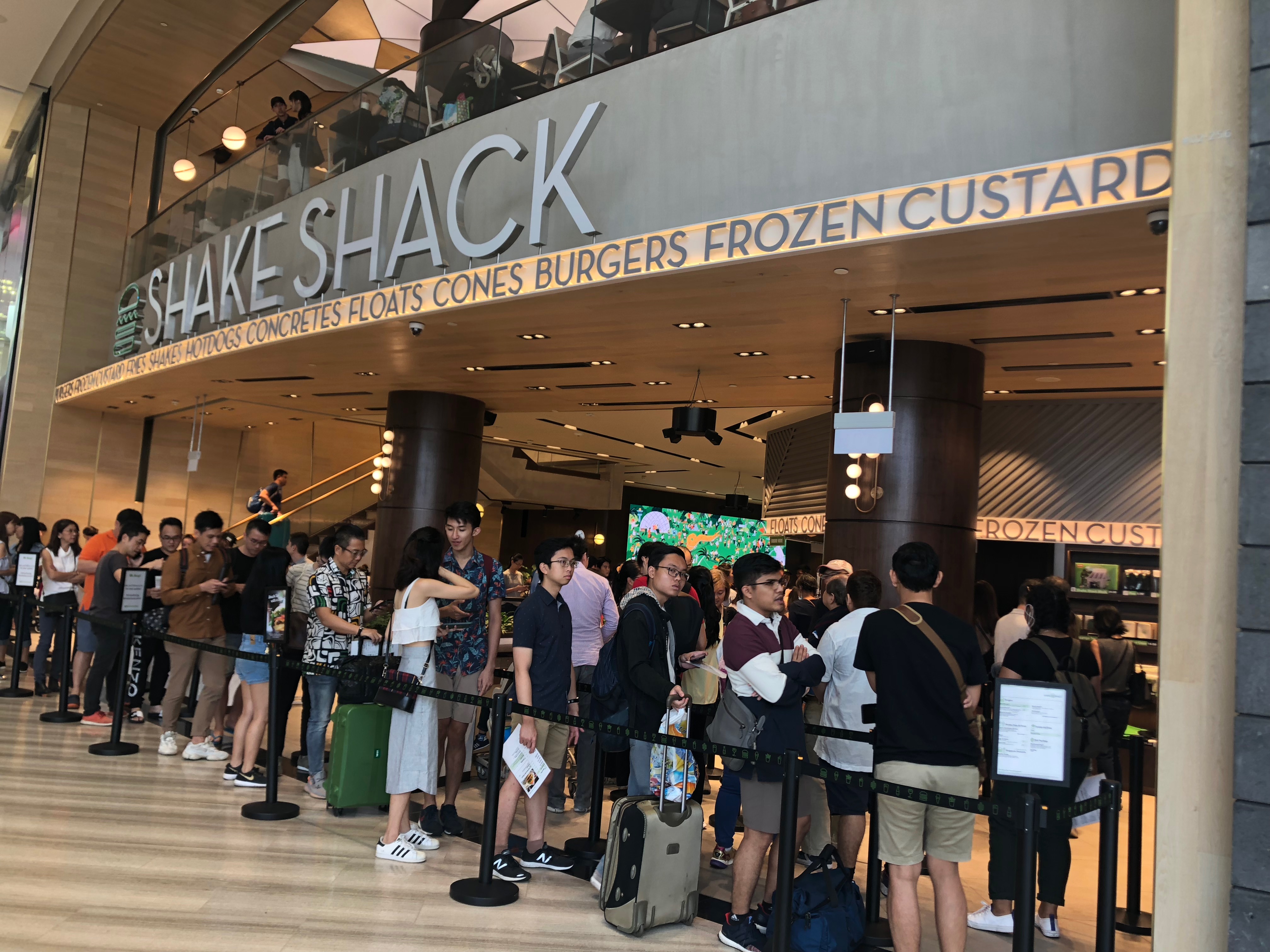 In contrast, Foot Locker and Nike were fairly empty throughout the day. Shake Shack's foot traffic clearly did not transfer to Footlocker, or even Nike for that matter.
Nike fared better than Footlocker, however. There was more of a crowd during the opening period, about the first month. The crowd remained about the same, around 20 to 30 of mostly tourists wanting to clear their Singapore dollars. On the weekends, however, there are more locals.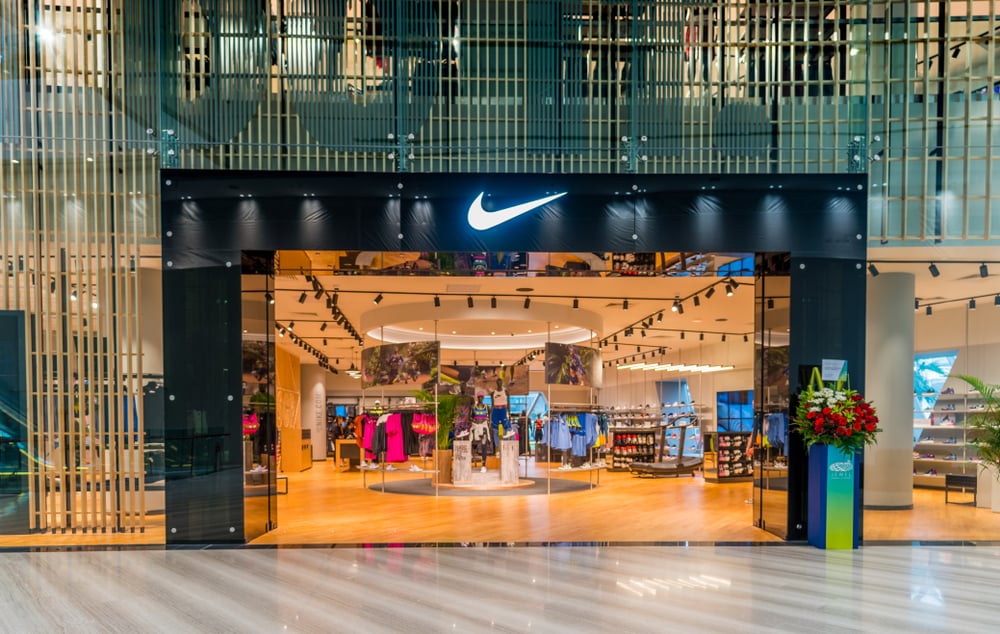 Similarly, Tim Ho Wan had fewer customers than expected. The place was about half-filled of customers around four p.m. and six p.m. Other than that, it remained fairly empty. It might be because it's not near the hotspot places like Shake Shack, because its other outlets in the city-state always draw a crowd.
The duo that had it worse were Footlocker and Adidas. Both remained fairly empty throughout the day, with three to four roaming customers throughout the day.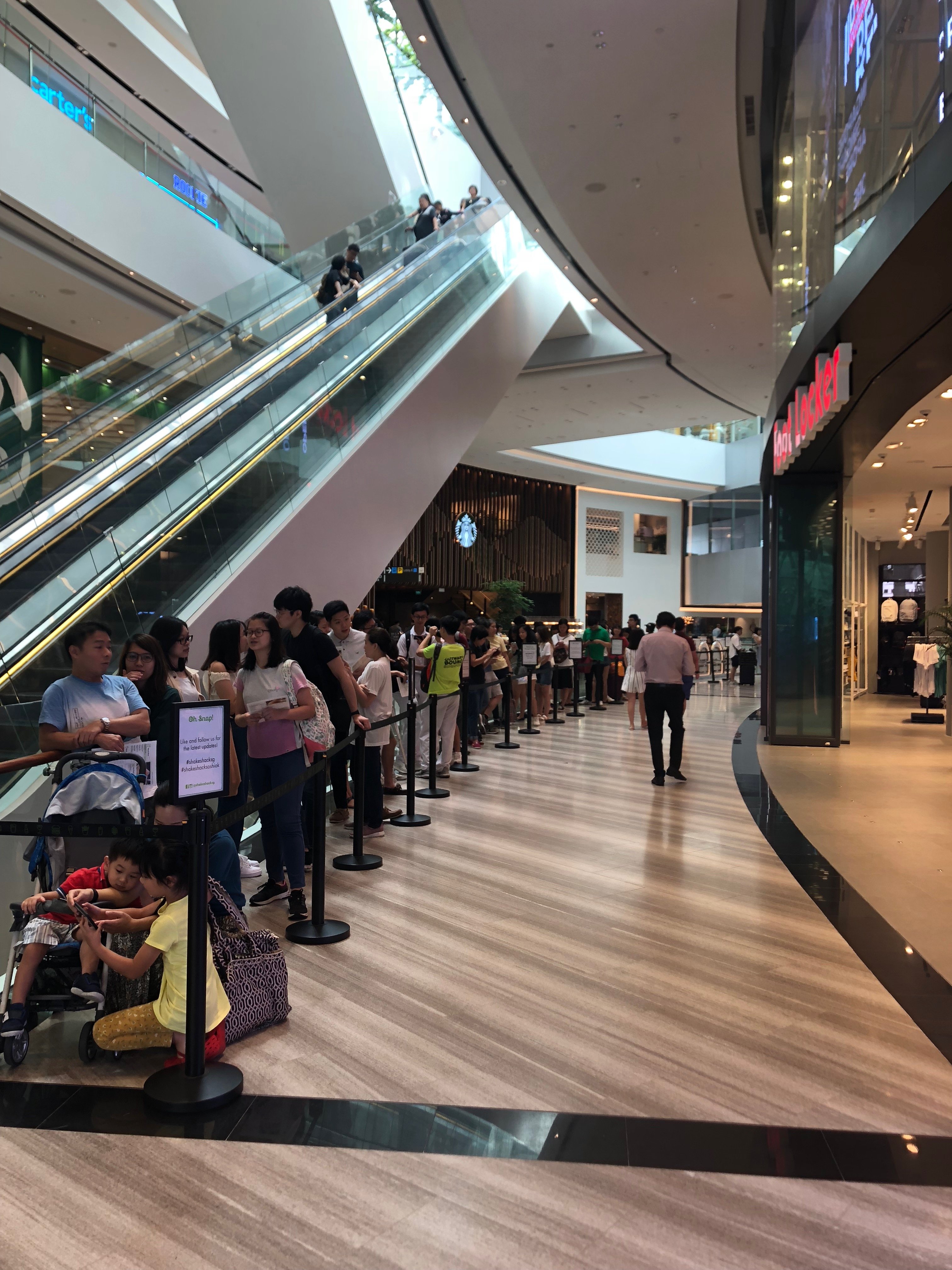 Level 3
There are mainly restaurants such as JUMBO Seafood and cafés such as nectar on this level. Since restaurants and cafés take up almost the entire level, any changes in customer and sales volume is distinct. During the weekdays, such restaurants and cafés are usually empty. However, they will see an obvious crowd during meal times such as lunch and dinner. In contrast, just like any other stores, these restaurants and cafés are packed like sardines over the weekends. Moreover, to avoid disappointment, you might have to make reservations for a table during weekends.
This level has link bridges connecting Terminal Two, Terminal Three, Mass Rapid Transport (MRT) and has shuttle to Terminal Four. Therefore, there will be more visitors walking around such entrances during weekends and peak periods such as meal times. There may also be high traffic on this level because it has the perfect view of the West Gateway Garden, which allows visitors to take Instagram-worthy pictures.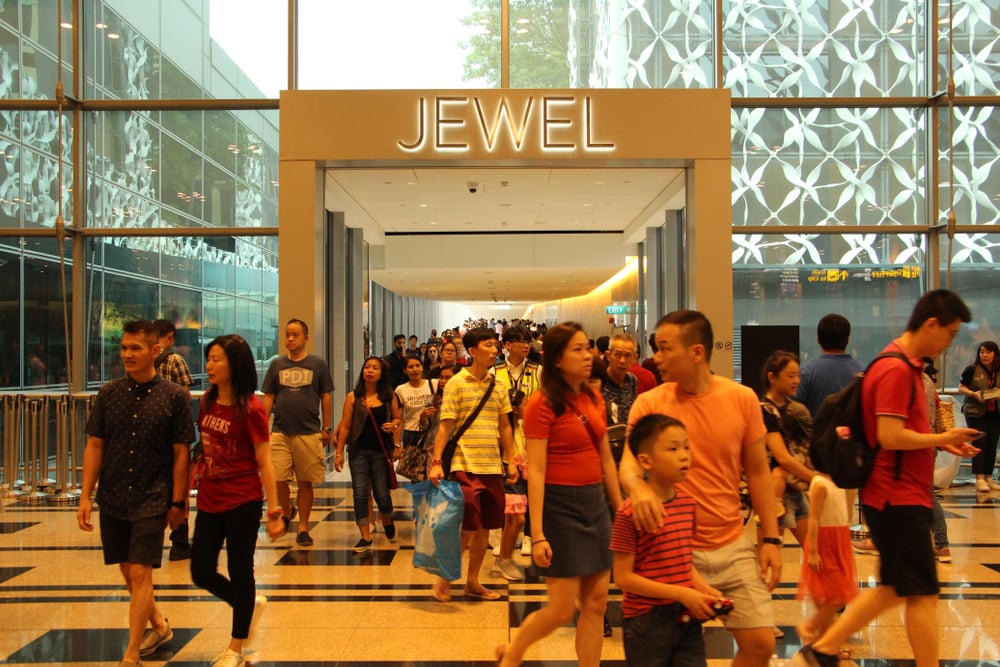 Level 4
There is a mixture of shops on this level, catering to different groups of people. The most popular store on this level is the Pokémon centre, which is situated right in front of the escalator. Being the first outlet in Singapore, it has already captured the attention of all the "Ash" that could be found. The crowd and sales volume has been consistent since Jewel's opening. Again, there is more patrons and sales over the weekend as compared to weekdays.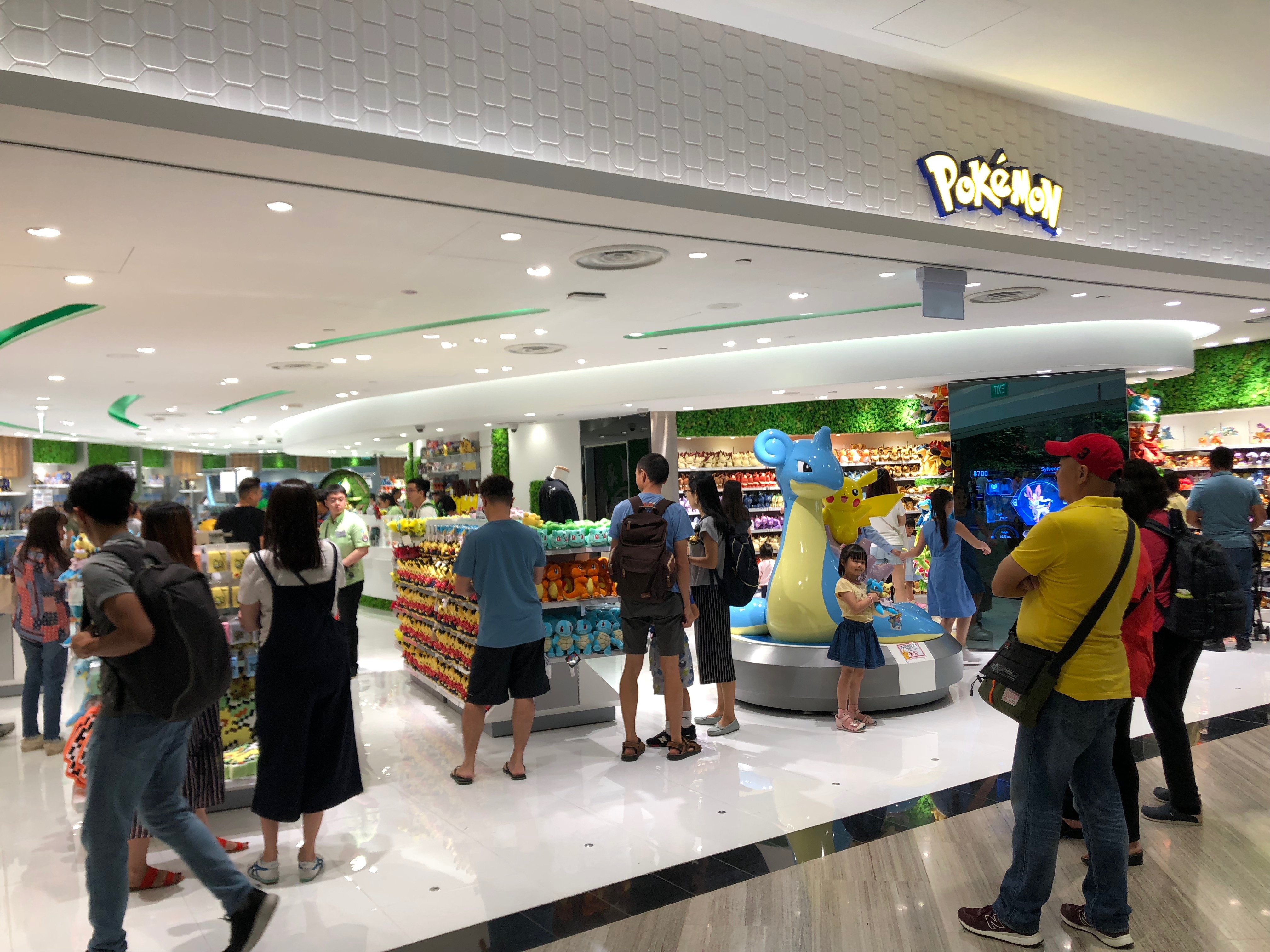 A large proportion of shops on this level cater to children and maternity and they are clustered in the same area. Shops such as Mothercare, FILA KIDS and Times Junior are not as popular as compared to other retail shops. Since such shops cater to a small specific group of shoppers, the sales and customer volume is generally lower than the rest of the shops. These shops are frequented more over the weekends than the weekdays.
The other distinct features of this level are the amenities and attractions that it provides to its visitors. Asia's very first Yotelair is opened in Singapore, putting Singapore's airport at an edge over other Asian airports. Yotelair provides cabins for visitors, usually passengers who are transiting, to rest and recharge themselves. The crowd volume varies since the number of transition flights differs everyday. In addition to Yotelair, Changi Experience Studio allows visitors to be engaged in interactive games and immersive shows. Stipulated to open on 10th June, transit passengers, tourists and Singapore residents are able to have a go at this interesting attraction.
Level 5
The biggest attraction on level 5 is The Canopy Park, which features an array of exciting play attractions. Set to open on the 10th of June 2019, there will be mazes, bouncing nets, garden trails and giant slides. While it was still closed when we visited, there were many curious visitors who were checking the place out or dining at the surrounding restaurants.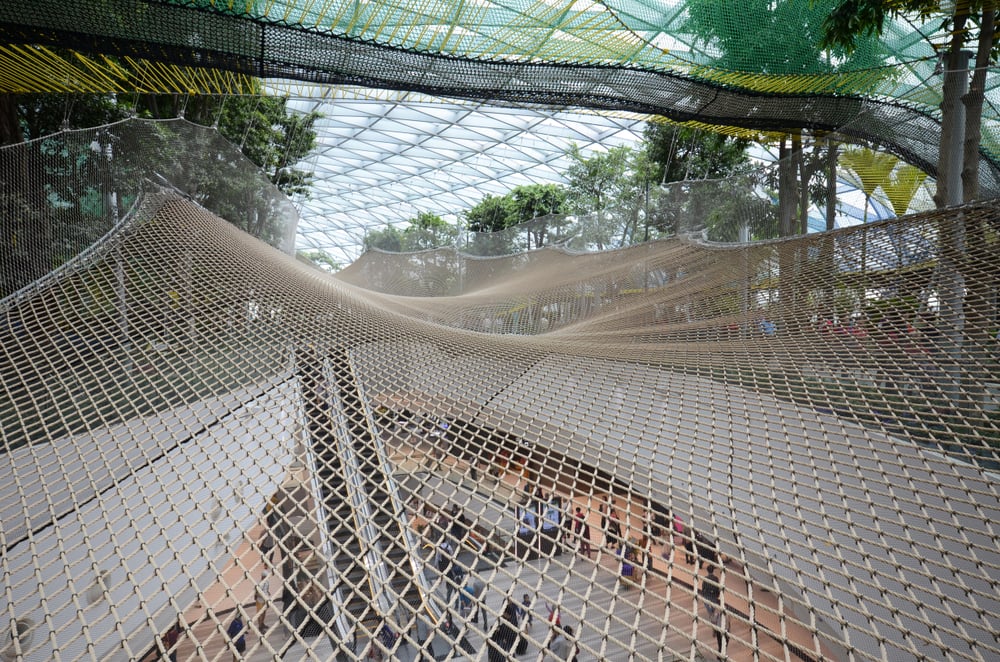 Apart from The Canopy Park, level 5 boasts numerous open-air concept restaurants as well. With spectacular, bird's-eye view of the waterfall, the restaurants get filled up quickly during the peak hours (lunch and dinner). London's famed Burgers & Lobsters is located on that level, along with other popular dining options like Tanuki Raw, Tiger Street Lab, and Rumors Bar & Grill. It is also worth noting that the dining options were vastly different, thus catering to all kinds of diners.
The unique dining experience and play attractions are probably the main draws of the area, with many there for the "chill" vibes over good food. When we visited at around 5 pm, there was already a dinner queue at Burgers & Lobsters. Other F&B outlets also saw relatively good business, with close to half of its tables filled.
So, will Jewel remain trending?
The Jewel will continue to trend, in the same way that Gardens by the Bay and Sentosa are still trending. It's mainly a tourist attraction, with HSBC's Rain Vortex as the beacon. So, of course, moths will fly to the flame. Or flames, for that matter, with Shake Shack and A&W possibly maintaining its popularity as well.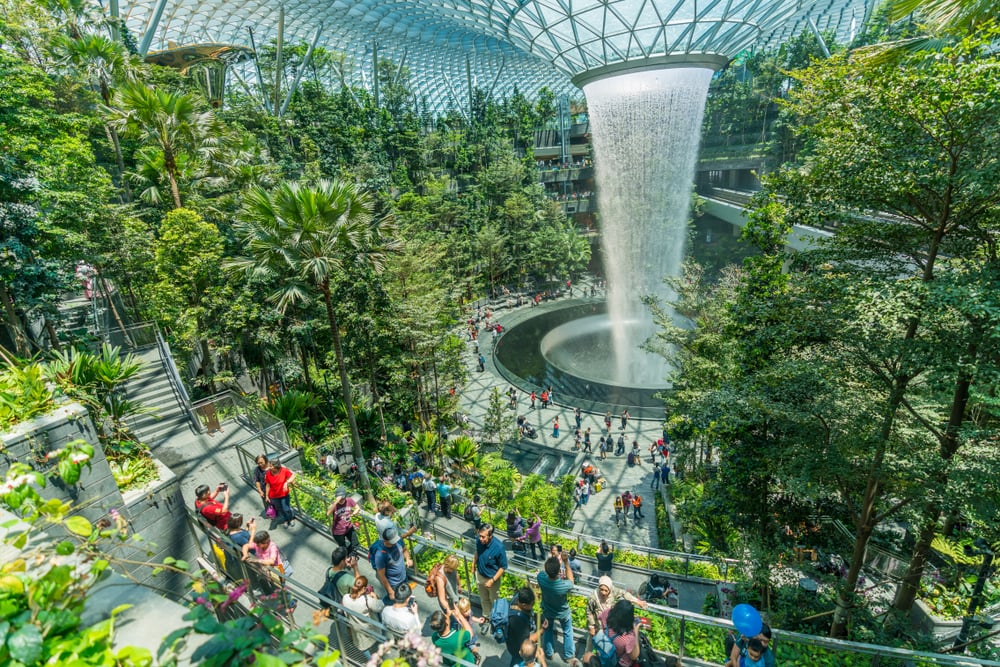 Why is this so?
Well, not only does Singapore receive so many tourists, but they also spend quite a lot. There were about 14 million visitors at the end of last year, according to the Singapore Tourism Board (STB). These visitors definitely have the capacity to make it rain, with the Tourism Receipts (TR) at $20.6 billion.
Even locals will continue to flock The Jewel's hotspots. If they aren't tired of Universal Studios Singapore (USS), then I doubt they'll lose interest in The Jewel. Although, there might be fewer people from the West, as it's quite a commute.
About Maelyn Lagman
Looking to sell your property?
Whether your HDB apartment is reaching the end of its Minimum Occupation Period (MOP) or your condo has crossed its Seller Stamp Duty (SSD) window, it is always good to know how much you can potentially gain if you were to list and sell your property. Not only that, you'll also need to know whether your gains would allow you to right-size to the dream home in the neighbourhood you and your family have been eyeing.
One easy way is to send us a request for a credible and trusted property consultant to reach out to you.
Alternatively, you can jump onto 99.co's Property Value Tool to get an estimate for free.
If you're looking for your dream home, be it as a first-time or seasoned homebuyer or seller – say, to upgrade or right-size – you will find it on Singapore's fastest-growing property portal 99.co.
Meanwhile, if you have an interesting property-related story to share with us, drop us a message here — and we'll review it and get back to you.
Join our social media communities!
Facebook | Instagram | TikTok | Telegram | YouTube | Twitter