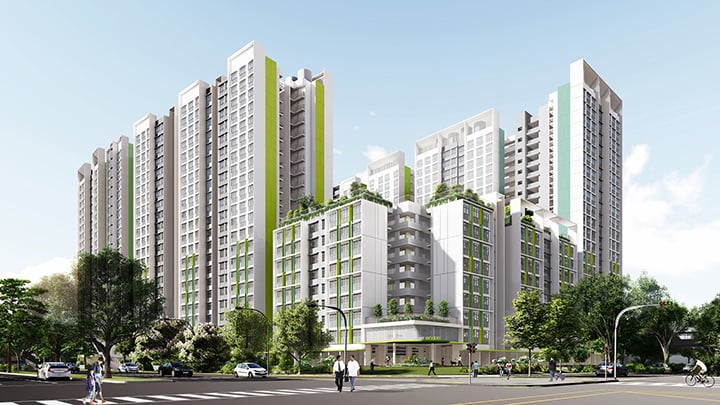 As far as HDB flats are concerned, they are being talked about for all the wrong reasons. But never mind, the August 2018 Build-to-order (BTO) sales exercise is open for applications, and all thoughts are on Yishun and Punggol — the two estates with new HDB flats up for sale this time round. In this article, we examine the pros and cons of staying in each estate, down to the details.
Aug 2018 BTO Sales Launch: Punggol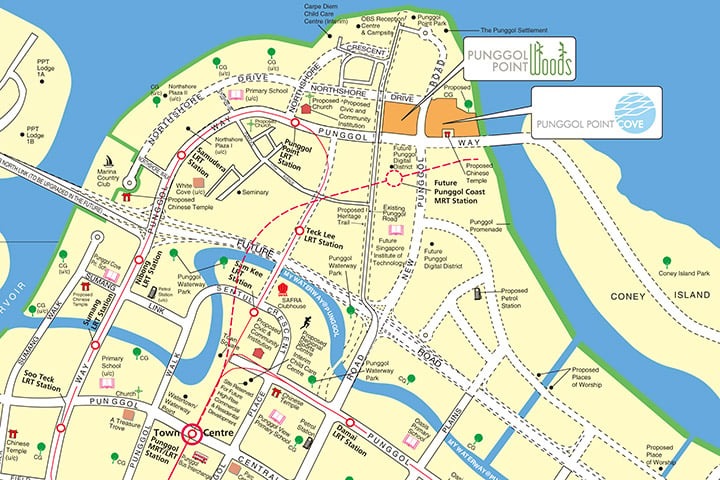 Link: Official HDB Aug 2018 BTO – Punggol
Project names: Punggol Point Woods. Punggol Point Cove
Total number of units: 2,112
Expected date of completion: 1Q2023 to 2Q2023
Before the launch of the two Punggol Aug 2018 BTO projects in the northern, yet to be developed part of the town, HDB launched a promotional campaign to highlight the attributes of both projects. Punggol Point Cove is undoubtedly the more hyped of the two as they have units that directly overlook the Johore Straits. Punggol Point Woods has the selling point of being situated along the existing Punggol Road, which will be turned into a pedestrian only "heritage walk" with a park running along both sides of the converted road — all the way to the Punggol Waterway.
Notably, both projects are located next to the planned Punggol Digital District, which puts them within a 3 to 5 minute walking distance of Punggol Coast MRT Station — the new northern terminus of the North-East Line come 2023. The station might arrive in time for the residents, but the Punggol Digital District is a project that will take longer to be realised. (That the Singapore Institute of Technology will establish its permanent campus there in 2023 could help speed things along.)
For clarity, we'll analyse the pros and cons for each project, before analysing pros and cons that can be considered as a whole.
For Punggol Point Cove
Pros:
Roof gardens allow all residents a vista of the Johore Straits while working out or just chilling
"Stepped-down" architecture offers more units a view of the Johore Straits while maintaining a general North-South facing
Generous open spaces at ground level, including a common green with a multi-purpose court
A childcare centre is part of the development
Cons:
In two of the five blocks, three lifts serve up to 17 units on each level, which we feel might lead to long waits for lifts during peak hours
Those living in stacks facing or near to the proposed Chinese temple might experience occasional noise and sound pollution
Basement carpark design, instead of a multi-storey carpark, might lead to higher risk of pest issues
Other things to note:
The best water-facing units are of 5-room and 3Gen flat types. Applicants of other flat types, take note
In particular, the 3Gen flats are rare in that they have windows on two sides of the unit to maximise water views. We expect these units to be worth a lot in the open market upon the end of their Minimum Occupation Period, or MOP (even though they can only be sold to 3Gen applicants). Looking at the floor plan below, the unit layout looks more like an luxury condo than a HDB flat, especially with that long kitchen island as a centrepiece!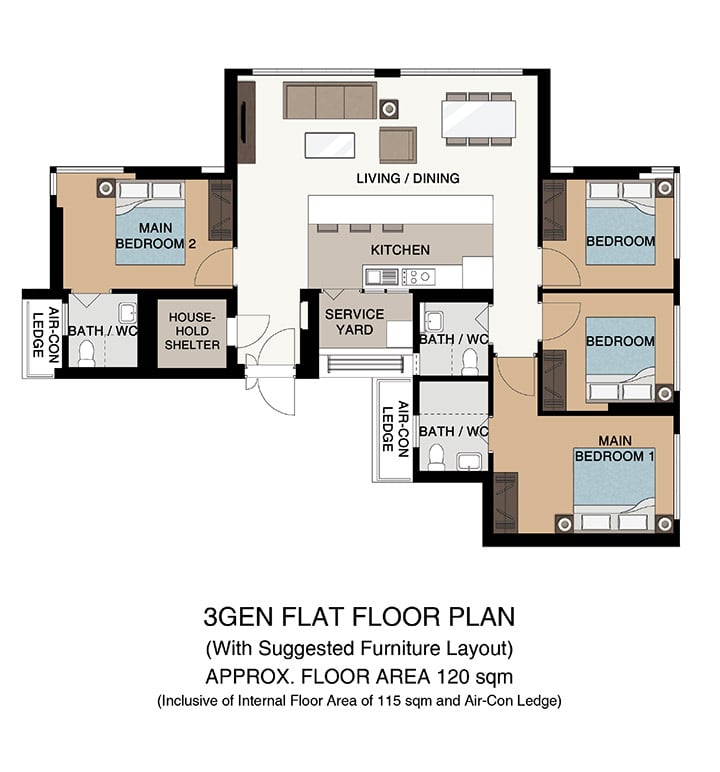 For Punggol Point Woods
Pros:
Project incorporates a supermarket and eating house
4-room and 3-room units that face the planned Punggol Heritage Trail will enjoy a pleasant greenery view
A childcare centre is part of the development
Cons:
Again, certain blocks don't seem to have enough lifts
5-room units directly facing New Punggol Road might be subject to more traffic noise
Other things to note: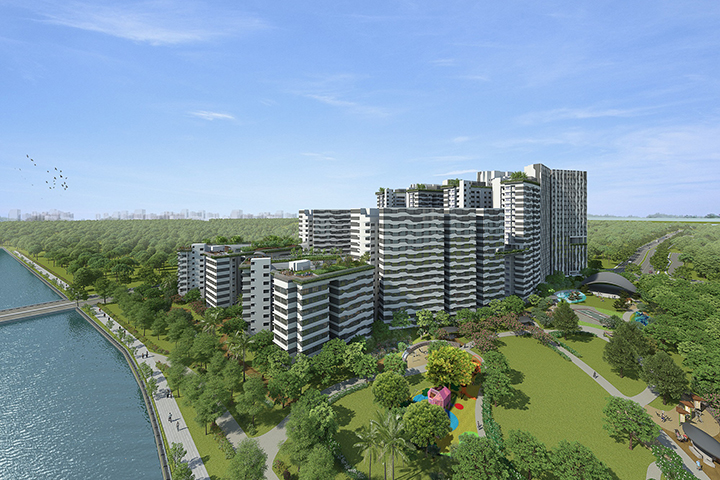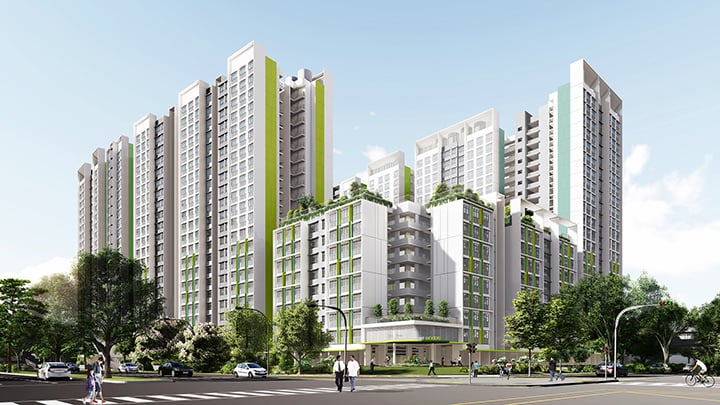 For both Punggol projects
Pros:
Near to The Punggol Settlement F&B cluster of cafes, restaurants and bars
Near to Punggol Coast MRT Station terminus, which means accessibility and no need to battle the peak hour crowd
Punggol Digital District promises to create 28,000 jobs, which could either mean a short commute to work or a high future rental demand
The 

Singapore Institute of Technology, a tertiary institution, might create some uplift in property value, just as National University of Singapore has done for Pasir Panjang properties from our observations

No lack of options for recreation and nature lovers, with Coney Island Park in close proximity and direct access to park connectors in the form of Punggol Promenade and the Heritage Trail
According to HDB, the units are "Smart-Enabled Homes with provisions to support easy installation of smart systems"
Pneumatic Waste Conveyance System reduces the unpleasantness of living near to the bin centre, as garbage is collected and compacted in an enclosed environment
Cons:
There have been complaints about occasional smell of petroleum coming from the Pasir Gudang Petrochemical Complex across the straits in Malaysia (about 3km away). Although the National Environment Agency (NEA) has reassured Singaporeans that the smell causes no long-term physical harm, residents have reported physical symptoms such as headache and nausea. That said, the air quality in the vicinity might be consistently lower than that of other parts of Singapore. Flaring (burning of excess hydrocarbons) from the industries at night might cause light pollution. (Considering the flares can be seen from as far as Paya Lebar, you'd better have good blackout curtains in your bedrooms.)
Units facing the proposed Punggol Business District and empty plots of land might be subject to construction noise and air pollution
Notorious traffic jams to and from the city during peak hours, for drivers
Even though there will be a supermarket and an eating house, residents might have to travel further for more variety of grocery, shopping and cheap dining options
Indicative price range:
2-room flexi (38 sqm): $103,000 – $130,000
2-room flexi (47 sqm): $125,000 – $158,000
3-room: $188,000 – $242,000
4-room: $286,000 – $362,000
5-room: $393,000 – $489,000
3Gen: $411,000 – $469,000
Verdict: If you believe in the upside of the properties in this yet-to-be-developed area, or if you plan to live and work in Punggol, these two projects in Punggol are for you. That said, do visit the site a few times and consider the impact of Pasir Gudang on the quality of life for you and your loved ones. This is especially as Malaysia has been continuously enlarging the area's operations with more petrochemical facilities to set up shop in the coming years. So, following your nose is as important as following your gut when it comes to Punggol North.
[
Recommended article
: 
7 homeowners share the most important factor that influenced their BTO vs resale decision
]
Aug 2018 BTO Sales Launch: Yishun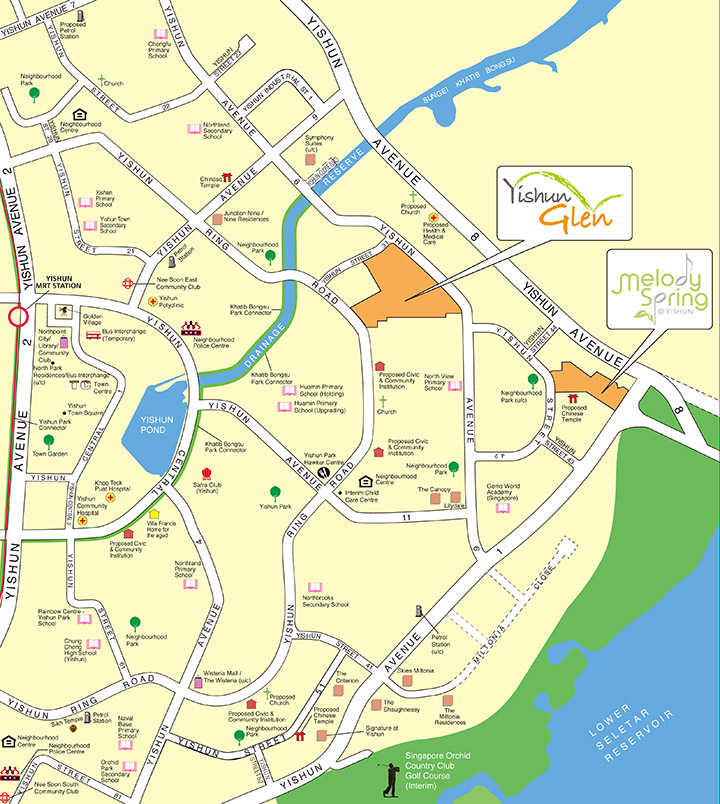 Link: Official HDB Aug 2018 BTO – Yishun
Project names: Yishun Glen, Melody Spring @ Yishun
Total number of units: 2,933
Expected date of completion: 4Q2021 to 2Q2022 (Yishun Glen), 4Q2021 (for Melody Spring @ Yishun)
Unlike the Punggol developments that are right next to each other, the two Yishun projects are situated some distance apart. To put things in perspective, Yishun Glen residents will be 15 to 20 minutes away from Northpoint City and Yishun MRT by feeder bus, whereas Melody Spring residents will have to take at least 10 more minutes, which puts the latter project firmly in the inaccessible category.
Therefore, it's frustrating to see that HDB has insisted on using a single price range for the two projects at this sales launch, although we foresee that actual unit prices between the two developments will vary by $50k or even more (for a 4-room unit) when selection time arrives.
Interestingly, for Melody Spring @ Yishun, half of the units there will only be launched in the next round in November 2018, and selection for units will also take place separately.
For clarity, we'll analyse the pros and cons for each project, before analysing pros and cons that can be considered as a whole.
For Yishun Glen
Pros:
Junction Nine, a recently-completed shopping mall, is a five to seven minute walk away. (Don't expect fireworks, though; there's various food options and you can get your groceries from Sheng Siong supermarket, but that's about it for now)

Ample cheap eats in the vicinity: Yishun Park Hawker Centre offers a wide variety hawker fare, including the famous Fishball Story — a Michelin Bib Gourmand recipient
Cons:
Likely not cheap, buyers will 'feel heart pain' when they find out that the eight-year old Yishun Riverwalk across the road sold for a fraction during its BTO launch in 2010. The 4-room flats there are now fetching $400 to $415K on the open market, so applicants have a good idea of how much their property will be

Feeder bus services take quite long to reach Yishun town centre, because of the concentric road layout in Yishun (instead of a grid layout)

No coffeeshop or supermarket within the project itself, despite being a development of almost 1,700 units. Residents have to cross the road for a small supermarket and kopitiam
Future construction noise for residents of units facing parcels of land reserved for high-rise housing
For Melody Spring @ Yishun
Pros:
Two storeys of elderly facilities (especially useful for seniors whose units directly face the multi-storey carpark…)
A childcare centre ("Why does daddy take so long to come pick me up from work?")
Proximity to neighbourhood parks and Lower Seletar Reservoir a plus point for nature and fitness lovers; also for families (although nature should pretty much be guaranteed for such ulu places)
Cons:
Pretty much no man's land relative to almost every single block of flats in Yishun
Feeder bus services take very long to reach Yishun town centre, partly due to the concentric road layout in Yishun (instead of a grid layout)
Those living in stacks facing or near to the proposed Chinese temple might experience occasional noise and sound pollution

Immediate vicinity consists of similarly new BTO developments. Amenities such as supermarkets and hawker fare will be scarce

Future construction noise for residents of units facing parcels of land reserved for high-rise housing

For both Yishun projects
Pros:
Cheaper than Punggol, but still part of an increasing trend of BTO prices over the past four years
That said, Yishun is still a more mature estate than Punggol in our opinion, with more amenities such as coffeeshops and other neighbourhood conveniences
The Yishun projects will take less time to complete than the Punggol projects

Ample schools in the area for all levels of study, including an international school (GEMS World Academy)

Motorists to the city will have fewer headaches, especially with the North South Corridor expressway ready by 2026
Cons:
Schools, yes. But are they well-known institutions? Not really

In general, both projects are considered far from Yishun town centre
Other things to note:
No 3Gen units for the two Yishun projects
Indicative price range:
2-room flexi (38 sqm): $75,000 – $111,000
2-room flexi (47 sqm): $93,000 – $132,000
3-room: $178,000 – $216,000
4-room: $248,000 – $317,000
5-room: $334,000 – $405,000
Verdict: Although BTO prices are rising, the Yishun projects may still appeal to first-timers familiar with living in the North, particularly those who drive. That said, the small upcoming November 2018 BTO project at Canberra (310 units) might be more attractive, given the area's up-and-coming status. We also foresee hordes of applicants dropping out of Melody Spring @ Yishun if they can't get their preferred units at Yishun Glen, resulting in Melody Spring @ Yishun becoming one of the most unloved BTO projects ever (although we can think of more than a few others).
Have something to say about HDB's Aug 2018 BTO launch? Voice your thoughts in the comments section or on our Facebook community page.
If you found this article helpful, 99.co recommends Quick Guide to BTO, SBF and Resale HDB Grants for Couples and 99.co's guides: Buying a BTO – The process & procedures.
Applying for a BTO? Check out how resale flats compare on Singapore's largest property portal 99.co!
New launch alert! Welcome to Grand Dunman
About Elizabeth Tan
Elizabeth is a writer, a Harry Potter fanatic, and a Game Of Thrones addict.
Looking to sell your property?
Whether your HDB apartment is reaching the end of its Minimum Occupation Period (MOP) or your condo has crossed its Seller Stamp Duty (SSD) window, it is always good to know how much you can potentially gain if you were to list and sell your property. Not only that, you'll also need to know whether your gains would allow you to right-size to the dream home in the neighbourhood you and your family have been eyeing.
One easy way is to send us a request for a credible and trusted property consultant to reach out to you.
Alternatively, you can jump onto 99.co's Property Value Tool to get an estimate for free.
If you're looking for your dream home, be it as a first-time or seasoned homebuyer or seller – say, to upgrade or right-size – you will find it on Singapore's fastest-growing property portal 99.co.
Meanwhile, if you have an interesting property-related story to share with us, drop us a message here — and we'll review it and get back to you.
Join our social media communities!
Facebook | Instagram | TikTok | Telegram | YouTube | Twitter