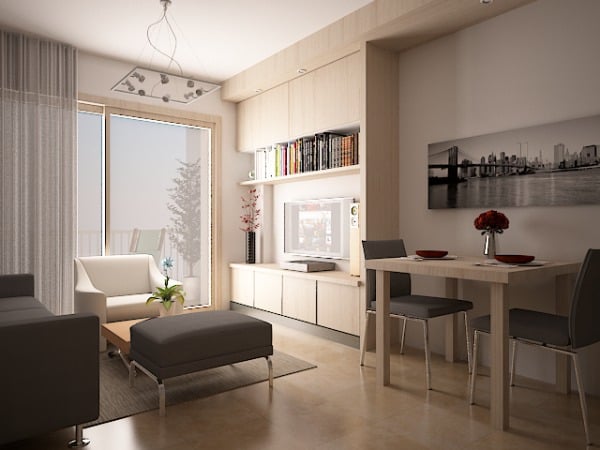 A recent research report released by DBS projected that the average size of new private homes will shrink from an average size of 1,083 square feet (sq ft) to 840 sq ft by 2030 — a 20% reduction in size. And in the spotlight are shoebox condo units. Defined as residential units 50 square metres (528 sq ft) or smaller, shoebox apartments have seen their average per square foot (psf) prices go up by 14.16% this year and 8.74% year-on-year.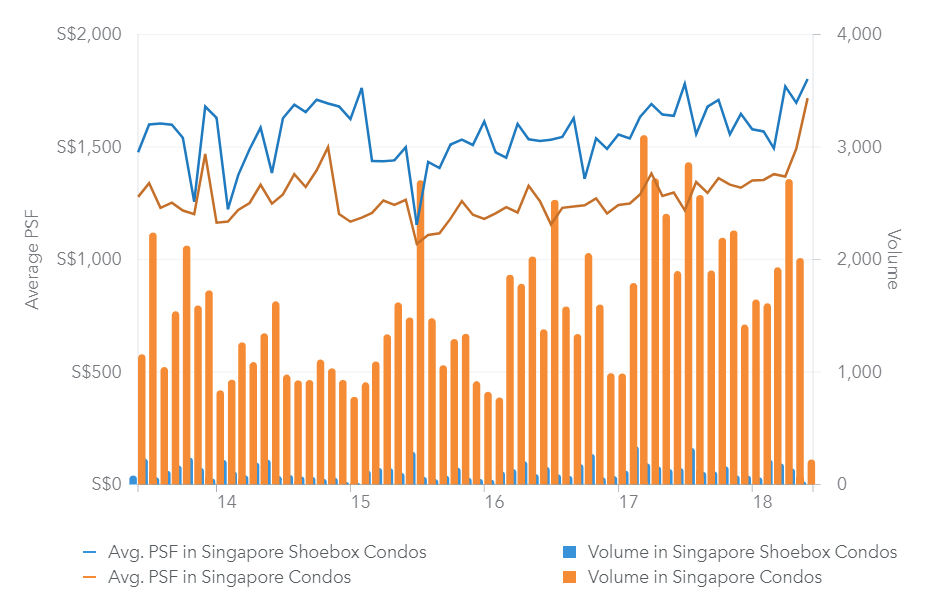 In June 2018, the average psf price for shoebox condo units in Singapore is estimated to reach a five-year high, breaking the $1,800 mark. Much of this is driven by sales at Margaret Ville — a centrally-located, 99-year leasehold new launch condo in District 3 — where 72 out of the 76 available shoebox units have been sold at prices from $1,830 to $2,195 psf.
In response to the popularity of shoebox condo units, particularly among property investors and second property buyers, the Urban Redevelopment Authority (URA) said that it would intervene to prevent an oversupply of such units if necessary. As Goh Chin Chin, URA's development control group director stated, "Shoebox units should not form a disproportionately large portion of Singapore's housing stock." He also mentioned that the URA was "monitoring the trend closely".
For buyers seriously thinking about putting money in a shoebox condo unit, there are some important pros and cons they must weigh before making their decision. This is what they are.
Pros
1. More affordable (in absolute terms)
Shoebox apartments typically cost $1 million or less. If you don't have that much resources on hand, but you'd still like to invest in private property, then these might be your best option.
2. Higher rental psf
Compared to regular apartments, shoebox condo units tend to command higher rental psf prices. But on the flip side…
Cons
1. Higher psf price
…you'll also have to pay a higher psf price when purchasing your unit. In areas close to the CBD, shoebox apartments tend to hover around the $2000 psf mark (as we've seen with Margaret Ville). Think that's high? At the freehold 26 Newton, you'll have to pay upwards of $2,500 psf for a shoebox unit.
2. Harder to rent out
Many buyers of shoebox apartments envision themselves renting out the units to expats working in Singapore. Here's the thing, though — these expats probably have a cushy household allowance, and they might not want to stay in tiny apartments. An agent we spoke to says that even if an expat does choose a shoebox apartment, the likelihood of long-term rental (i.e. a few years) is very low as he/she would want to upsize the living environment. This is especially true for expats who relocate from places where they're used to more space, such as Australia.
Furthermore, an economic downturn might affect the average expat's household allowance to the extent that many of them could opt for renting a room instead of an entire shoebox unit. If that happens, rental yield for shoebox units might take a huge hit, and landlords of these units will have trouble finding tenants.
3. Lack of space
If you're intending to  buy a shoebox apartment for your own stay, consider this carefully: can you really live in such a small space in the long-term?
Yes, you might have visited the condo's show suites, but this might not be an accurate representation of your actual unit. This is because many showflats feature higher ceilings, and they also use tape to demarcate where spaces end (instead of actual walls). This gives the illusion that the space is less boxed-up, and bigger than it actually is.
Also, architects have tended to sacrifice kitchen space more than any other room in the house when designing the layout of shoebox condo units. There is barely any kitchen countertop space in such units, and developers admit this by calling this almost non-existent space a kitchenette. So, if you intend to buy for your own stay and want to cook often, we doubt you'd be happy with this compromise.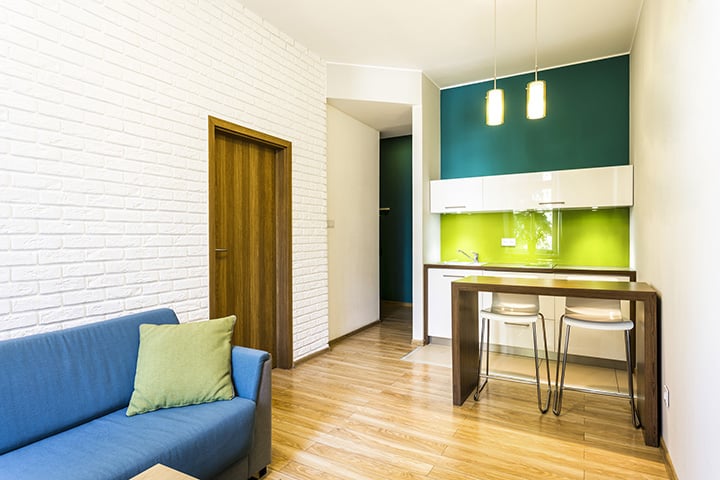 4. Lack of flexibility
Again, let's say you're buying property to stay in, and not to invest in. When you purchase a shoebox apartment, you could be essentially shoehorning yourself into a corner.
If you're a couple and decide to have kids: It's likely you'll outgrow your shoebox unit, which already feels cramped for two people, much less three or more! You'll have to buy a bigger condo unit and sell the existing one (no guarantee you'll sell at a gain, depending on market conditions).
5. A shoebox condo unit could be harder to sell
If you ever want or need to sell your shoebox condo unit, especially in challenging market conditions, note that you'll be up against a lot of competition as there are more than 11,000 such units in Singapore (the number is growing).
What's more, the buyer's market for shoebox condo units is very niche. It's more likely you'd get hard-nosed property investors sniffing out a good deal in a weak market, rather than family buyers who are less likely to bargain hard. Having a shoebox unit as a second property also means you don't have the option of moving your family, kids and dog into the second, shoebox-sized unit should you find it easier and more profitable to rent out your current, bigger home instead.
Should I buy a shoebox condo unit?
If you only have $1 million in hand to invest in property, chances are your options are limited. In this case, it's more about finding the right shoebox development at the right price and the right location that can potentially maximise your rental yield. More importantly, avoid the situation of having to rely on the unit's rental yield to sustain your mortgage repayment for it, given the risks outlined above.
If you only have $1 million in hand and want to buy a home for your own stay, it's worth looking at options other than shoebox units, such as Executive Condominiums and even HDB resale flats, before coming to a decision.
Voice your thoughts in the comments section or on our Facebook community page.
If you found this article helpful, 99.co recommends 4 things to consider before buying a shoebox unit for your own stay and The tiny house movement has a shoebox counterpart in Singapore.
Looking for a property? Find your dream home on Singapore's largest property portal 99.co!
New launch alert! Welcome to Grand Dunman
About Elizabeth Tan
Elizabeth is a writer, a Harry Potter fanatic, and a Game Of Thrones addict.
Looking to sell your property?
Whether your HDB apartment is reaching the end of its Minimum Occupation Period (MOP) or your condo has crossed its Seller Stamp Duty (SSD) window, it is always good to know how much you can potentially gain if you were to list and sell your property. Not only that, you'll also need to know whether your gains would allow you to right-size to the dream home in the neighbourhood you and your family have been eyeing.
One easy way is to send us a request for a credible and trusted property consultant to reach out to you.
Alternatively, you can jump onto 99.co's Property Value Tool to get an estimate for free.
If you're looking for your dream home, be it as a first-time or seasoned homebuyer or seller – say, to upgrade or right-size – you will find it on Singapore's fastest-growing property portal 99.co.
Meanwhile, if you have an interesting property-related story to share with us, drop us a message here — and we'll review it and get back to you.
Join our social media communities!
Facebook | Instagram | TikTok | Telegram | YouTube | Twitter