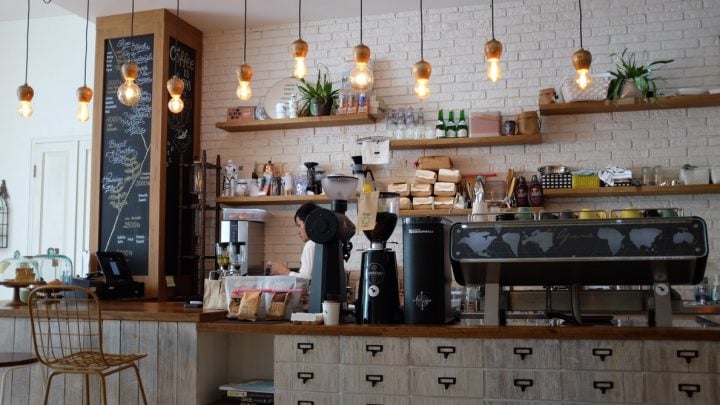 Sick of the rat race, and want to quit your job so that you can open your own cafe? 
The first step is to look for the perfect shopfront – preferably one that doesn't break the bank. In this post, we share 5 great F&B properties, all of which are going for under $1.3 million. You're welcome!
#1: This unit at Cuppage Plaza
District: D09
Nearest MRT: Somerset
Size: 269 sq ft
Sale price: $900,000
PSF sale price: $3,345.7
Want to locate your cafe in the heart of town? Check out this unit at Cuppage Plaza, which is selling at just $900,000. While there are plenty of F&B businesses operating in both Cuppage Plaza and Cuppage Terrace, these are mostly food stalls, restaurants, or bars. Bearing this in mind, you'll have less direct competitors if you open a cafe here (as opposed to, say, at the nearby Orchard Central).
#2: This unit at Oxley Tower
District: D01
Nearest MRT: Downtown, Tanjong Pagar
Size: 194 sq ft
Sale price: $1,090,000
PSF sale price: $5,618.5
Oxley Tower is a mixed development that comprises of both office and retail units; if you want to target the office crowd, there's an F&B unit at Oxley Tower that you can purchase at $1,090,000.
Bonus: the unit is located on the second floor, where there's a walkway that connects to Parakou Building (a 16-storey office development that promises a steady stream of human traffic). While the PSF sale price is a tad on the pricey side, that's because Oxley Tower is a freehold development, and you won't have to worry about quickly selling your property when its lease is ending.
#3: This unit at The Commerze @ Irving
District: D13
Nearest MRT: Tai Seng
Size: 484 sq ft
Sale price: $1,250,000
PSF sale price: $2,582.6
It might not be in the CBD, but this F&B shop at The Commerze @ Irving still sees plenty of office workers drop by. The unit is going at $1,250,000, making it the most expensive options on this list; that said, the shop is fairly spacious, and if you look at the PSF sale price, you're actually getting a good deal. We also like that The Commerze @ Irving is located within walking distance to Tai Seng MRT. Extra brownie points!
#4: This unit at Bayshore Park
District: D16
Nearest MRT: Bedok
Size: 441 sq ft
Sale price: $1,200,000
PSF sale price: $2,721.1
You probably weren't thinking of locating your cafe within a condo, but doing this allows you to tap into a stream of ready demand, so why not?
In particular, we recommend this F&B unit at Bayshore Park, a condo that's situated at the East Coast area. There aren't many eateries nearby, save for East Coast Lagoon Village, which is 15 minutes away on foot. When the residents here get too lazy to cook, an obvious option is to just head downstairs and grab a bite at the cafeteria (where your cafe could potentially be).
#5: This unit at One Dusun Residences
District: D12
Nearest MRT: Toa Payoh, Novena
Size: 215 sq ft
Sale price: $1,180,000
PSF sale price: $5,488.4
Rounding off our list, we've got another F&B unit that's within a condominium. This specific unit is located on the ground floor of One Dusun Residences, a freehold condominium in Balestier.
There are plenty of late-night and 24 hour eating places around (including zichar and steamboat restaurant Whampoa Keng, seafood restaurant Shi Kou, and 333 Bak Kut Teh), so it might be smart to capitalize on this and open a dessert cafe that similarly caters to the late night crowd. Capping off a hearty steamboat meal with some homemade artisanal ice cream… now that's a real treat!
Would you give up your job to start running an F&B business? Voice your thoughts in our comments section or on our Facebook community page.
Looking for a property? Find the home of your dreams today on Singapore's largest property portal 99.co! You can also access a wide range of tools to calculate your down payments and loan repayments, to make an informed purchase.