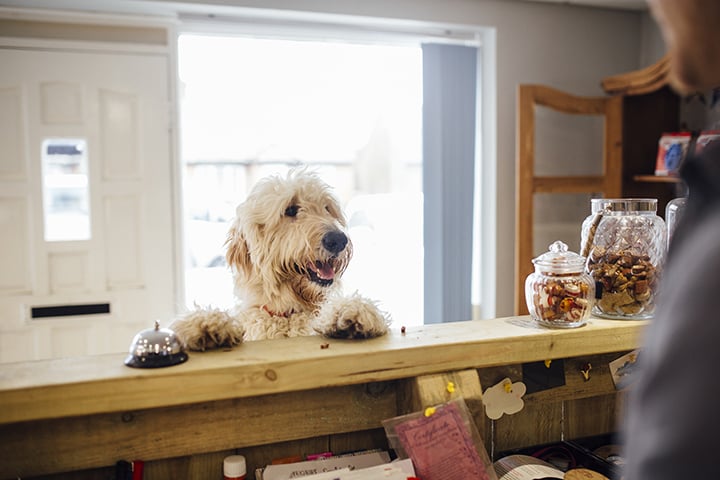 Shopping malls in Singapore need to up their game — and fast. After all, when was the last time you stepped into a mall not for a product, but because you wanted to experience something cool? And, no, we're not talking about the air-con.
As it stands, Singaporeans are increasingly growing weary of our copy-paste shopping centres. We resort to Taobao and e-commerce for retail therapy, even though we know how disappointing it is when a long-awaited dining chair arrives with three legs.
Thankfully, not all shopping centres are guilty of falling into the trap of sameness. Around the world, we're seeing retail outlets come up with innovative concepts that can peel us from our screens. And the day these concepts arrive in Singapore is the day we can once again be proud of our national pastime: hanging out in shopping malls 24/7.
#1: Self-driving supermarket carts
What's the first thing you do when you step into a Singapore supermaket? Dig into your wallet to find that elusive dollar coin just so you can unlock a trolley? Check. Avoid banging into other shoppers in the narrow aisles? Check. Search for the basket (no dollar coins, sorry) that you absentmindedly left somewhere in between Row A and Row Z? Even the most determined soul would give up.
Well, in turns out that you can avert the ironic possibility of a supermarket making you starve. In Beijing, China, a newly-opened chain of supermarkets have autonomous carts that follow shoppers as they browse, while avoiding obstacles and other people. And if you aren't sure where the toilet rolls are, for instance, the carts can guide you to a specific product aisle. Not sure if there'd be a jam in the promo section, though.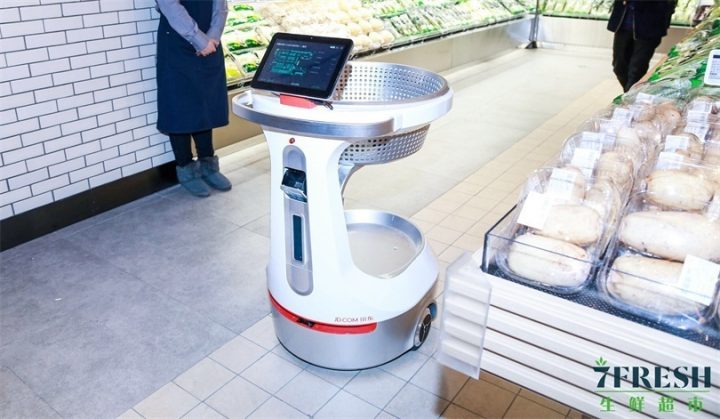 #2: Seamless checkouts
If you think that online store checkouts is the most efficient form of payment, how about not having to check out at all?
The Amazon Go convenience store in Seattle, US, is allowing customers to do just that. All they have to do is to scan a code upon entry, pick their items and walk out. And there's not a cashier in sight.
For those who are curious, here's how it works. A grid of sensors and cameras is laid out in the store, which then detects what a customer takes from the shelves. Upon exit, he or she will be billed digitally. Imagine shopping malls in Singapore having stores that reach this level of convenience!
#3: Interactive fitting rooms
Fancy queuing up for a fitting room at a boutique, only to have the wrong fit? Instead of having to pick another piece and queue again, an interactive fitting room can save you from a fashion-induced meltdown. Specifically, the mirror is also a touch-screen computer that lets customers select and request different sizes and colours of garments. In other words, no more peeking out of the cubicle in an unflattering outfit and frantically trying to catch the glance of a staff.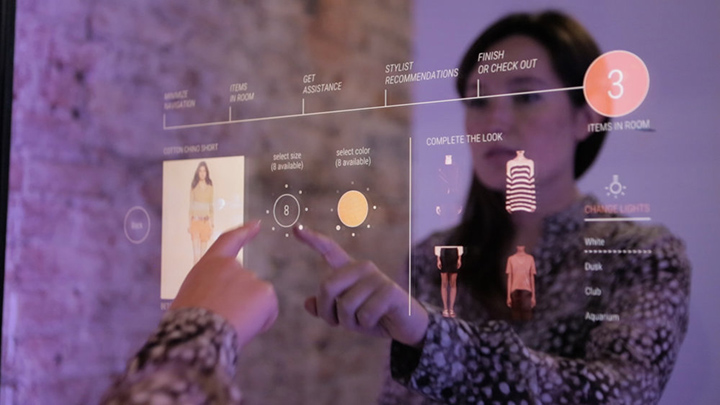 And once you get the fit right, you can also adjust the lighting in the interactive fitting room to evaluate how you'd look in different scenarios. Better yet, take a video straight off the mirror and then send it to your friends for a second opinion or, if they're best friends, a roasting.
#4: Zero-waste shopping
This isn't a joke: Singaporeans generated 815,200 tonnes in 2017, which is the weight of TWO Empire State Buildings. Of this, only 6% of this was recycled. Thankfully, a zero-packaging grocery store has recently opened on our shores so we can belatedly start doing our part.
Shoppers at UnPackt bring their own food-safe containers. Once each container is weighed, they can fill them up with what they need and pay the difference in price per unit weight. (Household items that do come in containers, such as detergent and body wash, are eco-friendly.) Fingers crossed this concept becomes a success and gets introduced in malls islandwide, otherwise we'd might end up with an incinerator at our doorstep in the not too far future!
UnPackt is located at 6 Jln Kuras, Singapore 577724.
#5: 3D knitting
You've heard of 3D printing, but do you know 3D knitting is a thing? (If you try to explain this to grandma, she probably will "catch no ball".)
Adapted from 3D printing technology, 3D knitting is done with a large rectangular printer that vaguely resembles a self-tan machine. The printer uses regular yarn to fabricate knitted clothes exactly to the customer's specifications, and in a single, continuous piece unlike traditional tailoring. A sweater currently takes four hours to print but, with the rate technology is advancing, soon you could have your 3D printed outfit ready in the time it takes to finish your lunch and kopi at the food court.
Now it's only a matter of time before we get 3D printed shopping malls in Singapore, too.
Want to be the game-changer of shopping malls in Singapore?
If you found this article useful or interesting, 99.co recommends 9 things to look for when buying or renting a shop in Singapore and Thinking of investing in commercial property?
Find the commercial property of your dreams today on Singapore's largest property portal 99.co!
New launch alert! Welcome to Grand Dunman
About Amanda Tan
Amanda is a ̶C̶o̶n̶t̶e̶n̶t̶ ̶M̶a̶r̶k̶e̶t̶i̶n̶g̶ ̶I̶n̶t̶e̶r̶n̶ writer of some things who has always been in love with writing. She is ̶e̶a̶g̶e̶r̶l̶y̶ ̶a̶w̶a̶i̶t̶i̶n̶g̶ extremely happy with Llao Llao's return to Singapore.
Looking to sell your property?
Whether your HDB apartment is reaching the end of its Minimum Occupation Period (MOP) or your condo has crossed its Seller Stamp Duty (SSD) window, it is always good to know how much you can potentially gain if you were to list and sell your property. Not only that, you'll also need to know whether your gains would allow you to right-size to the dream home in the neighbourhood you and your family have been eyeing.
One easy way is to send us a request for a credible and trusted property consultant to reach out to you.
Alternatively, you can jump onto 99.co's Property Value Tool to get an estimate for free.
If you're looking for your dream home, be it as a first-time or seasoned homebuyer or seller – say, to upgrade or right-size – you will find it on Singapore's fastest-growing property portal 99.co.
Meanwhile, if you have an interesting property-related story to share with us, drop us a message here — and we'll review it and get back to you.
Join our social media communities!
Facebook | Instagram | TikTok | Telegram | YouTube | Twitter