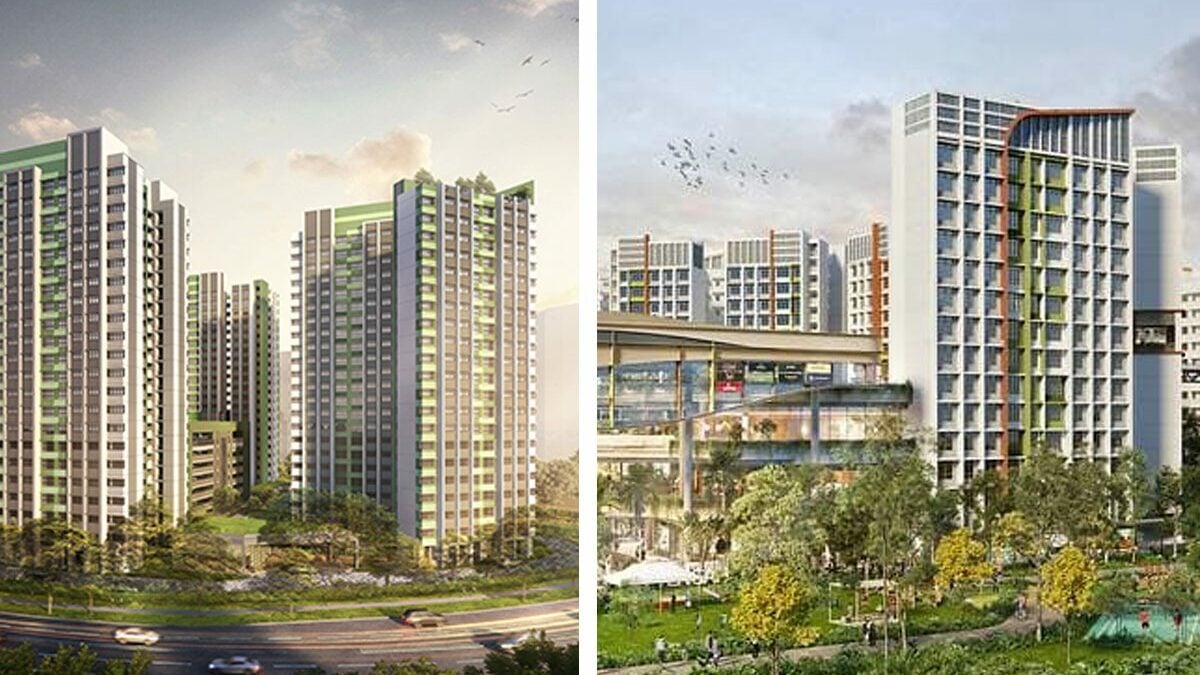 What's the most exciting thing in August besides this National Day? For us and Singaporeans looking forward to their first home, it's definitely the Aug 2020 BTO launch by HDB.
The sales exercise for a bumper crop of 7,862 flats began on 12 August, with the seven-day application period closing at midnight on 18 August.
To help you make an informed choice about which of the eight towns to apply for, we're releasing in-depth reviews for the projects in each town over four consecutive days:
16 August (Sun): Choa Chu Kang and Tengah
Earlier on, we've also done preliminary location reviews for the BTO projects here and here, which can give you more information on what is surrounding the sites (e.g. schools).
Meanwhile, here's the in-depth Aug 2020 BTO launch review, including site plan and floor plan analysis, for Bishan and Geylang!
Aug 2020 BTO: Choa Chu Kang
Name of project: Keat Hong Verge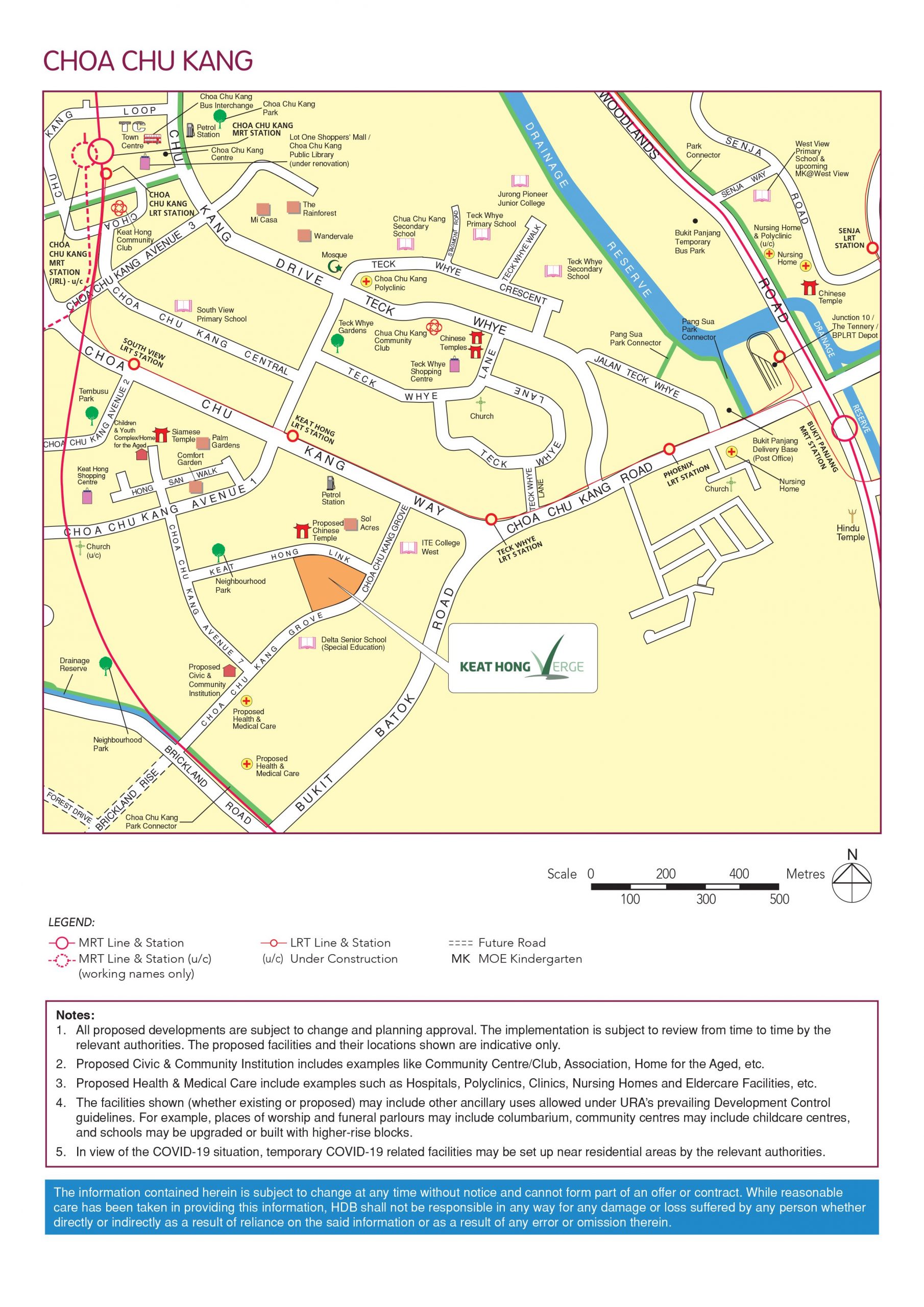 Units: 571 units across 3 blocks, each 22 storeys in height
Available unit types: 2-room Flexi, 3-room, 4-room
Facilities within project: Childcare centre, playgrounds, fitness stations, roof garden
Nearby amenities: Keat Hong LRT station, Teck Whye LRT station, Keat Hong Shopping Centre (a neighbourhood mall)
Estimated completion date: Q1 2023 (23 months waiting time)
First impressions
Located in a relatively undeveloped part of Choa Chu Kang, Keat Hong Verge needed to add to the amenities to the area for the development to appeal to applicants. (See our review of the location here.)
When HDB unveiled Keat Hong Verge, however, we learnt that there'll be a childcare centre as part of the development. Will this attract families, or will the location and design ultimately be a dealbreaker for applicants?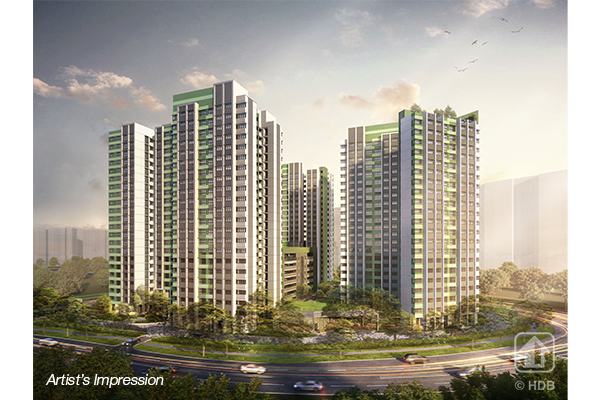 Site Plan of Keat Hong Verge + Analysis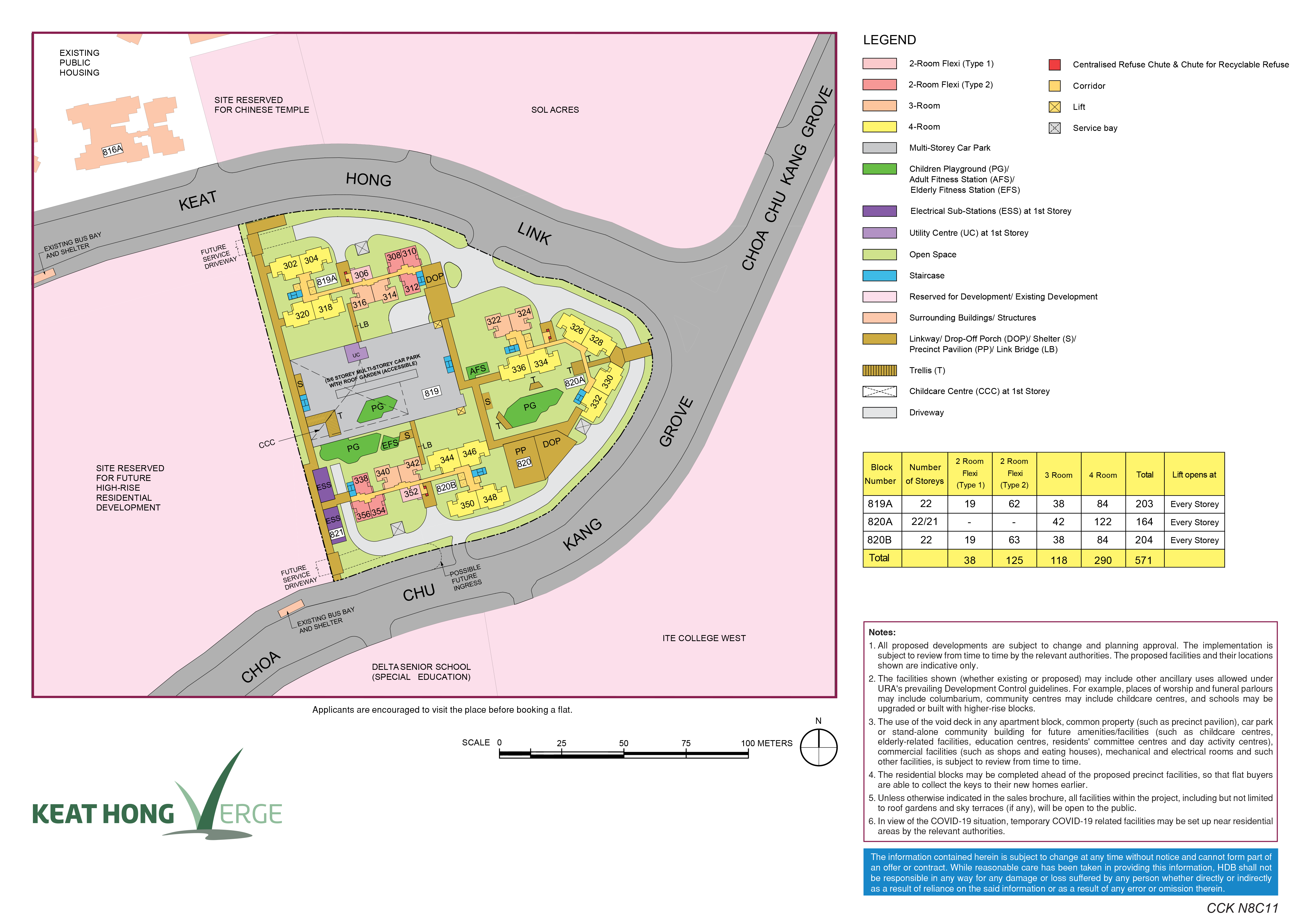 What we like about the site:
Five minutes walk from Keat Hong MRT station, where there's a kopitiam, and a bus stop away from a neighbourhood centre with a wet market
Right across the road from an existing neighbourhood centre that provides the daily necessities a resident might need, including multiple kopitiams
Future hospital and medical care facility within walking distance
Roads surrounding the development are two-lane roads and will be quieter for residents compared to being next to a main road
Childcare centre within the development
Higher floors of certain stacks will enjoy permanently unblocked views to the south, in particular the south-facing units of Block 820B
Relatively short waiting time to completion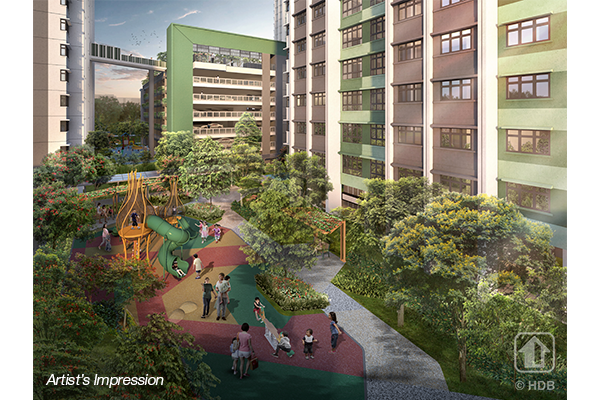 What we dislike about the site:
Going further beyond the neighbourhood could prove a bit of hassle for non-motorists. The fastest public transport route to town is to take the LRT to Bukit Panjang LRT
The upcoming Jurong Region Line (JRL) doesn't directly serve residents of Keat Hong Verge
Stacks facing the Chinese temple site may experience some noise and air pollution issues in future
What else we noted:
Motorists will like the fact that there's a petrol station close by and being able to reach Kranji Expressway (KJE) in four minutes
Our favourite stacks:
2-room Flexi: 352, 354, 356
3-room: 322 and 324 (Above 6th floor)
4-room: 330 and 332 (15th floor units and above); 350, 348
Floor Plans of Keat Hong Verge + Analysis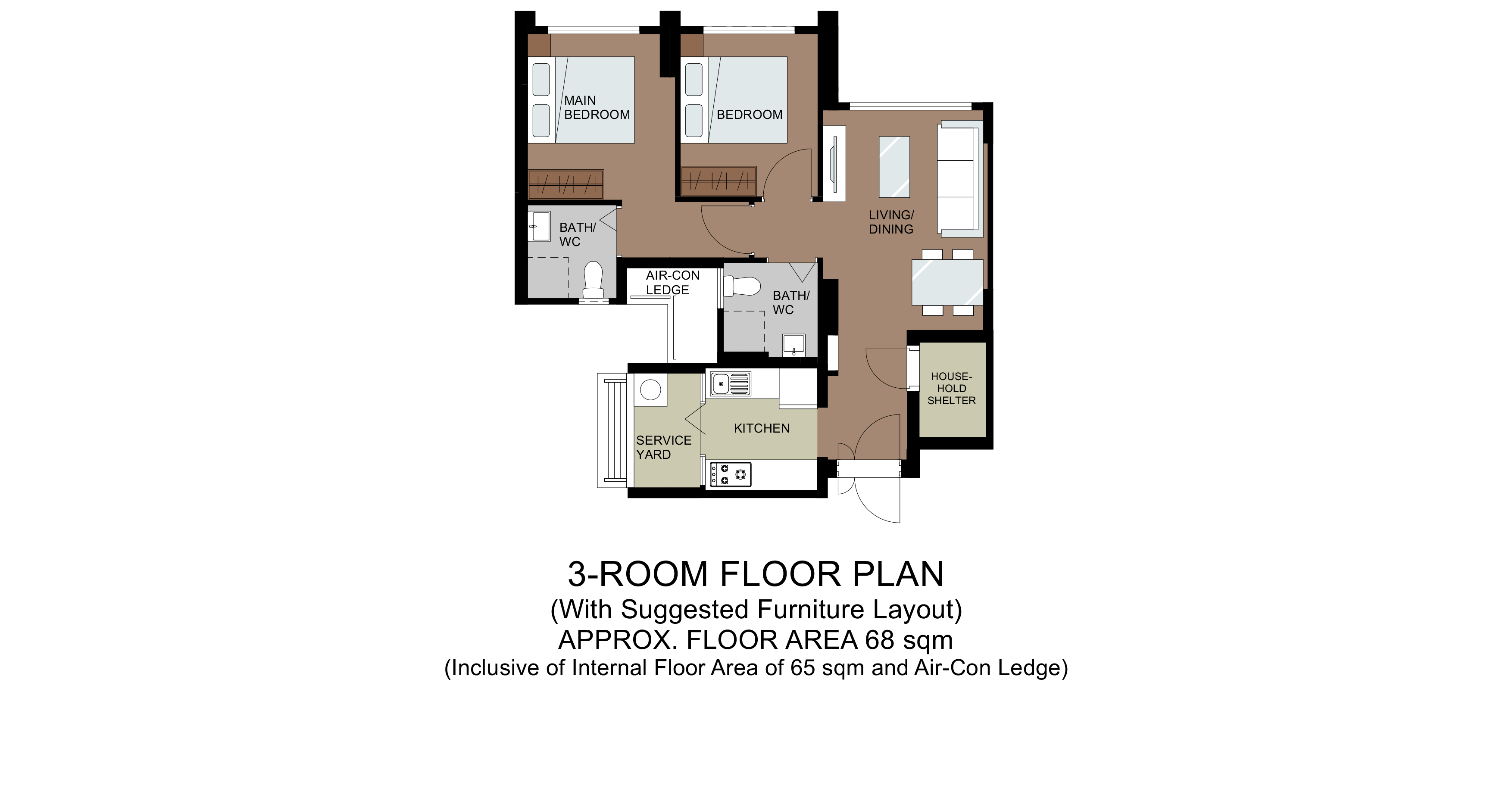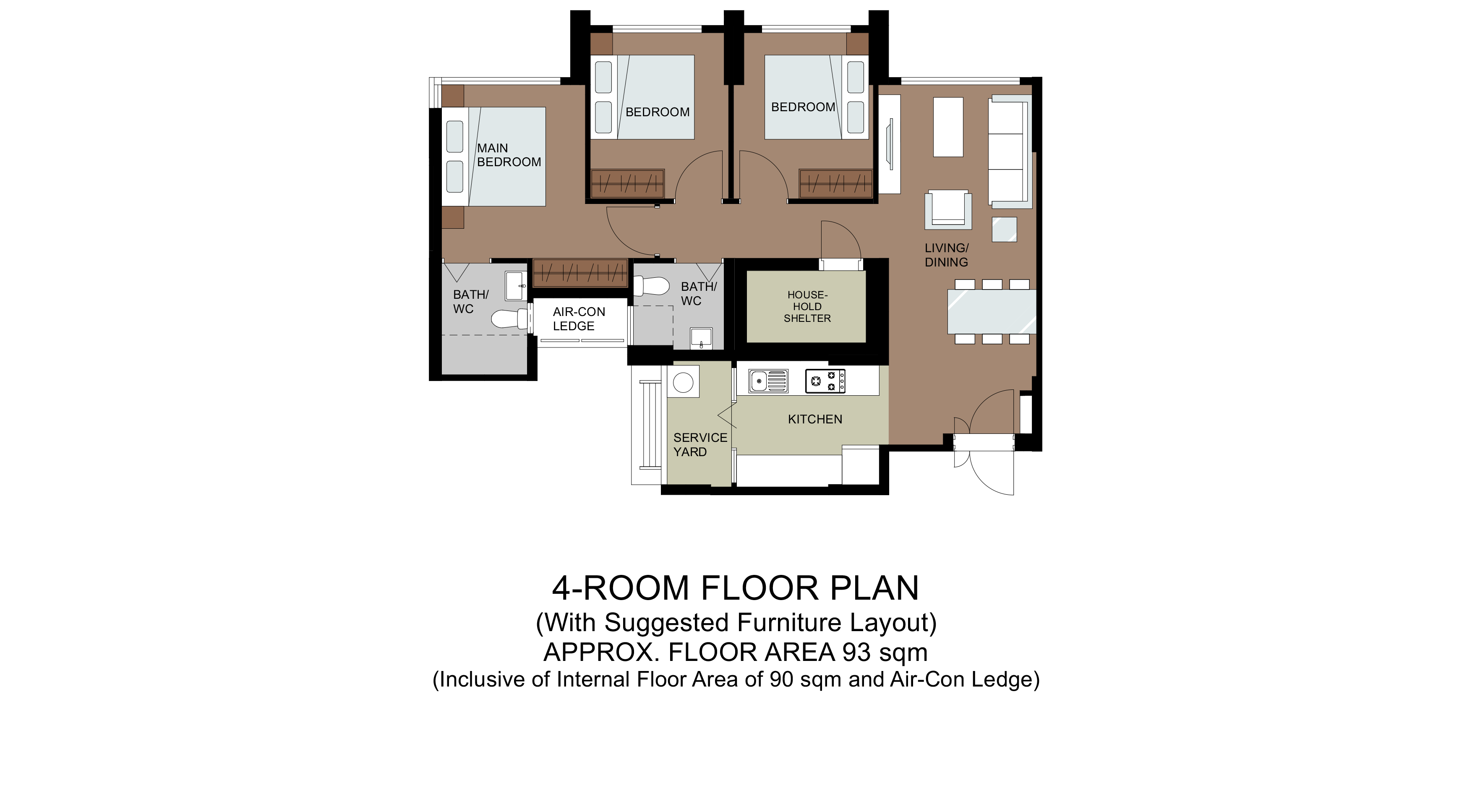 The good:
The wardrobe area for 4-room units is recessed into the wall, which is pretty sleek
Master bedrooms for 4-room units have larger than usual windows that wrap around the corner, maximising views and natural light
Able to knock down the walls between living area and common bedroom for both 3- and 4-room units
The not-so-good:
The 3-room unit layout is horrendous, with plenty of 'wasted' narrow corridor space in the master bedroom and the main entrance area
3-room units have tiny master bathrooms
3-room units have a larged air-con ledge than 4-room units, which is ridiculous
When almost every other BTO project is offering a combined kitchen and utility area for 3-room units, Keat Hong Verge only has the separate kitchen and service yard option
Larger than average household shelter for 4-room units
In 4-room units, the presence of a non-hackable retaining wall separating the living room and common bedroom limits flexibility when it comes to interior design and reconfiguring spaces within the unit
Prices of the Aug 2020 Choa Chu Kang BTO + Analysis
Flat Type
Floor Area (sqm)
Price Range (excluding grants)
2-room Flexi
39
$99,000 – $115,000
47
$110,000 – $143,000
3-room
68
$164,000 – $214,000
4-room
93
$253,000 – $326,000
Even though this is the cheapest project out of all the others in the Aug 2020 BTO launch exercise, we're not entirely sure if this is worth it, given the dubious layouts that are especially bad for 3-room units.
The location isn't fantastic either, and with the JRL coming up, resale flats elsewhere in Choa Chu Kang might seem like a better choice.
If your budget is a little higher than this, you can consider the BTO projects in Woodlands instead, which have better amenities and layouts.
Who should apply: Those who just want to get the cheapest BTO flat out there, or want to stay in Choa Chu Kang near their family.
Aug 2020 BTO: Tengah
Name of project: Parc Residences @ Tengah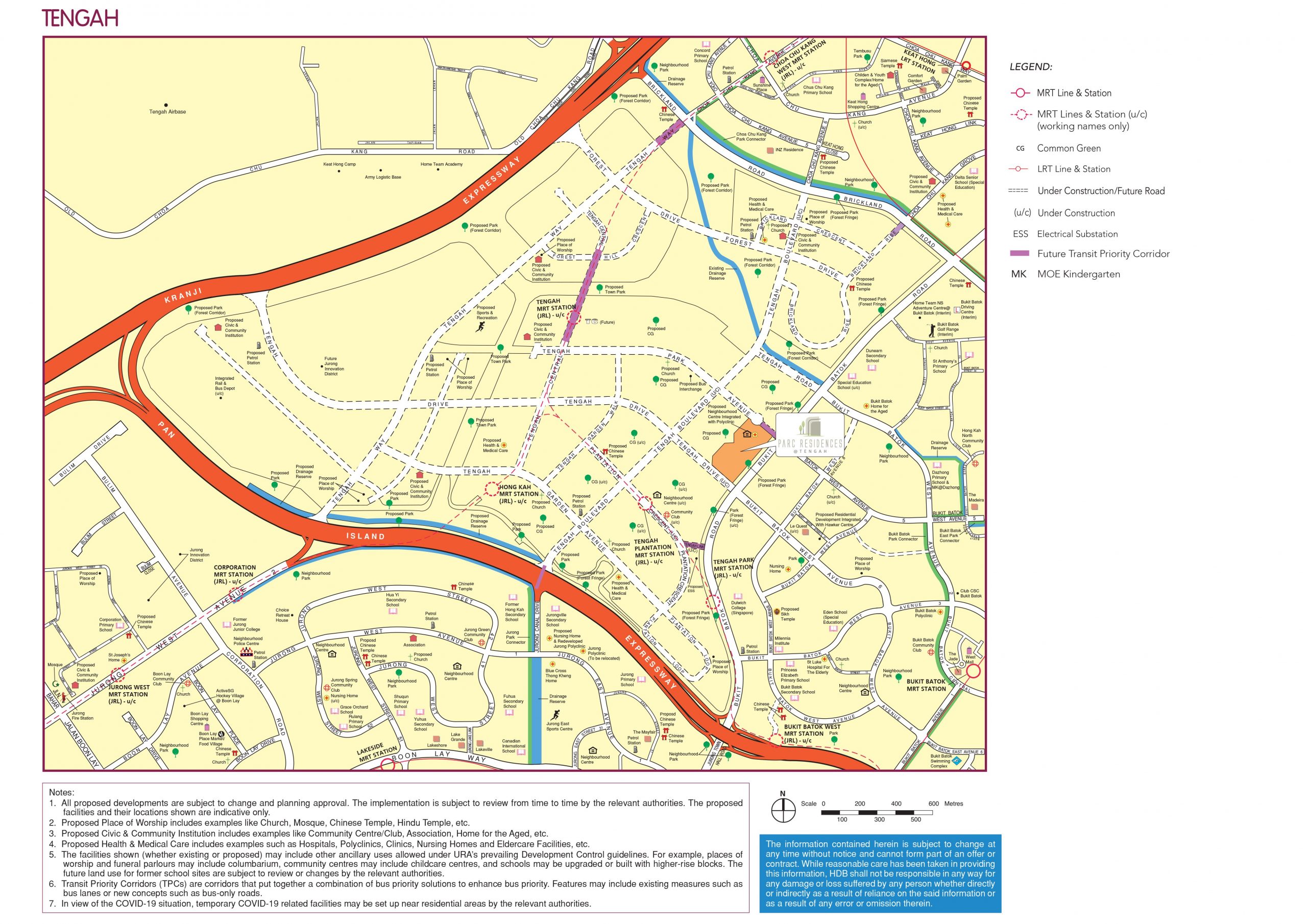 Units: 1,044 units across 12 blocks, ranging from 7 to 14 storeys in height
Available unit types: 2-room Flexi, 3-room, 4-room and 5-room
Facilities within project: Neighbourhood centre with polyclinic, playgrounds, sky terraces, roof gardens, fitness stations, childcare centres, hardcourts, shops, restaurant, educational centre
Nearby amenities: Shops and supermarket at Le Quest condominium, future hawker centre, park
Estimated completion date: Q2 to Q3 2025 (52 to 54 months waiting time)
First impressions
HDB wants you to apply for this. It has gotten the media to wax lyrical about the project, given it a condo like name (Parc Residences), and introduced architectural features such as sky terraces.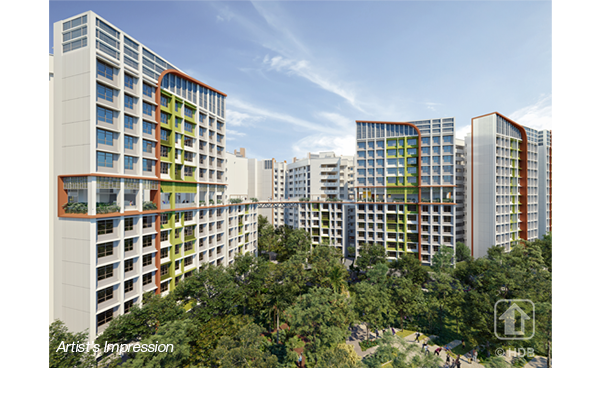 But the most striking feature of HDB flats in Tengah is still the provision of a centralised cooling infrastructure. According to HDB, each flat will have vents that funnel cool air from highly efficient centralised chillers. HDB says this subscription-based service will be more cost effective than traditional air-conditioning, but we are more excited to bid farewell to leaky air-cons and malfunctioning condensers.
Parc Residences also stands apart from other Tengah projects with its neighbourhood centre, which occupies a quarter of the land on the site. The 3-storey building will house an array of amenities, including a polyclinic and supermarket, which alleviates most worries about living in a brand new estate like Tengah.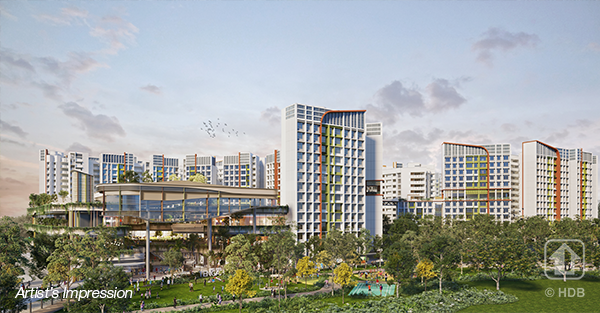 Site Plan of Parc Residences @ Tengah + Analysis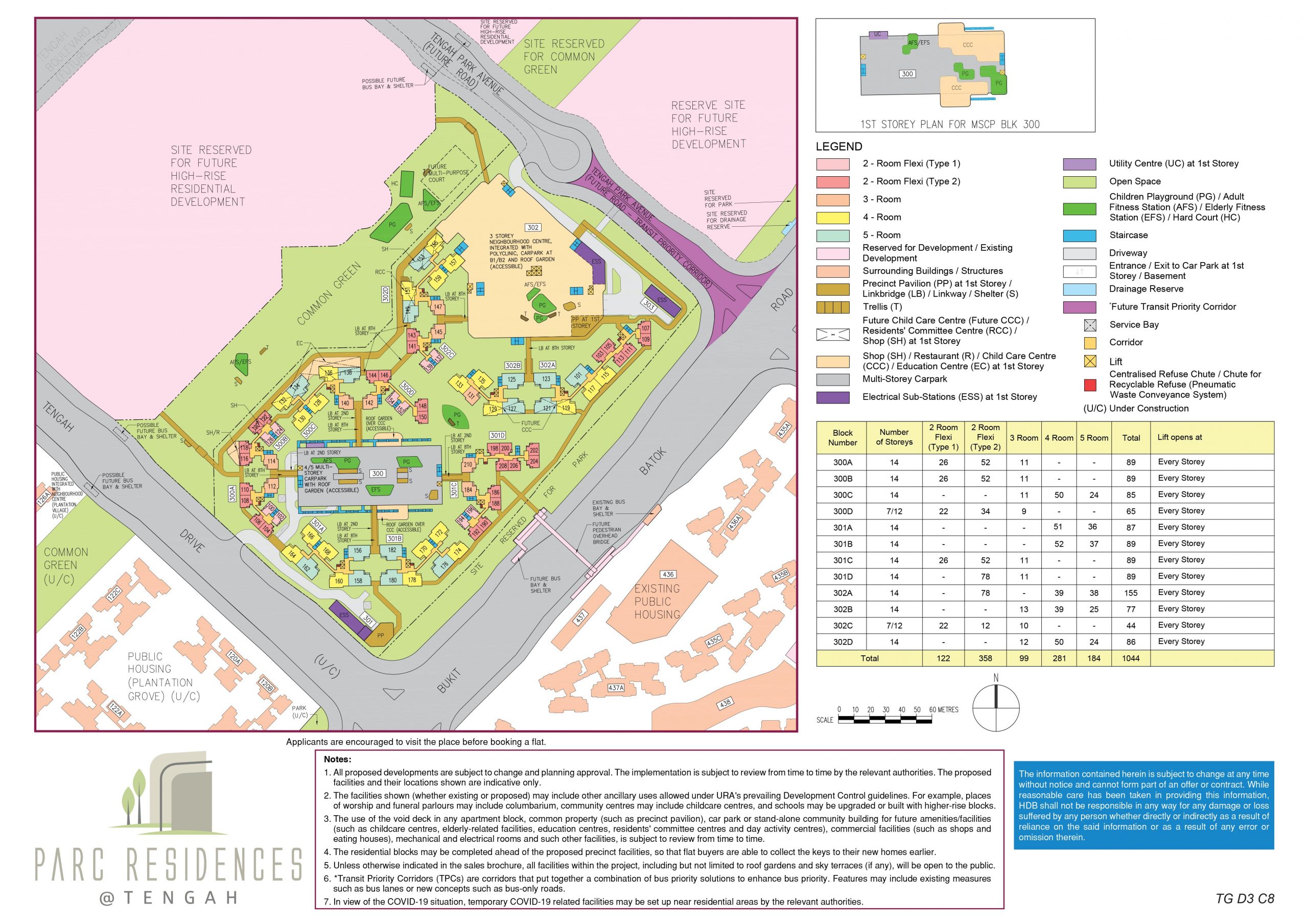 What we like about the site:
Ample green spaces surrounding the site, as well as within the site in the form of roof gardens
The neighbourhood centre will bring a lot of convenience for residents
The sky terraces could prove an attractive place to hang out among residents
A network of green corridors bordering the project will enable residents to get from one part of Tengah to another in greater comfort, and provide an option for recreation too
What we dislike about the site:
A five to eight-minute walk to the nearest MRT station on the upcoming JRL (Tengah Plantation MRT station), which pales in comparison to a couple of Tengah projects launched prior to this
Traffic noise from Bukit Batok Road (a favourite haunt for illegal speedsters at night) will be an issue for quite a few stacks that face it
Some of the commericial spaces intended for shops and eateries could remain vacant for some time, because the area has some way to go it gets a critical mass of customers, so don't take "shops" on the site plan for granted
Spacing between stacks appear cramped; views from a number of units are compromised and privacy isn't that great either
Many units will either directly face the main road or, worse, the multi-storey car park, which is a far cry from units that have the luxury of facing the common green
Most units facing the common green have to contend with the afternoon sun (those that don't made it to 'our favourite stacks' below)
Lack of amenities in the vicinity, at least until more of Tengah is built up, which will take until about 2040
What else we noted:
Although there a bus stop next to the project right now along Bukit Batok Road, it's only serviced by two routes (160 and 180). Although this might be limiting to residents, we forsee the routes to increase as the population of the area increases.
Our favourite stacks:
2-room Flexi: 144, 146
3-room: 140 and 142 (Above 7th storey); 145 and 147 (Above 7th storey)
4-room: 136
5-room: 138
Floor Plans of Parc Residences @ Tengah + Analysis
The good:
All of the units have very functional layouts that allow for flexibility to open up the spaces entirely between the bedrooms and living areas. This is possible due to the load-bearing (non-hackable) walls not intruding into the internal space, thanks to thoughtful architecture
3-room units have a dry kitchen that opens up well to the living and dining areas
3-room units have combined kitchen-utility spaces that are more flexible than having a separate kitchen-service yard
On average, flat sizes here are 1 to 2 square metres larger than the standard flat size, again due to the lack of thick load-bearing walls within the unit
The not-so-good:
3-room units have a tiny master bathroom
4-room units have a larger than usual common bathroom. Not outright bad per se, but the space could've been better attributed to other areas
Prices of the Aug 2020 Tengah BTO + Analysis
Flat Type
Floor Area (sqm)
Price Range (excluding grants)
2-room Flexi
40
$108,000 – $138,000
48
$128,000 – $157,000
3-room
70-71
$198,000 – $248,000
4-room
94-95
$303,000 – $364,000
5-room
112-113
$418,000 – $489,000
Despite its location, Parc Residences @ Tengah is more expensive than the BTO projects at Choa Chu Kang and Woodlands, and we feel that's because of the centralised cooling infrastructure that costs more to build (but with potential cost savings in the long run for residents).
But as long as you believe in Tengah's 'forest town' concept and the eventual (but far from guaranteed) upside in property value when Tengah is fully developed, these flats may be well worth what they cost right now. Plus, very few BTO projects come with a neighbourhood centre like this one.
If you're planning on waiting for a better Tengah project, bear in mind that BTO prices are inching up all the time. The only reason why you might give this a pass is if any of the negative aspects of the site plan and floor plan are deal-breakers for you.
Who should apply: Those who crave convenience for daily necessities will find it here, along with the promise of being part of an up-and-coming town.
Which of the Aug 2020 BTO projects would you pick? Let us know in the comments below!
99.co August 2020 BTO locational pre-launch reviews:
– HDB Aug 2020 BTO Review (Part 1): Pasir Ris, Tampines, Choa Chu Kang, Tengah
– HDB Aug 2020 BTO Review (Part 2): Ang Mo Kio, Bishan, Geylang, Woodlands