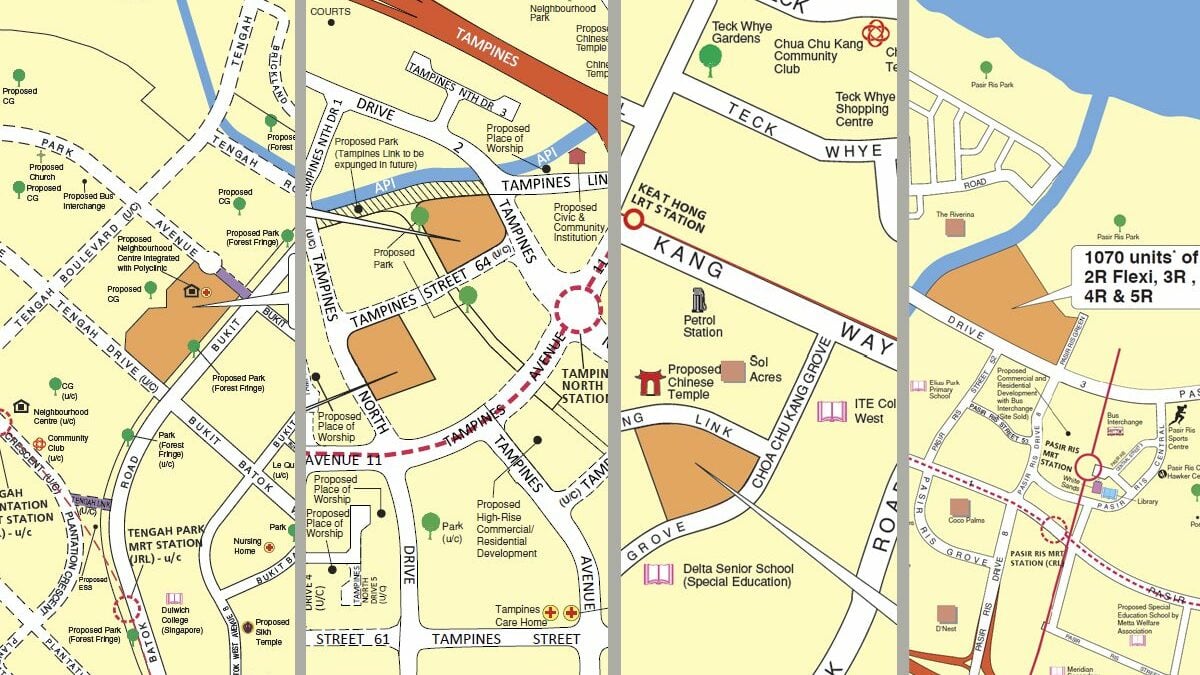 By now, you might have heard that the HDB May 2020 Build-to-Order (BTO) launch has been postponed to be held together with the sales exercise in August, because of Covid-19 restrictions. The Aug 2020 BTO will be largest BTO sales exercise ever, with HDB launching 7,820 units.
As the August 2020 BTO launch will include projects across eight towns, we'll be reviewing the locations in two parts.
In Part 1, which is this article, we review the projects in towns originally slated to launch in May: Pasir Ris, Tampines, Choa Chu Kang and Tengah.
Part 2 has been published! Read it here.
Aug 2020 BTO Launch: Pasir Ris
Classification: Mature town/estate
Number of units: 1,070
Sites: 1
Project name: (To be announced)
Types of flats available and estimated prices*:
2-room Flexi: From $150,000
3-room: From $286,000
4-room: From $399,000
5-room: From $513,000
*There hasn't been a Pasir Ris BTO in a while, so we based prices for this BTO on Tampines Greenspring (Nov 2019 BTO launch), which is located near Tampines Central. Prices are excluding grants.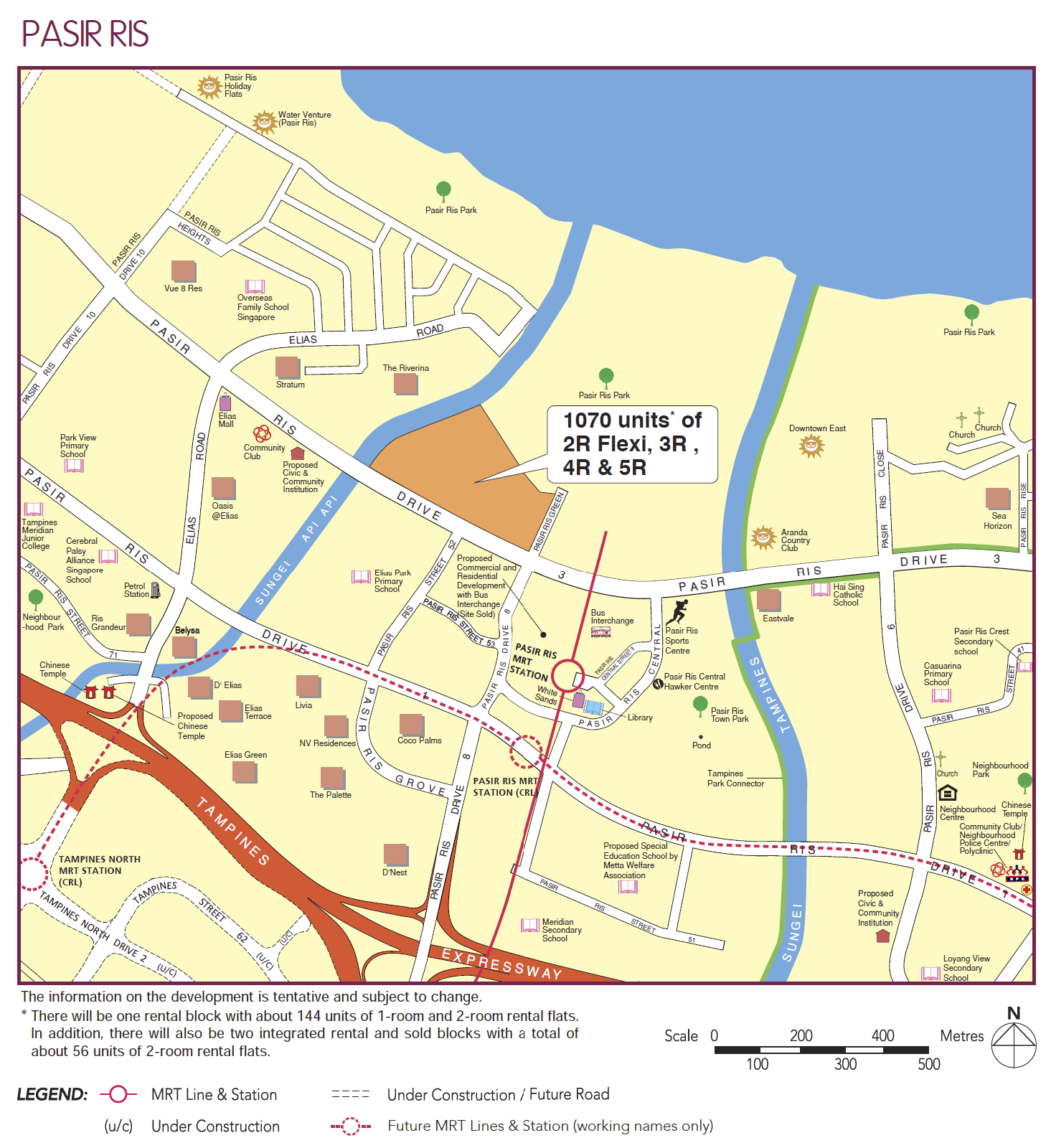 The Pros:
Right across the road from an upcoming integrated commercial/private residential development, complete with a new shopping centre (adding to the existing White Sands), a bus interchange, polyclinic and direct linkage to Pasir Ris MRT station
Pasir Ris MRT Station is a future Cross Island Line MRT interchange
Will likely be fully integrated with Pasir Ris Park and make this one of the rare BTO projects adjoining a park of this scale
Even more recreational options at Downtown East, Pasir Ris Town Park and Pasir Ris Sports Centre
Plenty of food options in nearby malls, as well as Pasir Ris Central Hawker Centre, but would benefit from a kopitiam within the development
Near various primary and tertiary schools, such as Elias Park Primary School, Hai Sing Catholic School and Tampines Meridian Junior College.
The Cons:
Will likely have a lot of pass-through traffic flowing between the new integrated hub and Pasir Ris Park, could compromise privacy and be noisier than the typical BTO development
Low floor units, especially in stacks closer to the park, might have to deal with more mosquitoes than usual
Aside from the standard premium pricing of a BTO project in a mature estate, the advantages of being near to an integrated hub, an MRT station and Pasir Ris Park will also be priced in
Important note: There will be one rental block with about 144 units of 1-room and 2-room flats. In addition, there will also be two integrated rental and sold blocks with a total of about 56 units of 2-room rental flats.
Further thoughts:
What really stands out about the Aug 2020 BTO in Pasir Ris is the project's proximity to the future Pasir Ris integrated transport hub—a mixed used development comprising of a shopping mall, polyclinic, childcare facilities and a town plaza. The hub will also likely be completed at around the same time as this BTO project.
And if you've always wanted to live next to a park, this BTO offers a rare opportunity to do so. Pasir Ris Park is one of the largest parks in Singapore, and fronts a picturesque shoreline. However, lower floors in stacks facing the park may encounter more mosquitoes, and there'll inevitably be park visitor traffic passing through/resting at the void decks of the blocks here.
And there's even more sporting amenities available at the nearby Pasir Ris Sports Centre, and recreation such as Wild Wild Wet and bowling at Downtown East. The town also boasts a well-established cycling network that connects with the rest of Singapore.
Then there's the usual amenities too. The Pasir Ris BTO will be within 1km to two primary schools, and have secondary schools and a Junior College within easy reach.
Further into the future, Pasir Ris MRT will become an interchange with the Cross Island Line (CRL). When that happens in 2029, residents will get better connectivity to other parts of Singapore such as the North and North East.
Verdict:
Pasir Ris has long been known as the place to live if sports, recreation and play matter to you, with the catch that you'll have to make do with little else. Upcoming developments, however, will add an exciting dimension to the town, and could even lift property value and buyer/renter demand.
Given the number of plus points, it's well worth paying the mature estate premium for the Pasir Ris BTO flats. But there's a possibility that the HDB would price these flats too high, making them less appealing.
Again, note that there'll be rental flats as part of this project. Rental units will also be integrated with sold blocks, as part of a relatively new intiative by the government.
For unsuccessful BTO applicants or those unsure of whether to apply, they might find that resale flats in Pasir Ris are worth considering. Not only are HDB resale flats in Pasir Ris flats relatively new (most are built in the early 1990s), layouts here are also typically more spacious and better-conceived compared to older generations of resale flats (e.g. larger bathrooms, dining areas that adjoin the living room instead of the kitchen).
Aug 2020 BTO Launch: Tampines
Classification: Mature town/estate
Number of units: 1,760
Sites: 3
Project name: (To be announced)
Types of flats available and estimated prices:
3-room: From $225,000
4-room: From $339,000
5-room: From $451,000
*prices based on recent Tampines BTO launches and excluding grants.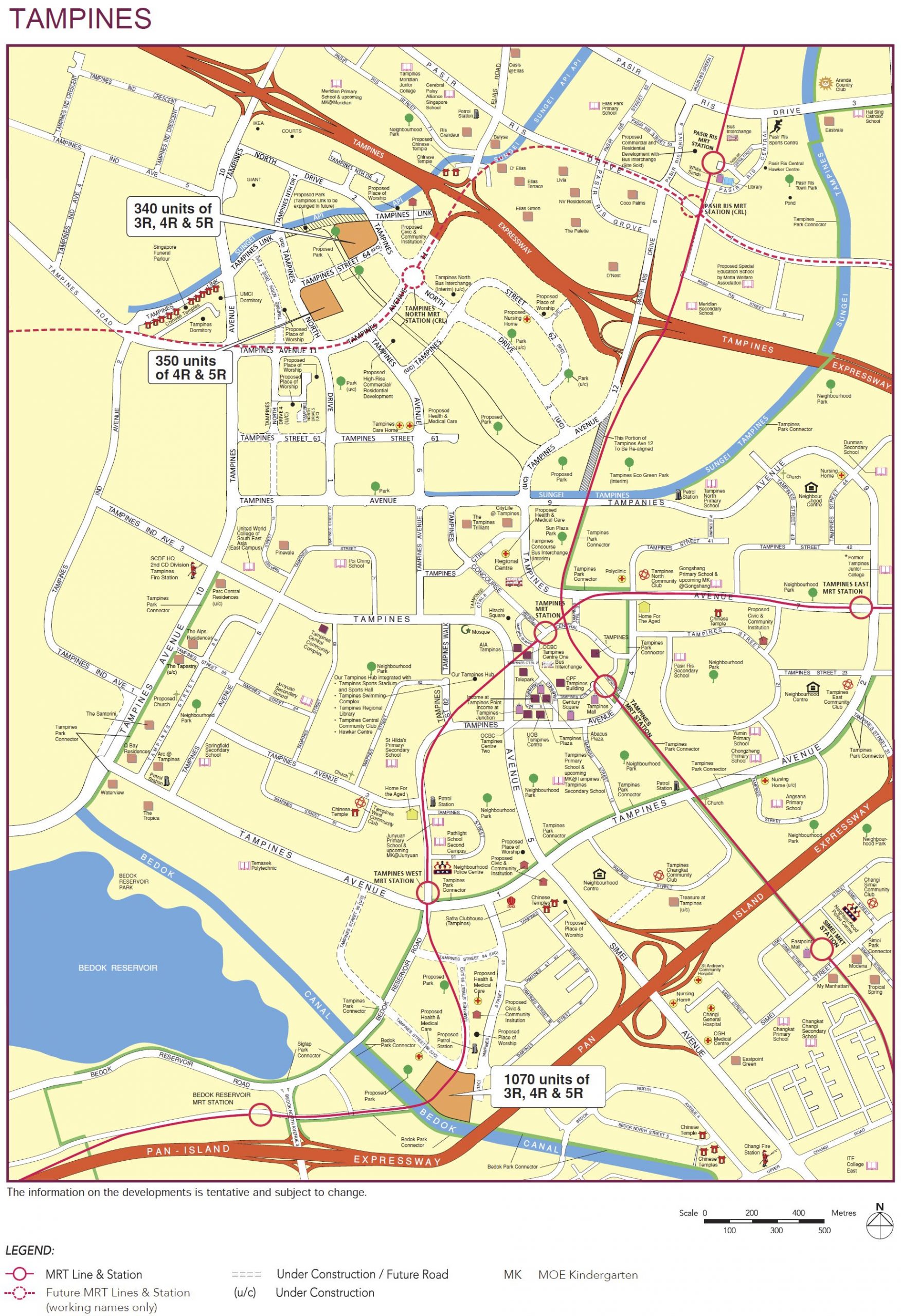 The Pros:
Walking distance to existing or future MRT stations
Tampines North sites offer sufficient existing amenities within walking distance
Tampines North sites offer easy access to Tampines Expressway for motorists
Tampines North sites may benefit from upside of future developments
Tampines West site is within 1km to three well-regarded primary schools
The Cons:
Located in non-mature parts of a mature estate
Far away from the actual Tampines town centre
Lack of schools in Tampines North, but there are sites for two primary schools and at least one secondary school within 1km
Some stacks in Tampines West location may be affected by expressway noise from the PIE
Tampines West site needs a kopitiam, small supermarket and childcare centre within the development to be liveable
Tampines West site may have several negative amenities nearby, such as a place of worship that could bring noise and traffic
Further thoughts:
Located at the extremes of Tampines, we aren't sure if these three BTO plots deserve mature estate pricing.
Many amenities at these locations haven't yet been built. The optimist, however, will look at the two plots in Tampines North in particular and say that the future Tampines North MRT station and the adjoining commercial development will increase liveability and property value as time goes by.
Until everything eventually comes together in the 2030s, residents of the Tampines North BTO plots can just hop across to IKEA, Giant and Courts whenever they wish. (A journey to the actual Tampines Central will take quite long.)
For recreation, there's also the Tampines North Boulevard Park (although the scenery would be nothing to shout about compared to Pasir Ris Park or Bedok Reservoir Park.)
For the Tampines West site, there are several conditions that must be met to make it worth considering. Residents should get a kopitiam, small supermarket/minimart and a childcare centre as part of the 1,070-unit BTO project.
That said, the most important thing here is for authorities to build a bridge across Bedok Canal for pedestrian and cyclists, which would allow residents to get to Bedok Reservoir MRT station in 6 minutes on foot. If no such bridge is built, residents will be facing a frustrating detour via Bedok Reservoir Road that'll take 10 minutes.
The bridge will also put key amenities such as Bedok's Fengshan Market and Hawker Centre within residents' reach.
If you're going to have kids, we'd choose the Tampines West location of the three available for this BTO. And that's because the project is within 1km of well-regarded primary schools in Bedok, namely Yu Neng Primary School and Red Swastika School. Again, a bridge will put these schools within reasonable walking distance.
Intergenerational households will also benefit from the proposed healthcare facilities next to the Tampines West location, when they're completed.
Being within walking distance to Bedok Reservoir Park and SAFRA Tampines is a big plus, too, for recreation and well-being. Temasek Polytechnic is also nearby.
And if you do pick the Tampines West location, there's a good chance you can always lobby your MP to get that bridge built, given that more than 1,000 households will be living there.
Verdict:
If you don't mind having to wait for a BTO flat and then having to wait some more for amenities in the area to be fully developed, then place your $10 on Tampines.
And if you ask us to pick the best plot out of the three in Tampines for this BTO launch, we'd pick Tampines West anytime.
The real differentiator for Tampines West is the 'within 1km distance' to Yu Neng Primary School and Red Swastika School. Also, the MRT stations here are already up and running, unlike having to wait until 2029 for the CRL to open.
And remember, unlike the Downtown Line, the CRL won't connect commuters directly to the city.

If you fancy living closer to Tampines Central (or don't wanna wait for a BTO), you might want to check out the sheer number of Tampines HDB resale flats on sale.
Aug 2020 BTO Launch: Choa Chu Kang
Classification: Non-mature town/estate
Number of units: 570
Sites: 1
Project name: Keat Hong Verge
Types of flats available and estimated prices:

2-room Flexi: From $89,000
3-room: From $182,000
4-room: From $250,000
*prices based on Teck Whye View (Feb 2018 BTO launch) and excluding grants.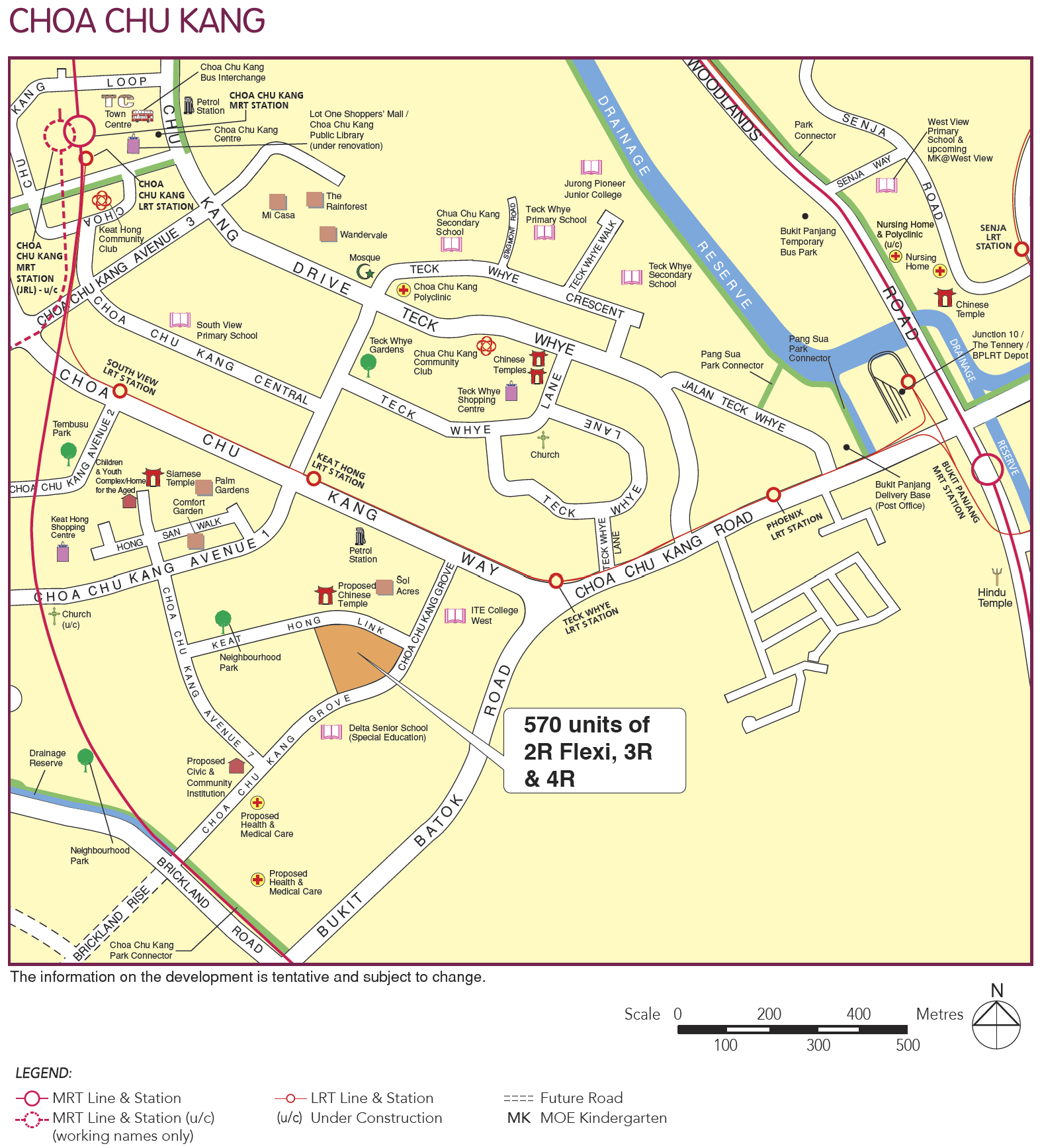 The Pros:
6-minute walking distance to Keat Hong LRT Station and Teck Whye LRT station (two stops away from Choa Chu Kang Central and Bukit Panjang Central respectively)
The kopitiam next to Keat Hong LRT will prove essential for residents
9-minute walking distance (or two bus stops) to the neighbourhood mall at Keat Hong, which has a supermarket at wet market
Blocks here will go up to 21 storeys, and certain south-facing stacks above level 10 may be able to enjoy an unblocked view over ITE College West
Will be one of the projects slated for earlier completion, according to HDB
The Cons:
A proposed Chinese temple across the road might bring noise, smoke and traffic to certain stacks
Possible construction noise and dust when another BTO comes up on the land parcel next to it
Not enough amenities within the immediate vicinity (i.e. a five-minute walk) for our liking
Further thoughts:
Although amenities in the immediate vicinity are few and far between for Keat Hong Verge, we do like that it relatively easy to get to a few shopping malls, namely Lot 1, Junction 10, Hillion and Bukit Panjang Plaza.
There's also a sizeable neighbourhood mall two bus-stops away and a nearby minimart for daily necessities.
Depending on the block you'll live in, there'll be two or three primary schools within a 1km distance, although none of them are within walking distance.
And for those who drive and are based in Jurong Industrial Estate for work, this isn't a bad location as the entrance to the Kranji Expressway (KJE) is about four-minutes away by car via Brickland Road. (Bonus: There's a petrol station nearby too.)
When completed in mid-2030 (according to the LTA), Brickland MRT station will be about two bus-stops, or an eight-minute walk away from Keat Hong Verge. Like Canberra MRT, the add-on station is sited between Choa Chu Kang and Bukit Gombak stations.
According to the URA Master Plan, a site reserved for a large medical facility (likely a hospital) is located a bus stop away to the West. The hospital will join up with Bricklands MRT and we foresee the facility will only be built around 20 years later.
The Master Plan also reveals that land has been zoned near Keat Hong Verge for a primary school, again this will only likely be built when surrounding residential land parcels have been developed (and if Singaporeans make more babies).
Verdict:
The last BTO to come up in Choa Chu Kang, Teck Whye View in the Feb 2018 launch, was in a much better location that's right next to Junction 10 and within walking distance to Bukit Panjang MRT.
Two and a half years later, BTO prices have risen, and Keat Hong Verge might sell for the same price despite having none of Teck Whye View's attributes.
For us, that's a hard pill to swallow, especially since resale prices in Choa Chu Kang have become more and more affordable in recent years.
So, if you're looking for a flat in the Choa Chu Kang area, it's worth taking a look at the resale flats that are available, before deciding whether this BTO is worth it.
Aug 2020 BTO Launch: Tengah
Classification: Non-mature town/estate
Number of units: 1,040
Sites: 1
Project name: (To be announced)
Types of flats available and estimated prices:
2-room Flexi: From $115,000
3-room: From $213,000
4-room: From $307,000
5-room: From $413,000
*based on recent Tengah BTO launches and excluding grants.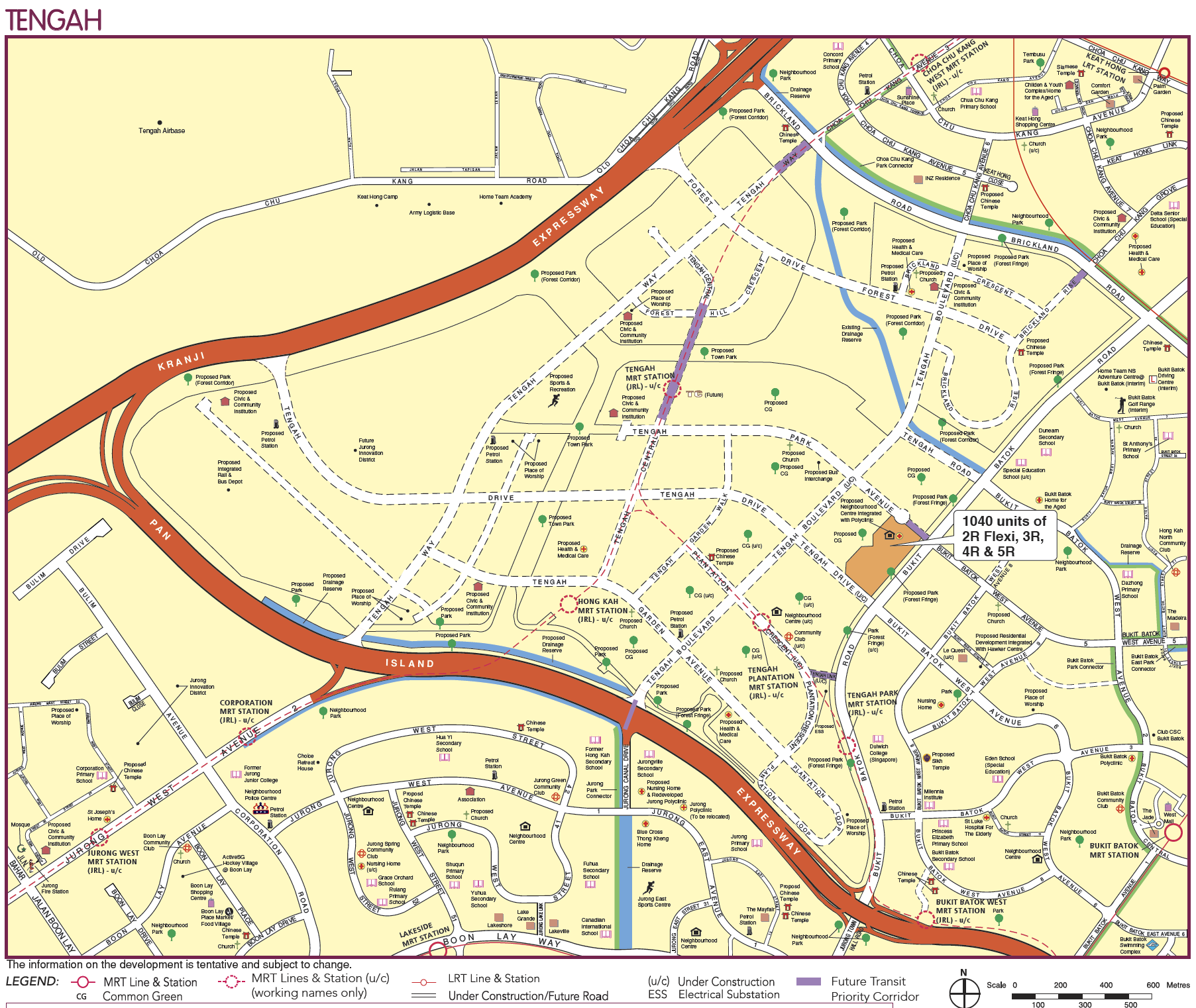 The Pros:
Within a 6-minute walking distance to Le Quest, an integrated commercial/private residential development that has a Fairprice supermarket, retail shops and a hawker centre
There will be a neighbourhood centre and polyclinic within the project itself
Within walking distance to future Tengah Plantation MRT on the Jurong Region Line, which is four stops from Jurong East and one stop from the future Tengah town centre
Within walking distance to a proposed bus interchange
Near to PIE for those who drive
The Cons:
No existing primary schools within 1km. (There is a land parcel nearby, in Bukit Batok, that is currently earmarked for what is likely a primary school, but so far there have been no official announcements for new schools there)
Tengah Plantation MRT will only open in 2027. The nearest existing MRT station, Bukit Batok, is at least 20 minutes away
Tengah BTO flats continue to be well-overpriced for what they're worth
Further thoughts:
For us, this is one of the better-located BTO projects in Tengah, simply because of its proximity to existing amenities in Bukit Batok.
Also, there'll be shops and amenities such as a kopitiam within this Tengah BTO project. There's even a polyclinic within the development, although the block(s) closest to it might not be desirable.
We also like that the Jurong Region Line (JRL) will eventually connect residents to the bustling Jurong East Central. Tengah Central might also turn out to be a pretty good place to hang out at when it's up and running.
All said and done, prices for Tengah BTO flats have been a huge turn-off.
We get that the government has lofty aspirations for Tengah, and that the town itself has a pretty cool concept of being a "forest town", with "smart town technology" incorporated into BTO flats there, but non-mature estate BTO applicants need affordable housing first and foremost, not marked-up flats with bells and whistles.
Even those who can afford it might feel Tengah's price point for BTO flats is unjustified. Based on purely location, it's inexplicable why this is priced higher than Keat Hong Verge. And with the Tampines BTO likely to be only slightly pricier, what's in it for the Singaporean who chooses Tengah?
Back then when Punggol was still starting out, at least the BTO flats there were offered at bargain basement pricing (it still is pretty affordable now). Tengah's pricing, on the other hand, is as off-putting as a Trump tweet.
Verdict:
If you can envision a bright future for Tengah, then you might perceive the pricing for BTOs here to be fair.
But even if you gloss over the lack of amenities in favour of future potential, the glaring lack of nearby primary schools ought to be a dealbreaker for those who intend to move in with young ones in tow.
And if you're an aspiring upgrader who intends sell his/her Tengah BTO flat once the Minimum Occupation Period (MOP) is up, you might not like the valuation at all when the time comes, because we project that there is very little room for prices to go up beyond what you paid for, until Tengah is fully-developed.
Even as a homeowner with no intention to sell and upgrade, you'll need to wait at least two decades until the town starts to resemble the Punggol we see today. In other words, lower your expectations.
And with seven other BTO projects to be launched in the August exercise, including another non-mature development in Woodlands that we'll cover in Part 2, there's not a lot of reasons why an applicant would put their $10 on Tengah.
At the very least, do yourself a favour first and check out how much HDB resale flats in neighbouring Bukit Batok town are selling for!
Here's an overview of the locations available in the Aug 2020 BTO launch: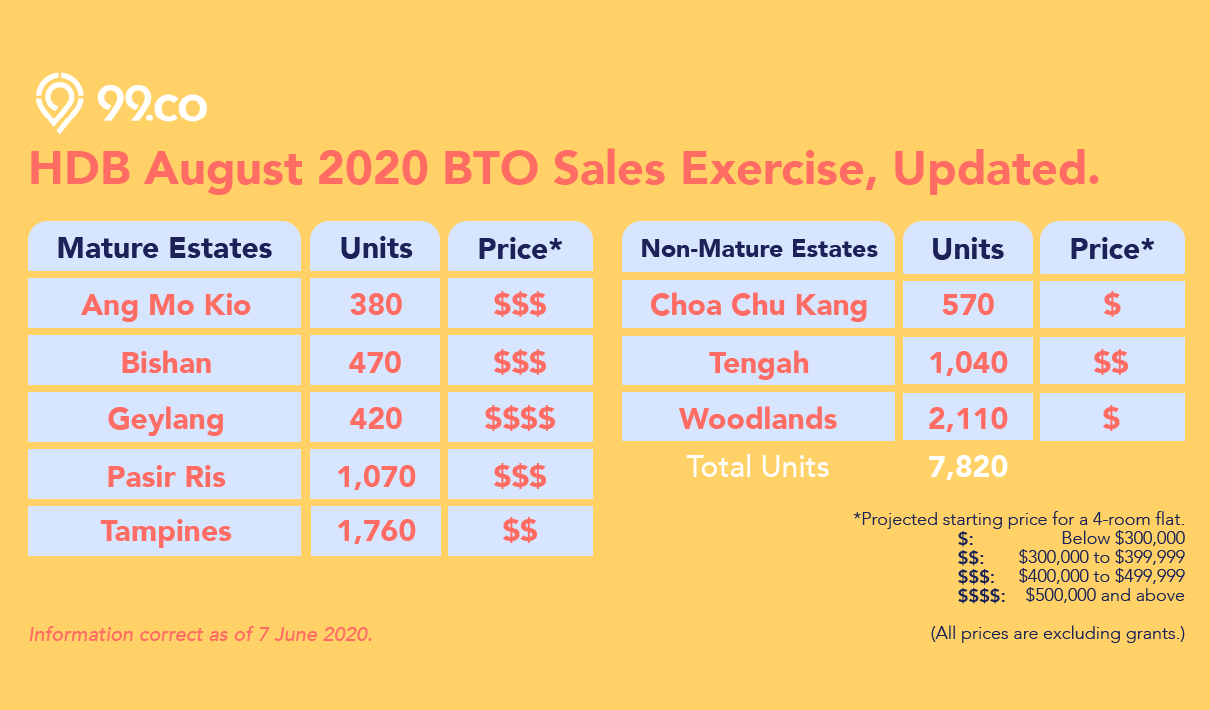 [Read Part 2 of the Aug 2020 BTO review
here
.]
[Additional reporting by Eliza Hamizah.]
Which of the August 2020 BTO projects appeal to you the most? Let us know in the comments!
If you liked this article, 99.co recommends Negative Sale: How selling your HDB/condo can put you in debt instantly and Is it wrong to peg HDB Home Loan Rate to CPF Interest Rate?
Looking for a HDB flat? Find your dream home on Singapore's most intelligent property portal 99.co!