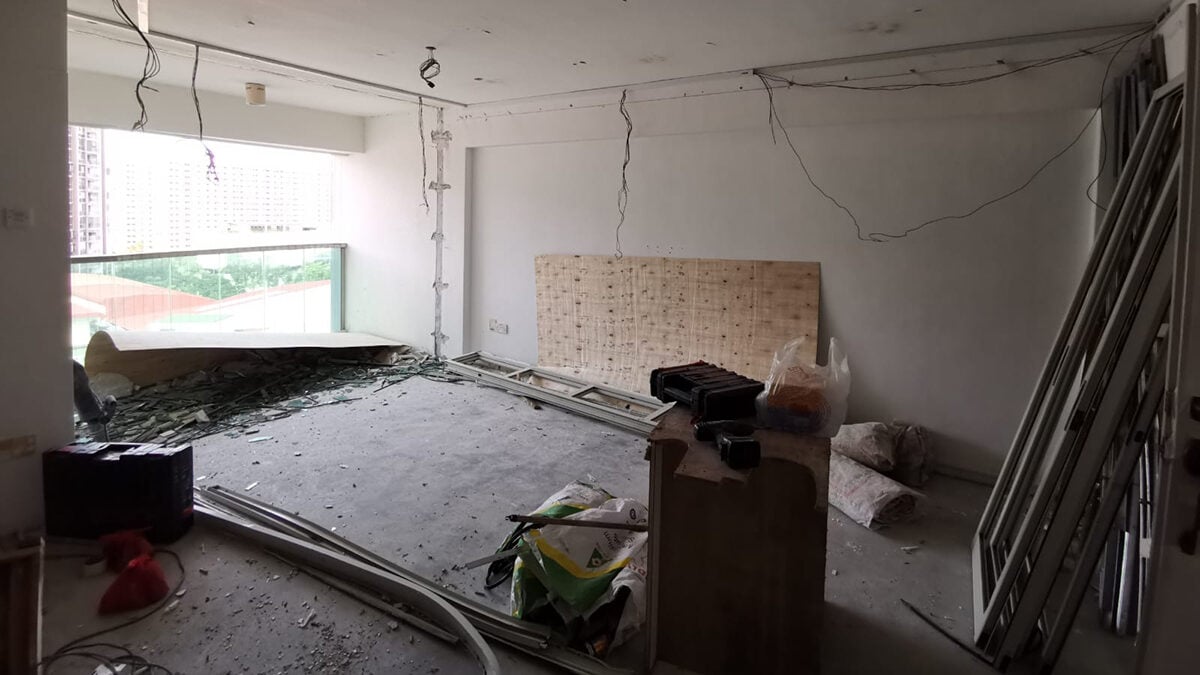 Picture this: it's the circuit breaker period, your half-renovated new home is in shambles, and it's completion date. Now the buyers demand to move in to the house you've sold, and you have nowhere to move to. This is the predicament that many homeowners in Singapore have found themselves in since the start of April, when the government shut down all renovation work to curb the Covid-19 outbreak.
The circuit breaker period, Singapore's version of a lockdown, has wreaked havoc on the plans of  property buyers and sellers. Several homeowners 99.co spoke to have had little choice but to live in half-renovated homes or find a temporary place to stay, and even face issues that may endanger health and safety.
Homeowner #1: "We need the authorities to ensure we do not fight among ourselves."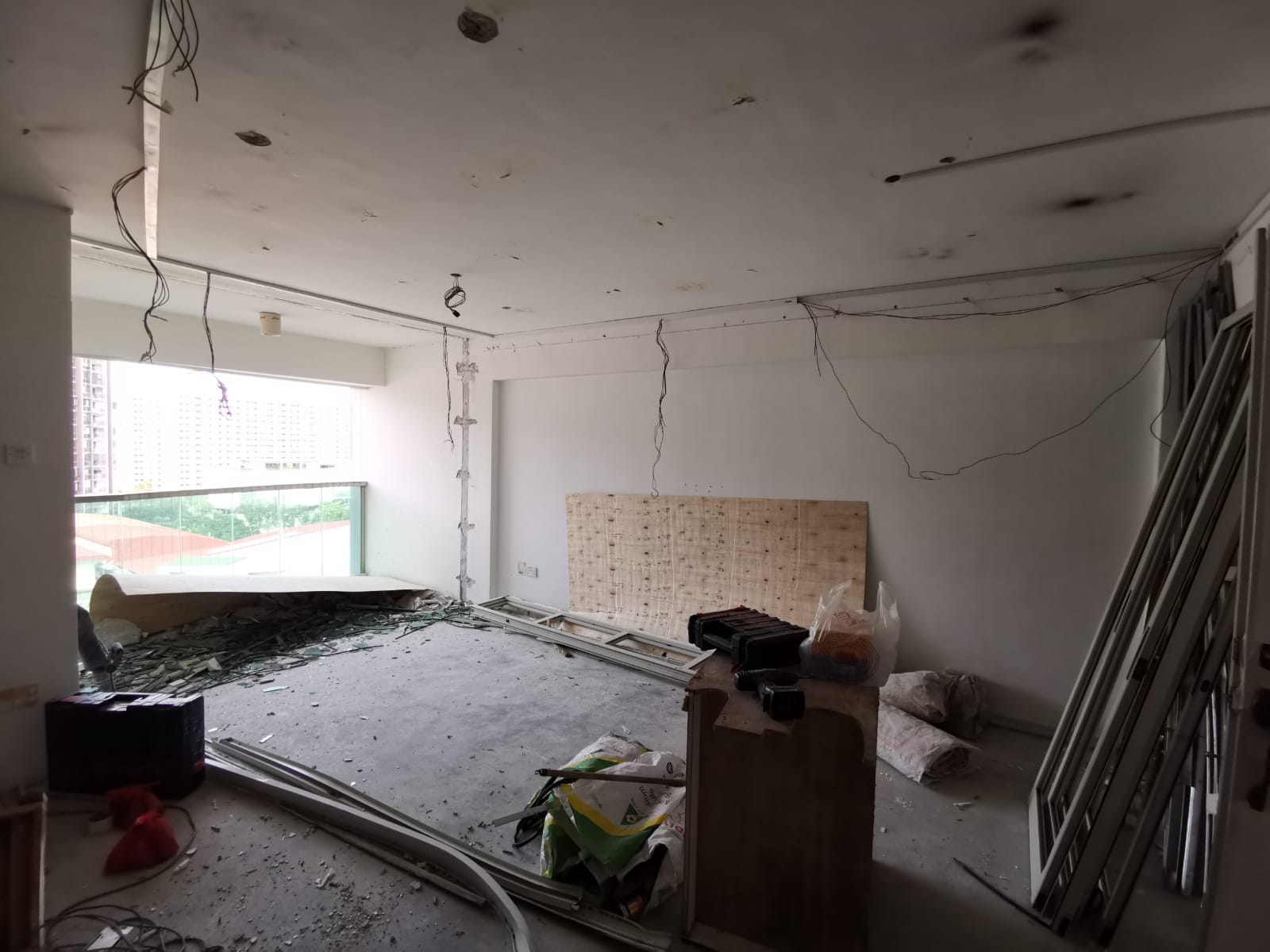 When Julie Lim put her Pasir Ris executive HDB flat up for sale back in December 2019, she specifically looked for a buyer who was willing to postpone the handover date for two months. This was to give herself ample time to renovate and move into her new five-room resale flat in Punggol.
However, the circuit breaker upended Julie's plans. With her Punggol flat half-renovated, the handover—originally scheduled for 30 May 2020—is unable to take place. The buyer of Julie's Pasir Ris unit is now seeking compensation for an extension of stay.
"If my renovation is not complete in time for my handover, I will either have to pay rent of $2,300 per month and the utilities of two households, or pay for a temporary accommodation, storage and movers," said Julie, who's in her 50s.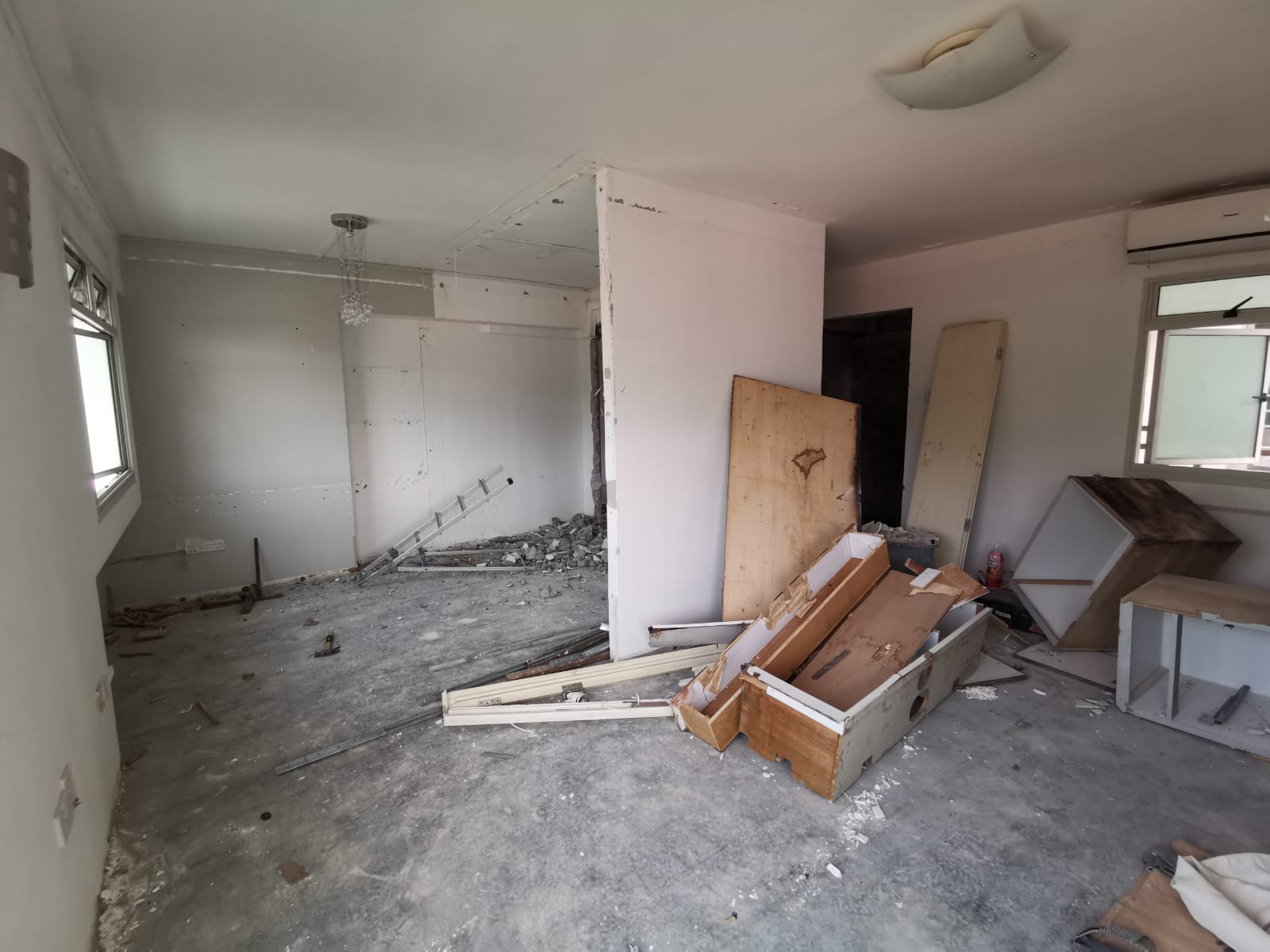 In cases where a timely handover cannot be done by the completion date, the buyer may require the seller to pay compensation in the form of rent. This is a common practice in property transactions where completion dates cannot be met.
Nevertheless, Mrs. Lim feels aggrieved. "The circuit breaker is for the well-being of our nation, but I feel that the welfare [and concerns] of affected homeowners have not been addressed. We are left in limbo.
"Allowing buyers and sellers to discuss rent and extensions among themselves, as well as paying market-rate rent, is fine during peacetime. However, in special situations like the circuit breaker we need the authorities to ensure we do not fight among ourselves," she added.
Julie suggests a standstill on all housing transactions or a compulsory three-month extension during the circuit breaker. Currently, HDB allows a maximum of three months' extension on a flat's completion date. Rent in the event of an extension a negotiation between the buyer and seller; HDB does not get involved in this.
Although she has sought the help of HDB for cheaper rental options, she still finds them expensive. "The Punggol HDB branch did offer short-term rental options such as a four-room HDB flat for around $1,700, but we have to source these with our own agents. And why do I have to pay when I did not intentionally delay my renovation? Some people can hardly survive day by day, what more additional rent?" she questioned.
Julie can't just check into a hotel or stay with a relative either. Her family of six includes two adult children, a helper and a dog. She's also worried that landlords will not accept her dog.
Homeowner #2: "I will not be able to afford a $2,200 per month rent."
Phyllis Oh is also deciding between renting her already-sold flat (from her buyer) or finding a temporary place to stay. Currently, the single mum, her three kids and helper are living in a four-room flat in Hougang. They have to move out by 16 May 2020.
"After I found out about the circuit breaker, I appealed to delay the completion of my [flat's] transaction but it was denied. My appeal to continue with renovation was also denied," said the 32-year-old.
"My buyers are asking for $2,200 per month; they are renting and have to incur their own costs, too. But I will not be able to afford this amount. Furthermore, the minimum period to rent a home in the private market is usually three months," she explained.
Moving into her new home, a five-room flat that's also in Hougang, is possible but not preferable. The flat is "livable but very dirty", she told 99.co. She added that, if she moved in now, she would also need to pay for movers three times: once to move in for the time being, and again pre- and post- renovation.
"I have already started paying for my renovation and mortgage even though renovation has not even started. I'm seriously out of money." she lamented. "I can stay with a relative until mid-June for now, but if the circuit breaker is extended again, I wouldn't know what to do."
[
Recommended article: 
Can I move house during the Covid-19 circuit breaker period?
]
Homeowner #3: "Fine dust is constantly falling from the walls and ceiling." 
Husband and wife Muhammad Sufiyan and Siti Nabilah decided to move into their unfinised three-room HDB BTO (Build-to-Order) flat in Bedok on 7 April (the same day the circuit breaker was implemented). Before this, the couple was living with their parents.
The renovation for their Bedok home continued right up until the circuit breaker measures kicked in. Although the hacking, flooring and toilets are completed, the couple are without a kitchen, ceiling fan and carpentry. The floors, meanwhile, are covered with cardboard.
Living in an unfinished HDB flat, the couple tries to see the positive. "We are grateful to have a roof over our heads, but it could be better. We have no kitchen so we have takeaways almost daily. We even made a makeshift pantry using our boxed appliances," said Sufiyan, who is in his 20s.
To make things more comfortable, they resorted to installing essential appliances on their own, with mixed results. "We were relying on 24-hour laundromats but as it is costly, I decided to install the washing machine. I also tried to install the bidet spray so we can clean the toilet, but it keeps leaking. Our toilet light suddenly stopped working, too. We have an electrician but he doesn't want to risk being fined," said Sufiyan.
There are health and safety concerns, too. "There is leftover cement throughout the house. Fine dust is constantly falling from the walls and ceiling and flying all over the place," Sufian described. Their floors are also still covered in cardboard. "We cannot remove it until renovation is over," said Nabilah. "The dust is stuck to the cardboards no matter how much I sweep, so we wear slippers around the house to prevent walking on dust and sharp debris."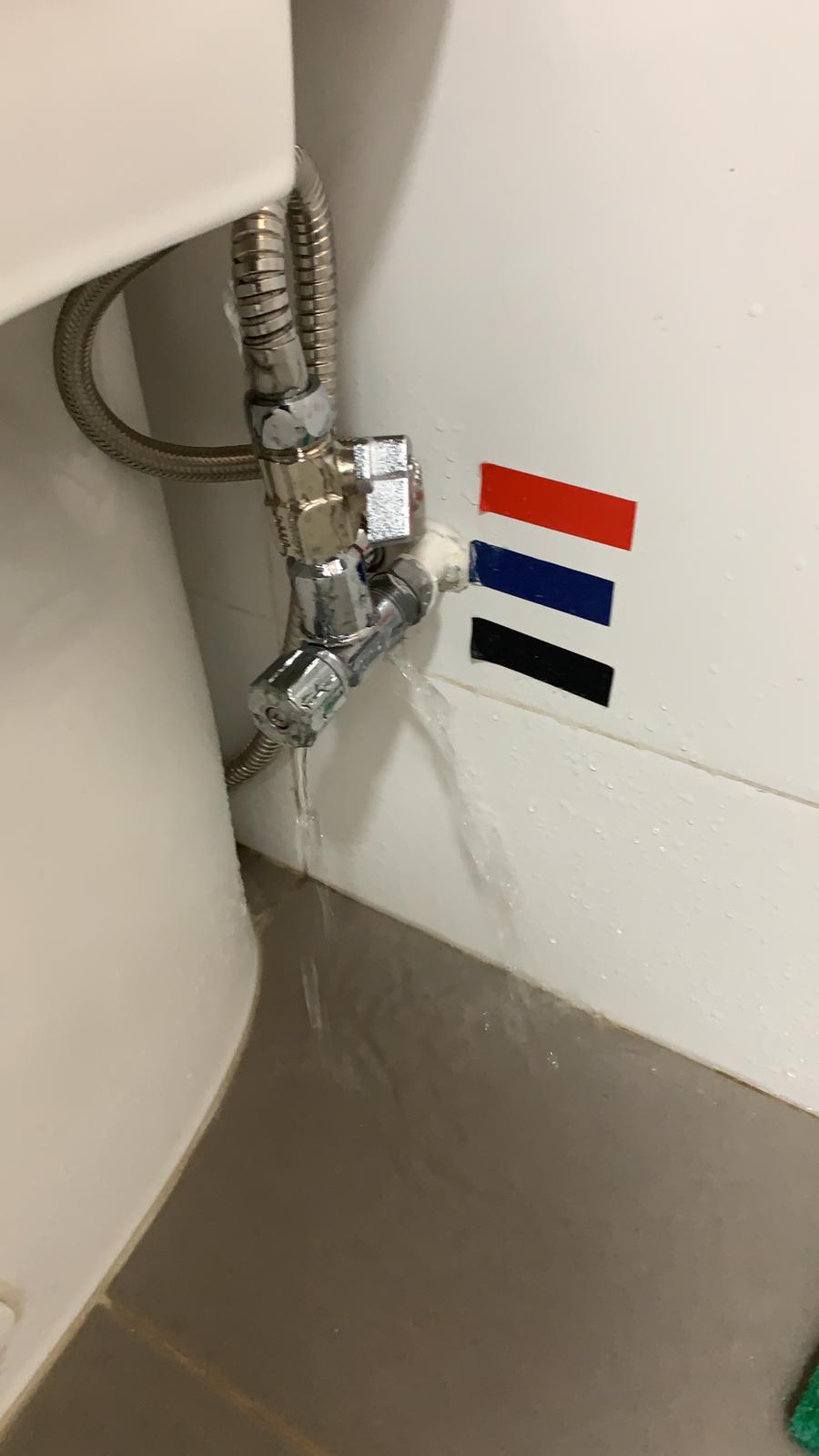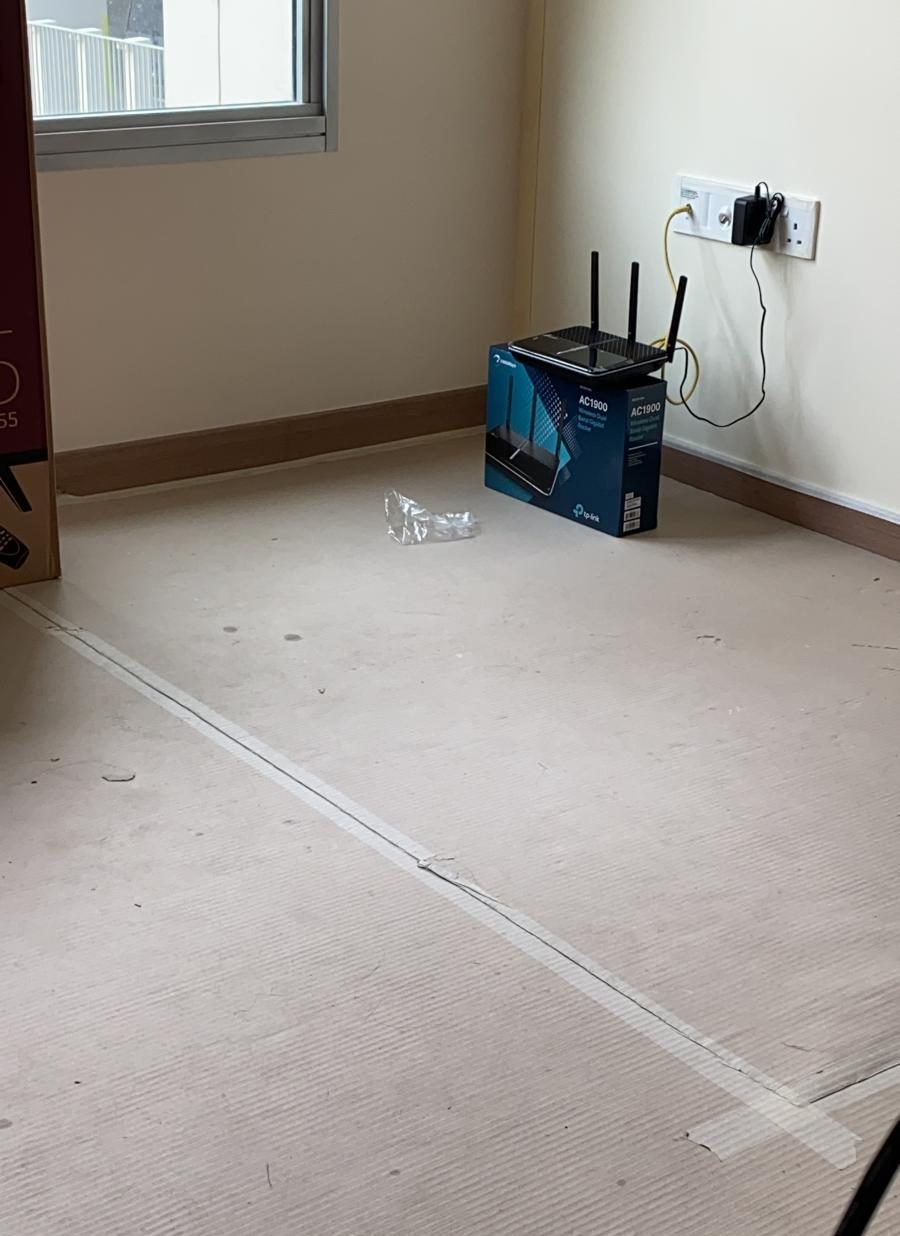 Cooking is also a hassle. Although they use a portable butane cooker that make preparing simple meals possible, it takes twice as long and washing up is less straightforward. "I have to wash utensils in the small porcelain basin in the common bathroom, instead of a kitchen sink," said Nabilah.
As a typical plumbing for a toilet washbasin is narrower and not designed for oil and gunk runoff, the couple runs the risk of clogging up the piping system by doing their dishes there.
"Now that the circuit breaker has been extended, we are hoping for leniency on renovating the essentials like the kitchen and electrical points. How else will we survive an additional month?", Nabilah questioned.
She added that reopening certain hardware stores would be useful. With many hardware shops in their vicinity closed, the couple is unable to shop for fixes to issues such as the leaking bidet, or get assistance on their DIY installations.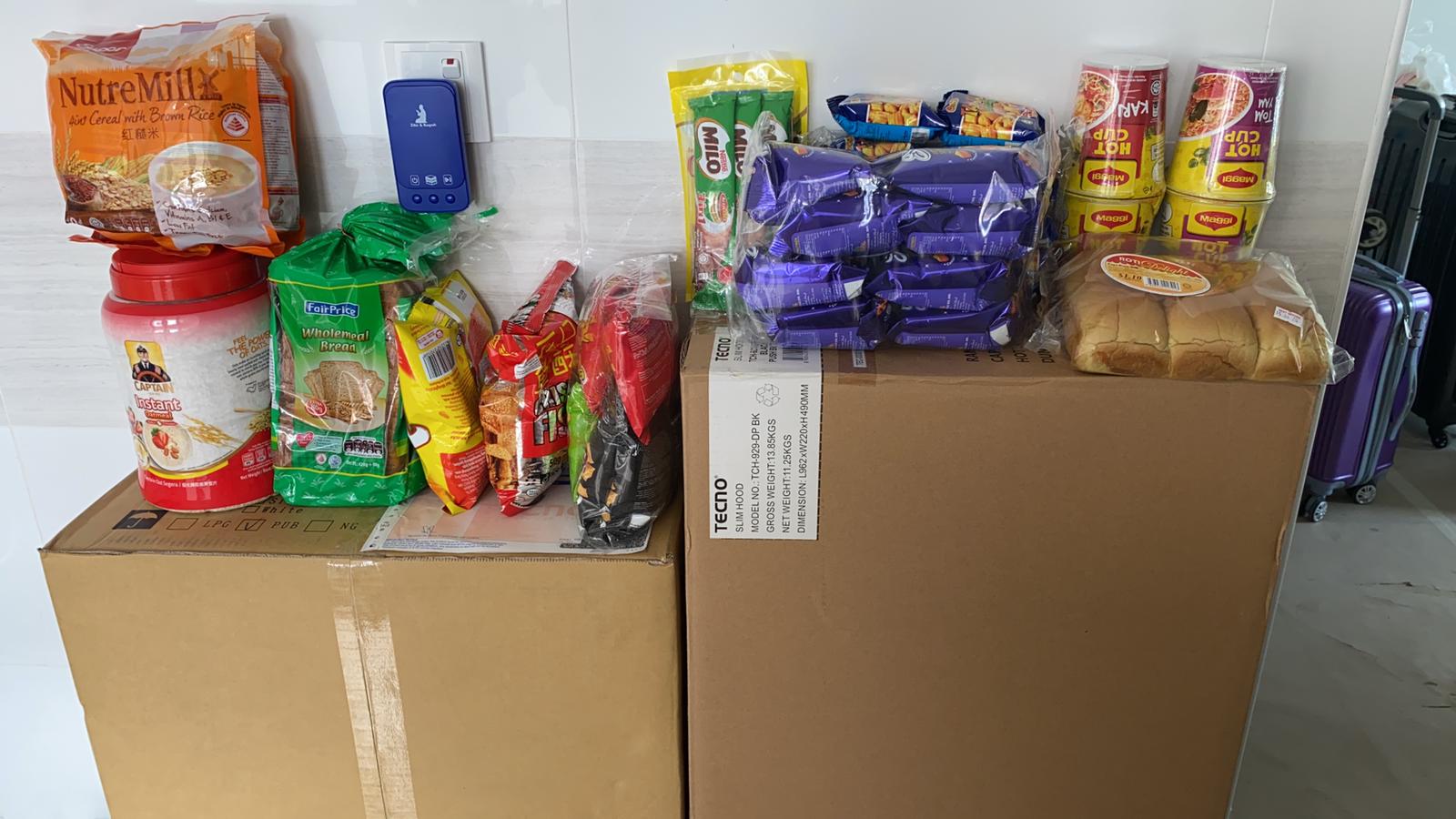 The circuit breaker extension also means the Muslim couple has to go through Ramadan (or fasting month) as well as Hari Raya in the unfinished flat. "We will rely on dates and milk, and perhaps consume easy-to-prepare food for our morning and evening meals such as oats, canned food and bananas," said Nabilah.
"It is difficult but on the bright side, we are grateful to have a home, electricity supply and wifi, too. We are also spending more time together–from painting the flat to installing the TV and washing machine. Before the circuit breaker, Sufiyan had to work on weekends, but now life is at a slower and more relaxing pace. Nabilah agreed. "It's… quite peaceful," she told 99.co.
What agents and the HDB have to say about the homeowners' situations
For Julie's case one property agent we spoke to (who requested anonymity) advised that a standstill or compulsory three-month extension could work for sellers like Mrs Lim but not for the majority of unaffected parties.
"As someone who deals with both buyers and sellers, I understand it is a hassle on both sides. If the seller does not move out in time, the buyer also has to consider renting a place to stay as well."
"I've spoken to the authorities who said they can only help to facilitate the agreements between buyers and sellers. However, there has been little help specific to the circuit breaker," he says.
As it is difficult to please everyone, the agent suggests a case-by-case approach. "For those who are dealing with rent, perhaps the authorities can set aside a subsidy or a guide on how much to charge in these circumstances. The buyer can still earn an income while the seller will not have to fork out as much. The least they can do is set up specific hotlines for common issues that have arisen during the circuit breaker. The issue now is that no one has spoken about this and the issue is left hanging in the air."
Not everyone in the property industry feels the same way, though. 
Stuart Chng of the Navis Living Group of OrangeTee says, "While it is unfortunate for the selling and buying parties, HDB cannot be made to carry the burden of costs for [something that is] an act of God." 
"It would be unfair if public funds–which should be reserved for those in genuine financial difficulties and need low income housing options–are used for cases like this," said Stuart.
Instead, the onus is on the sellers and buyers. "I feel it is fair for buyers and sellers to seek their own compromise for this situation. My advice to those caught in such a situation is to give some and take some. Come to a compromise to help fellow countrymen tide through this crisis," added Stuart. 
Stuart says this is not only honourable, but helps a greater cause, too. As buyers are also not able to commence their renovation works, the "small rent [collected from the seller] can help [the buyer's] family have a roof over their heads in the meantime."
We also contacted HDB, who stold us there's "no subsidy in place at the moment" for homeowners forced to extend their completion period because of the circuit breaker. HDB added that homeowners who have exhausted all possible options, such as renting from the open market or staying with relatives, or are facing difficulties finding temporary accommodation can contact HDB for further assistance.
Should the government step in to help homeowners affected by renovation stoppage? Let us know in the comments.
If you liked this article, 99.co recommends Covid-19 and Property: 12 Legal Questions Answered by Lawyers and Property transaction issues during Covid-19: Your questions answered
Looking for a property? Find your dream home on Singapore's most user-friendly property portal 99.co!