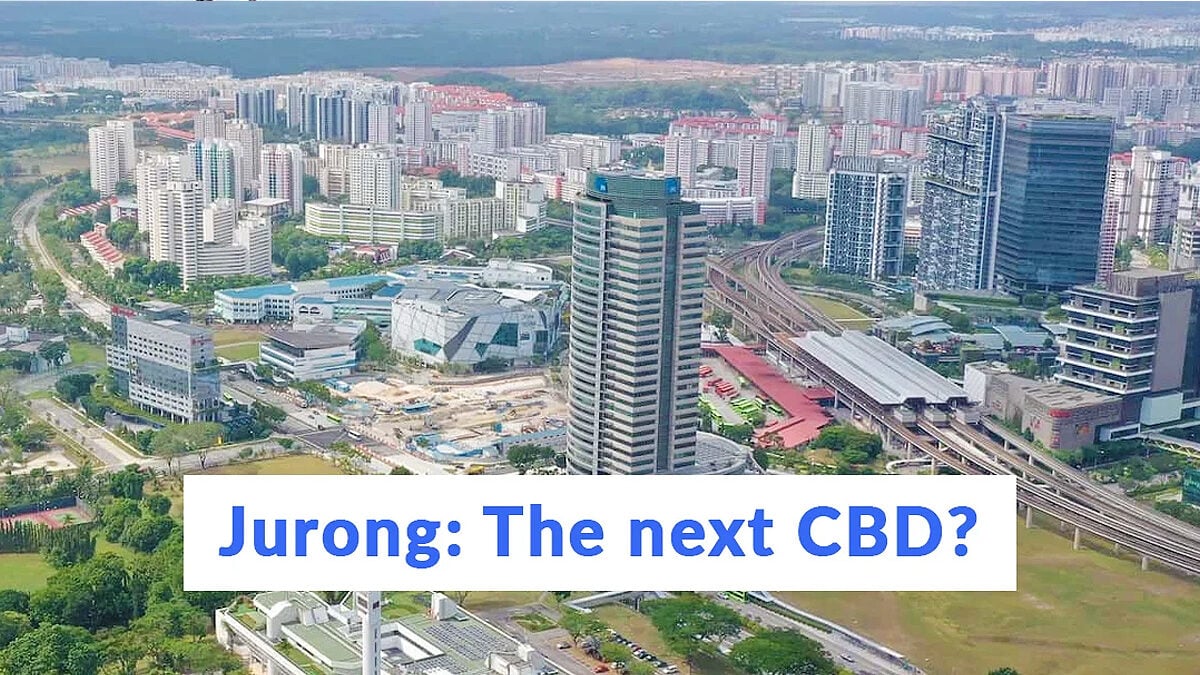 [Updated on 18 July, 2022]
Lakepoint Condominium and Lakeside Apartments were recently relaunched for collective sale again.
Lakepoint Condominium
After Lakepoint Condominium's second attempt at a collective sale on 21 October fell through, the condo went into a private treaty negotiation process.
The management relaunched the third attempt on 19 April, with the same guide price of S$640 million.
After factoring in development charges and the lease top-up premium from JTC Corporation, it translates to a land rate of around S$959 psf ppr.
Zoned for residential use with a plot ratio of 1.9, the condo holds the potential to be redeveloped into 860 units at around 915 sqft each if given the green light from relevant planning authorities.
Completed in 1983 by Jurong Town Corporation, the 99-year leasehold development sits on a site spanning 562,286 sqft. It currently has four blocks consisting of 304 residential units with a mix of studio apartments, penthouses and five shop units.
The Urban Redevelopment Authority (URA) recently approved a higher height redevelopment for the condo. This means the developer will be able to erect a mix of five-storey and 12-storey residential blocks.
---
Update: After Lakepoint Condominium's tender closed at 2pm on 8 June 2022 without garnering any bids, it entered into private treaty negotiations.
According to exclusive marketing agent PropNex Realty, the URA has given the green light to relax certain land planning parameters for the future development on the site of Lakepoint Condominium. Some controls include:
Relaxing the 5-storey height control to 7-storeys for blocks along the southern boundary, facing landed houses.
Approval of 12-storey blocks near the north-east boundary, as long as it remains within the height of the existing 12-storey block while maintaining a minimum of a 10 metre building setback from the common boundary shared with Caspian condo.
Considering to further relax the building height up to 16-storeys for remaining blocks along the north and north-west boundary, subject to a setback of 30 metres from the common boundary with Lakeholmz condo.
Increasing the residential building's height means future residents can look forward to enjoying the picturesque view of the Jurong Lake Gardens.
Jurong Town Council (JTC) has also confirmed the site's development baseline. Combining this with the unchanged reserve price of S$640m, it translates to around S$988 per sqft ppr. This is inclusive of the lease top-up premium as well as expanding the balcony space by 7%.
The deadline for interested developers to submit their offers for Lakepoint Condominium is by 2pm on 22 July 2022.
---
What's near Lakepoint Condominium
Accessibility. Lakeside MRT station is about 450m away and is approximately a 7-minute walk. Those who commute by car can easily access the Pan Island Expressway (PIE) in 5-minutes via Corporation Road or Boon Lay Way.
Food and retail amenities. Many major malls can be found in Jurong, such as JCube, JEM, Westgate, IMM and Jurong Point. All malls are a convenient seven to 15-minute drive away.
For affordable and delicious hawker fare, residents will be spoilt for choice with Taman Jurong Market and Food Centre, a spacious food court with two floors of food stalls serving up a wide variety of quality food. There's a wet market on the first floor for those who favour early morning grocery shopping.
Medical amenities. An integrated healthcare hub consisting of Ng Teng Fong General Hospital and Jurong Community Hospital is an eight-minute drive away, located near Jurong East MRT station.
Schools within a 1km radius include Lakeside Primary school, Boon Lay Garden Primary school, Rulang Primary school, Shuqun Primary school, Yuan Ching Secondary school and Dunearn Secondary school.
Recreational facilities. Jurong has no shortage of fun things to fill your time with, from exploring the various gorgeous parks to the many indoor activities.
Jurong Central Park
The nearest green space is Jurong Central Park, an eight-hectare park conveniently located opposite Jurong Point that's a 12-minute bus ride away.
The park is home to native plants such as the Tembusu and Gelam trees, as well as aquatic plants and the occasional wildlife sighting.
There's also a drive-thru McDonald's in the middle of the park, if you're in the mood for some fast food after your exercise. After all, life is all about balance.
Attached to Jurong Central Park is SAFRA Jurong, where you can access its pool hall, tennis courts, cyber cafe and swimming pool.
The park connects to both Jurong Lake Gardens and Yunnan Park via the Jurong Park and Jurong West Park Connectors.
Jurong Lake Gardens
Alternatively, head to the sprawling Jurong Lake Gardens to enjoy its beautiful nature and water landscape. Built around Jurong Lake, the 90-hectare garden has something for everyone.
Kids will love the Forest Ramble, a nature-inspired playground with 13 different play stations emulating different animals.
There's also Clusia Clove, a water playground where they can learn about the dynamics of water and the natural water recycling system.
The list of activities to explore at Jurong Lake Gardens is exhaustive, including the Butterfly Maze, Rasau Walk, a freshwater swamp forest boardwalk, and a water sports area offering kayaking and canoeing.
Jurong Bird Park
Take a seven-minute drive to Jurong Bird Park, a sanctuary housing a large diversity of 500 birds from 135 species for a fun-filled day.
Catch their daily shows or book yourself into one of the many bird feeding sessions where you can get up close and personal to hand-feed adorable avians such as penguins, pelicans and lorikeets.
Snow City & Science Centre
An eight-minute drive away is Snow City, where you can catch a respite from the sweltering heat. Bring your family to Singapore's first indoor sub-zero snow centre, where you can enjoy a range of icy activities such as the bumper car ride and snow slide.
An hour is more than enough to fill up your fun metre, after which you can pop over next door to the Science Centre. It houses the Omni-Theatre – Southeast Asia's largest seamless dome screen – providing visitors with a truly immersive experience when watching digital movies or live planetarium shows.
Exhibits are regularly refreshed, ensuring you'll never get bored of exploring the world of science.
Residents can also look forward to a new, bigger Science Centre, which will feature more educational facilities such as specialised labs for visitors and students to conduct hands-on experiments at, as well as more exhibitions and outdoor programmes.
The new Science Centre will be located beside Chinese Garden MRT and is projected to be ready by 2025.
Lakeside Apartments
Built in 1970 at Yuan Ching Road, Lakeside Apartments is a considerably small project, with two blocks of 120 residential units averaging 1,518 sqft each.
Although the condo collective sale committee (CSC) proposed to decrease the reserve price from S$240 million to S$205 million during the first en bloc in 2019, they ultimately decided to stick with its original price.
Factoring in a lease top-up premium and development charge, this works out to a land rate of S$1,077 psf ppr.
The 99-year leasehold development is zoned for residential use on a site of 134,177 sqft with a gross plot ratio of 2.1. Under URA's building height control regulations, it has the potential to be built up to 24-storeys, with 307 units at around 915 sqft each.
The small-scale development lacks the usual facilities you'd expect to find at a condo, such as a gym or swimming pool. Hopefully, the new development will have condo amenities for its new residents.
The tender will close on 25 May, at 2 pm.
Price appreciation
Located in the West of Singapore, condos in District 22 have seen a general price appreciation of 47.48% over the last decade.
Both Lakepoint Condo and Lakeside Apartments are located less than 2km away from each other.
In terms of price appreciation over the past decade, Lakeside Apartments is leading the way at a 66.67% increase compared to Lakepoint Condo's 41.92%.
Other condos in Jurong West include Caspian (TOP 2012), The Lakefront Residences (TOP 2014) and Lake Life (TOP 2016).
Over the last five years, Lake Life has experienced the biggest price appreciation of 34.81%, from an average psf of S$847 to S$1,142 in 2022.
Transformative efforts underway at Lakeside
The precinct of Jurong is undergoing a massive transformation, with three new employment areas being developed – Jurong Lake District (JLD), Jurong Innovation District (JID) and Tuas Port.
Six MRT lines are slated to serve the West by 2035, with the Jurong Region Line and Cross Island Line expected to be fully completed by 2029 and 2030. Completing these train lines will greatly enhance connectivity from JLD to the rest of Singapore.
The Jurong Region Line will link JLD to the Innovation District and Industrial Estate and a skilled talent pool from Nanyang Technological University. The Cross Island Line connects to major hubs such as the Punggol Digital District and the Changi Region.
Jurong Lake District
Earmarked as Singapore's second-largest mixed-use business district after the CBD, JLD will be home to offices, residential housing, amenities and green spaces.
The Singapore Tourism Board is also targeting the intersection of Boon Lay Way and Jurong Town Hall road as a new integrated tourism precinct for Singapore, consisting of hotels, attractions, eateries and entertainment offerings to draw in visitors. Its target opening date is in mid-2028.
Green and blue district
With more than 100 hectares of green spaces and a 70-hectare lake in the pipeline, JLD plans to leverage the beauty of Jurong Lake to construct leisure and recreational clusters around the area.
With more green corridors and a central green spine linking developments to Jurong Lake, it will encourage wildlife to thrive while cooling urban spaces at the same time.
URA's aims to achieve a 90% walk-cycle-ride target amongst those working and living within the district. It visualises convenient city living where amenities, green spaces, and public transport points can be accessed within 10-minutes throughout the precinct, thus cutting down the need for cars.
Prioritising the development of Jurong
Over the next two decades, the government is focused on developing JLD by prioritising the land sale of sites with more than 120 hectares of land up for development.
Once fully developed, there will be an estimated 100,000 new jobs and 20,000 new homes by 2040 to 2050.
According to former National Development Minister (who is currently our Finance Minister) Lawrence Wong, "It can be the catalyst for Singapore's next phase of economic transformation, in the same way that Jurong Industrial Estate kick-started our manufacturing sector more than 50 years ago."
More government offices to relocate to Jurong
Part of the government's efforts to decentralise offices and optimise prime space in the central area is to construct a new office building for the Ministry of Sustainability and Environment (MSE) at 12 Science Centre Road.
Suppose MSE eventually shifts from its current office at Scotts Road to Jurong – in that case, it will join the cluster of government agencies such as the Land Transport Authority (LTA) and the Ministry of National Development (MND).
With more firms relocating to Jurong plus the construction of residential living space, the district holds the promise of decent future capital appreciation.
---
Would you buy a property in D22?

Let us know in the comments section below.
If you found this article helpful, check out Rental units around the Jurong Lake District for $3k (or less) per month and 99 Researcher: Rise Of Singapore's West Region.
New launch alert! Welcome to Grand Dunman
About Jamie Wong
Looking to sell your property?
Whether your HDB apartment is reaching the end of its Minimum Occupation Period (MOP) or your condo has crossed its Seller Stamp Duty (SSD) window, it is always good to know how much you can potentially gain if you were to list and sell your property. Not only that, you'll also need to know whether your gains would allow you to right-size to the dream home in the neighbourhood you and your family have been eyeing.
One easy way is to send us a request for a credible and trusted property consultant to reach out to you.
Alternatively, you can jump onto 99.co's Property Value Tool to get an estimate for free.
If you're looking for your dream home, be it as a first-time or seasoned homebuyer or seller – say, to upgrade or right-size – you will find it on Singapore's fastest-growing property portal 99.co.
Meanwhile, if you have an interesting property-related story to share with us, drop us a message here — and we'll review it and get back to you.
Join our social media communities!
Facebook | Instagram | TikTok | Telegram | YouTube | Twitter