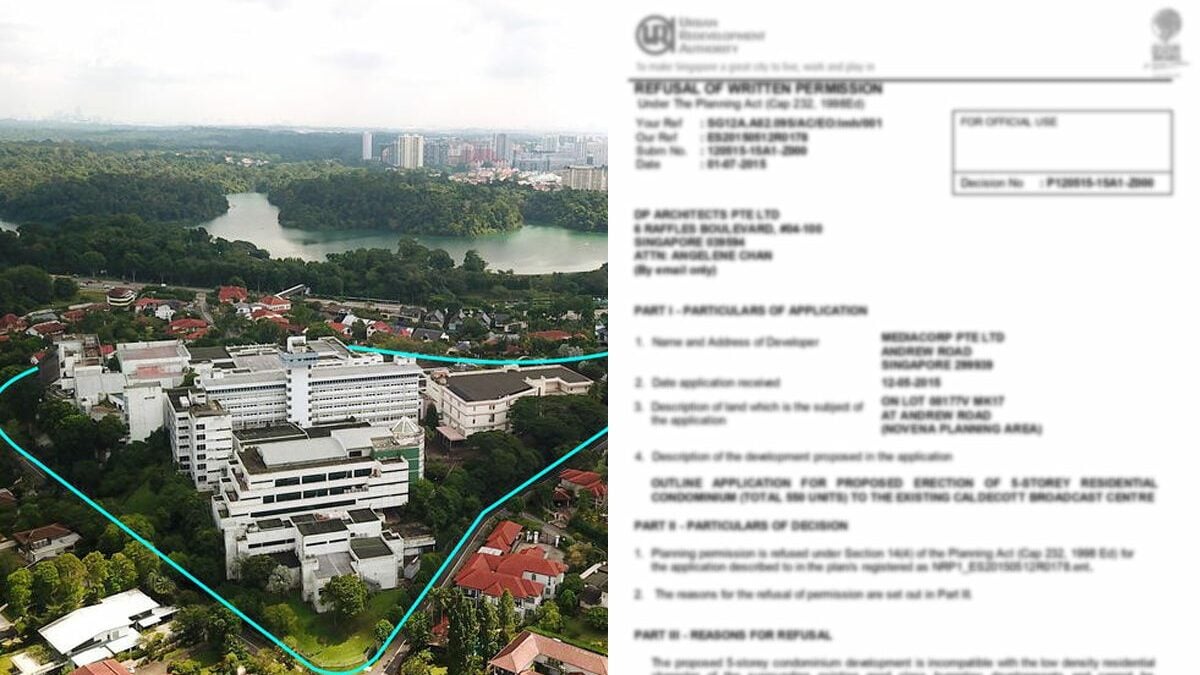 Five years after Mediacorp moved out of its former premises at Caldecott Hill, the media conglomerate finally called for a tender for the massive 7-hectare land it left behind. In an announcement made on 14 October 2020, Mediacorp appointed real estate consultants CBRE and Showsuite Consultancy to market the District 11 site to developers interested in building a collection of leasehold bungalows.
To do so, Mediacorp said it had engaged an architect to work out a subdivision scheme for the site to hold 67 bungalow plots, which will then be presented to the Urban Redevelopment Authority (URA) for approval. It also applied to the Singapore Land Authority (SLA) for an in-principle approval to top up the lease to 99 years.
But, well before this happened, a whole bunch of other things had actually taken place…
Mediacorp wanted a condo on Caldecott Hill, but URA said no
Mediacorp's former Caldecott Hill premises is located in a Good Class Bungalow Area (GCBA). A URA document in 2015 shows that a condo, not a bungalow-only redevelopment, was what Mediacorp originally had in mind for the site.
A few months before Mediacorp was scheduled to move to its new premises at Buona Vista in December 2015, DP Architects wrote to URA on behalf of the broadcaster with an outline application for the development of a 550-unit, five-storey residential condominium at the existing Caldecott Broadcast Centre.
It didn't take long for URA to flat out refuse Mediacorp's request for permission to build condos at the Caldecott Hill site. Here's their reason for refusal:
"The proposed 5-storey condominium development is incompatible with the low density residential character of the surrounding existing good class bungalow developments and cannot be supported. As the planning intention for the site is for 2-storey Good Class Bungalow Area, as reflected in the Master Plan 2014 Designated Landed Housing Area, only 2-storey good class bungalow developments can be supported." (The full refusal letter can be downloaded here.)
In short, the Caldecott Hill location doesn't support the existence of a condominium. Those who are familiar will the area will also agree that the single-lane roads within the neighbourhood do not support the increased vehicular traffic that a condo will bring.
The refusal must have come as a blow to Mediacorp. The reason is that, compared to selling the land for development of bungalows, selling the land with a capacity to build a 550-units condo would've been far more lucrative.
Here's the math: Without taking differential premium and lease upgrading premiums into account, a bungalow-only plot would likely fetch around $130 million to $250 million, according to a June 2020 article published in The Business Times. With the premiums added, the figure is expected to exceed $400 million, and the sale price of each 99-year leasehold bungalow would be between S$11 million and S$14 million, depending on design and layout.
If the URA had instead approved plans for the condo at Caldecott Hill, 99.co estimates that developers would have bid in excess of $550 million for the plot at current prices (around $950 million with premiums), and the eventual condo units would sell from $1,500 to $1,900 per square foot (psf) depending on their design and layout.
The estimate is calculated based on the value of the nearby Shunfu Ville and Chancery Court en bloc deals, and adjusted for factors including plot ratio, number of units, land size, location differences and price index changes over time.
So, Mediacorp could easily have bagged more than double, or even triple the revenue, if URA had approved a condominium at Caldecott Hill. But it was not to be.
Despite the rejection, URA offered Mediacorp a counter-proposal
Although the URA rejected Mediacorp's original, highly-lucrative condominum proposal, it provided in the same letter detailed advice for an "alternative development option": Build bungalows.
In their response, URA suggested that they can offer their support for a two-storey Good Class Bungalow development (strata or conventional Good Class Bungalow) "subject to successful rezoning of the site from Civic & Institution to Residential".
But there were conditions that Mediacorp would have to agree to. For instance, URA stated that any GCB redevelopment must include public open spaces, based on 4.05 square metres (sq m) of green open space for every 56 sq m of proposed Gross Floor Area (GFA).
Essentially, this means that the developers of the Caldecott Hill site must set aside a 5,050 sq m plot for a publicly-accessible park as part of any bungalow redevelopment. This is about 70% of the size of a football pitch.
URA also stated that developers must build a new internal road at the site to serve as access to the new development. The alignment of the road needs to be determined by working alongside the Land Transport Authority (LTA) and taking into account the topography of the site.
Go-ahead for redevelopment granted by URA, marketing agents say
In launching the Caldecott Hill site for tender, CBRE and Showsuite Consultancy said that URA "has granted the go-ahead for a proposal to redevelop the 7-hectare site, which could yield 67 two-storey bungalows with a land area of at least 800 sqm each."
Leasehold bungalows make up less than 1% of the landed housing stock in Singapore, most of which are freehold in tenure. Currently, Sentosa Cove is the only large-scale leasehold bungalow cluster in Singapore.
Commenting on the Caldecott Hill site, Showsuite Consultancy CEO Karamjit Singh said that this is a "brilliant opportunity for property developers not only to supply a niche product—junior GCBs—but also own the market with non-existent competition."
He added that "wealth has been on the constant rise in Singapore, while the stock of bungalows have stagnated for decades."
How did Mediacorp come to own the prime land on Caldecott Hill?
The short answer: Mediacorp was assigned a 99-year leasehold ownership of the 7-hectare site when the media conglomerate was privatised in 1994 and became wholly owned by Temasek Holdings.
At the time, Mediacorp was known as Singapore International Media (SIM); it is not known how much SIM had paid for the site, which is located within prime District 11. Mediacorp also owns the roughly 20,000 sq m land at its current site on Stars Avenue (in District 5) on a 99-year leasehold basis.
A year prior to moving its operations out of Caldecott Hill in 2015, Mediacorp also set up the real estate subsidiary Caldecott Property Pte. Ltd. to oversee the management and prospective sale of the Caldecott Hill site.
Caldecott Hill has come a long way since its opening as Singapore's first radio station in 1937, and subsequently the opening of the Television Broadcast Centre in 1966 on freehold land acquired for $604,000 (equivalent to $2.25 million today). That's just $1.15 psf (about $4.30 psf in today's value)!
Today, freehold bungalows at Caldecott Hill Estate regularly transact above $1,000 psf. This is comparable to psf prices in the Anak Bukit landed estate area within District 21. However, the latter consists of mostly freehold terraced developments of smaller land area (370 sq m or below), instead of bungalows.
With the construction of the North South Corridor expressway along Thomson Road and the future development of the former Bukit Brown Cemetery and Mount Pleasant areas into a housing estate, property values in and around the Caldecott Hill area could experience an uplift in the long-term.
Should URA have supported Mediacorp's request to build a condo on its former Caldecott Hill premises? Let us know in the comments below!
If you liked this article, we recommend REVEALED: Why Romeo Tan paid over $1.6 million for this Marina One Residences bachelor pad and Upgrading to a condo: Why the 'ABSD remission' system should be abolished
Looking for a property? Find your dream home on Singapore's most intelligent property portal 99.co!
New launch alert! Welcome to Grand Dunman
About Kyle Leung
Content Marketing Manager @ 99.co
Looking to sell your property?
Whether your HDB apartment is reaching the end of its Minimum Occupation Period (MOP) or your condo has crossed its Seller Stamp Duty (SSD) window, it is always good to know how much you can potentially gain if you were to list and sell your property. Not only that, you'll also need to know whether your gains would allow you to right-size to the dream home in the neighbourhood you and your family have been eyeing.
One easy way is to send us a request for a credible and trusted property consultant to reach out to you.
Alternatively, you can jump onto 99.co's Property Value Tool to get an estimate for free.
If you're looking for your dream home, be it as a first-time or seasoned homebuyer or seller – say, to upgrade or right-size – you will find it on Singapore's fastest-growing property portal 99.co.
Meanwhile, if you have an interesting property-related story to share with us, drop us a message here — and we'll review it and get back to you.
Join our social media communities!
Facebook | Instagram | TikTok | Telegram | YouTube | Twitter