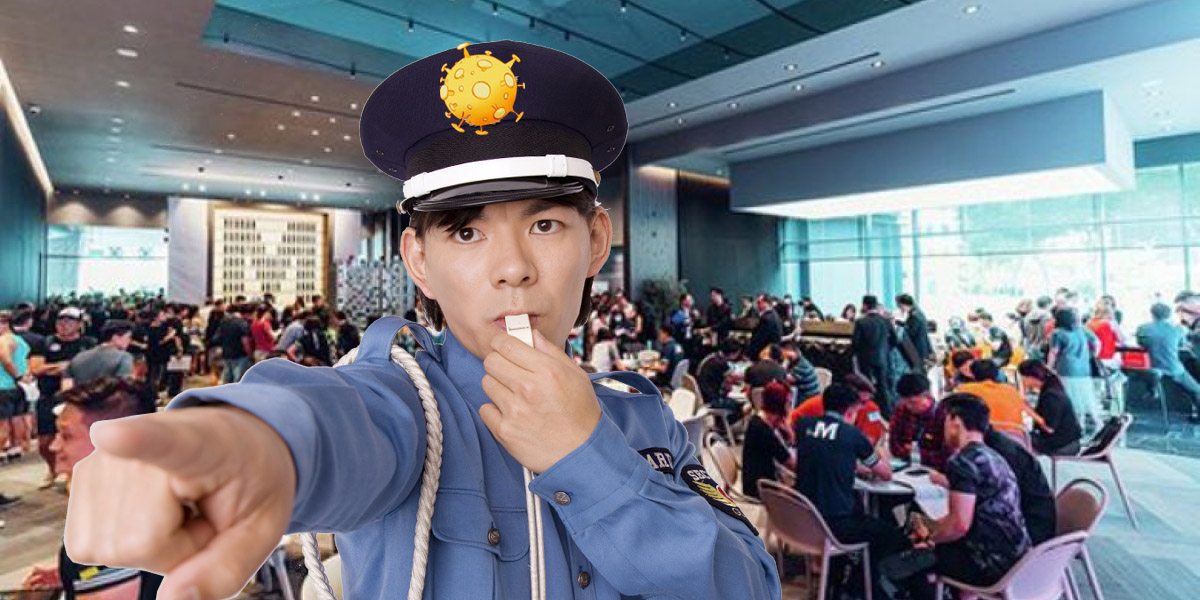 3 April 2020 Update: The Singapore government has now announced latest Covid-19 circuit breaker measures that will close all property sales galleries from 7 April to 4 May 2020 inclusive. Below is the original article published on 25 March 2020.
Are you planning to visit a new launch condo showflat but having second thoughts due to the Covid-19 situation? Ever since the goverment's 24 March measures that further reinforced social distancing, developers have been working in tandem with the Urban Redevelopment Authority (URA) to ensure that their sales galleries and viewings adapt to a stricter protocol. And after investigating what has been done in those frantic hours, we can safely say that property developers and agents are as concerned for your well-being as you are.
At Kopar @ Newton, a project that was due to launch on the 28th March weekend, developer CEL had to do some last-minute gymnastics to replace a originally planned launch event with scheduled viewings with highly-limited timeslots. During a session, there will be no more than ten clients in the showflat at any time. (The clients are further split into two groups.) The first batch of viewings began on 25 March, with understandably the most eager of buyers grabbing the earliest timeslots before they're taken up.
In fact, all developers are now required to limit viewings to groups of 10 or below, and keep clients one metre apart from each other (which also prevents them from physically fighting over the same unit). Furthermore, sales galleries need to adhere to the new "not more than 1 person per 16 square metre of usable space in the sales gallery" as stipulated by the URA in line with the tightened regulations. And "persons" here refer to everyone, from the sales rep to the noble cleaner.
In case you were wondering, the limitations won't necessarily translate to fewer buyers. Stuart Chng, Senior Associate Executive Director of OrangeTee & Tie and Co-Founder of NAVIS Living Group, reasons that as people increasingly work from home during the Covid-19 situation, they also have more flexibility to attend viewings on weekdays.
And it's first-come-first-serve, by the way
With the latest Covid-19 measures, the buying process for condos at launch is now slightly different. Instead of the usual protocol where prospective buyers submit blank cheques en masse for balloting at a preview event, scheduled viewings attended by small group buyers are conducted on a first-come-first-serve basis, meaning a buyer will only face competition with another buyer in the same viewing timeslot. For instance, if Buyer A at a 2pm timeslot submits a deposit for #05-10 and no one in the same timeslot does the same, Buyer A gets the unit. If another Buyer B in the same timeslot wants the same unit, it will be a ballot between Buyer A and Buyer B. The unit is then considered sold and no longer availble in later timeslots.
Without a doubt, this new system will excite some buyers, as opposed to the frustration, uncertainly and disappointment typically seen at chaotic preview ballots. All they have to do is to ring their agents to reserve the earliest viewing slot possible ahead of a launch.
Here's a summary of the showflat changes you should note due to Covid-19:
Shorter opening hours for some showflats
Showflats shifting to an appointment-only basis
Temperature-taking, contact tracing, and social distancing everywhere
Rotation of agencies in some showflats
1. Shorter opening hours for showflats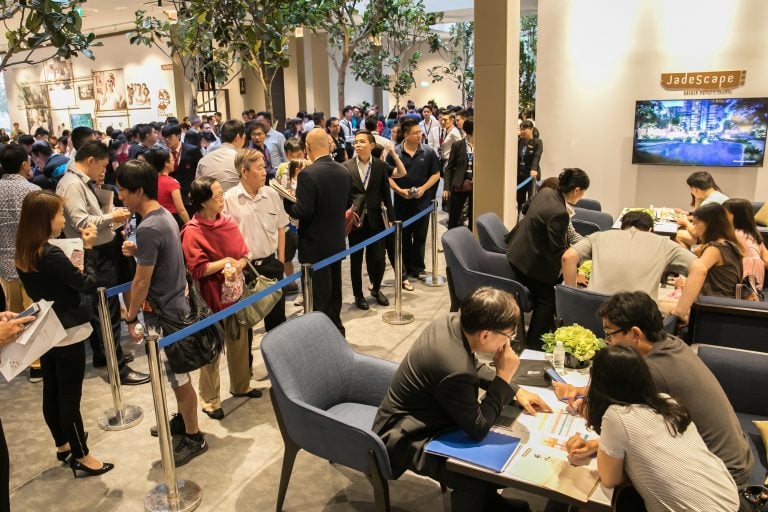 Under normal circumstances, most showflats open from 10am to around 10pm; but no one's going stick around longer than they have to with Covid-19 on the prowl. Ever since control measures have come into effect, showflats have cut down on operating hours, particularly on weekdays.
As an example, the Amber Park showflat is no longer open on Mondays to Thursdays. On Fridays, operating hours have been cut down to 12pm to 6pm. Operating hours are 10am to 7pm on weekends. (Exceptions can be made if you have a prior appointment scheduled).
For Woodleigh Residences, the showflat is now only open to walk-ins on weekends. Weekday appointments are strictly appointment only.
Buyers, take note that even if you turn up during operating hours, that does not mean the showflat may be open to the public – you may still be required to have an appointment (see below). The sales teams will still try to fit you in, but you may find you have to come back tomorrow; so it's best to call ahead to avoid inconvenience.
2. Showflats shifting to an appointment-only basis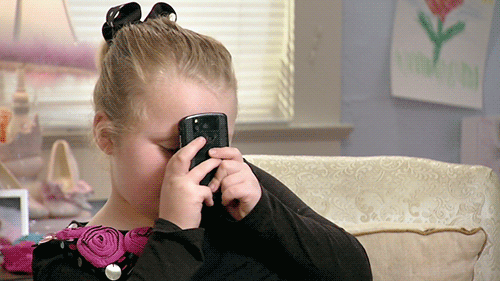 Some showflats, the the Kopar @ Newton sales gallery, are working purely on a by-appointment basis, as this helps them to control the number of people visiting at once (e.g. if they want to keep the maximum number of people inside to 10 at any one time). Besides, on a practical basis, contact tracing will slow everything to a crawl when there's huge crowds (see point 3). Another example is Tedge, a new launch with only 42 units. In general, boutique and small-scale projects will find it easier to adjust to an appointment-only system.
Just FYI, the last appointment timing is typically at 7pm.
3. Temperature taking and contact tracing everywhere
This is now mandatory in almost every showflat. Note that besides a temperature reading, you may be asked to provide your contact details, and fill in travel and health declaration forms. Although we'll always find it hilarious that the first question is never just "Do you have Covid-19?"
Social distancing means you may be asked to wait for the next group of viewers to completely move in, before being able to step into part of a showflat. Also note that the sales team may avoid contact (e.g. no hand shakes), so don't get too enthusiastic after signing the deal.
In short, safety is priority. "After all, the last thing a developer would want is for someone to get infected with the virus at their showflat," quipped Stuart.
4. Rotation of different agencies in some showflats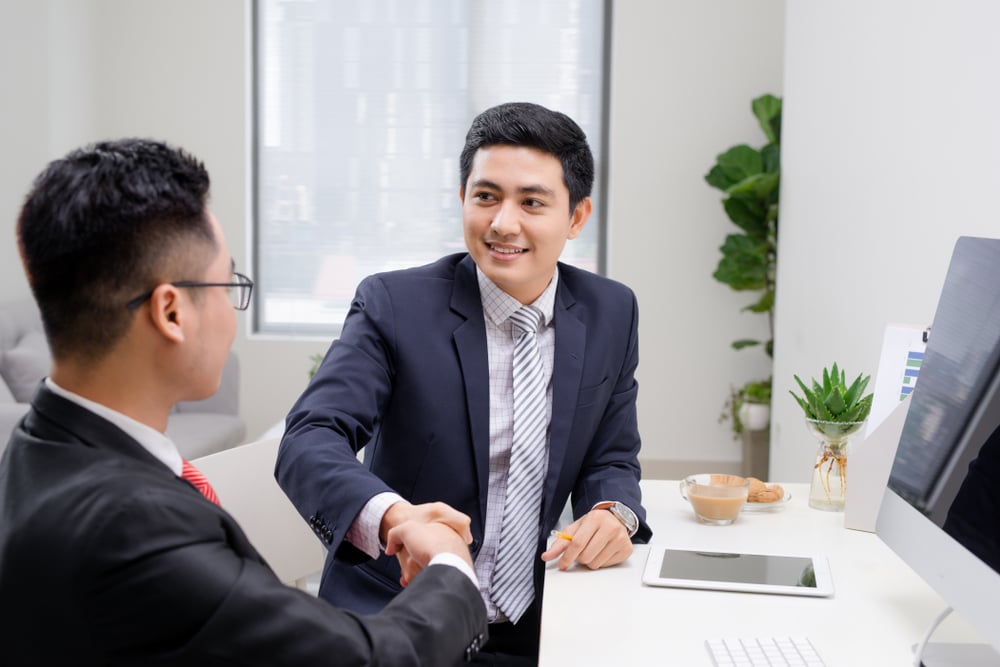 Appointed agencies (if there's more than one for a project) have also begun to serve clients at sales galleries on a rotational basis. "Instead of a few agencies being present at the same time, agencies now agree to take turns to be present at showflats," said Stuart.
"Although agents feel the pain, they know that all these measures are for the good of everyone and will prevent further spread of the coronavirus," he added.
Covid-19 is also causing property agencies to wind down large scale events
Lately, there was a lot of negative publicity for PropNex for going ahead with an internal awards event. To be fair, PropNex did point out that they cut it down from a 4,000 person event, to two sessions with less than 250 each (that being the maximum number advised by the Ministry of Health).
Still, people complained that they weren't too hot on the idea, because of any spread they could have caused. In light of that, property agencies have begun to wind down certain events. Stuart, for instance, says his agency has cancelled some consumer seminars meant for the weekend, to maintain social distancing. Another property agent, Alice (not her real name), told us that agencies are worried about the risk of reputational damage:
"If the news comes out that there's people being infected by a group of our agents, people will start avoiding everyone from the whole agency. It's also bad for the industry if people see more risk in viewings, meeting agents, and so forth."
Alice says that her agency is now setting up a system of remote briefings, such as through video conferencing, and focusing more on paired mentor-mentee training sessions.
Covid-19 pushed back one of the events we're involved in too
We're working with Seedly for their Personal Finance Festival 2020, where we'd talk about affording a home. While this was scheduled in March, it's since been pushed back (see the site for details).
Sadly, this sort of thing is likely to last for as long as Covid-19 does. But look on the good side: the quicker we adhere to social distancing and co-operate with the measures, the faster we'll get this thing under control.
Are you worried about viewings in light of Covid-19? Voice your thoughts in our comments section or on our Facebook community page. Looking for a property? Find your dream home on Singapore's largest property portal 99.co!
Looking for a property?
Find the home of your dreams today on Singapore's fastest-growing property portal 99.co! If you would like to estimate the potential value of your property, check out 99.co's Property Value Tool for free. Also, don't forget to join our Facebook community page or Telegram chat group! Meanwhile, if you have an interesting property-related story to share with us, drop us a message here — and we'll review it and get back to you.