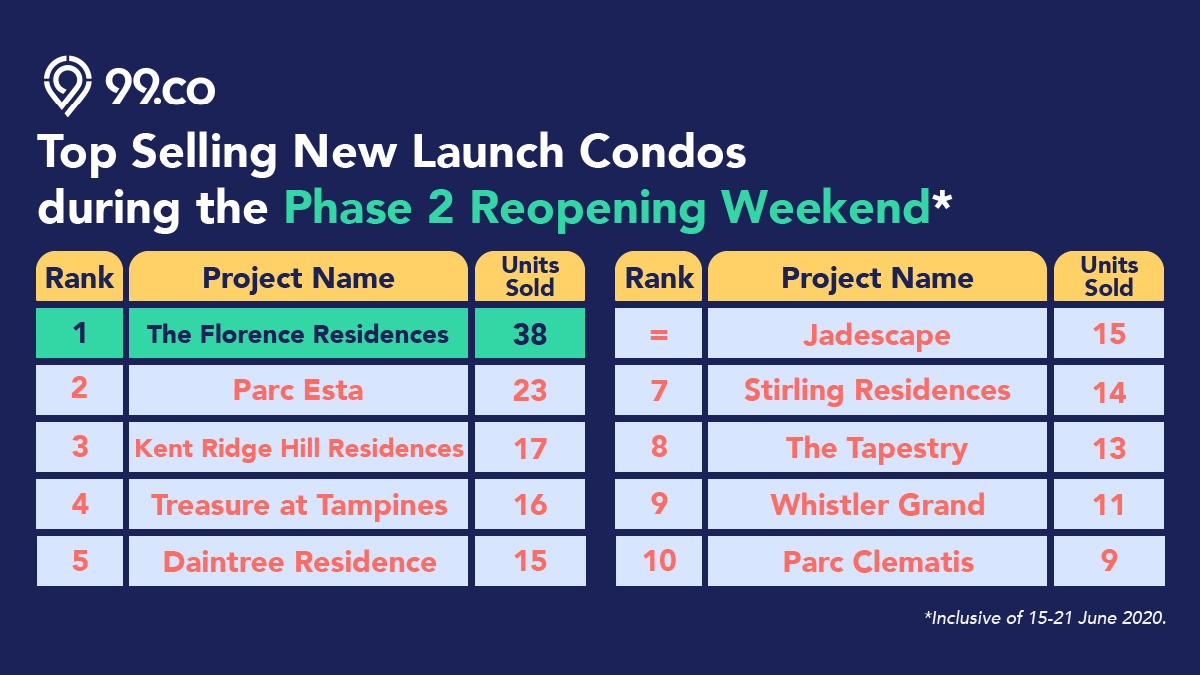 With the lifting of restrictions on in-person property viewing last Friday (19 June), developers and agents were hopeful of a rebound in sales. Sure enough, the first weekend saw buyers make a beeline for reopened condo showflats. From Friday to Sunday, a total of 144 new launch condo transactions were recorded, according to developer reports.
The weekend sales boosted the total number of new launch units sold in the past week (15 to 21 June 2020) to 252⁠. This is a significant 155% increase from 99 transactions in the previous week.
"Overall, these are healthy numbers considering there haven't been many new launches this year to boost the sales volume," noted Aaron Wan, Group District Director of Propnex.
Attributing the increase in sales over the weekend to pent-up demand, real estate agents 99.co spoke to also pointed out that those who had bought were well-informed buyers who had participated in virtual viewings during the circuit breaker.
Buyer education during the downtime also helped. "Ongoing educational online seminars gave buyers the opportunity to review the facts and figures. With this and virtual viewings, many buyers turning up at the showflat [over the reopening weekend] had already decided to buy." said Richard Jany, Key Executive Officer of Richard Jany Real Estate.
RCR and OCR condos big winners on reopening weekend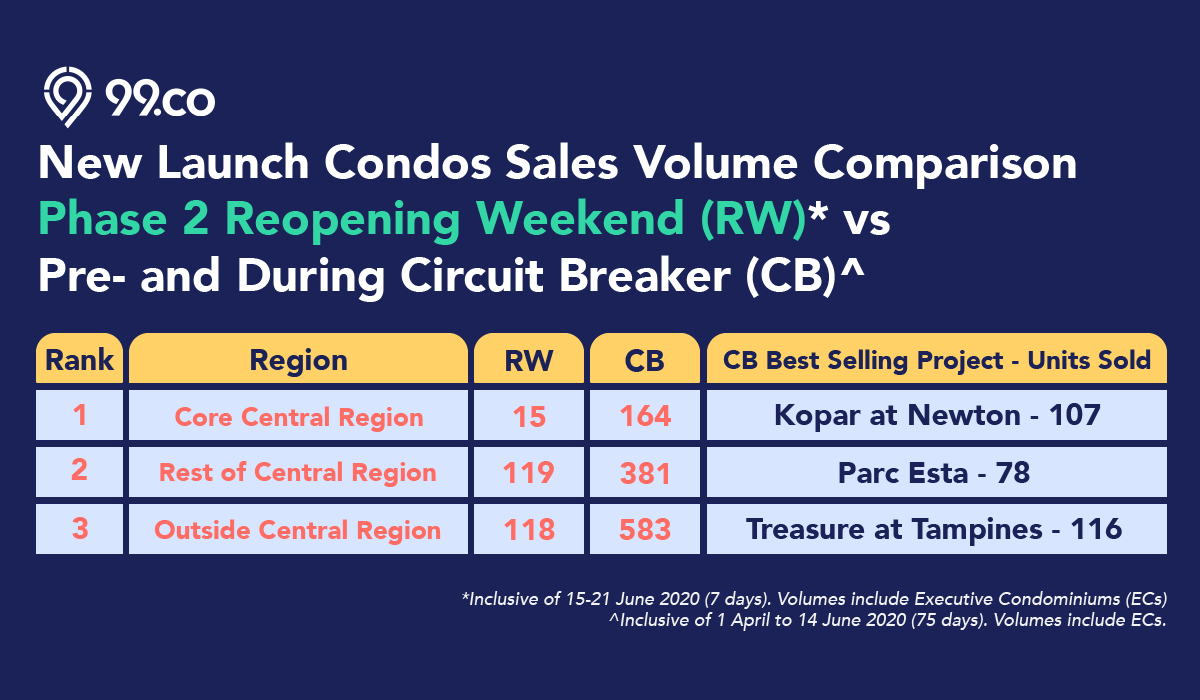 For new condo sales in the past week, one particular statistic stood out: 94% of units sold were for properties in the Rest of Central Region (RCR) and Outside Central Region (OCR) areas.
Only 6%, or 15 out of 252 transactions, were for condos in the Core Central Region (CCR). Contrast this to the first quarter of 2020, when CCR properties made up 26% of total units sold.
"For new sales, the ones that are moving are the mass-market and mid-tier condos," said Aaron. He attributed the lack of activity in the CCR market to the absence of foreign investors due to travel restrictions, as well as a certain degree of resistance by investors to enter the market for CCR condos at this point in time.
"I believe that things will get better [for the CCR] once travel restrictions are eased," he added.
Our compilation of past week's top 10 best selling new launch condos below shows the dominance of RCR and OCR condos: Five are located in the RCR, and the remaining five are projects in the OCR.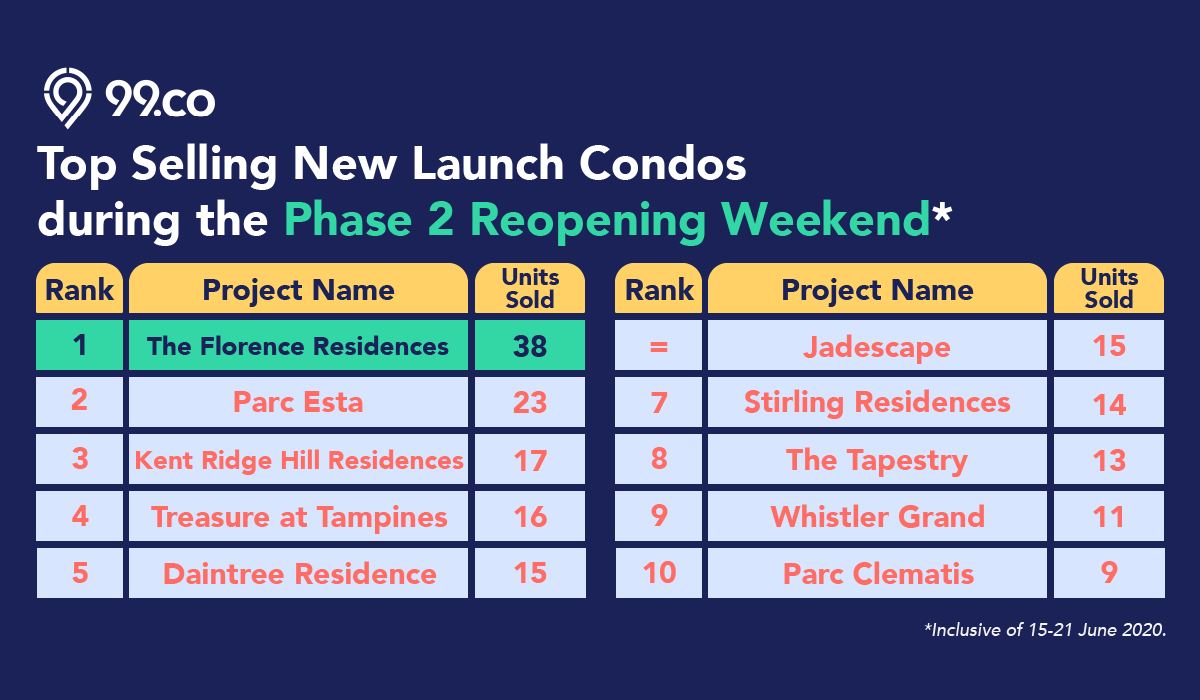 Top of the list is The Florence Residences in Kovan; developer Logan Property moved 38 units of the OCR project over the past week, of which 20 units were sold Friday, Saturday and Sunday (19 to 21 June). Notably, the surburban project had managed to record 62 transactions during the eight-week circuit breaker itself, which lasted from 7 April to 1 June.
Elsewhere in the OCR, the mega-project Treasure at Tampines was the second best performer of the week, with developer Sim Lian Group selling 14 out of the week's 16 units over Friday to Sunday. The project had sold 77 units throughout the circuit breaker period.
In the RCR, Parc Esta edged closer to a 90% take-up rate with a strong showing last week, selling 23 units. There was also a remarkable revival for Daintree Residence; the District 21 condo only managed to move 7 units during the entire circuit breaker, but last weekend saw buyers snap up 14 units.
Also noteworthy is the fact that the top 10 best selling condos of the past week were all 99-year leasehold properties.
[
Recommended article
: 
The FULL list of 2020 New Launch Condos in Singapore (+ Analysis)
]
"Ready buyers" in the resale market to reboot demand
Resale volume took a beating during the circuit breaker, for reasons we described in this article. But, in the first weekend of Phase 2, many agents we spoke to told us that their schedule was packed with resale appointments.
"There was a lot of backlog and cases put on hold during the circuit breaker since resale buyers want to know, for instance, who their neighbours are and the condition of the home, which all require physical viewing," said Aaron.
Buying power also appears to remain strong. Tracy Teo, Executive Group Division Director of ERA Realty, noted that there is a significant group of "ready buyers" who are not really affected by the economic situation.
"Generally, buyers I've come across are all confident of the Singapore economy," she told 99.co.
Choice resale units are also scarce, so buyers have added impetus. During the circuit breaker, Richard revealed that it was common practice for an interested buyer to make an offer that is "subject to one physical viewing", which would take place right after restrictions were lifted.
So, like new launch condo sales, we'll likely see an uptick in resale trasactions once caveats are lodged in a few weeks time. "Many buyers of resale properties are homeseekers driven by a need instead of a want, so the market will keep moving," said Aaron.
Will new launch condos sustain their momentum? Share your thoughts in the comments below.
If you liked this article, 99.co recommends Buying resale EC vs new launch: The key differences you need to know and The FULL list of 2020 New Launch Condos in Singapore (+ Analysis)
Looking for a property? Find your dream home on Singapore's most intelligent property portal 99.co!