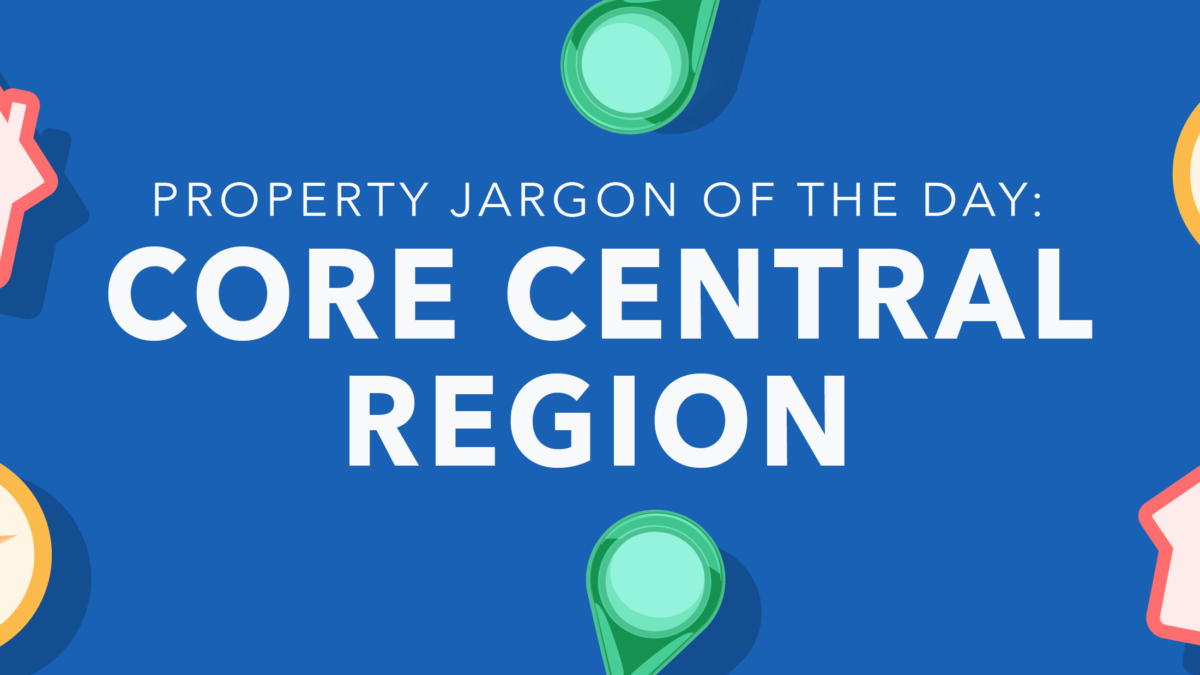 Everyday, 99.co takes a piece of property jargon and demystifies it. Today, we're looking at the Core Central Region (CCR), the big-bucks area of Singapore property.
What is the CCR?
A really great country-rock band that your dad remembers. But also, the Core Central Region (CCR) is where you find the most prestigious, high-rent areas in Singapore. The following districts are all in the CCR:
Living in the CCR
If you're interested in living in the CCR, the key advantages are:
Central location, making it easy to get to most parts of Singapore
Some of the fanciest retail and dining options
A prestigious address
You'll probably be close to work, assuming it's in the CBD
The downsides to watch for are:
Insane traffic congestion at rush hours, and the MRT is just as packed
Many retail and dining options are expensive
Some CCR areas are madhouses on weekends (native Singaporeans mostly avoid Orchard Road on weekends, if they can help it)
If you're looking for a home in the CCR, here are some new launch condos you might be interested in: Enchante (D11, TOP: 2026), Canninghill Piers (D6, TOP: 2026), Perfect Ten (D10, TOP: 2025), Cairnhill 16 (D9, TOP: 2023), Klimt Cairnhill (D9, TOP: 2025), One Bernam (D2, TOP: 2026), Irwell Hill Residences (D9, TOP: 2026).
Why is the CCR the most desirable location overall?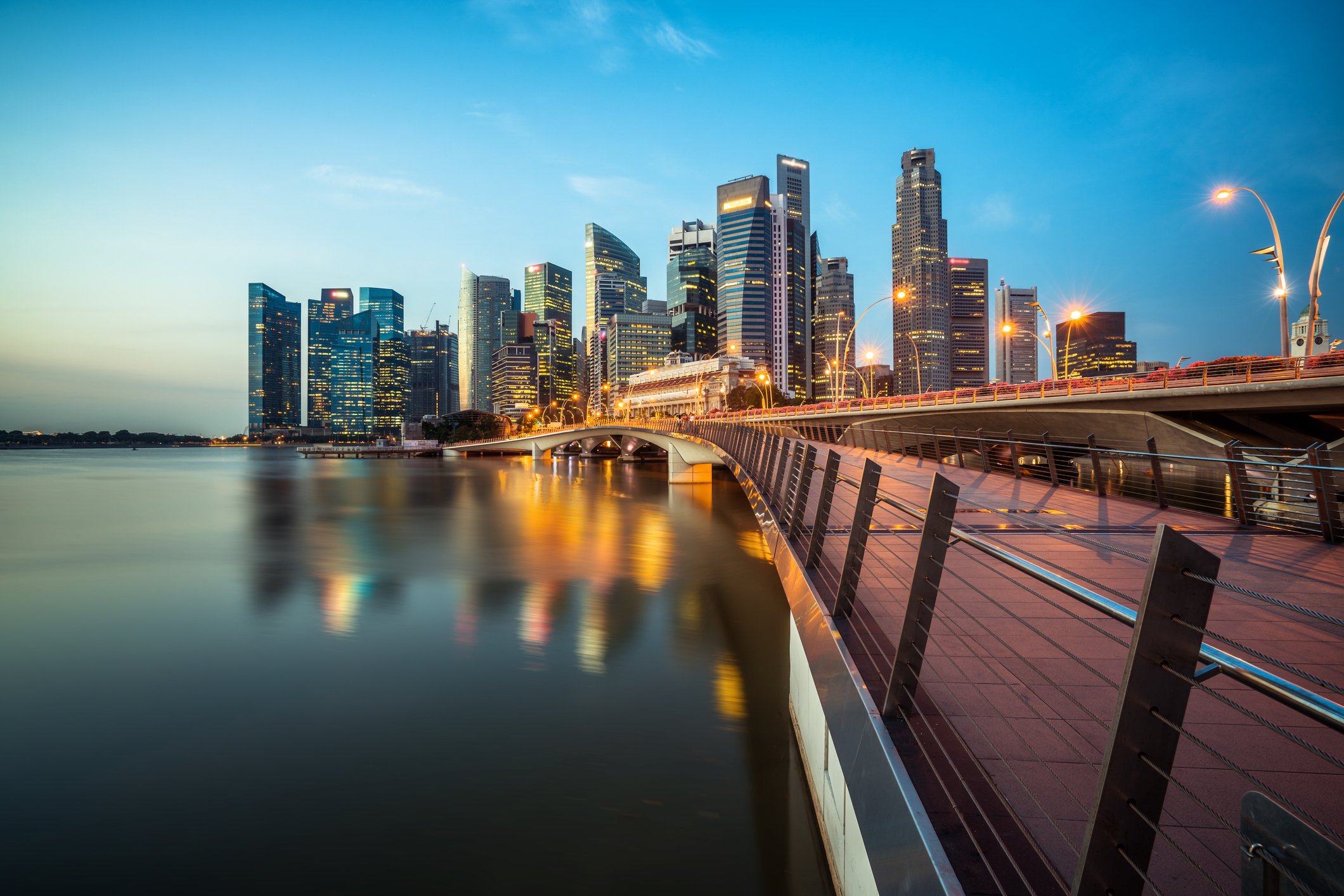 Being in the CCR means proximity to Orchard (Singapore's most prime shopping district), Boat Quay (a lifestyle and nightlife area), and the Central Business District (Raffles Place). The central location also means it's more or less equidistant to any other part of Singapore, and it's at the very centre of the vast transportation network.
The CCR also carries a degree of prestige. It's regarded as the place where Singapore's most affluent residents (locals or otherwise) reside; and CCR properties are almost always built by the industry's top developers.
The third advantage to CCR properties is scarcity. The centre of Singapore is as built up as it can reasonably get; in fact the government is trying to decentralise the business zones, to take the stress off the infrastructure (we can't handle the congestion of everyone crowding in, and out, of the city centre at the same time; such as during morning work hours, or the 7pm rush to get home).
Due to the limited availability of space in the CCR, new properties – such as freehold residential properties, or office properties – don't come by too often. Investors are often quick to move in, when a rare opportunity to buy arises.
How much do CCR properties cost?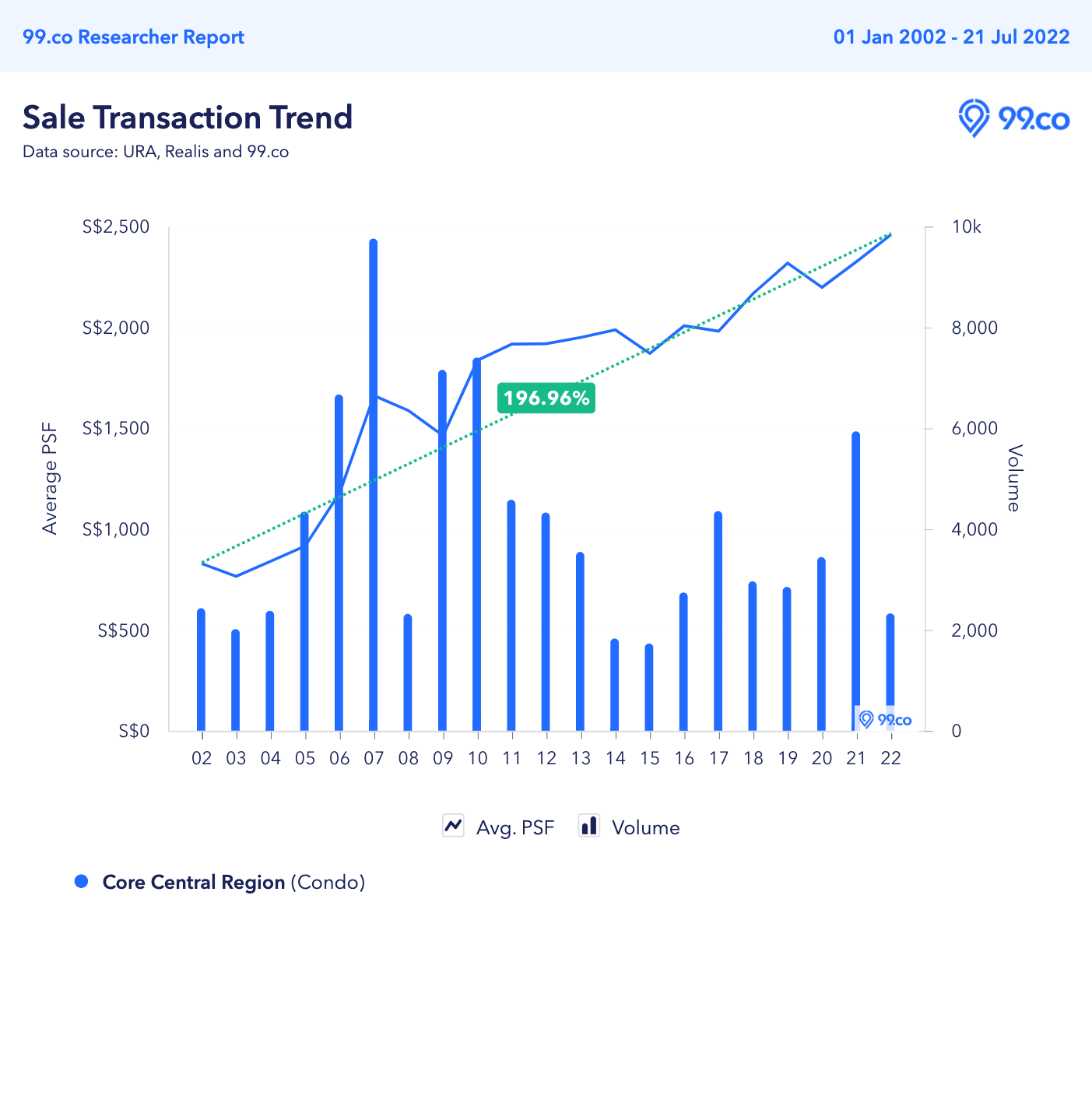 At the moment, average property prices in the CCR hover at about S$3.09 million, or S$2,460 psf. This is up from an average of S$1.2 million (S$828 psf) 20 years ago.
The sharp kink between 2017 and 2019, in case you're wondering, was caused by two factors: an en-bloc craze that ramped up property prices between 2017 to 2018, and subsequent cooling measures to control that surge; hence the plummet between 2018 to 2019.
In terms of rental income, we only have data from 2012 onward: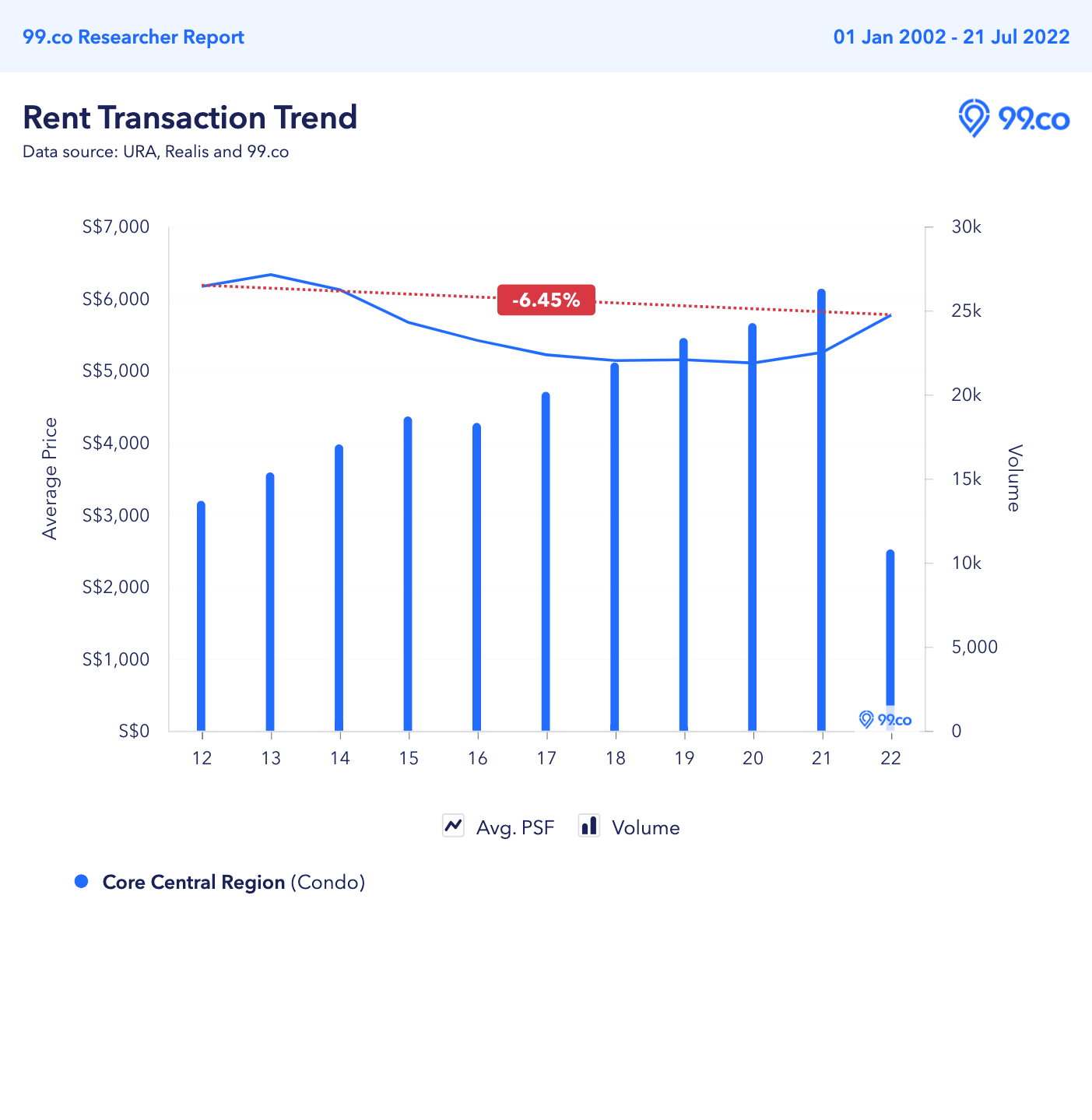 Average rental income in the CCR is currently at S$5,769 per month (S$4.83 psf). This is down from S$6,163 (S$4.71 psf) back in 2012 (although, do note that price psf has increased slightly).
The ongoing dispute about the CCR rental situation
Note that rental income has been falling across Singapore, not just in the CCR. That being said, you will often hear two conflicting theories about CCR property investments.
The first theory states that CCR properties are "recession resistant", as their prime location means they're in demand regardless of market conditions. Their proximity to key amenities can't be duplicated by other, mass market properties – so they can can maintain their rental income and value even during downturns.
The second theory holds that CCR properties are more vulnerable to downturns. This is because, when times are bad, companies will scale back on hiring expensive expatriate workers. This will cause prospective tenants to move out of the CCR, and into more mass market options.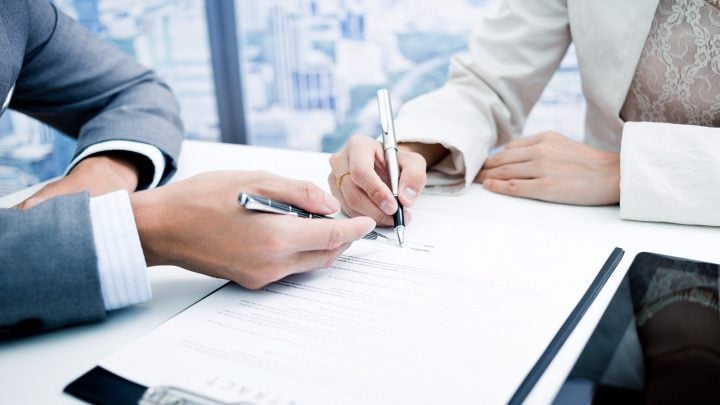 Also, CCR landlords are dependent on a narrow tenant demographic, such as senior executives from the banking or energy industries. As such, any decline in these sectors will have an outsized impact on the CCR, as opposed to other property segments.
In either case, one fact remains true: most CCR properties are not purchased by owner-occupiers. The bulk of CCR properties are owned by investors, who purchase them to rent them out. Many are also owned by large companies, such as multi-nationals and banks; these are sometimes used to house expatriate employees, and can be rented out to generate income otherwise (some companies also like to use these properties as collateral for cheap business loans – the interest is low, and they can borrow against the appreciated value).
---
What bits of property jargon would you like to learn more about? Let us know in the comments section below.