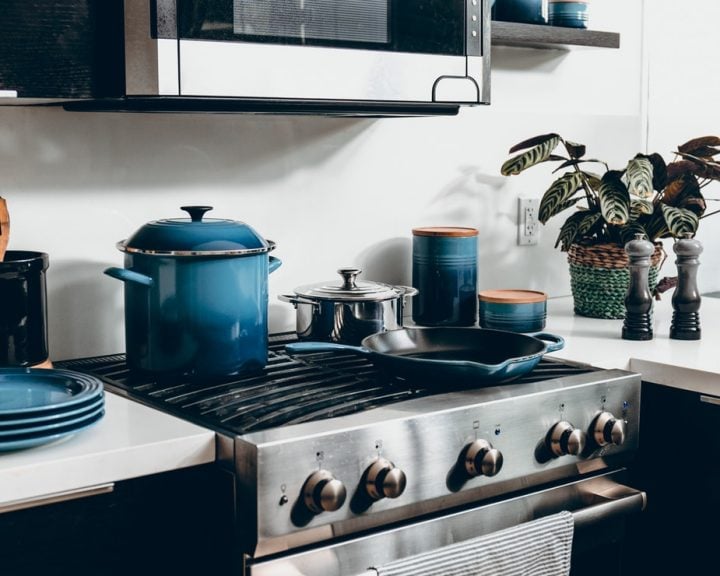 If you're renting in Singapore, it's important to know your rights. When it comes to safeguarding your rental deposit, for instance, keep in mind that you're only liable to pay for any damages you've inflicted, not fair wear and tear.
(Quick aside: for wear and tear maintenance, most tenant agreements state that tenants are only liable for a certain amount, and that the landlord will cover the rest. In most cases, tenants will have to fork out up to $150, but do check your contract to be sure).
In this blog post, we walk you through 5 ways that you can protect your rental kitchen, so that you don't incur the wrath of your landlord. Read on to find out more!
1. Angle appliances away from wall-mounted cabinets
What do rice cookers, steamers, and air fryers have in common? They all come with vents that release heat and steam during the cooking process.
Now, not everybody realizes this, but repeated exposure to heat can warp kitchen cabinets and discolour them. To err on the side of caution, make sure you position your appliances such that their vents aren't directly facing your wall-mounted kitchen cabinets.
2. Clean your stovetop on a regular basis
On the bright side, accumulating stains and gunk on your stovetop probably doesn't count as "damages". That said, if the stovetop is filthy when you handover the apartment to your landlord, they obviously wouldn't be too happy, and they might lead to them trying to find fault with you in other areas.
Bearing this in mind, make sure you clean your stovetop on a regular basis (if not every time you cook, then at least once a month). Check out this guide on how to clean different types of stovetops.
3. Wipe down your cabinets every time you cook
Running in the same vein, you'll want to wipe down your cabinets every time you cook. If you don't do this, your cabinets will eventually develop a thin layer of grease. Firstly, that's just gross to think about, but on top of that, the grease can also permanently discolour your cabinets and breed bacteria. Pretty scary, huh?
4. Fix deep scratches on kitchen cabinets
Minor scratches are unlikely to constitute "damage", but if you've left a huge scratch on your kitchen cabinet, or you have a landlord that's particularly fussy, go ahead and fix those scratches to keep your kitchen in good shape.
How do you do this? Simple – just purchase a wood touch-up or repair kit from hardware or DIY stores, and use the filler provided to match the scratch less obvious. Another benefit of repairing scratches is that you're preventing moisture from entering the gaps, and this lowers the chances of wooden cabinets rotting and attracting pests.
5. Read user manuals before operating appliances
If this is the first time you're operating, say, a stove or a dishwasher, make sure you read the relevant user manual before using the appliance. Yes, it's a bit of a drag, but you don't want to load your dishwasher, go take a nap, then come back to find that your entire kitchen is flooded.
If your landlord doesn't have the user manuals anymore, just look at the back of the appliances to identify the model number, then do an online search. Most brands allow consumers to access a soft copy of their user manuals online.
Thinking of renting an apartment in Singapore? Voice your thoughts in our comments section or on our Facebook community page.
Looking for a property? Find the home of your dreams today on Singapore's largest property portal 99.co! You can also access a wide range of tools to calculate your down payments and loan repayments, to make an informed purchase.