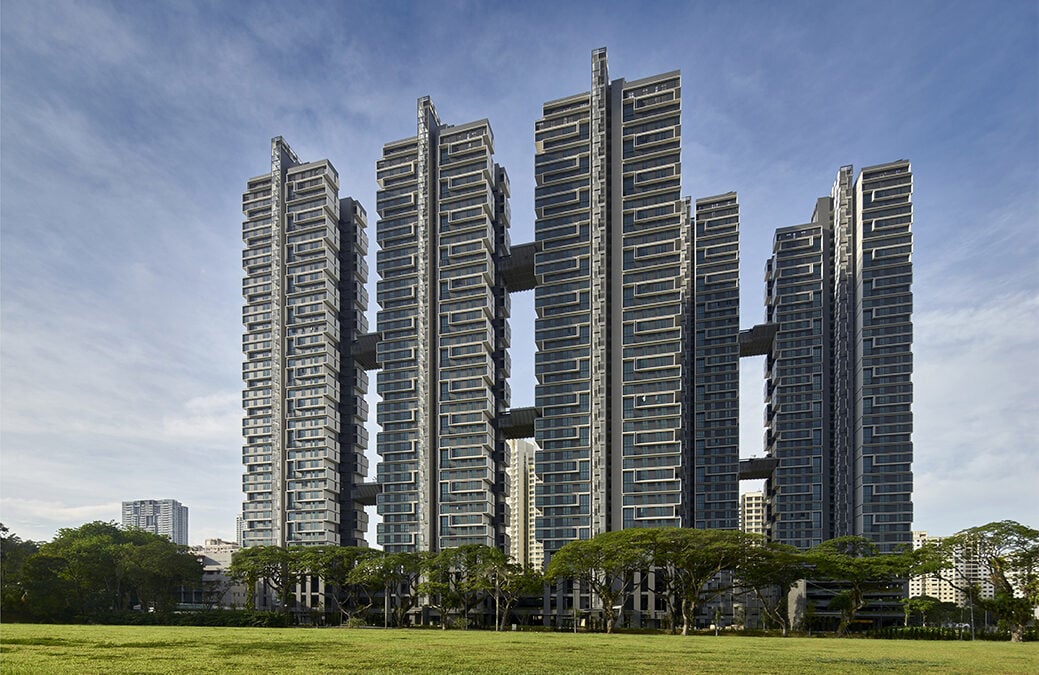 A 5-room HDB unit in SkyTerrace@Dawson recently changed hands at an eye-watering price tag of S$1.328 million – a new record for the most expensive resale HDB, at least for the mature estate of Queenstown.
Located at 93 Dawson Road and completed in 2015, SkyTerrace@Dawson comprises five towers ranging from 40 to 43 storeys and is adjacent to SkyVille@Dawson, another 99-year lease HDB development.
For the sale, the duplex unit is on the highest 42nd and 43rd floors and boasts a sizeable 1,313 sq ft of floor area, which translates to S$1,011 psf. In comparison, the average price psf of other units in SkyTerrace@Dawson currently stands at S$896 psf.
The transaction was facilitated by Lois Ho, an associate group director of PropNex Realty, who shared that interest started gathering in the first quarter of the year but viewings started in earnest around mid-October. This was because of the fluctuating COVID-19 situation and there were elderly folks at home.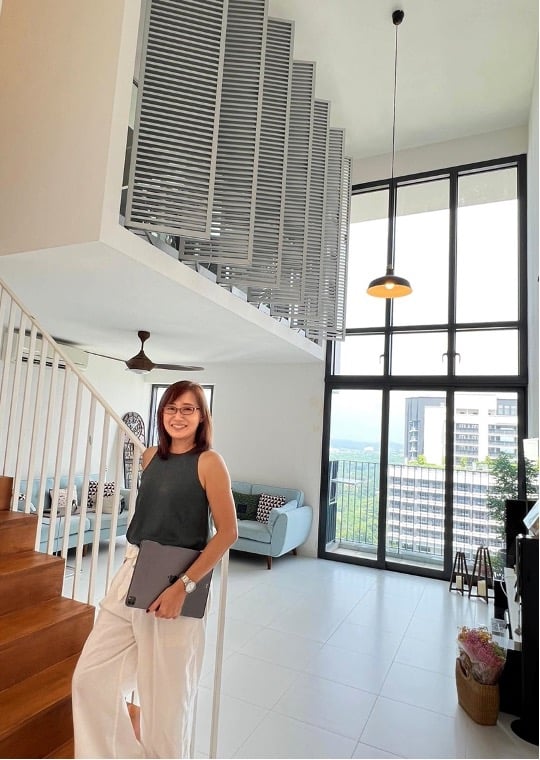 Ultra-rare find
While SkyTerrace@Dawson has 758 units, there are only 26 loft units available. This explains why the flat was able to command such a premium price. The unit features full-length 5.4-metre floor-to-ceiling glass windows, lending it a luxurious condo-like feel.
The windows, combined with the property being situated on the highest floor, meant that residents of the unit could enjoy a scenic unblocked view of the landed housing areas in nearby Tanglin.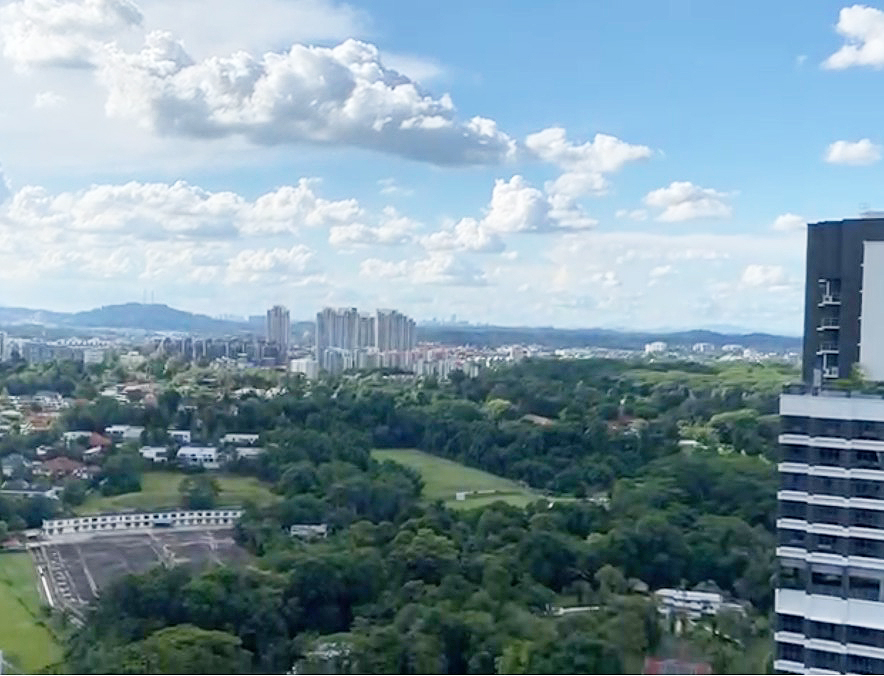 Overwhelming interest
Ho shared that response has been overwhelming, as she was fielding multiple enquiries and viewing requests every week. She had to also pre-qualify potential buyers and made sure they were a good match before proceeding with the viewings. In total, there were 15 separate groups of buyers and 7 offers before the owners decided to accept the final offer of S$1.328m.
The prospective buyers were initially reluctant to make an offer above the S$1.3m mark. Ho shared that there were only 2 other 5-room loft units on a low floor that were transacted at SkyTerrace@Dawson – the most recent being sold at S$1.095m in the same block on June 23 this year. However, considering the size, central location, penthouse feel, being higher on the 42/43 floors and rarity, the unit was definitely a gem.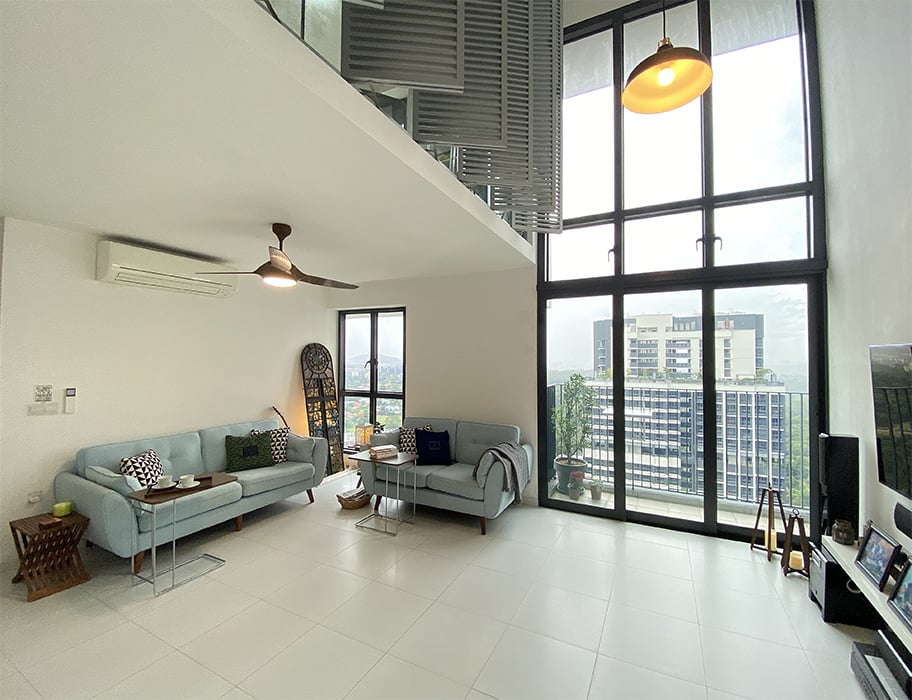 While Ho has secured deals using both physical viewings and virtual Zoom meetings before, she shared that each type of viewing has its benefits and greatly depends on the requirement of each property. "For this Dawson unit, I chose physical viewing because the need to educate the buyers on the rarity of such 5-room loft units is paramount to help them see why this unit calls for a premium price. In fact, not a lot of people know there are such beautiful loft units available and in such a central location!" she said.
Ho also added that coming into the unit, the prospective buyers can experience the 5.4-metre double-volume ceiling first-hand and the serenity of living in the "HDB penthouse" overseeing the Tanglin GCB area. Also, a lot of people thought the loft level was done by the owners themselves and wondered if it is approved or if the room on the loft level was sizeable. So the physical viewings helped to correct some of the misconceptions they may have of the loft layout.
"If prospective buyers don't get to see this unit physically and experience it first-hand, it is then left to their imagination, and they are likely to compare it with a normal 5-room flat." To really help prospective buyers imagine what living in the HDB unit would be like, Ho even engaged an Interior Designer to come up with various interesting designs to showcase the loft space to give them ideas on what can be done should they choose to purchase it.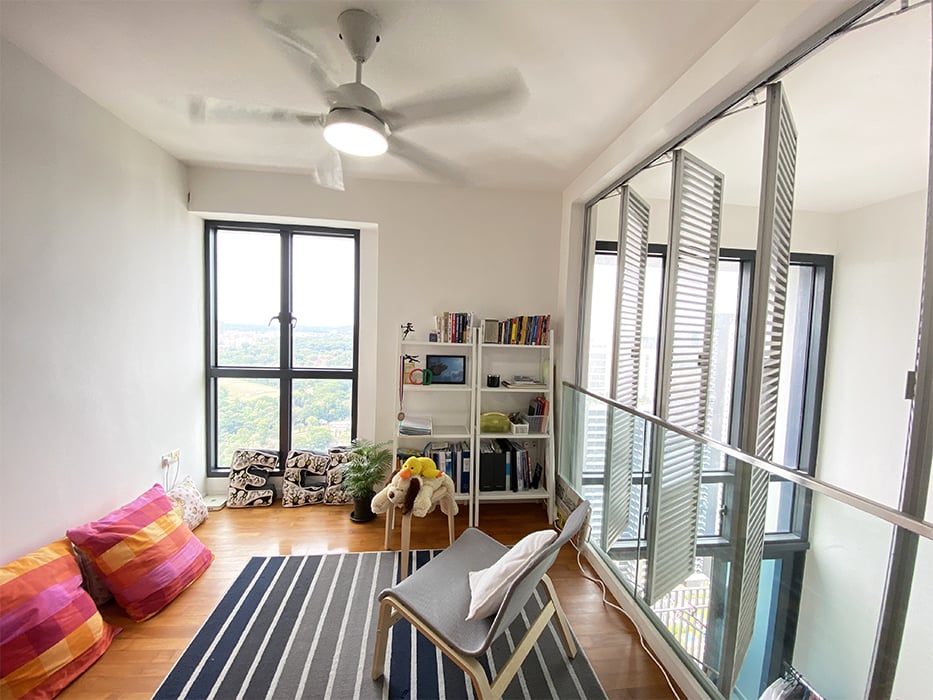 Rising HDB resale prices
While this HDB loft in Queenstown may hold the current record for most expensive HDB resale flat sold for the mature estate, Bishan's Natura Loft still commands the uncontested record for being the most expensive HDB resale flat in Singapore when a 5-room unit was sold for S$1.36m.
A check on average per-square-foot pricing between 5-room+ (blue) and overall (orange) units at SkyTerrace@Dawson shows a marked increase for the former from Q3 2021. Relative to Q1 2020, average psf prices of 5-room+ units at the development has risen by 7.83% compared to the overall development's 5.87% increase. This continues to show greater demand for larger units in the resale market as families and couples continue to work-from-home or stay home more often due to the pandemic.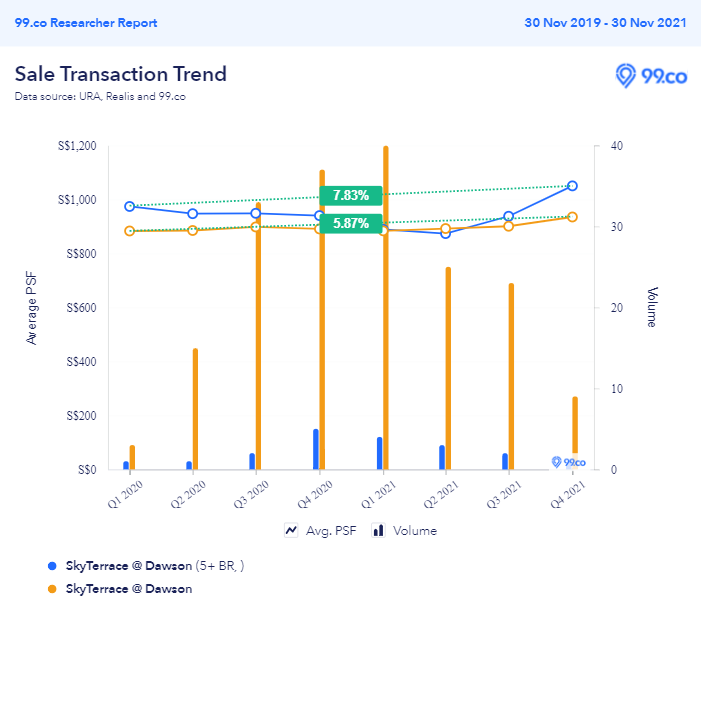 —
Besides Bishan and Queenstown, which neighbourhood do you think will command a >S$1.3m resale price for an HDB apartment next? Let us know in the comments section below or on our Facebook post. 
If you found this article helpful, 99.co recommends These 9 neighbourhoods are hotspots for million-dollar flats and Million-dollar flat hotspots: Bishan vs Toa Payoh.
Looking for a property? Find the home of your dreams today on Singapore's fastest-growing property portal 99.co! If you would like to estimate the potential value of your property, check out 99.co's Property Value Tool for free. Meanwhile, if you have an interesting property-related story to share with us, drop us a message here — and we'll review it and get back to you.
About Jamie Wong
Looking to sell your property?
Whether your HDB apartment is reaching the end of its Minimum Occupation Period (MOP) or your condo has crossed its Seller Stamp Duty (SSD) window, it is always good to know how much you can potentially gain if you were to list and sell your property. Not only that, you'll also need to know whether your gains would allow you to right-size to the dream home in the neighbourhood you and your family have been eyeing.
One easy way is to send us a request for a credible and trusted property consultant to reach out to you.
Alternatively, you can jump onto 99.co's Property Value Tool to get an estimate for free.
If you're looking for your dream home, be it as a first-time or seasoned homebuyer or seller – say, to upgrade or right-size – you will find it on Singapore's fastest-growing property portal 99.co.
Meanwhile, if you have an interesting property-related story to share with us, drop us a message here — and we'll review it and get back to you.
Join our social media communities!
Facebook | Instagram | TikTok | Telegram | YouTube | Twitter