Ask any agent about property investment, and you'll be sure to hear that buying a 99-year leasehold property is a surefire way to maximise rental yield. In the same sentence, they'd probably say that buying freehold for rental play is stupid/dumb/foolish. Here at 99.co, however, we know that an property saying is true… only until proven false. Knowing that there must be an exception somewhere, we set out to find an example that might prove these agents wrong.
To begin, we focused on the property types we know most property investors will zoom in on: 1-bedroom/studio apartments in the Singapore Central Business District (CBD) area that cost below $1 million. Basically, these are low quantum shoebox units with high rental demand owing to location. As per square foot prices in the CBD are expensive and residential projects were limited, there weren't many condos that fit this specific criteria.
Freehold vs 99-year leasehold condo: a rental yield showdown
In Tanjong Pagar, we picked Lumiere as our 99-year leasehold candidate. Located 3-minutes walking distance from the Tanjong Pagar MRT station, Lumiere has 168 units, about one-quarter of which are studio apartments. These units, at 484 sq ft, have recently transacted at $950,000, which translates to $1,963 per sq ft. The key reason we picked Lumiere was because our records showed that the condo has averaged the highest rental yields in the CBD over the past year.
There's no freehold land specifically within the CBD, which is understandable from a policy standpoint. So, for the freehold condo that'll we use as comparison, we'll look at the precinct of Spottiswoode. Located right next to Tanjong Pagar, the Spottiswoode precinct remains within walking distance to the CBD. Unlike Tanjong Pagar, which is predominantly commercial, Spottiswoode consists of mainly residential developments and is a laid-back environment characterised by rows of conserved shophouses within the precinct (known as the Blair Plain Conserveration Area). Here, we've picked Spottiswoode 18 as the freehold condo to compare.
The smallest units at Spottiswoode 18 are more expensive, at $2,197 per sq ft. This is understandable given the condo's freehold status. However, at just 388 sq ft, the smallest units see lower transaction prices, which has averaged $852,338 in 2018 to date. (There are 150 such units in Spottiswoode 18.)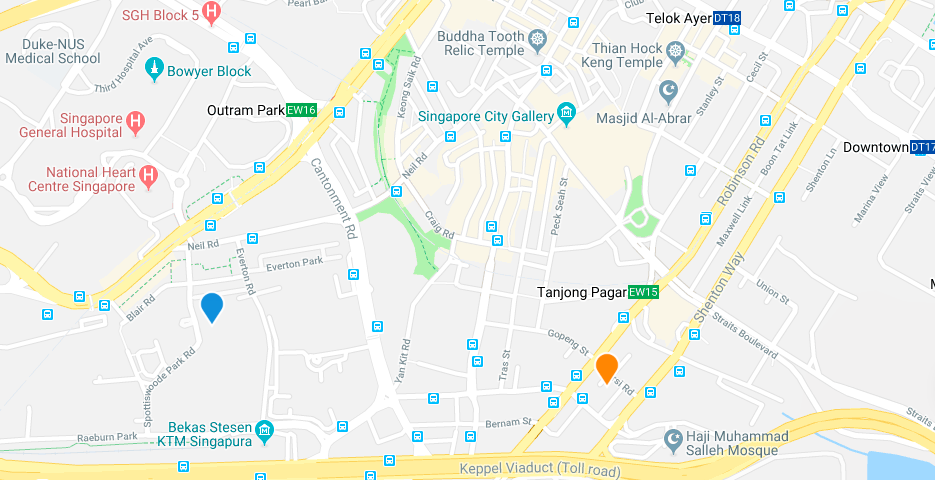 Calculating rental income for both properties
In our scenarios to derive rental yield, we'll assume in both instances a Singapore Citizen buyer purchasing his/her second property.
From our records, the average rent for the 388 sq ft unit in Spottiswoode 18 is $2,300 per month, while the average rent for the 484 sq ft unit in Lumiere is $2,500 per month. The difference in rent for Lumiere is just 8.7% higher, despite Lumiere being more central and the rented unit being nearly 25% larger in floor area compared to the Spottiswoode 18 unit.
[Recommended article: Calculate rental yield in Singapore: a quick and simple guide]
After giving a 5% haircut to the annual rental income for both properties (to account for some vacancy) and taking into account property tax, maintenance fee (estimated at $300 for each property) as well as agent commission, we're left with a gross rental income of $17,500 for the 388 sq ft Spottiswoode 18 unit and $19,400 for the 484 sq ft Lumiere unit.
From here, we shall proceed to derive the net annual rental income for both properties after factoring in loan interest. In each instance, we assumed a loan amount of 55% of the purchase price (according to the LTV limit), a 25-year tenure and interest rates at two levels, one 2.5% and a stress test of 3.5%. The net annual rental income is the subtraction of annual loan interest payments from the gross rental income.
Per year, the loan interest payment of the freehold Spottiswoode 18 unit for a loan amount of $468,786 (55% of $852,338) is $6,485.20 at 2.5% interest and $9,404.56 at 3.5% interest.
Meanwhile, the yearly loan interest payment of the 99-year leasehold Lumiere unit for a loan amount of $522,500 (55% of $950,000) is $7,228.28 at 2.5% interest and $10,489.08 at 3.5% interest.
Taking the above into account, the NET ANNUAL RENTAL INCOME (projected) for both properties are as follows:
| | | |
| --- | --- | --- |
| Net Annual Rental Income projected at | Spottiswoode 18 | Lumiere |
| 2.5% loan interest rate | $11,014.80 | $12,171.72 |
| 3.5% loan interest rate | $8,095.44 | $8,900.92 |
Revealing the rental yield for freehold vs. leasehold condos in the CBD
Now, we calculate the upfront cost of owning each property, taking into account a downpayment of 45% for each, stamp duties payable (BSD+ABSD), renovation cost ($10,000 each) as well as legal and miscellaneous fees ($5,000 each). For the Spottiswoode 18 unit, the total upfront cost is $521,002. For the Lumiere unit, the total upfront cost is $579,600.
Finally, we can proceed to the final step of calculating rental yield for both properties with this formula: [Net Annual Rental Income/Total Upfront Cost] x 100%, which gives us the following NET ANNUAL RENTAL YIELD (projected):
| | | |
| --- | --- | --- |
| Net Annual Rental Yield projected at | Spottiswoode 18 | Lumiere |
| 2.5% loan interest rate | 2.11% | 2.10% |
| 3.5% loan interest rate | 1.55% | 1.54% |
Surprise, surprise. The net rental yield for the freehold property narrowly edges out that of a 99-year leasehold property! Besides that, consider the fact that freehold condos typically have better value appreciation in the long-term (15 years or more). In the case of Spottiswoode 18, the initial purchase price quantum is even lower than its 99-year leasehold competitor, Lumiere.
The lesson for property investors? Don't rely on any single attribute.
Remember, just because a property is freehold, doesn't mean it's a worse deal for rental yield. That said, the key lesson of this article is NOT that freehold is better than 99-year leasehold or vice versa. Rather, it's a call to property buyers not to take any single attribute as a determining factor for investing in a condo.
Especially where rental yield margins between two developments are small, further analysis may be needed before making a decision. For example, in the case of Spottiswoode 18 and Lumiere, property investors should look beyond tenure and projected net rental yield.
The unit mix — in particular the number of units in the development that are similar to what you intend to purchase — should also be a key consideration. While Spottiswoode 18 may be freehold and have a higher rental yield on paper, it also has 150 same-sized 388 sq ft units. This could mean heavy competition between landlords and a higher possibility of prolonged vacancy if, say, 10 units gets listed for rent at the same time along with yours.
It also pays to be aware of official plans for the area. Both Spottiswoode 18 and Lumiere are close to existing MRT stations as well as future ones (Cantonment and Prince Edward stations respectively). The difference is that, in the latest URA Master Plan, the vast areas of undeveloped land around Spottiswoode 18 are zoned for residential development, which may provide added competition in both in the rental and condo resale market in the future. Comparatively, the land around Lumiere is either fully developed or zoned as a Reserve Site — less threatening for rental prospects with bigger potential upside thanks to future commercial developments.
While future plans are important, greater emphasis should be placed in the present. If Spottiswoode 18 now seems somewhat less impressive in comparison to Lumiere (aside from the freehold status and rental yield), consider the fact that in terms of tenant pool, Spottiswoode 18 might also attract medical professionals from the neighbouring Singapore General Hospital, in addition to those working in the CBD. A buyer's agent should have the necessary research to advise you of the tenant mix and demographics of any given development.
Ultimately, when it comes to buying property, it can come down to gut feeling. Gut feeling, however, shouldn't mean tunnel vision. This case study of condos in the CBD is just one of the many cases where investment value can be unexpectedly found — if buyers are open-minded enough.
**[Browse all condos for sale at Spottiswoode 18]
**[Browse all condos for sale at Lumiere]
**[Browse all District 2 condos for sale]
Would you invest in a freehold condo, or a 99-year leasehold one? Voice your thoughts in our comments section or on our Facebook community page.
If you found this article helpful, 99.co recommends Should you buy a 99-year leasehold over a freehold condo? and 6 things to consider before becoming a property investor
Looking for a property? Find the home of your dreams today on Singapore's largest property portal 99.co!