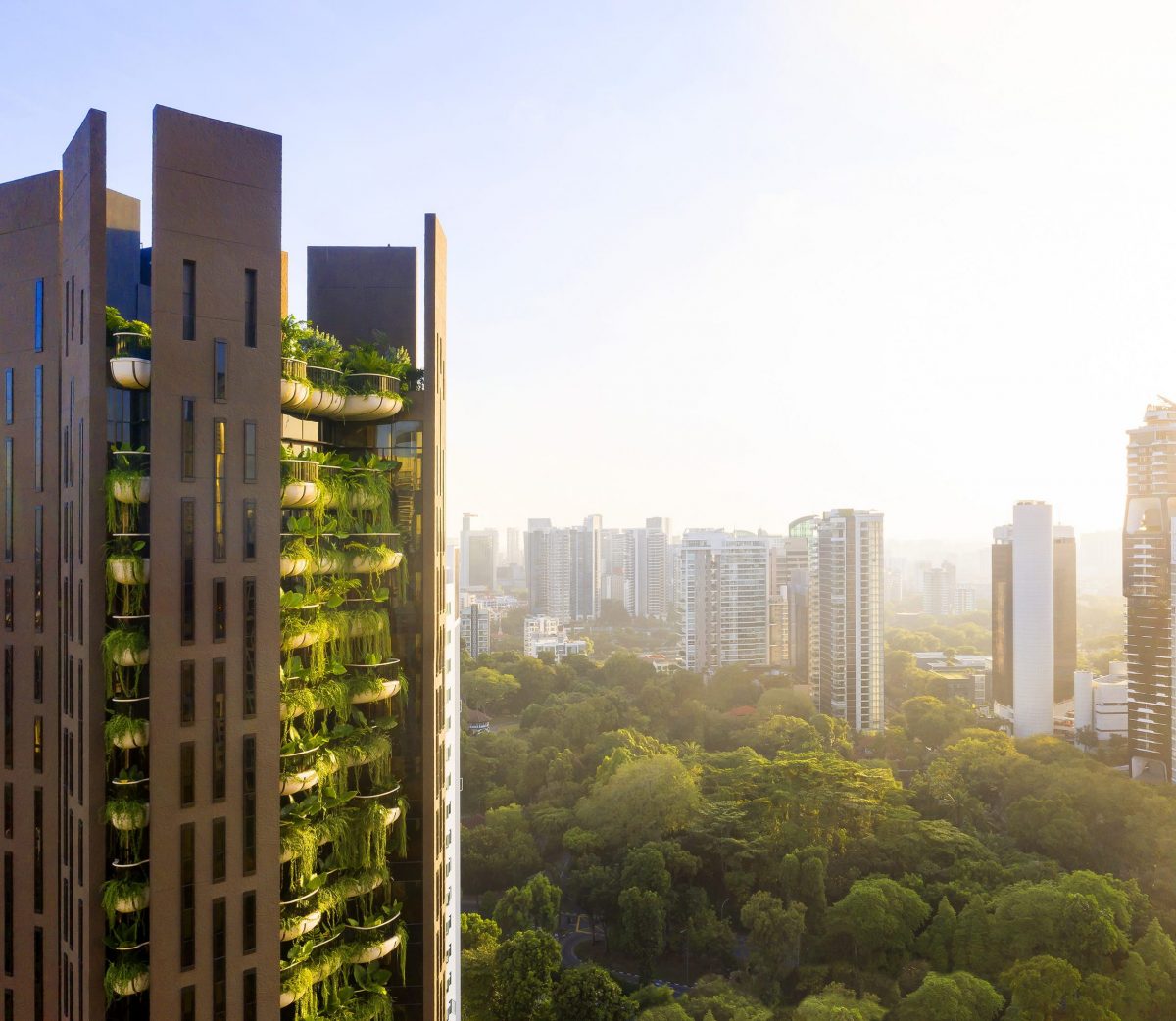 Update as of 01/04/2021: 99.co has come to understand that the buyer isn't a single individual. We've since made some adjustments to the article. 
Update as of 7/04/2021: It is understood that the Tsai family of Want Want China Holdings is the family that has bought all the units in the condo. We've adjusted parts of the article to reflect this.  
Last week, a report grabbed headlines when all 20 units of EDEN, a freehold condo at 2 Draycott Park, were sold. The purchase amounted to S$293 million, which translates to S$14.65 million per unit.
Each unit spans the entire floor, and comes with four bedrooms and a bespoke private garden. At over 3,000 sq ft each, it's priced at around S$4,827 psf. It was initially priced from S$6,000 psf, meaning the buyer had around 20% bulk discount. 
Completed in 2019, the condo is equipped with facilities such as a swimming pool, a children's pool, a landscaped garden and a sky garden. 
EDEN is also Swire Properties' first foray into Singapore; the developer bought the former Hampton Court for S$155 million in 2012 to redevelop it.
What are they going to do with a whole condo?
One possible reason for anyone, be it a group or individual, in buying the whole condo is privacy. The apartments were designed such that residents wouldn't have to worry about their privacy. 
And now that the family has the whole condo to themselves, they don't have to share the facilities with other people. Its exclusivity also provides them with some peace and quiet amidst the bustling Orchard district. 
Given the amount of space available, they can have their extended family live in the same development. There's probably enough space to store their private collections too. Just like how Peter Lim has a car collection at the underground car park of his condo Abelia. 
Transactions along the Ardmore-Draycott enclave
The Ardmore-Draycott enclave is no stranger to multi-million dollar transactions. In fact, the area around Draycott Park, Draycott Drive and Ardmore Park is known as the billionaire's belt, where the rich (local or not) park their wealth. 
It's mostly known for Peter Lim's 11-storey Abelia condo, which he bought in 1994 for less than S$14 million. Alibaba's co-founder Sun Tongyu has also purchased a duplex penthouse at Le Nouvel Ardmore in the area for S$51 million in 2015. 
While the pandemic may have disrupted the number of foreigners coming to Singapore to buy property, it seems that the multi-million dollar transactions are not slowing down anytime soon. 
Over the past five years (from 29 March 2016 to 29 March 2021), demand for condos in the area has increased steadily, with the average price increasing by 77.29%.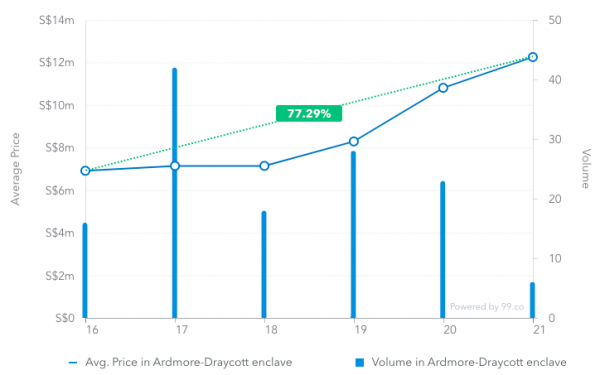 The increased demand is also demonstrated by the 33.52% increase in average price psf.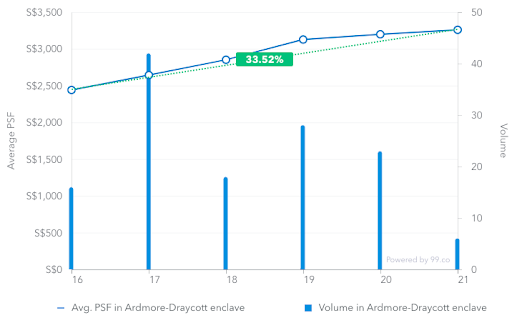 Over the same time period, the most expensive transaction was for a 5,242 sq ft Le Nouvel Ardmore condo unit in July 2016, fetching S$21 million (S$4,006.1 psf). 
Let's take a closer look at the recent transactions at each street in the billionaire's belt over the past five years. 
Draycott Park
Over at Draycott Park, where EDEN is at, condo prices have generally dropped for the last three years, before picking up again this year. In the past five years, the average price dipped but rose again by 2.85%. 
Among the units sold excluding EDEN, a 4,015 sq ft condo at Draycott 8 fetched the highest price tag of S$7.223 million (or S$1,799.0 psf) in August 2017.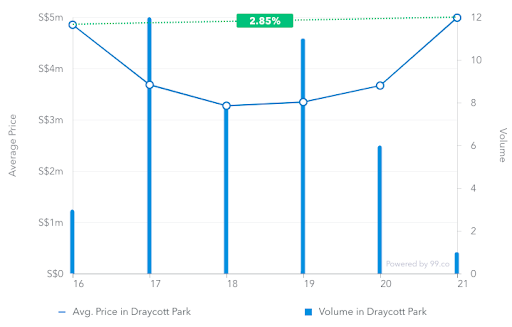 Looking at the average price psf in the area, there's been an increase of 8.30% in the last five years (it was higher in-between).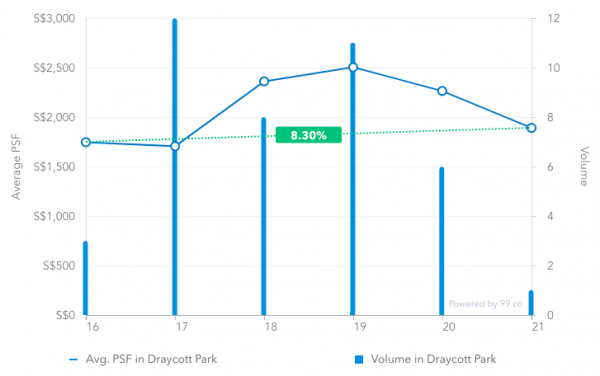 In terms of price psf, the highest ones were two units from One Draycott, sold in November 2019 at S$3,764.12 psf. What's even more notable about these units was that they were on the same floor and sold on the same day. So there's a high probability that they're bought by a family (or very good friends).  

Looking at the data for the past five years, condo transactions along Draycott Park have generally been in the middle of the spectrum compared to the whole Ardmore-Draycott enclave. 
At S$14.65 million per unit (S$4,827 psf), the EDEN units may have been sold way higher than the norm in Draycott Park. On the other hand, its green and bespoke features, along with the privacy it offers may have been worth the price. 
Draycott Drive
Condos along Draycott Drive generally fetch a lower price tag than those in the other streets, with the average price ranging from S$2,315,000 in 2016 to S$2,980,000 in 2021. They also command a lower price psf, with the average price psf between S$1,983 and S$2,346. 
On the other hand, there has been a bigger increase in the average price at 28.73%.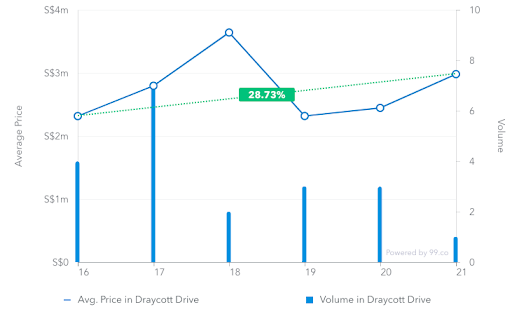 This larger increase among the Draycott Drive transactions is also seen in the average price psf, as it's gone up by 18.34% over the past five years.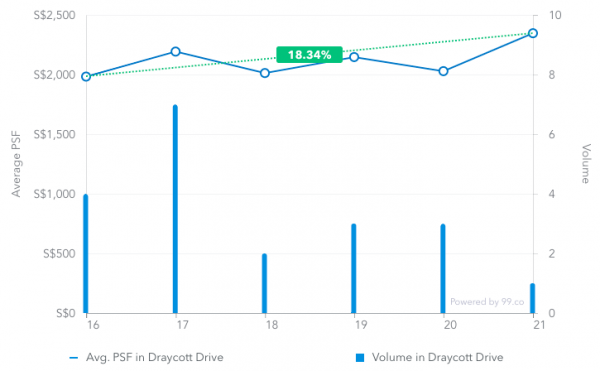 The most expensive unit along the street was sold for S$4.2 million in April 2018, for a 2,120 sqft (S$1,981.13 psf) apartment at 7 Draycott Drive. In terms of price psf, a 1,270 sq ft unit from The Arc At Draycott commanded the highest price psf at S$2,440.94 psf in April 2019, translating to S$3.1 million. 
Ardmore Park
This street is where Peter Lim's Abelia and Sun Tongyu's penthouse are at. It's also where the units with the highest price tags in the Ardmore-Draycott enclave can be found. 
Compared to Draycott Park and Draycott Drive, demand is more robust here, with the average apartment price nearly tripling from S$5,895,162 to S$16,387,625. 
The most expensive transaction per unit along the street was in June 2016. A 5,242 sq ft unit at Le Nouvel Ardmore was sold for S$21 million (S$4,006.1 psf). This is also the unit mentioned earlier that fetched the highest price in the billionaire's belt for the past five years.  
Likewise, the average price psf has also been high, increasing by 23.43% in the last five years. The unit with the highest price psf along the street is a 3,584 sq ft apartment at Sculptura Ardmore, sold in July 2019 for S$16.8 million (S$4,687.5 psf).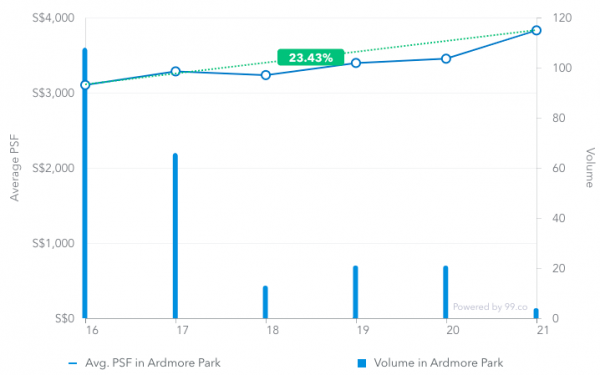 Buying the whole floor 
What's worth noting about the condos along Ardmore Park is that there have been three instances over the past five years in which a whole floor was bought on the same day. 
According to Business Times, a Singaporean woman bought one of these units at Le Nouvel Ardmore, while her American husband bought the other one in January 2020. 

And in February last year, a unit at the same condo was bought by a Chinese man and a Singaporean woman, with the latter buying another unit on the same floor under a trust. 

Since each floor at Le Nouvel Ardmore consists of two units, these families essentially have the whole floor to themselves. 
Le Nouvel Ardmore isn't the only condo with a whole-floor kind of transaction. Back in June 2016, three units on the same floor at Ardmore 3 were sold on the same day, though it's not publicly known if they're bought by one family. 

Our take on the purchase 
The EDEN purchase may probably be the most expensive residential property transaction in the billionaire's belt, given that it's for all 20 units in the development. But in terms of price per unit, there are a couple of units that have fetched a higher price tag. 
Nevertheless, having a single family purchase a whole condo development is extremely rare, with the only other person known to have done that being Peter Lim. What's also uncommon is a family buying all the units on a single floor. On the other hand, paying for prime location, exclusivity, privacy and huge floor area in a land-scarce country may be worth the investment for ultra-high-net-worth individuals. 
Now can we ask any one of these homeowners to invite us over for tea?
If you found this article helpful, 99.co recommends What has Leo KoGuan, who now lives in James Dyson's former penthouse in Guoco Tower, has to do with Tesla?, Core Central Region (CCR) condos: Is Dyson's $11.8 million loss a warning sign? and REVEALED: How Vicki Zhao's husband bought his $28 million Ardmore Park penthouse. 
Looking for a property to buy or rent? Find your dream home on Singapore's largest property portal 99.co!
Looking for a property?
Find the home of your dreams today on Singapore's fastest-growing property portal 99.co! If you would like to estimate the potential value of your property, check out 99.co's Property Value Tool for free. Also, don't forget to join our Facebook community page or Telegram chat group! Meanwhile, if you have an interesting property-related story to share with us, drop us a message here — and we'll review it and get back to you.
Note that this content may be reproduced in edited form on our content partner sites. They include AsiaOne and Yahoo South-East Asia but are not limited to these.