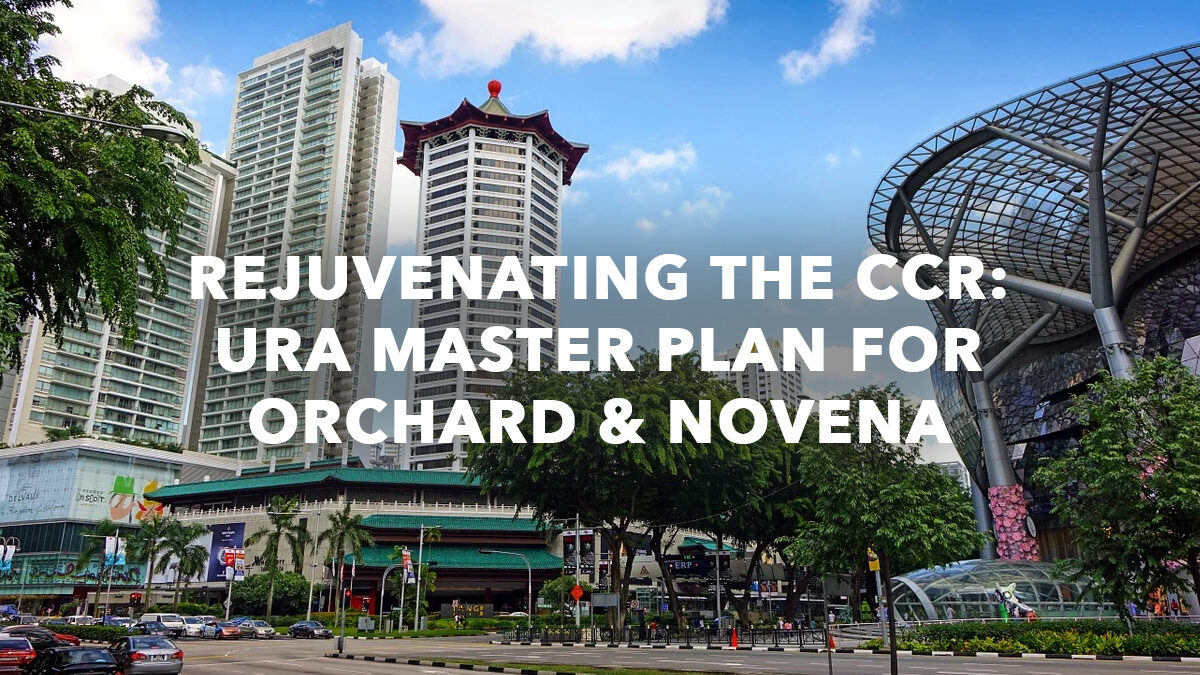 Residential property prices in Orchard and Novena (and Newton) in the Core Central Region (CCR) are set to benefit from the upcoming URA Master Plans to enhance both districts. We look at what these Master Plans entail and how both districts are expected to change over the coming decade.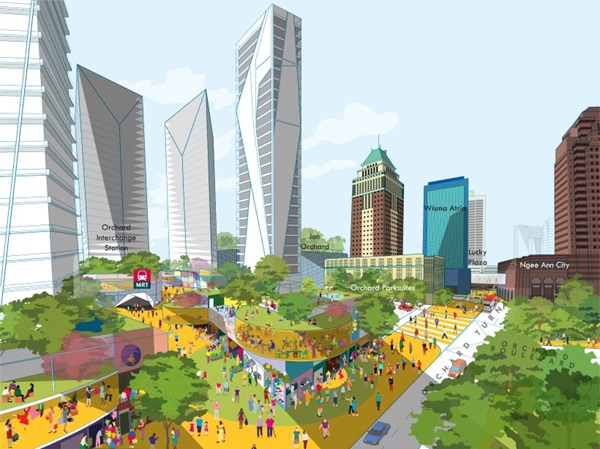 The URA Master Plan is what savvy property buyers look at when researching a potential property for either homestay or as an investment option. Created by the Urban Redevelopment Authority (URA), the Master Plan is the statutory land use plan for Singapore's development in the medium term (over the next 10 to 15 years), indicating how future actions in the region could impact the value of a property or the quality of living in the future.
Orchard and Novena are the most popular districts in the CCR, and we take a look at what their master plans are, and how they will affect developing and existing properties and living conditions.
Novena (District 11)
Mainly an upmarket residential area, Novena is best known for its variety of shopping malls such as United Square, Goldhill Plaza Mall, Square 2 and Velocity – all within proximity of Novena MRT.
Most of the residential properties in the area consist of mid-level to high-end private condos and landed homes, with very few public housing units. Composed of five sub-zones (Mount Pleasant, Moulmein, Thomson, Malcolm and Balestier), Novena is home to just under 50,000 residents over its nine square-kilometre radii.
The most significant changes in the URA master plan for Novena are in transport and healthcare, potentially advantageous to current and future residents and investors.
Following Zhongshan Park's creation, more park connectors will be built within Novena, giving residents better access to Toa Payoh Town Park and Kallang Riverside. Several commercial developments – either finished or being built – will bring more employment opportunities to the region.
One of the most significant upcoming projects in Novena is the Health City Novena by Tan Tock Seng Hospital (TTSH), slated to be completed by 2030.
As the country's largest, future healthcare model of healthy, active living (emphasising care and community), the upcoming integrated master plan development has provided jobs to an extra 30,000 healthcare professionals to date. The 17-hectare modern integrated healthcare complex will physically link TTSH, the medical school, and all public and volunteer healthcare facilities, expecting a 30,000 daily visitor rate upon completion.
Developed in consultation with stakeholders and the community since its conceptualisation in 2010, Health City Novena aims to enhance residents' health in the CCR. In addition to TTSH, the project will cover 600,000 sqm, including a new community hospital and the Dover Park Hospice in an integrated intermediate care hub.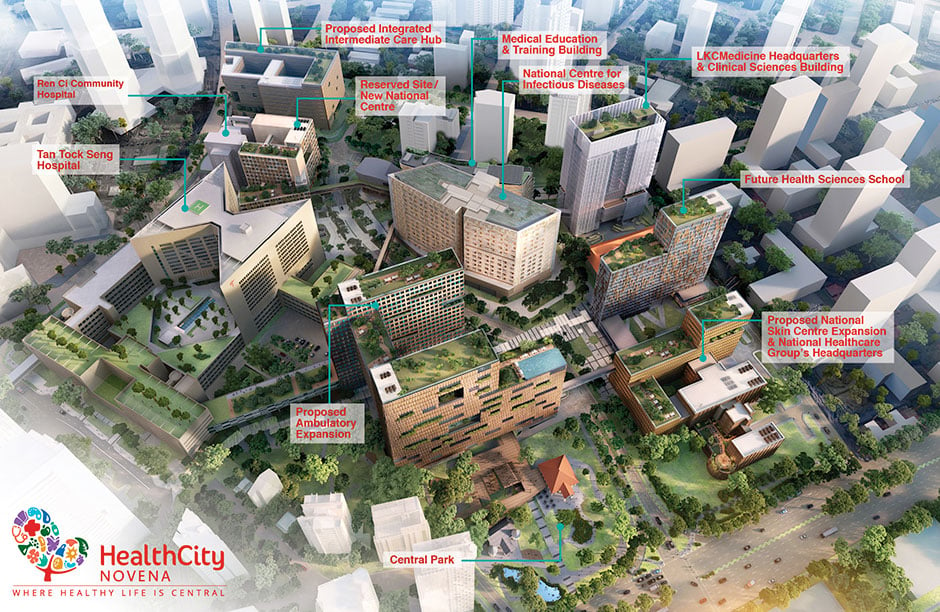 With the increasing demand for local medical services and medical tourism, Health City Novena is likely to push up demand for residential properties in the region, potentially increasing property prices and attracting local buyers and foreign investors alike. Also likely are new amenities to boost the region's appeal and a significant increase in the number of medical professionals living close to the Health City, given the easy connectivity from Novena MRT to other medical clusters.
From an investment opportunity point of view, savvy investors would benefit much more from the potential future growth in prices by purchasing a property in Novena now, rather than waiting for the medical city's completion in another nine years.
Furthermore, as there are no land parcels in the Novena Planning Area, the supply of new freehold residential developments within the medical hub is also capped (barring any en bloc sales). The medical cluster area is reserved for expanding supporting amenities and medical facilities under Health City Novena's masterplan.
With the limited supply to meet the expected demand and growth, expect prices of freehold developments within the medical cluster to appreciate.
Four elements of Tan Tock Seng hospital's Master Plan
There are four critical elements to the TTSH master plan – Care, Continuous Learning & Innovation, Community and Connectivity.
In line with Health City Novena's Integration with Community mission, a Central Park will be the project's most significant green space when completed, providing an elevated walkway for pedestrians, an open-air theatre, playgrounds, gardens and F&B terraces.
The green space gives the environment a more eclectic and cosmopolitan yet community-centred character, with easy access to the MRT station. Preserving the proud heritage of this corner of Novena is an important future goal.
For Integration through Connectivity, the completed development will feature smooth traffic flows thanks to a highly connected network of public walkways, streets, boulevards and roads. Movement between healthcare buildings within the Health City will be via dedicated sky bridges, built at the same level throughout Health City to ensure easy transfers and privacy.
In terms of transport plans, Novena has seen three new stations open in the vicinity on the Downtown Line 2 at Newton, Stevens and Botanic Gardens in the last three years, with two on the Thomson Line – Mount Pleasant and Stevens.
The North-South Corridor will also come through Novena, providing quicker access to the south and north of the island. Furthermore, the new park connectors along Sungei Whampoa and Adam Road will enhance transport and recreational connectivity for Novena residents.
Orchard (District 9)
Not to be outmatched, future property prices in the Orchard Boulevard area are set to appreciate with the Orchard Boulevard station and Orchard interchange station's expected opening as part of the Thomson-East Coast Line in 2023.
Plans are underway to rejuvenate Orchard Road as a lush urban corridor for shopping and lifestyle, with seamless connectivity to the Singapore Botanic Gardens and Fort Canning Park.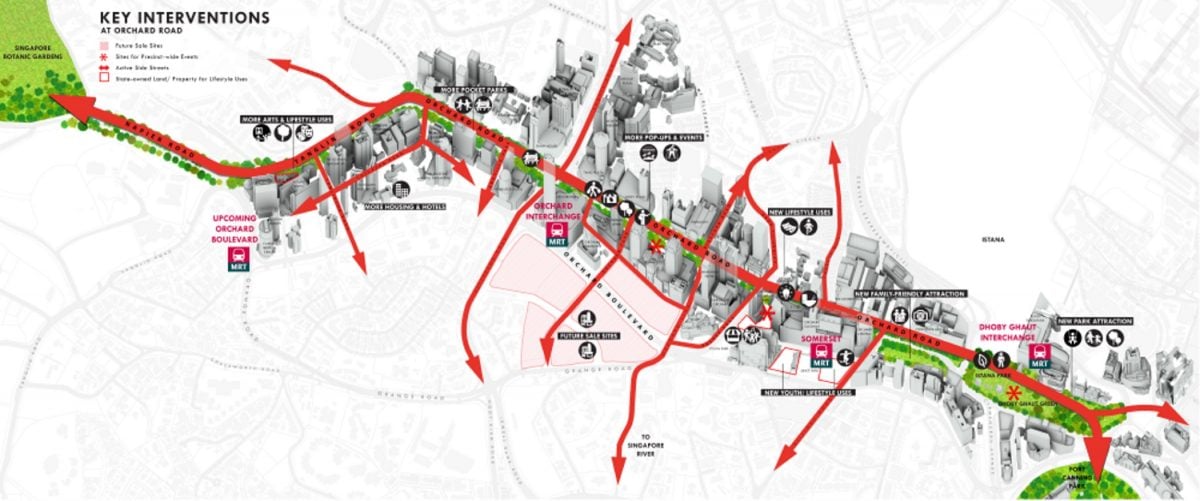 Aptly modelled as "A Green Oasis in the City: From Orchard to Singapore River", this trifecta effort is initiated by The Singapore Tourism Board (STB), Urban Redevelopment Authority (URA) and National Parks Board (NParks). The corridor will form part of a six-kilometre green connection linking key historic green and blue spaces in the city centre between Singapore Botanic Gardens, Istana, Fort Canning Park and Singapore River.
If successful, the Orchard Road area and vicinity will presumably keep its prime property district status, counterbalancing the Greater Southern Waterfront's pull. There will be a strong push-up on property prices with a rejuvenated Orchard area.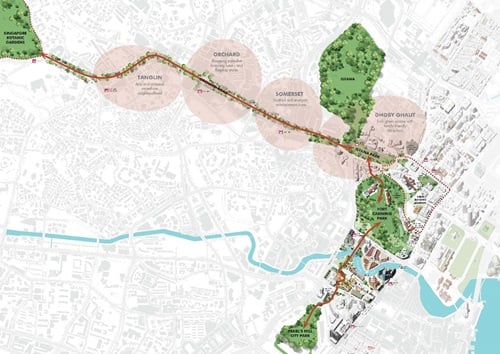 Increasing mobility in the CBD
Efforts are also underway to improve mobility in the CBD, including transforming Robinson Road into a transit-priority corridor reserved for public transport, cycling paths and pedestrian walkways – demarcating a car-free zone at Orchard Road's 2.4km stretch.
By 2021, more than 5km of cycling paths will be added to the existing 22km network in the central area.
URA's Draft Master Plan includes two other initiatives to revitalise the central area and increase footfall to vacant properties in the CBD. These are mainly for short-term use by converting ageing developments to other purposes such as hotels and residential use.
The first is the CBD Incentive Scheme, where mixed-development 99-year leasehold sites around Orchard Interchange will be offered under the Government Land Sales (GLS) programme. The plan is to give developers a higher gross plot ratio as an incentive to redevelop older properties into mixed-use buildings.
The other is the Strategic Development Incentive Scheme (SDI Scheme), where developments can increase their gross plot ratio or attain flexibility on other development controls using innovative proposals to transform the precinct. Such ideas include the provision of high-quality public spaces, car-lite measures and conservation efforts.
To qualify for this scheme, buildings must meet a minimum age of 20 years from the last temporary occupation permit date.
These initiatives positively promote ground-up ownership, private participation in rejuvenating Orchard Road and attracting owners of ageing retail malls outside of the central area. At the current moment, many retail developments along the belt face dwindling footfall in the face of the rising e-commerce industry.
While both schemes have positive intentions, the caveat is the potential for the indirect rise in CBD office rents, as redevelopments could mean limited supply in office space.
Orchard Road will be divided into four sub-precincts to support Orchard's rejuvenation vision of making it 'The Lifestyle Destination' and 'Bring Back the Orchard'.
The Lifestyle Destination
As a lifestyle destination, Orchard Road will offer differentiated experiences to showcase each sub-zone's unique identity. These include innovative retail concepts, attractions, entertainment and events to cater to varied interests.
Side-streets such as Killiney Road and Orchard Turn will be enhanced to allow visitors to explore the precinct's lesser-known parts, allowing better connectivity of Orchard Road with the surrounding neighbourhoods.
Tanglin
New lifestyle experiences at Tanglin can strengthen its identity as a mixed-use neighbourhood with solid art and artisanal flavour, supported by the Orchard Boulevard MRT station's upcoming opening for the Thomson-East Coast Line. For instance, Tudor Court, conserved as a heritage site, can house more arts, cultural and lifestyle offerings.
Orchard
Orchard Road's shopping experience will be enhanced through more street activities and better pedestrian connectivity. Future mixed-use developments will be built at the upcoming Thomson-East Coast Line's Orchard Interchange MRT station – necessary for better connectivity to Orchard Road through side-streets and elevated link bridges.
Somerset
Popularly known as the youth hub, Somerset is set to add new lifestyle offerings catering to youths, such as transforming the Grange Road car park into a dynamic event space for a wide variety of activities. The recently-opened Design Orchard adds to the retail diversity available on Orchard Road by offering promising home-grown brands the opportunity to present themselves in incubation spaces and the rooftop amphitheatre.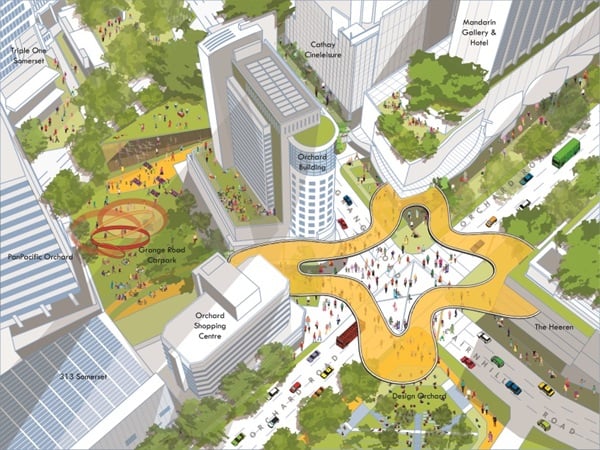 Dhoby Ghaut
Envisaged as a family-friendly lifestyle zone, nestled in lush greenery, existing green spaces at the Istana Park, Dhoby Ghaut Green and the open space at Plaza Singapura can be linked by pedestrianising a section of the road. More space will be available to create children play areas and flexible event venues for festivals and fashion shows.
Bring Back the Orchard
With Orchard Road's origins as a nutmeg, clove and fruit orchard; and Singapore's international reputation of being a City in a Garden, Orchard Road's vision is a lush green urban corridor connecting historic green spaces.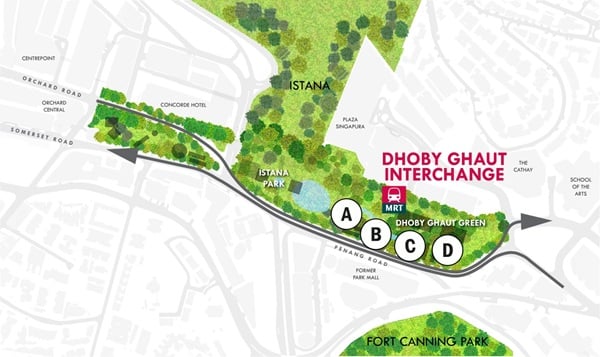 Plans include:
Enhanced accessibility to Singapore Botanic Gardens and Fort Canning Park
Better connectivity to Singapore River from Fort Canning Park
Redesigning Istana Park by pedestrianising a section of Orchard Road – from Buyong Road to Handy Road. The existing Dhoby Ghaut Green and Penang Road Open Space will be used to create a larger green space (more than triple in size).
The new park will house a new nature play garden on Orchard Road, with themed gardens inspired by the botanical and horticultural traditions and practices in line with Singapore's history.
Flexible spaces will be created for lifestyle programming and commercial establishments to extend their activities into a park setting and bring more incredible vibrancy into the entire area. No doubt, this will push up residential property prices as the area becomes more attractive.
Fort Canning Park
In 2019, NParks completed works for the first phase of enhancements for Fort Canning Park, including restoration of nine historical gardens and improved pedestrian access to Fort Canning Park from the River Valley Foothills.
The second phase of enhancements includes strengthening the connectivity from Istana Park to Fort Canning Park via an upcoming linkway at 9 Penang Road (former Park Mall) and sheltered escalators at Canning Rise to improve the accessibility of Fort Canning Centre at the peak of Fort Canning Park.
With Fort Canning Centre slated to be repurposed as a historical gallery to showcase the hill's rich history, visitors can look forward to new multi-concept lifestyle offerings to complement the art, heritage and cultural elements as well as new F&B offerings at the Centre.
Furthermore, with better pedestrian connectivity linking Canning Rise to Fort Canning Centre, residents and visitors can look forward to more community amenities along Clarke Quay Road and Merchant Road.
Singapore River
With plans for a new landmark waterfront hotel development in Clarke Quay, the public can look forward to more vibrant and delightful public spaces along the riverfront. With the upcoming redevelopment of Liang Court, part of Clarke Quay Road that currently separates Liang Court and the river may soon transform into an attractive pedestrian promenade.
In the longer term, to further enhance connectivity in the precinct and to create a continuous hill-to-hill connection from Fort Canning Park, ideas such as new linkages across Merchant Road to connect Singapore River to Riverside Village and Pearl's Hill City Park are being studied.
When completed, the public will enjoy a seamless belt of recreation and leisure stretching from Orchard Road and Istana Park, onto Fort Canning Park and towards Singapore River and eventually Pearl's Hill City Park.
---
What else do you think can be included in the Master Plan? Share them in the comments section below.
If you found this article helpful, 99.co recommends URA unveils red-hot condo sites at Buona Vista for 2021 and URA Master Plan for Property Buyers: How to understand it.
About Priyanka Elhence
Looking to sell your property?
Whether your HDB apartment is reaching the end of its Minimum Occupation Period (MOP) or your condo has crossed its Seller Stamp Duty (SSD) window, it is always good to know how much you can potentially gain if you were to list and sell your property. Not only that, you'll also need to know whether your gains would allow you to right-size to the dream home in the neighbourhood you and your family have been eyeing.
One easy way is to send us a request for a credible and trusted property consultant to reach out to you.
Alternatively, you can jump onto 99.co's Property Value Tool to get an estimate for free.
If you're looking for your dream home, be it as a first-time or seasoned homebuyer or seller – say, to upgrade or right-size – you will find it on Singapore's fastest-growing property portal 99.co.
Meanwhile, if you have an interesting property-related story to share with us, drop us a message here — and we'll review it and get back to you.
Join our social media communities!
Facebook | Instagram | TikTok | Telegram | YouTube | Twitter