In October 2020, British inventor and billionaire entrepreneur Sir James Dyson sold Singapore's largest penthouse at Guoco Tower's Wallich Residence for S$62m – at a reported S$11.8m loss – to another billionaire, 66-year-old Leo KoGuan, the Indonesian-born, US-citizen tycoon.
At the time, not much was known about the self-made businessman who's taken over the prestigious status of living in Singapore's tallest skyscraper's triplex penthouse.
What we knew then was that he was a Columbia University-educated law graduate who co-founded the IT firm SHI International in the US with his then-Bangkok-born wife Thai Lee.
According to Forbes, in 1989, KoGuan and Lee paid less than US$1m through loans and savings for Software House, which sells licenses for programmes like Lotus 1-2-3. It was also the same year they got married.
Despite a thriving business selling IT solutions to major companies, the couple divorced in 2002 (they have two teenage children) but remain as business partners. KoGuan is the firm's chairman, while his former wife, Lee, is CEO and president of the private company.
SHI, with revenues of over US$11b (2020), currently employs 5,000 employees across 35 offices worldwide, with over 20,000 customers, including corporations like Boeing and AT&T.
In 2008, after the Leo KoGuan Foundation pledged US$30m to construct a law building on campus, the law school at Shanghai Jiao Tong University in China was named after him.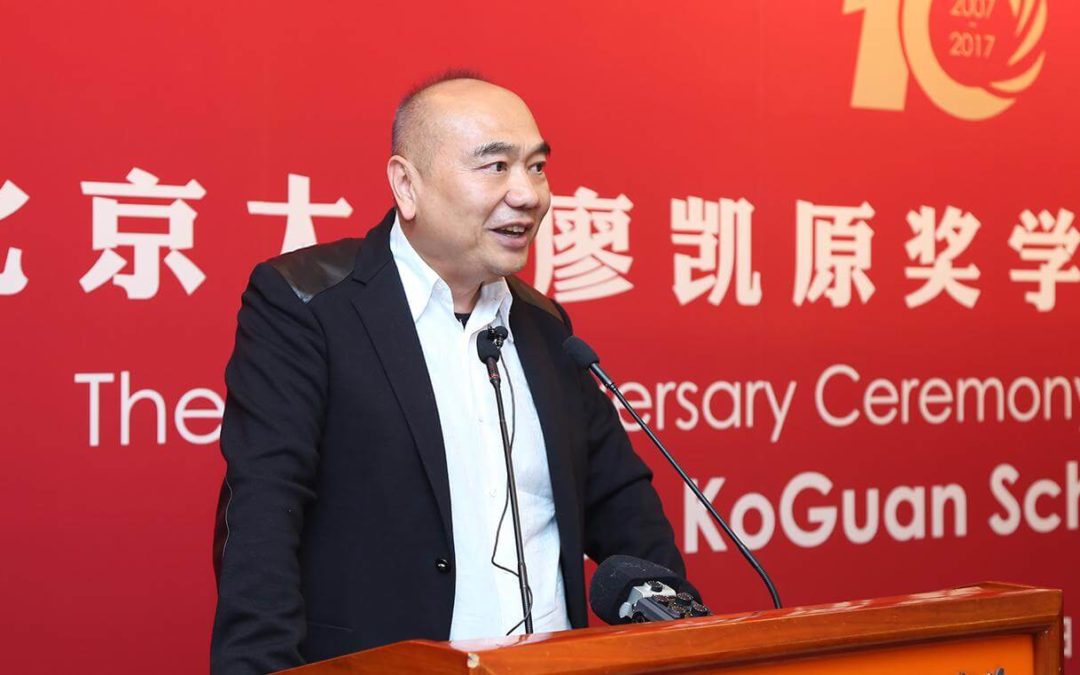 With a reported net worth of US$2.1b, KoGuan, who is now known as Professor Leo, has become more active on social media, particularly Twitter.
While his account, labelled as KoGuan Leo (@KoguanLeo), doesn't have the verified blue tick like most verified users (he's been asked to do so by a follower), the feed itself, which started with festive greetings from September 2019, has begun showcasing retweets about electric cars, Tesla and Elon Musk.
At this juncture, we'll leave it to your own judgement to see if this Twitter account, and its posts, are from the real Leo KoGuan: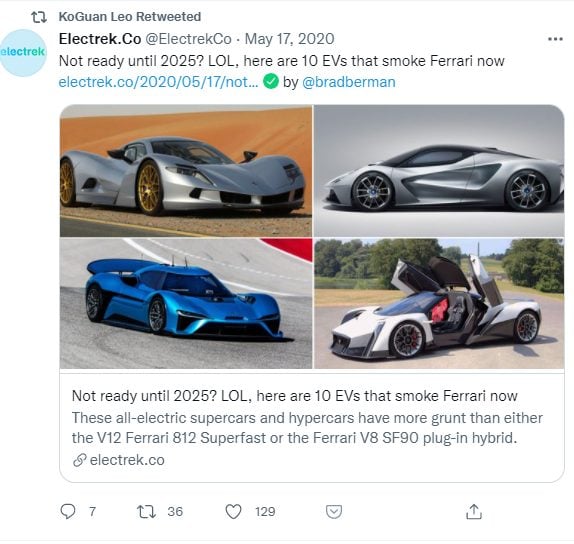 When Elon Musk famously tweeted about the suspension of Tesla vehicle purchases using Bitcoin, due to concerns over the use of fossil fuels for Bitcoin mining and transactions, the KoGuan account retweeted it with the comments: 'Yes, I agree. Good decision.'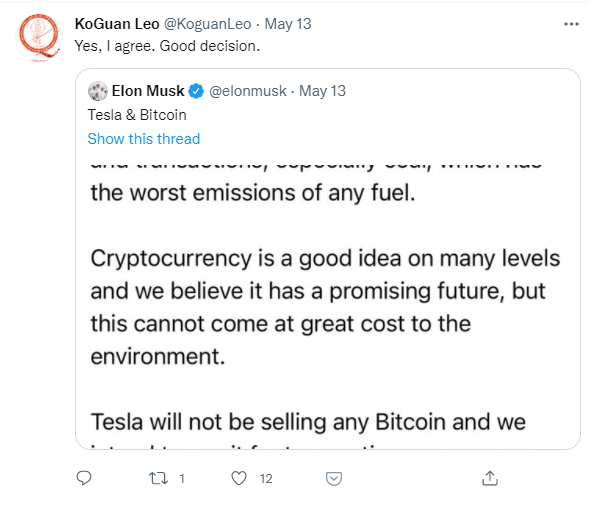 Just two weeks ago on September 11, 2021, KoGuan tweeted a video of a Tesla Model X SUV (with its falcon-wing doors) – at what looks like the entrance driveway of Wallich Residence – with a greeting to all Tesla bulls and a "let's fly to Mars" comment.
My Tesla from Singapore would like to greet all Tesla bulls "hello "…let's fly together to Mars. pic.twitter.com/roJ3hwnHB5

— KoGuan Leo (@KoguanLeo) September 11, 2021
KoGuan's fascination and retweets of Elon Musk and Tesla is no surprise if you're a Tesla fanboy or shareholder yourself.
His subsequent tweets have included praise for Tesla's Full Self-Driving Beta software, or FSD, which is the automaker's driver-assist automated driving software. Basically, FSD beta has been on trial among a select few Tesla employees and car owners and is ready for release to a wider fleet in the US.
Among many of KoGuan's recent social media messages, he has retweeted support for the Singapore Tesla Owners club; foresees that in the future, ICE (internal combustion engine) cars may be dead; is intrigued by AI and virtual technologies (in line with the Teslabot announcement), and expressed his bullishness over the automaker's stock (with a caveat to his followers to DYOR – do your own research).
He's even recommended his followers (ie. young investors) to read the book The Richest Man in Babylon by George S. Clason.
In tweets as recent as September 15, 2021, the KoGuan account has shared that he's been buying more Tesla shares. On September 23, 2021, it's been confirmed that Professor Leo is now the third-largest individual shareholder of Tesla stock (holding over 6.2m shares) to the tune of US$4.6b – just behind Elon Musk and Oracle co-founder Larry Ellison.
I can confirm this

— Martin Viecha (@MartinViecha) September 23, 2021
Yep, the third-largest individual shareholder of Tesla now lives in Singapore.
When a tweet urged him to sell his Singapore penthouse to become the number 2 shareholder after Elon, KoGuan replied with this tweet: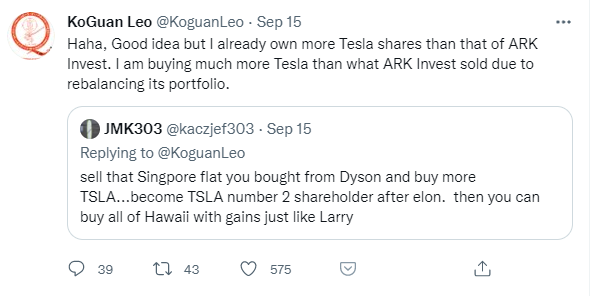 Over the past week, KoGuan's tweets have focused on XuanYuan 2.0, which is a culture and civilisation system centred around Chinese rule of law and principle.
He's also tweeted and shared the view from his penthouse with some pretty meta-commentary:
The moon and I are enjoying each other company. We are watching the boats passing by the Straits of Malaca. Imagining Admiral Zheng He of Ming was proudly showing off his 400 ships strong armada. pic.twitter.com/WKWKfKNo9l

— KoGuan Leo (@KoguanLeo) September 21, 2021
When reading the tweets, it is clear that KoGuan is a firm believer in the eventual dominance and transformative experience the electric vehicle can bring us, the ability for artificial intelligence (A.I.) to someday surpass human capability in routine operations (eg. driving a car), and KQID – KoGuan Quantum Infodynamics – a metaphysical time-based equation he created to achieve his Xuan Yuan dream.
It is not every day that the public gets to see ultra-high-net-worth individuals (UHNWIs) like Professor Leo share their day-to-day thoughts, passions and drive on social media.
It is even rarer when it's from someone living in Singapore's bungalow in the sky.
–
Apartments for sale in Wallich Residence
Wallich Residence
3 Wallich St · D2
2
2
$3,292,170
Wallich Residence
3 Wallich St · D2
4
4
$6,038,000
Wallich Residence
3 Wallich St · D2
3
3
$5,500,000
Wallich Residence
3 Wallich St · D2
4
4
$6,038,000
Wallich Residence
3 Wallich St · D2
3
2
$5,557,300
Wallich Residence
3 Wallich St · D2
1
$2,206,760
Wallich Residence
3 Wallich St · D2
1
1
$2,206,760
Wallich Residence
3 Wallich St · D2
2
2
$3,292,170
Wallich Residence
3 Wallich St · D2
4
4
$6,280,000
Wallich Residence
3 Wallich St · D2
3
3
$4,000,000
–
Does this story help you understand Leo KoGuan better? Let us know in the comments section below or on our Facebook post. 
If you found this article helpful, 99.co recommends Ultra-high-net-worth individuals who bought or sold bungalows or entire property blocks in Singapore recently and 7 reasons Singapore continues to be a safe haven for foreign property investors.
Looking for a property? Find the home of your dreams today on Singapore's fastest-growing property portal 99.co! If you would like to estimate the potential value of your property, check out 99.co's Property Value Tool for free. Meanwhile, if you have an interesting property-related story to share with us, drop us a message here — and we'll review it and get back to you.