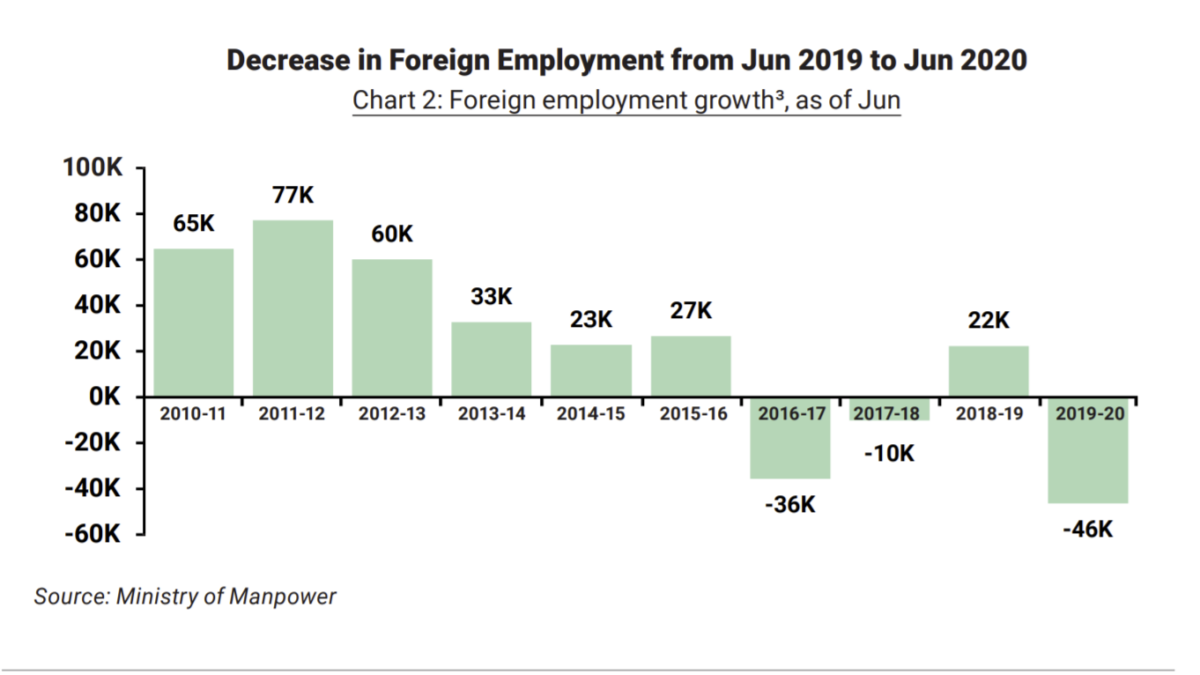 According to the latest statistics by the Ministry of Manpower, the number of Employment Pass (EP) holders decreased from 193,700 in December 2019 to 189,700 in June 2020. Meanwhile, S Pass holders decreased from 200,000 to 188,000 over the same period.
The data was part of a report released by the National Population and Talent Division on 24 September, which showed a 0.3% decline of Singapore's population in the past year. This is the first negative population growth since 2003, when population fell by 1.3% year-on-year in the wake of the dot-com bust.
Overall, the number of non-residents in Singapore fell by 2.1%, from 1.68 million in June 2020 to 1.64 million as of June 2020. This was "largely due to a reduction in foreign employment in services", the report said.
Specifically, the number of Permanent Residents (PRs) in Singapore fell by 4,000, from 525,000 to 521,000. The number of foreign students also fell by about 1,600.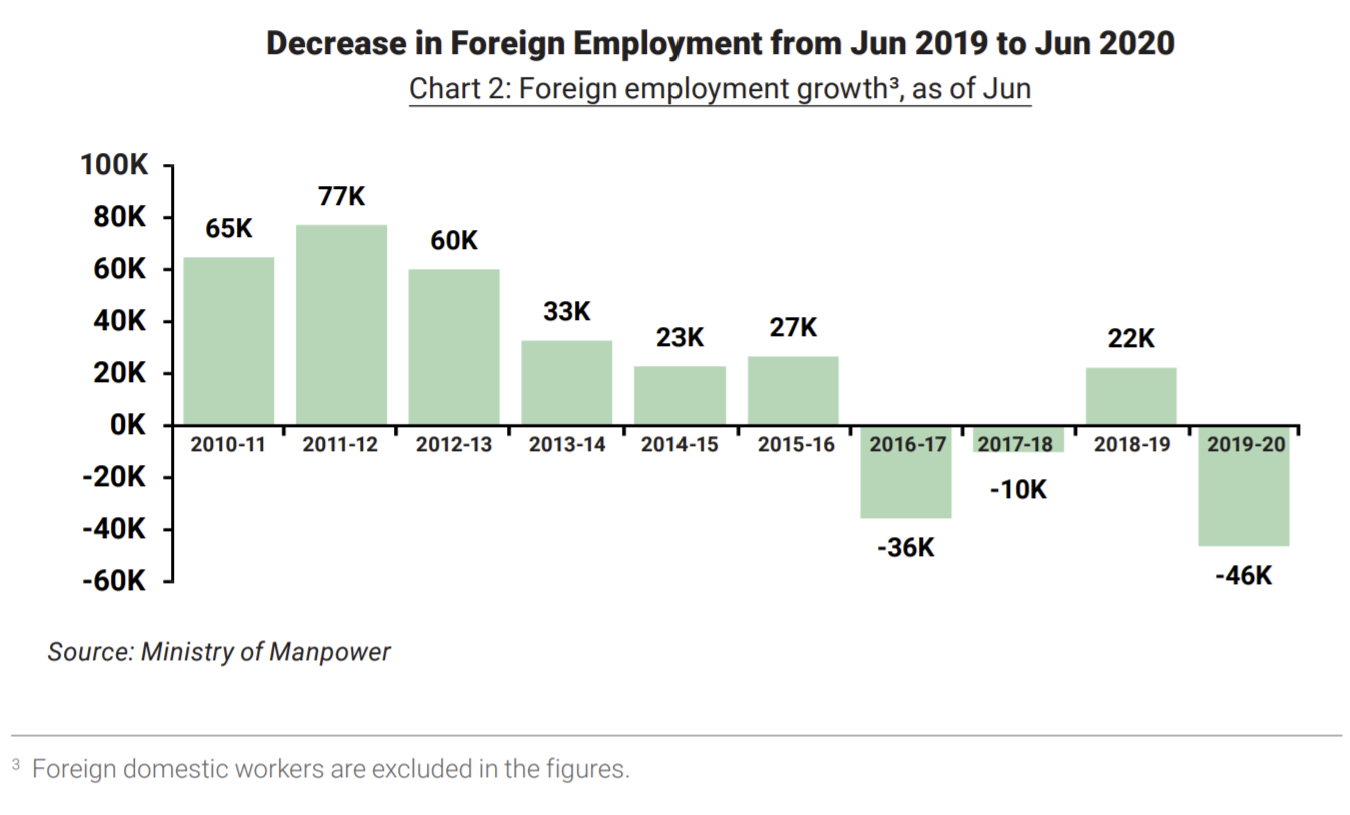 Fall in S Pass holders three times the number of EP holders
From December 2019 to June 2020, S Pass holders fell by 12,000, which makes up about 6% of the group. In comparison, EP holders fell by 4,000, about 2% of the group.
It's not surprising that S Pass holders fell by a greater magnitude, as many of them happen to work in service sectors such as hospitality and F&B, which are most adversely impacted by the Covid-19 economic slowdown.
The S Pass is granted to mid-level skilled staff who earn at least $2,400 a month and have the relevant qualifications and work experience. Employment passes, on the other hand, are geared towards foreign professionals, managers and executives who earn at least $4,500 a month.
Upon losing their jobs, EP and S Pass holders have a non-extendable 30-day grace period to find another job (which is unlikely given the circumstances) or complete any formalities before returning to their home country.
[Recommended article: 
7 things Singapore landlords MUST DO to survive the 2020 recession
]
Rental demand for CCR condos likely to be most affected
At their income level, the majority of S Pass holders live in HDB flats either rented by themselves or by their employers. Typically, these S Pass holders rent individual rooms in a HDB unit, spend less on rental and rent fewer square footage per person than EP holders.
So, while the fall in S Pass holders across the board is quite significant and is a trend that will likely continue, the impact on HDB landlords is likely to be cushioned. For instance, if one of three S Pass tenants terminate a tenancy for a room in a HDB flat, the HDB landlord will still retain a decent stream of rental income.
It's a different story for condo landlords, who typically rent entire condominium units to EP holders. The departure of EP holders typically result in wholesale vacancies and a 100% drop in rental income for these landlords.
Housing also typically forms a bigger portion of an EP holder's total monthly expenditure, so condo landlords are 'more exposed' to any pay cuts that EP holders might receive, either in the form of their tenants requesting lower rent or having to move to cheaper housing.
So, even though the initial impact of a decrease in EP holders will be spread out across Singapore's condos, it is conceivable that condos in the Core Central Region (CCR) could end up being most affected.
There's good reason for this: Aside from EP holders who leave Singapore for good, a significant number might also seek a move to more affordable condos in the Rest of Central Region (RCR) and the Outside Central Region (OCR). The fact that working-from-home is likely to become a semi-permanent affair may accelerate the emptying out of condo units for rent in the CCR.
We'll likely see condo rents fall the most in the CCR until the economy improves. Conversely, RCR and OCR condos that are near to public transport amenities will likely see rental demand hold up well. EP holder tenants used to paying higher rent in the CCR may also offer landlords a rate that they're happy with—at or not far off the going rate before the pandemic.
Possible strategies for HDB landlords
As discussed, HDB landlords renting out individual rooms shouldn't worry too much about losing a tenant. For stay-in landlords who are sensitive to any loss in rental income, they may consider moving out of the master bedroom and putting it up for rent, as master bedrooms can net up to 50% higher rent than common bedrooms.
Also, HDB landlords formerly renting out the whole flat to a single master tenant and now find their flat vacant should consider renting out separate rooms, to ensure some form of rental income.
Should condo-dwelling landlords who rent out their HDB flats find themselves in a tight financial situation with a vacant flat, they might also consider listing both properties for rent, and be open to the interim option of moving out of their condo and back into the HDB flat they originally bought.
As a last resort, landlords may consider to sell either one of two properties. Additional prudence must be taken when selling the HDB flat, as that is considered a vital fall-back for Singaporeans (especially if the flat is fully paid up).
If you require assistance, seek out a property agent for personalised advice what your next steps should be, and find out what opportunities are ahead.
Should landlords worry about the fall in EP and S Pass holders? Share your thoughts in the comments below!
If you found this article useful, 99.co recommends How to Hunt for Fire Sale Properties in a Recession (other than auctions) and 7 Small Things Landlords can do to Retain Student Tenants
Looking for a property? Find your dream home on Singapore's most intelligent property portal 99.co!
New launch alert! Welcome to Grand Dunman
About Kyle Leung
Content Marketing Manager @ 99.co
Looking to sell your property?
Whether your HDB apartment is reaching the end of its Minimum Occupation Period (MOP) or your condo has crossed its Seller Stamp Duty (SSD) window, it is always good to know how much you can potentially gain if you were to list and sell your property. Not only that, you'll also need to know whether your gains would allow you to right-size to the dream home in the neighbourhood you and your family have been eyeing.
One easy way is to send us a request for a credible and trusted property consultant to reach out to you.
Alternatively, you can jump onto 99.co's Property Value Tool to get an estimate for free.
If you're looking for your dream home, be it as a first-time or seasoned homebuyer or seller – say, to upgrade or right-size – you will find it on Singapore's fastest-growing property portal 99.co.
Meanwhile, if you have an interesting property-related story to share with us, drop us a message here — and we'll review it and get back to you.
Join our social media communities!
Facebook | Instagram | TikTok | Telegram | YouTube | Twitter