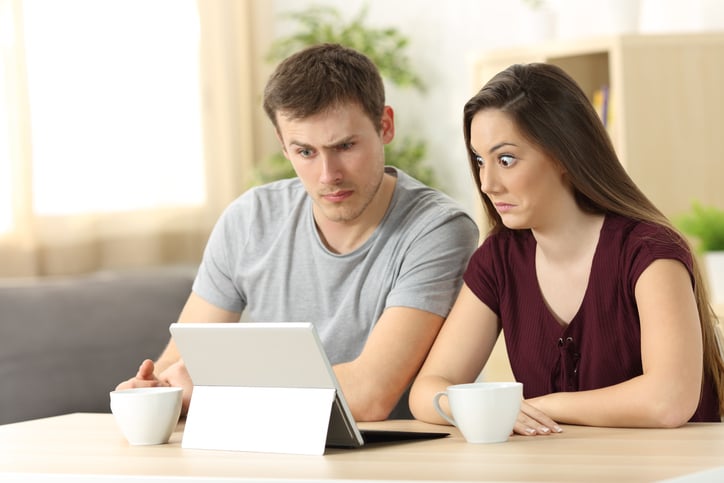 Renting a place in Singapore can be daunting. So we've done up this rental guide to help you rent a place, be it a room or the whole unit, at a condo, a landed property or an HDB.
The guide encompasses a vast number of sub-guides, each of which serve both their individual purpose and a collective one in that when taken together, they form a wholesome chronology of the house hunting journey from the moment you start searching on the internet to the time when you have settled into your new home.
Singapore Rental Guide Unraveled 
1. Search
2. Viewing
3. Negotiations
6. Good faith deposit vs security deposit
Extra
I. To hire or not to hire an agent
III. Inspection checklist
The rental timeline
In our experience, you should start looking for your next home about two months prior to your intended move-in date. House hunting can be unpredictable and you might take longer than expected to find your desired place. This is especially with the current restrictions on household visitors.
What's more, by starting your search in advance, it gives you more time to explore the surrounding areas of the shortlisted properties and see which best suits your needs and lifestyle.
Week 1: Getting started
Whether you're spreading your wings and leaving the parents' nest for the first time, or are simply new to Singapore, it will be well worth doing some reading-up before you jump into the jungle that is the Singapore rental market.
Our suggested reading list includes:
You may also want to check the median rental rates for HDB flats and private properties to get a better idea on how much you should pay for your rent.
After familiarising yourself with the local real estate market, it's good to list down your requirements and expectations. This way, you can narrow down your rental search.
Week 2 -3: The search
Once you have got your ducks in a row and have a fairly good idea of what to look for, go on 99.co and start your search! Besides location, you can filter your search based on things like the distance to the MRT station, furnishing, floor area and price range.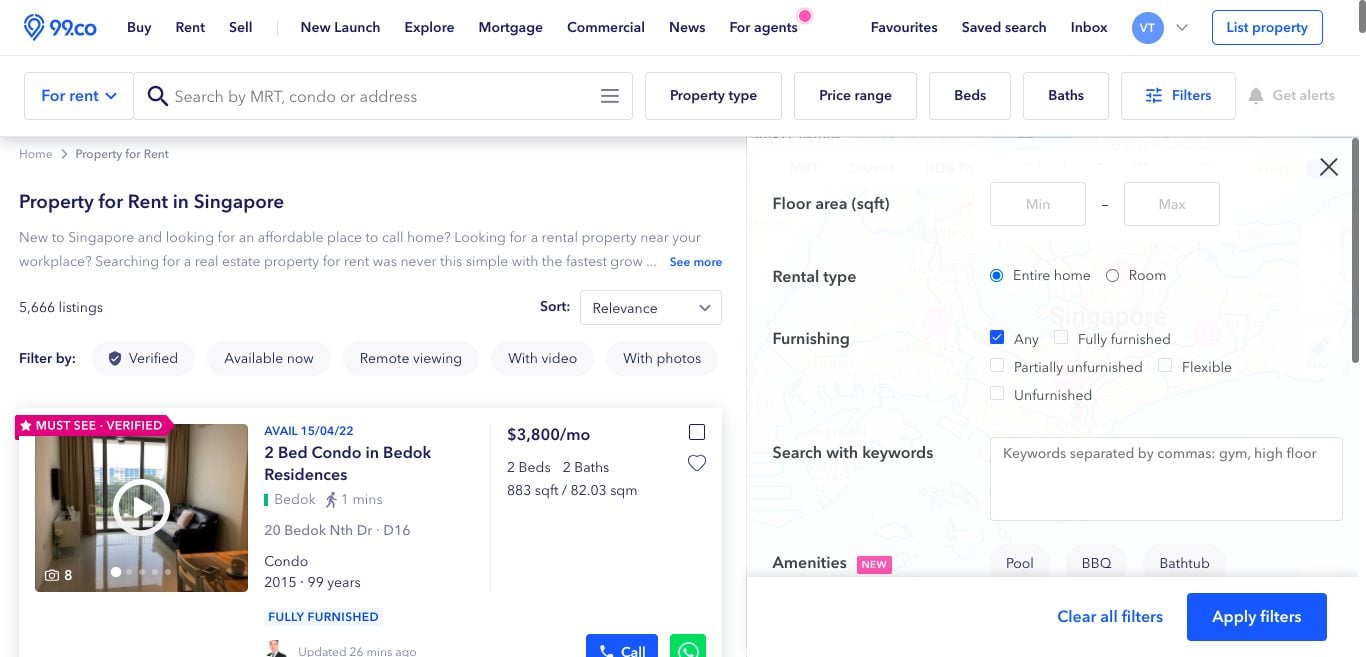 Found a few properties that suit your needs, but need more time to look for other options? You can bookmark them first by clicking on the shortlist button.
Week 2-4: Viewing
While pictures may say a thousand words, it's still best to go for a house viewing. Whether it's a virtual or physical viewing, take your time to look around the place and ask the landlord and agent any questions you may have about the place.
And most importantly, ask yourself if you see yourself living there for the next one to two years.
Before going for a viewing, though, you might want to check out our viewing guide for some tips. And here's a viewing checklist which comprises a handy list of things to look out for during a viewing.
Week 5: Negotiating and offering
Once you've found the right rental place, it's time to negotiate the terms of the deal. As a rule of thumb, to rent in Singapore is a true haggle-fest; rental prices are always negotiable and nothing is set in stone. World-class salesmen and top-notch negotiators, this is your chance to shine.
For everybody else, we have crafted a step-by-step negotiation guide that will teach you the basic tricks of the game and hopefully help you save a few hundred dollars from your monthly expenses.
After the negotiation is done, the common way forward is to write up a letter of intent (LOI) and send the landlord a good faith deposit to secure your future home. Doing so signals that you intend to sign the tenancy agreement, so your landlord will stop looking for potential tenants.
Week 6: Signing the Tenancy Agreement
Next, the landlord will prepare a tenancy agreement. This is the official lease contract. Signing it seals the deal and marks the end of your house hunting. So special attention should be given to it.
All the clauses, caveats and arrangements you and the landlord have agreed on during the negotiation phase should be reflected in the rental contract. If there's any clause that's unclear, ask the landlord or agent before signing it. Some clauses to pay attention to include Diplomatic Clause and Minor Repair Clause.
This is because if you ever get into a dispute with your landlord, this is your go-to document to back you up, so make sure you're crystal clear with everything in it.
This is also the time to pay the security deposit (if you've paid the good faith deposit earlier, it will now be the security deposit). It is generally one month's rental for every year of lease, and serves to cover any property damage you may incur. If there's no damage, it will be refunded at the end of the lease.
You can make the payment either by bank transfer or cheque, or with your credit card via CardUp.co. This is especially beneficial if you haven't set up a local bank account yet.
If you choose to hire an agent to help with your search, you may need to pay them commission. There's no fixed rate, but the common practice is that if you've signed a lease of two years with a monthly rent of less than S$3,500, you'll need to pay your agent one month's commission.
And whether you're renting a room or the whole unit, you'll have to pay the rental stamp duty as well.
Week 6-7: Moving
When you move into your new place, it's important to do a thorough inspection to make sure everything is as stipulated in the tenancy agreement. While not common, there have been cases where tenants have been duped. As they move into their new place, it suddenly seems more spacious, and half the furniture that was there during the viewing has gone missing.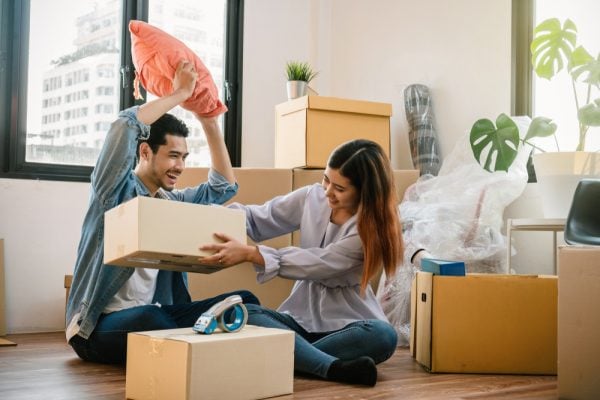 To guard against any misdoings, we advise you to perform both an inspection and an inventory check. (You can download the inspection checklist and inventory template here.) The inventory checklist is part of the tenancy agreement and should be provided by the landlord.
Take photos of various parts of the property to document its condition when you move in. In case of disputes (eg. your landlord claimed you painted the wall with a different colour, but you did not do so), you can use the photos to prove your case.
Week 8: Settling in
In most cases, the utilities is included in the rental (make sure this is stipulated in the tenancy agreement if you opt for it).
On the other hand, if the rental doesn't include utilities, you'll have to get your utilities sorted out. Check out this guide for more info on how to set up your utilities.
Week 9 – end of the lease
Should there be any damage, be sure to take a photo or video of it and inform your landlord. For instance, if the tap is leaking, you may be asked to hire the plumber and get it fixed. Whatever the issue is, don't carry out any repairs before informing your landlord. This can help to minimise any tenancy disputes.
But if the issue arises during the first month of your lease, your landlord will usually be the one responsible of rectifying it. Under the Minor Repair Clause, there should be a problem-free period of 30 days. So during this period, if there's any damage, your landlord won't hold you responsible for the damage since it may have been caused by the previous tenant.
Do you have any renting tips to share? Let us know in the comments section below or on our Facebook post.
If you found this article helpful, 99.co recommends Renting in 2022? Here's how to save on rental rates and 5 studio apartments under S$2,000 you can rent. 
Looking for a property? Find the home of your dreams today on Singapore's fastest-growing property portal 99.co! If you would like to estimate the potential value of your property, check out 99.co's Property Value Tool for free. Also, don't forget to join our Facebook community page or Telegram chat group! Meanwhile, if you have an interesting property-related story to share with us, drop us a message here — and we'll review it and get back to you.
[Additional reporting by Virginia Tanggono]
Upcoming Freehold Condo Launch: The Arcady @ Boon Keng
About Marouan Fatti
Looking to sell your property?
Whether your HDB apartment is reaching the end of its Minimum Occupation Period (MOP) or your condo has crossed its Seller Stamp Duty (SSD) window, it is always good to know how much you can potentially gain if you were to list and sell your property. Not only that, you'll also need to know whether your gains would allow you to right-size to the dream home in the neighbourhood you and your family have been eyeing.
One easy way is to send us a request for a credible and trusted property consultant to reach out to you.
Alternatively, you can jump onto 99.co's Property Value Tool to get an estimate for free.
If you're looking for your dream home, be it as a first-time or seasoned homebuyer or seller – say, to upgrade or right-size – you will find it on Singapore's fastest-growing property portal 99.co.
Meanwhile, if you have an interesting property-related story to share with us, drop us a message here — and we'll review it and get back to you.
Join our social media communities!
Facebook | Instagram | TikTok | Telegram | YouTube | Twitter