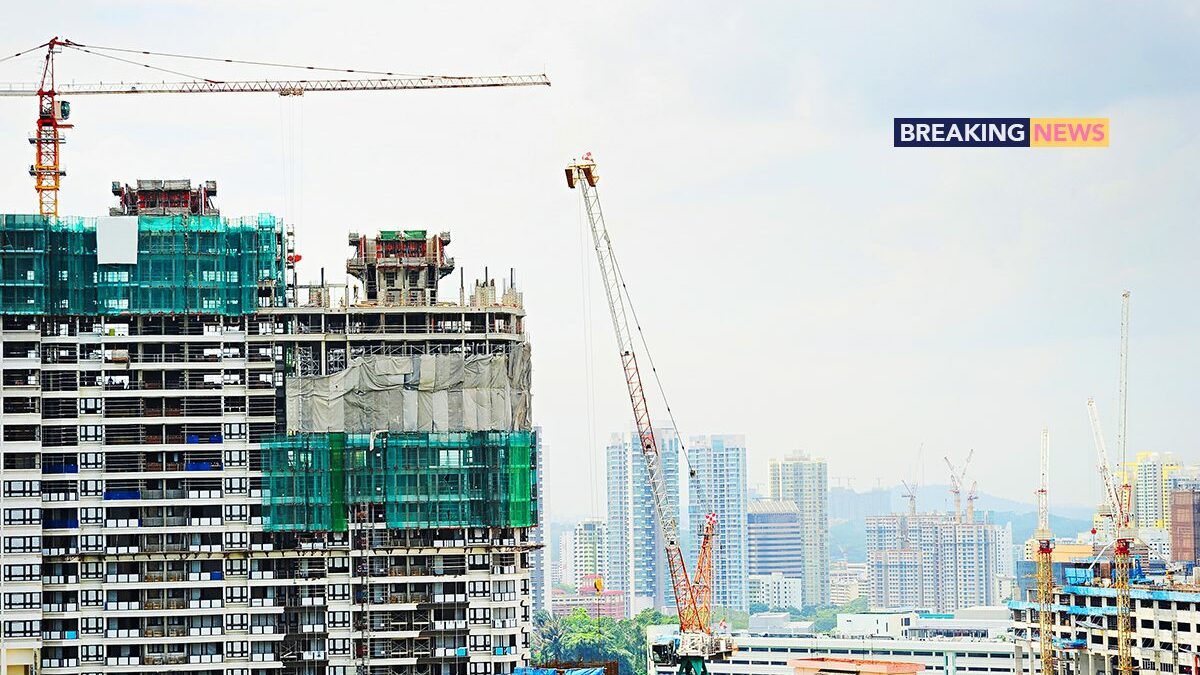 On 8 October, the government announced a further extension of temporary relief measures directed at property developers, including allowing a further extension of various project completion deadlines by six months as Covid-19 continues to disrupt the construction industry.
This extension is on top of the previous six-month extension announced on 6 May, after the Building and Construction Authority (BCA) had ordered a temporary cessation of construction work during the Covid-19 circuit breaker peroid.
The additional six-month extension will give construction firms more time to complete residential, commercial and industrial development, in light of the delays caused by staff quarantine and lockdowns.
ABSD remission window extended
For residential projects, the government also announced an further six-month extension of the commencement and completion deadline for developers to obtain a remission of the Additional Buyer's Stamp Duty (ABSD).
Before the measures were implemented, developers have to build and sell all units on residential sites within five years to qualify for remission of the ABSD on the land purchase price. If they fail to sell all units, the developer will have to pay 25% ABSD with additional interest charges.
A looming ABSD deadline has previously prompted developers to conduct fire sales to avoid incurring the ABSD amount.
With the further extension, developers now have an additional 12 months to complete residential projects. This gives them a total of six years to complete residential projects.
The six-year period also means that eligible residential developers now have three years to begin a project's building works, instead of two years without the additional relief.
However, developers will not be given a further extension for the sale of units in a residential project. To qualify for ABSD remission, developers must also sell all housing units within two-and-a-half years from the issue of the Temporary Occupation Permit (TOP) or Certificate of Statutory Completion.
That being said, developers have been able to circumvent the sale-of-units deadline for ABSD remission by establishing companies to buy up the unsold units in a development.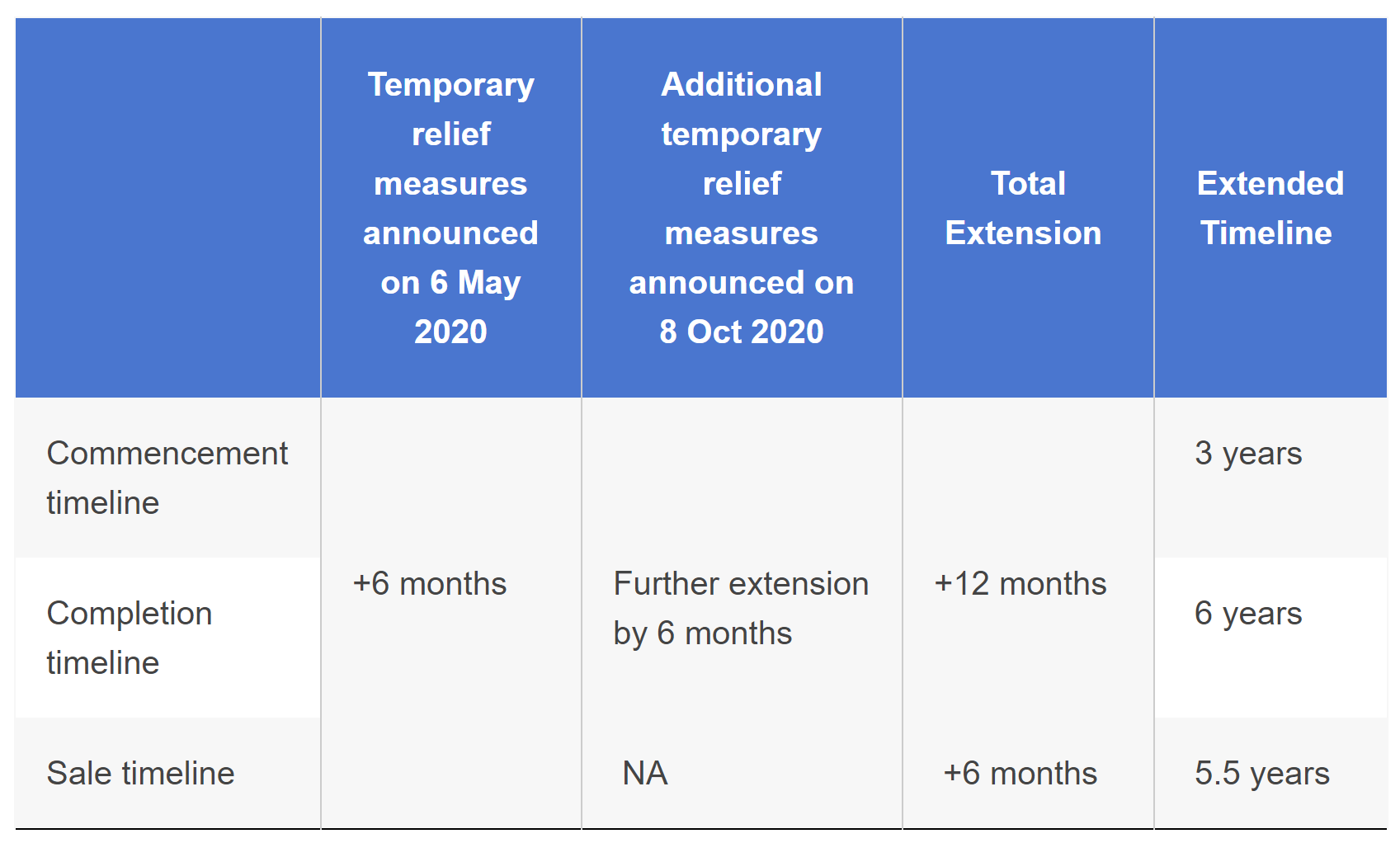 Further QC extension for foreign property developers
For foreign developers, the government will grant an additional six-month extension for residential projects under the Qualifying Certificate (QC) regime.
Under the QC regime, the Project Completion Period (PCP) for foreign housing developers will be extended by up to an additional six months on application for eligible residential projects.
Developers who have already applied for the earlier extension of completion deadlines in May will be automatically granted a further six-month waiver of extension charges.
However, there will be no further waiver of extension charges on the deadline to sell all units in a residential development beyond the original six-month waiver granted in May 2020. The total duration of the waiver, based on the sale-of-units criteria, now stands at 2.5 years.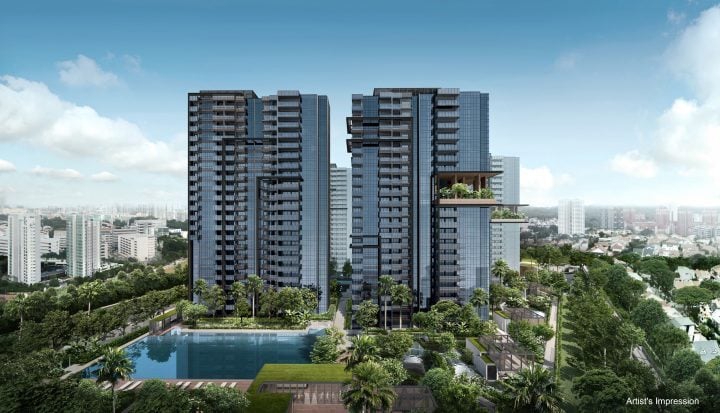 The announcements were made in a joint statement by the Ministries of National Development, Finance, Law and Trade and Industry. The ministries also noted that developers have raised concerns regarding the additional costs and financial penalties that may be incurred owing to delays caused by the Covid-19 pandemic.
To date, full resumption of on-site operations has remained a challenge, because of manpower and safe distancing regulations. Workers who have come into "close contact" with Covid-19 cases are also immediately put under quarantine.
As such, construction work at building projects have only been resumed at partial capacity since the lifting of circuit breaker measures in June.
The ministries' joint statement stated that with these additional support measures, "the government expects developers to continue to similarly provide relief and support to their main contractors," so that "no stakeholder bears an undue share of the burden imposed by the Covid-19 pandemic."
Eligibility conditions for new relief measures
Eligibility conditions for the updated extensions remain unchanged. For instance, land for residential projects must have been bought on or before 1 June, or the land was directly alienated or had its lease renewed by the Singapore Land Authority (SLA) on or before 1 June.
In addition, a developer's original five-year deadline for completion of the project must be on or after 1 February 2020.
How long will the construction delays last? Share your views in the comments below!
If you found this article useful, 99.co recommends 5 ways selling your property can go horribly wrong (and how to fix it) and Buying resale EC vs new launch: The key differences you need to know
Looking for a property? Find your dream home on Singapore's most intelligent property portal 99.co!
New launch alert! Welcome to Grand Dunman
About Kyle Leung
Content Marketing Manager @ 99.co
Looking to sell your property?
Whether your HDB apartment is reaching the end of its Minimum Occupation Period (MOP) or your condo has crossed its Seller Stamp Duty (SSD) window, it is always good to know how much you can potentially gain if you were to list and sell your property. Not only that, you'll also need to know whether your gains would allow you to right-size to the dream home in the neighbourhood you and your family have been eyeing.
One easy way is to send us a request for a credible and trusted property consultant to reach out to you.
Alternatively, you can jump onto 99.co's Property Value Tool to get an estimate for free.
If you're looking for your dream home, be it as a first-time or seasoned homebuyer or seller – say, to upgrade or right-size – you will find it on Singapore's fastest-growing property portal 99.co.
Meanwhile, if you have an interesting property-related story to share with us, drop us a message here — and we'll review it and get back to you.
Join our social media communities!
Facebook | Instagram | TikTok | Telegram | YouTube | Twitter