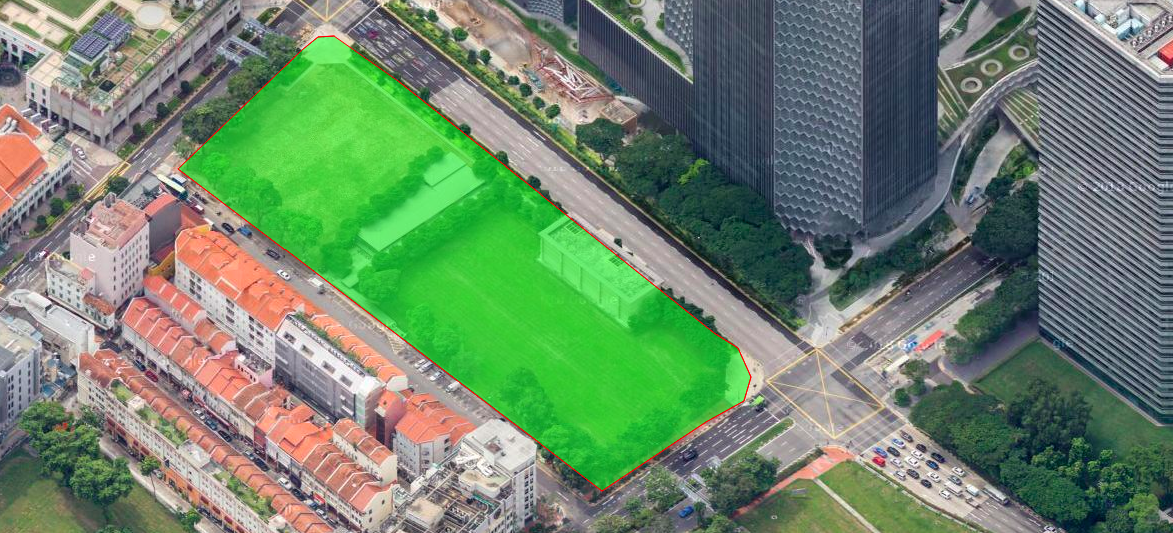 In what might be a sign of things to come in the year ahead, the Singapore Ministry of National Development (MND) just announced another telling decision on 6 December 2018: the supply of land for private homes will be reduced in the 2019 Government Land Sales (GLS) programme.
This latest announcement represents a slight change in direction to an earlier announcement this year, when the government said it was going to maintain land supply for private homes "amid strong developer demand". In addition, the government had originally planned to release land supply for a total of 14,200 private residential units for sale under the GLS programme in 2019.
Pipeline figures a concern
In releasing its latest announcement, the MND cited the high number of uncompleted and unsold units as a key reason for the supply reduction. Out of 53,164 units in the pipeline, there are 31,295 unsold units (58.9%) from GLS an en-bloc sale sites with planning approval at the end of 3Q 2018. This number is expected to rise come end of Q4 2018.
In contrast, there were only 26,961 such unsold units at the end of Q2 2018, when there were 45,003 units in the pipeline (59.9% unsold). This means an increase of 4,334 units within just a quarter, although the percentage of unsold units vs. total units in the pipeline has remained roughly the same.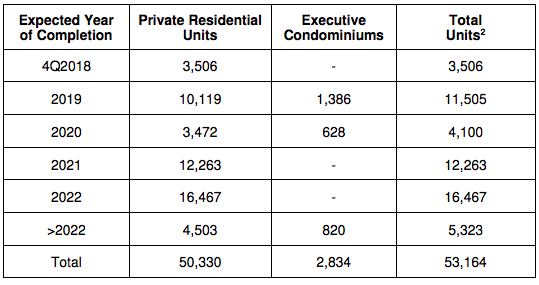 Following the July cooling measures, buyer demand for private homes has slowed and developers' demand for land has also declined, MND said.
"Given these factors, the Government has decided to moderate the total supply of private residential units for the 1H2019 GLS programme. Together with the supply in the pipeline, this will sufficiently cater to the housing needs of our population," the MND added.
Land supply for 1H 2019 announced
At the same time with MND's announcement, a total of 14 land sites — comprising five confirmed sites and nine on the reserve list — were released for sale under the GLS programme for the first half of 2019 (1H 2019).
The sites are expected to yield 6,475 private homes, down from the previous GLS programme for the second half of 2018, which saw 15 sites released with an expected supply of 8,040 private homes.
In additional to private residential units, the 14 sites are also expected to yield 86,000 square metres (sq m) in Gross Floor Area (GFA) of commercial space and 1,115 hotel rooms.
These are the locations of the five confirmed GLS sites for 1H 2019 and their intended developments: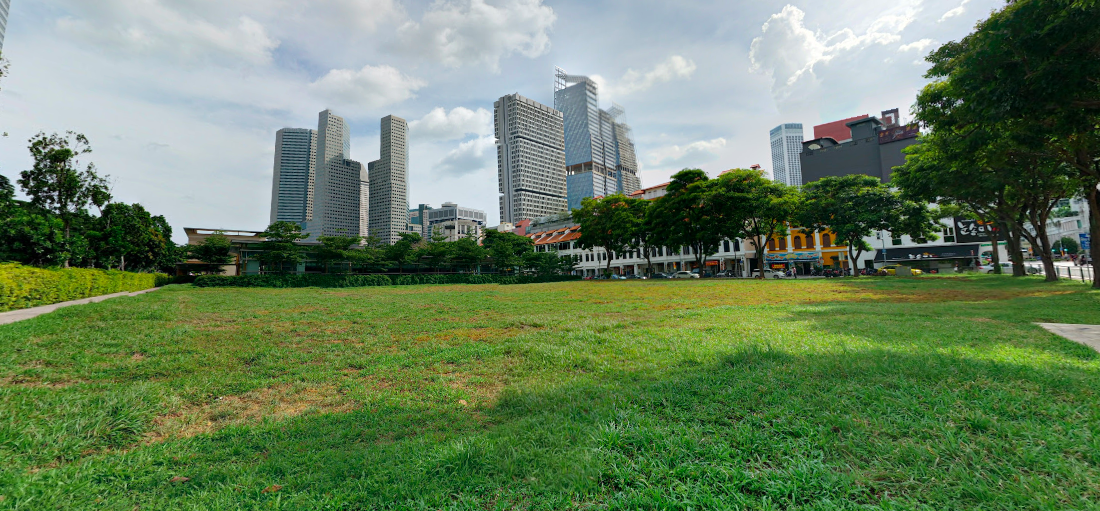 With a reduced GLS supply for private homes, what's next?
The first thing to remember is that a reduction in GLS supply for private homes isn't necessarily a bad thing for the property market. It just means fewer new launches down the road (i.e. fewer projects for buyers to choose from).
For those who argue that the demand for resale condos would see an increase because of this, bear in mind that reduced land supply here is just a minor factor affecting the prices of resale condos.
What's more obvious is that the volume of resale condos on the market (i.e. supply) is likely to see a boost this year should more homeowners see the need to liquidate their investment properties in a rising interest rate environment. This could cause further downward pressure on resale condo prices that have already been impacted by the July 2018 cooling measures, balancing out any slight increase in demand.
Even then, we foresee a fair number of prospective investors maintaining their wait-and-see approach.
Buying property in 2019? Know where to look
If you're buying property for investment and none of the uncompleted condo projects in the pipeline appeal to you, this nugget of info will be helpful if you consider resale: If the economy slows down, expat renters may begin shifting out of core central area properties to cheaper properties in the city fringe and beyond. Bear in mind that rental demand is very elastic among districts in Singapore given the ease and speed of rail transport to the CBD, hence thebig pull factor for city tenants to move outward as long as the unit concerned is near an MRT station.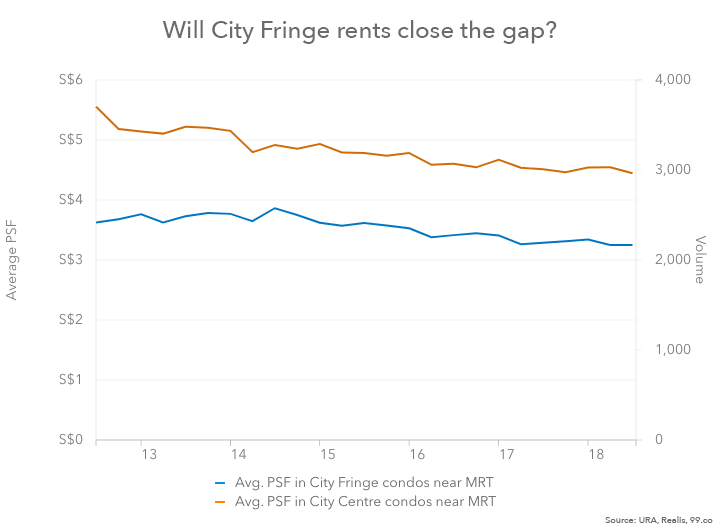 Moreover, the URA rental index of private residential properties in Singapore edged up by 0.5% in Q3 2018 after a prolonged dip and stagnation. So, with a rental rebound in sight, there'll be some investors who put two and two together and put down money on a resale condo unit in a city fringe area like Paya Lebar. Incidentally, the area will see the government release a site for a hotel next to Paya Lebar Quarter and a condo right next to Dakota MRT. It doesn't take a genius to tell where the silver lining could be in an uncertain 2019, just by observing where the government is putting down their chips.
**[View all 2019 GLS sites here (link to URA Appendix)]
What's your take on the reduction of land supply in the 2019 GLS programme? Voice your thoughts in the comments section or on our Facebook community page.
If you found this article helpful, 99.co recommends Can property prices in Singapore really rise 10 per cent by 2019? and Executive condominiums: Are upcoming ECs in 2019/2020 worth the wait?
Looking for a property? Find the home of your dreams today on Singapore's largest property portal 99.co!
Looking for a property?
Find the home of your dreams today on Singapore's fastest-growing property portal 99.co! If you would like to estimate the potential value of your property, check out 99.co's Property Value Tool for free. Also, don't forget to join our Facebook community page or Telegram chat group! Meanwhile, if you have an interesting property-related story to share with us, drop us a message here — and we'll review it and get back to you.
Note that this content may be reproduced in edited form on our content partner sites. They include AsiaOne and Yahoo South-East Asia but are not limited to these.