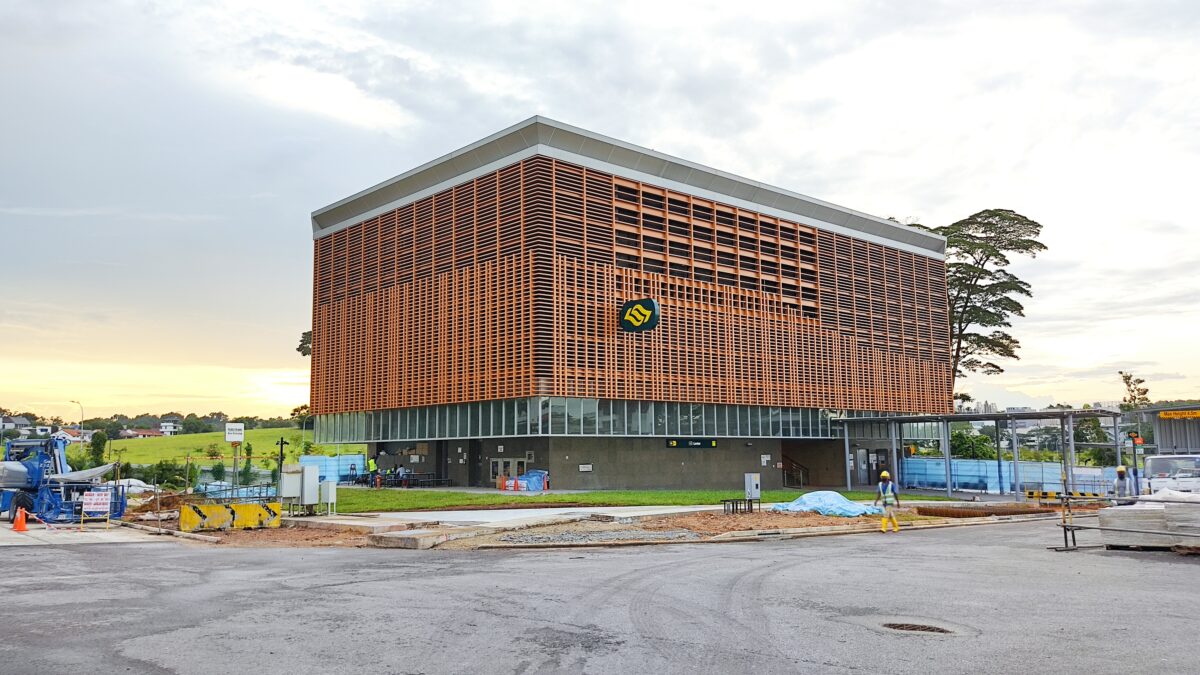 While we've covered quite a bit on CCR and RCR-related news, it seems much of the action this week has been on OCR (Outside Central Region) like Pasir Ris, Lentor and Tampines.
As work-from-home continues to trend and doing daily chores at suburban malls/hypermarts become a routine, settling down in what was once termed as 'ulu' places have far broader implications for changing lifestyles – especially for maturing couples with children.
The signals are telling once we look at the land bid or launch prices of some recent OCR developments. One reason could be their proximity to upcoming MRT stations or rail networks which promise additional connectivity to places we often deemed as far ("Orchard Road? Too far. I live in Pasir Ris…"). Another could be the appeal of mixed-use amenities as two of these sites promise those.
Pasir Ris 8 and Pasir Ris Town Centre
Just over the weekend, Allgreen Properties and Kerry Properties' Pasir Ris 8, a 99-year mixed-use condominium development right next to Pasir Ris MRT, saw its weekend launch price hike up to S$2,000 psf after several price reviews.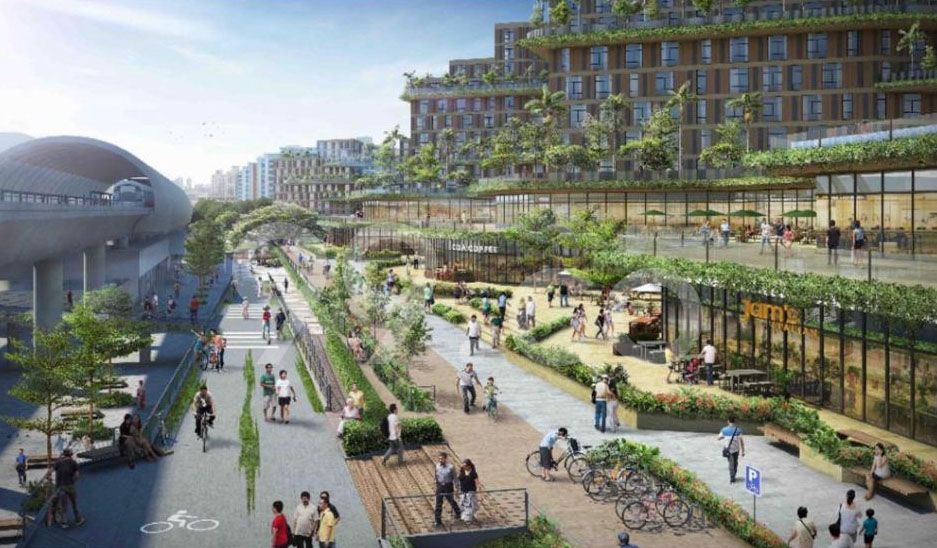 Prices started at about S$1,400 psf on July 24, but saw hikes later in the day. One two-bedroom unit had a starting indicative price of S$1.145m (S$1,613 psf) at 9 am, before selling 31.3% higher at S$1.503m (S$2,116 psf) at 1030 pm.
Over the weekend, the development sold 85% of its 487 apartments, signalling to the market just how large the appetite for mixed-used or integrated condominiums is – especially if it is centrally located (relative to the neighbourhood) and within walking distance to an MRT (and a shopping mall like Pasir Ris' White Sands).
Yet, it is not all necessarily what is currently already there that's behind some of the intense demand – it's what's coming.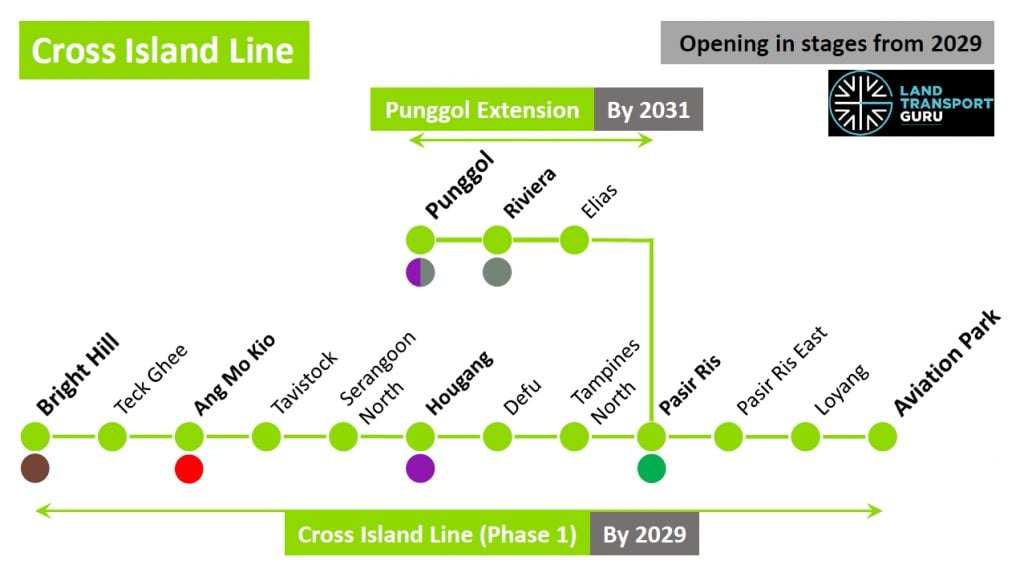 Pasir Ris 8 is located within a 2-minute walk to Pasir Ris MRT. The station has just undergone a bus interchange revamp and will be part of the Cross-Island Line network by 2030, which is just 9 years away. The last time Pasir Ris MRT station saw any action of this sort was when it launched in 1989. 
With the new network, Pasir Ris residents can bypass the long East-West-to-North-South line if they want to get to Ang Mo Kio, or the North-East line to shop and visit friends and relatives in Serangoon, Hougang or Punggol.
It's definitely helpful if one has parents living in those areas and looking to raise a family within several train hops away.
Pasir Ris itself is surrounded by parks, coastal beaches and an active cycling community. Its proximity and the interlinked communities with nearby Punggol, Sengkang and Tampines should not be understated. It is also one of the closest towns to Changi Airport.
If we take a look at the price appreciation of Pasir Ris condominiums within a 10-minute walk to the MRT station (ie. the private condos by CDL along Pasir Ris Grove), all five of them have seen their average psf prices appreciate over time – 7.26% (NV Residences), 14.20% (D'nest), 18.51% (Palette), 21.14% (Coco Palms) and 36.11% (Livia).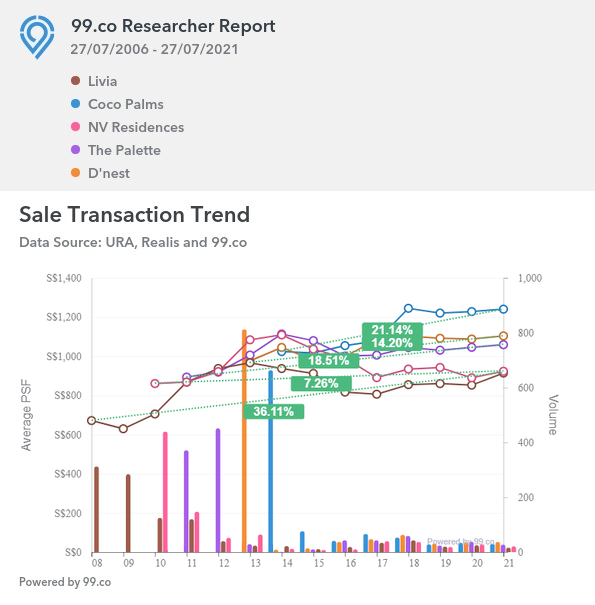 So, by the time Pasir Ris 8 is completed (estimated TOP 2026), one can only wonder about the sort of value the property would have then (and the effect it would bring to residents living around the train station and town centre). It gives a sort of vibe similar to The Centris when it opened above Boon Lay station in 2009.
Lentor Central land bid
Another OCR development that got recent attention is the record bid for a Lentor Central site, which falls within District 26 (Upper Thomson, Mandai). 99.co covered this as part of our H1/H2 Government Land Sale story.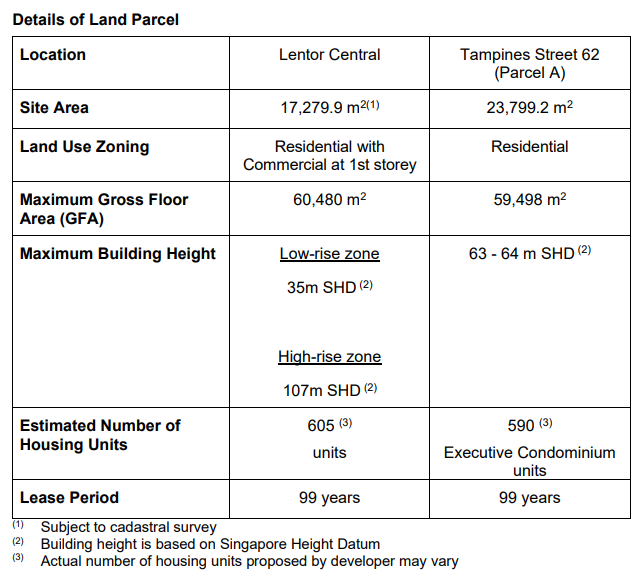 The top bid was S$784.1m by Guocoland, which translates to S$1,204 per square foot per plot ratio (psf ppr). What took many by surprise was how much higher the price is as compared to the second (S$750m) and third bidders (S$736.5m).
Earmarked for private residential with commercial at 1st story development, the site spans across a 17,279.9 square-metre area, with a maximum permissible GFA of 60,480 square metres.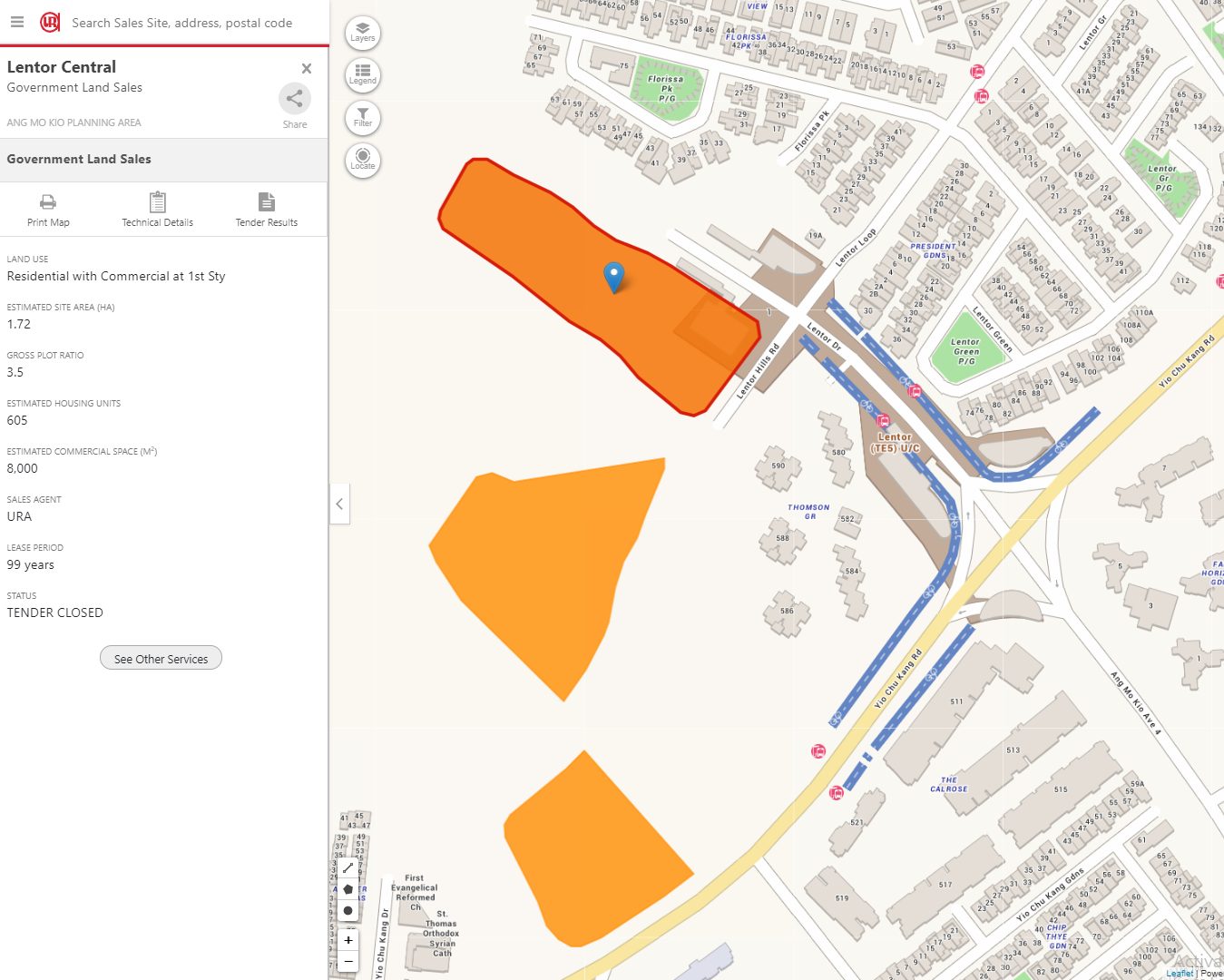 Guocoland, a developer known for its eco-friendly and luxurious residential developments like Midtown Modern, Martin Modern and Wallich Residence, has proposed to develop the site into a mixed-use project of 25 storeys with around 600 residential units. Plans include commercial spaces for F&B and retail, such as a supermarket and childcare facilities.
Besides being near Nanyang Polytechnic and surrounded by low-lying landed properties, the site is next to the Lentor MRT station, allowing residents of the development easy access to Woodlands, Orchard, Outram Park all the way to Bedok on the Thomson-East Coast line (ie. when the rest of the phases open).
Currently, only the first phase (TEL1) – Woodlands North, Woodlands and Woodlands South MRT stations are operational since January 2020. The second phase (TEL2), which includes Lentor, will open by 28 August 2021.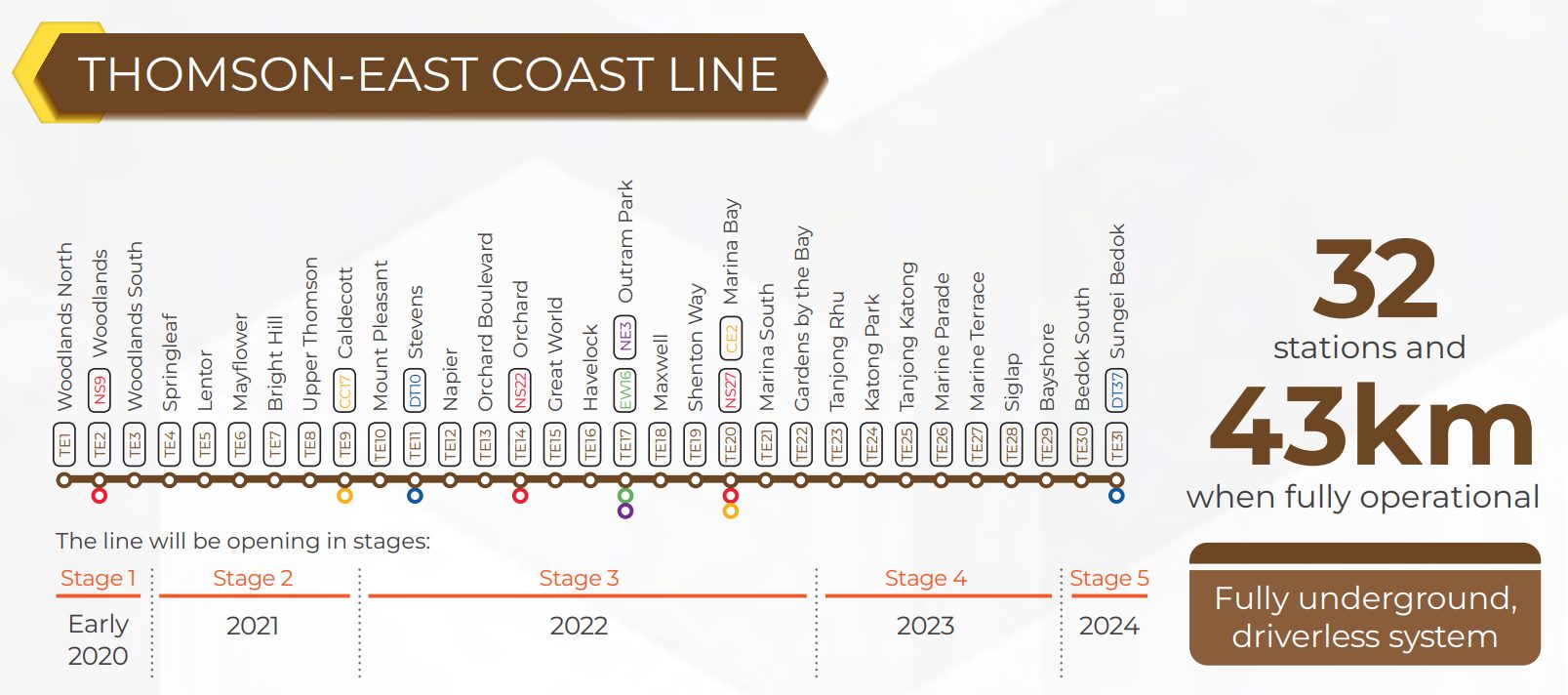 Unlike the Pasir Ris 8 development, which already has an existing MRT on-site for years, the presence of Lentor MRT may become a natural attraction for commercial and communal activities in the neighbourhood. We may see some form of gentrification in the vicinity over time (eg. cafes, pet centres, enrichment schools), considering the neighbourhood comprises of landed homes mostly.
Executive Condominium site at Tampines Street 62
Finally, the land parcel at Tampines Street 62 (Parcel A), earmarked for an executive condominium with 590 units, saw a record bid of S$422m, or S$659 per sqft per plot ratio (psf ppr), by a joint venture from Qingjian Realty and Santarli Construction.
According to Nicholas Mak, head of research and consultancy at ERA Singapore, it is the highest land rate to be paid for an EC site in its history, breaking the record set at S$603 psf ppr for Tengah Garden Walk.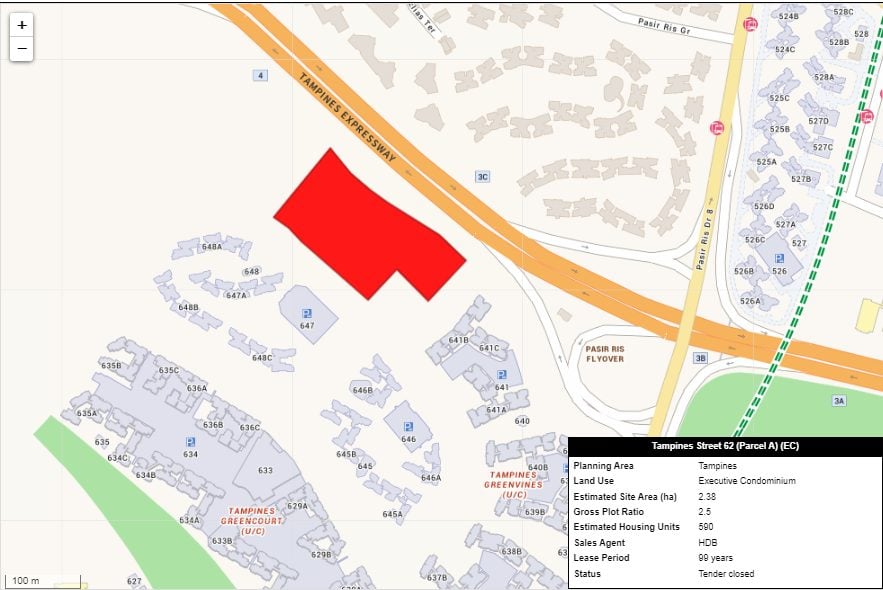 Previously, we talked about Parcel B in our GLS H1 2021 analysis.
As expected, this site is close to the upcoming Tampines North MRT station, located near where Giant, IKEA Tampines and Courts are. On the map above, the underground station will be located towards the left of the land site. You may also notice that this site is close to Pasir Ris Drive 8, which links to Pasir Ris MRT farther down the road.
If there are three takeaways from these recent OCR developments, they are these:
OCR developments within walking distance of MRT stations on the Cross-Island or Thomson-East Coast line are attracting far greater interest from developers and homebuyers than expected.
Developers are submitting record bids to win these rare parcels of land. They are doing so not just to replenish their land banks but to signal to the market that they recognise the potential these sites bring once they are fully developed.
Two of the developments or bids – Pasir Ris 8 and the Lentor Central site – are mixed-use. Similar to what we've seen with integrated condos next to MRT stations, their potential should not be understated.
–
What are your thoughts about OCR property prices and land bid prices? Let us know your opinions in the comments section below or on our Facebook post. 
If you found this article helpful, 99.co recommends Condo prices hit all-time highs in Q4 2020, URA Flash Estimates show and These are the most popular condos for singles in Singapore.
Looking for a property? Find the home of your dreams today on Singapore's fastest-growing property portal 99.co! If you would like to estimate the potential value of your property, check out 99.co's Property Value Tool for free. Meanwhile, if you have an interesting property-related story to share with us, drop us a message here — and we'll review it and get back to you.
About Terence Ang
Looking to sell your property?
Whether your HDB apartment is reaching the end of its Minimum Occupation Period (MOP) or your condo has crossed its Seller Stamp Duty (SSD) window, it is always good to know how much you can potentially gain if you were to list and sell your property. Not only that, you'll also need to know whether your gains would allow you to right-size to the dream home in the neighbourhood you and your family have been eyeing.
One easy way is to send us a request for a credible and trusted property consultant to reach out to you.
Alternatively, you can jump onto 99.co's Property Value Tool to get an estimate for free.
If you're looking for your dream home, be it as a first-time or seasoned homebuyer or seller – say, to upgrade or right-size – you will find it on Singapore's fastest-growing property portal 99.co.
Meanwhile, if you have an interesting property-related story to share with us, drop us a message here — and we'll review it and get back to you.
Join our social media communities!
Facebook | Instagram | TikTok | Telegram | YouTube | Twitter