"Buying this new home was an opportunistic move. Our property agent contacted us about its availability, and after some research, we figured it was a fantastic chance to finally move to a home we've always wanted in the East."
This was the first comment from "G", an IT security practitioner in his early 40s, who moved from a condo in Jurong East to another along East Coast Road just weeks ago. 99.co even did an East Coast vs West Coast condo face-off a while back.
Having lived with his wife and two children in a 4-room HDB resale flat in Boon Lay, which they then sold for a private 3-room condo in Jurong, the decision to say goodbye to a familiar neighbourhood must have been difficult, considering the amenities and convenience there. Much to our surprise, G shared that it was a no-brainer.
"Most of our friends live in the East, and I guess we've been brainwashed by them into the good food and environment there.
"Secondly, my wife and I have been wishing for a place with better surroundings to relax to after a demanding day at work. Don't get us wrong, the West certainly has a lot of good digs for good food and entertainment. But we think that the East has more natural surroundings that benefit couples and families looking to get connected outdoors rather than in an urban environment. While we miss the convenience in the West of simply walking short distances to get our daily needs, we prefer a more relaxed and bohemian lifestyle at this stage of our lives."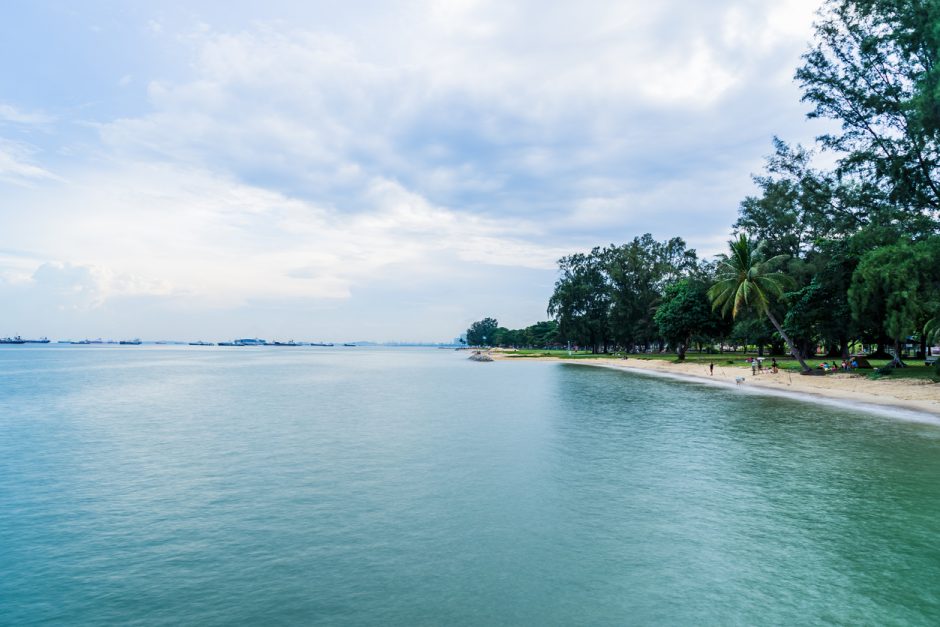 While G was reluctant to share personal or property details like actual location, floor area, etc. due to privacy reasons, he shared that their new home, a private, 99-year leasehold condominium, is a short throw away from the East Coast Park beach. There are many other condominiums around where his family now live but they chose that particular property because it is well-suited for their long-term needs. The condo provides an elegant view of the park, sea and pool, including the daily romantic sunrises and sunsets.
"Hey, we can probably live here until retirement!" He noted with a tinge of excitement.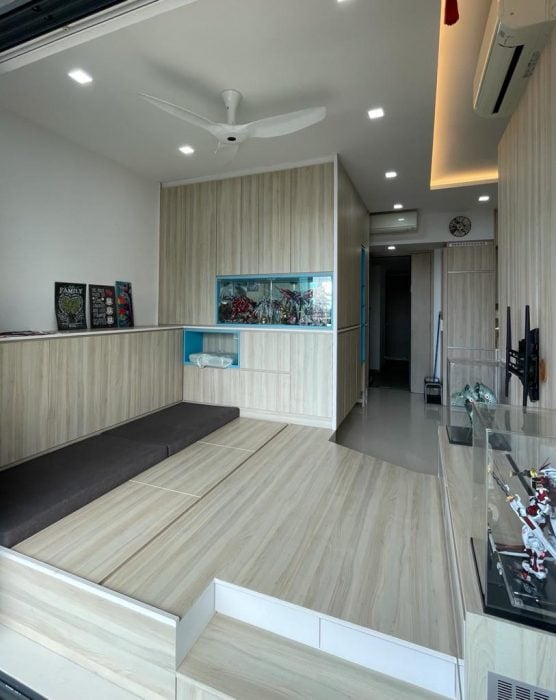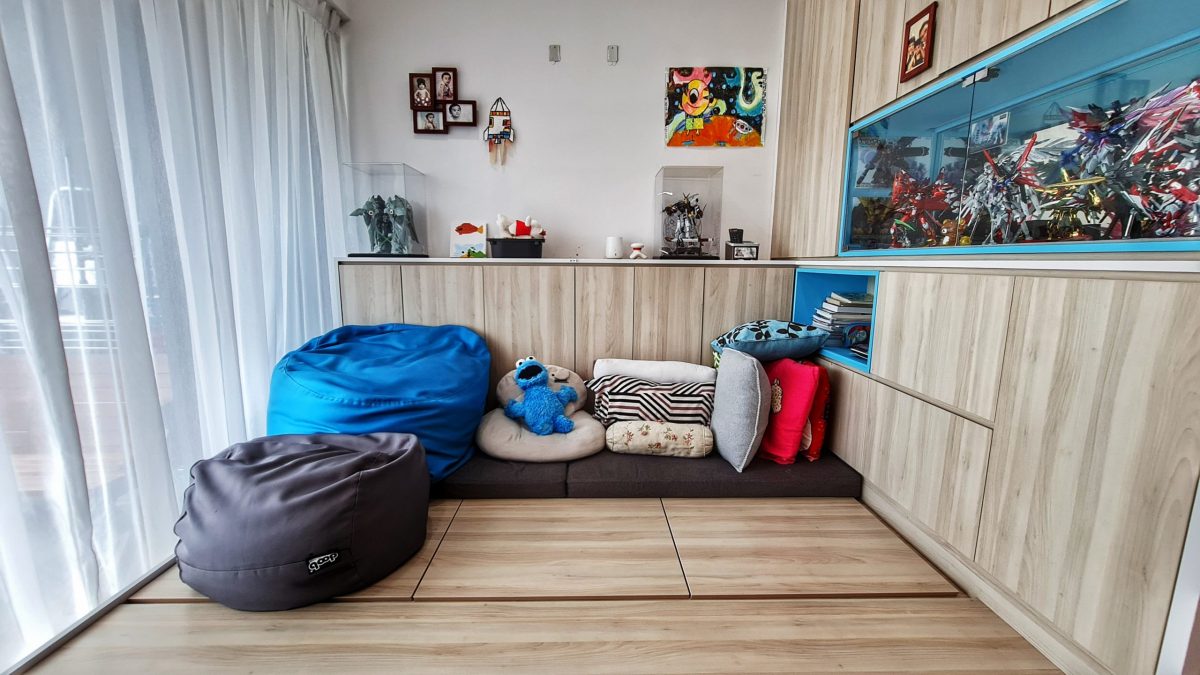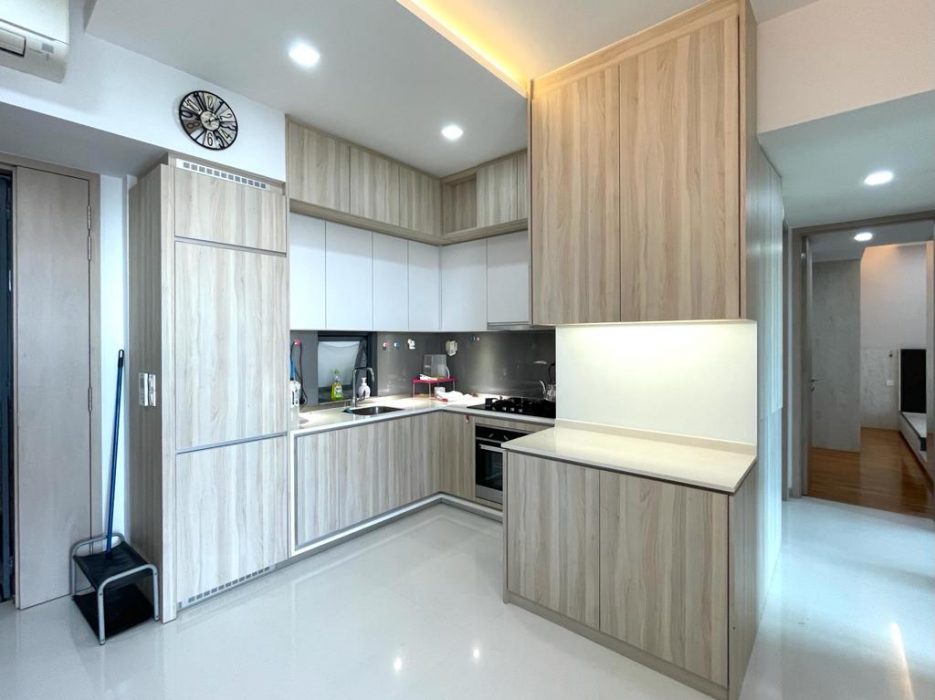 A well-researched buying process and a five-year wait for their East Coast Plan
According to G, it took almost 5 years from the property's 1st launch to TOP (Temporary Occupation Permit). Having transitioned from an HDB apartment to a condo in Jurong East, to now one on the East Coast, G and his wife are no strangers to the best time to select an apartment or timing the market.
"Property launches are held in several batches, with early batches certainly having the most choices at the (usually) best prices. Of course, this does not preclude a VIP or wealthy individual (usually an overseas buyer from my observation) swooping in to purchase several choice units (often the pricier ones) at a go, sometimes even an entire floor!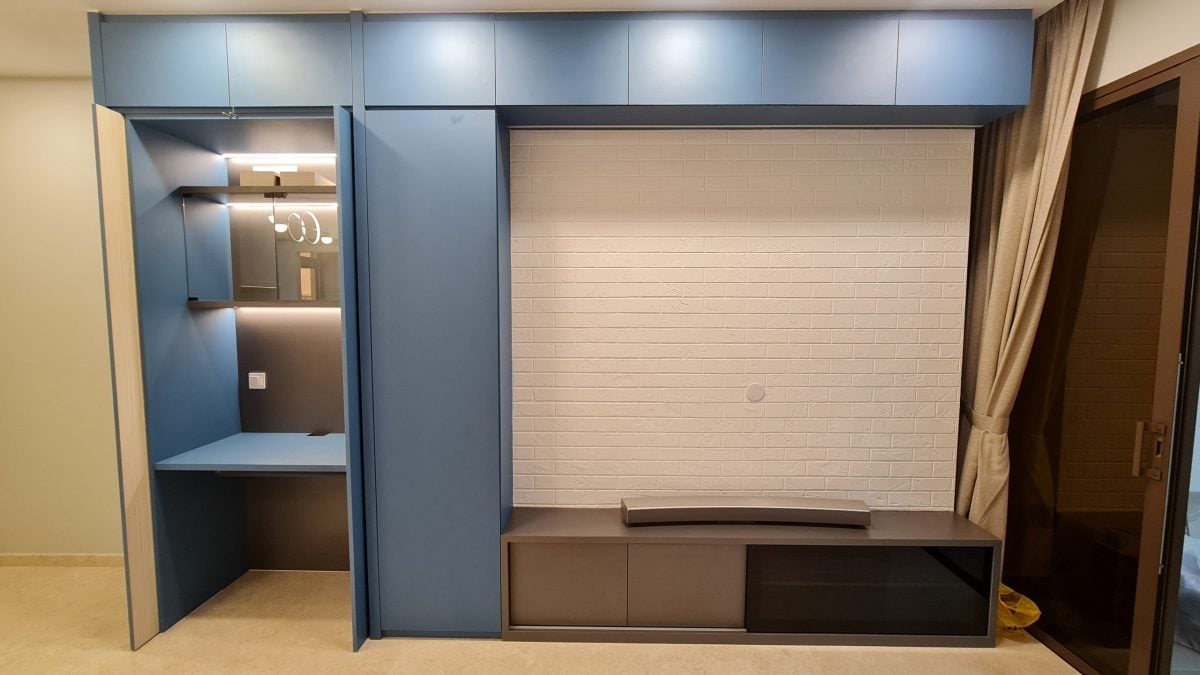 "As we were former customers of our property agent, we were invited to the first launch. The showroom was the usual stuff to me – a dedicated small facility built with demo units for each unit type. I recall that there was a ballot system in place, and we went down once our number was nearing. Our property agent met us once we arrived, and ushered us into the facility when it came to our turn. Certainly many choice units and the renovations and furnishings showed them to fantastic effect. We wowed at the out-of-our-price-range units, before settling down to something more realistic to our needs and budget.
"In my wife's and my experience, when we go to see a choice development we are interested in, we must always be prepared. This means working our budget so we know what we can afford. The key reason is that popular or good units at such properties are snapped up very quickly, so quick decisions are needed – or else you will face a situation where your desired unit is snapped up while you ponder and dither."
G and his wife did their research.  They went down, short-listed some units, reviewed their choices (facing, floor, etc) with their property agent, confirmed their loan approval, and bought their home right there and then on that day itself.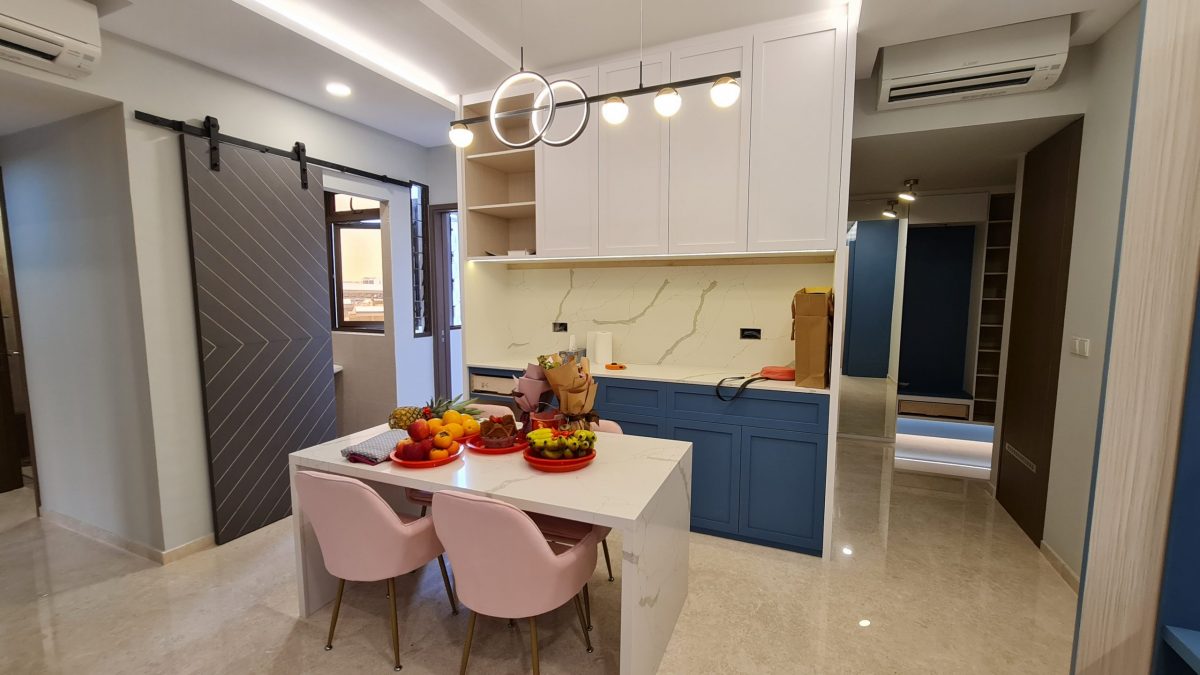 After that, it was almost four years of waiting. They received updates from the developer, with payments due as certain development milestones were reached.
Finally, the TOP day arrived and they started to look for their renovation contractor. Unlike their previous homes, G and his wife chose designers and contractors engaged by their friends – they wanted real on-the-ground feedback and experiences. They even visited their friends' homes to see first-hand the completed home designs. It was definitely something more tangible and realistic than renovation articles as G felt some may be biased towards "designer-award" units and pricey vendors (especially after they'd gotten press coverage).
"For renovations, it took us a total of 6 months from the initial proposal (i.e. leading to acceptance/award) to completion of the renovation. The pandemic slowed things down a lot, especially Malaysia's Movement Control Order (MCO) since a lot of materials and labour came from there. Many local contractors ended up engaging local shops, which became bottlenecks and caused delays even to previous bookings like ours.
"Right before the arrival of the Chinese 7th month, we had to supervise the works closely with our contractor so that we can move in before that. Thankfully we made it. However, I have heard of uncompleted homes even after a year, so I figured that we were also lucky."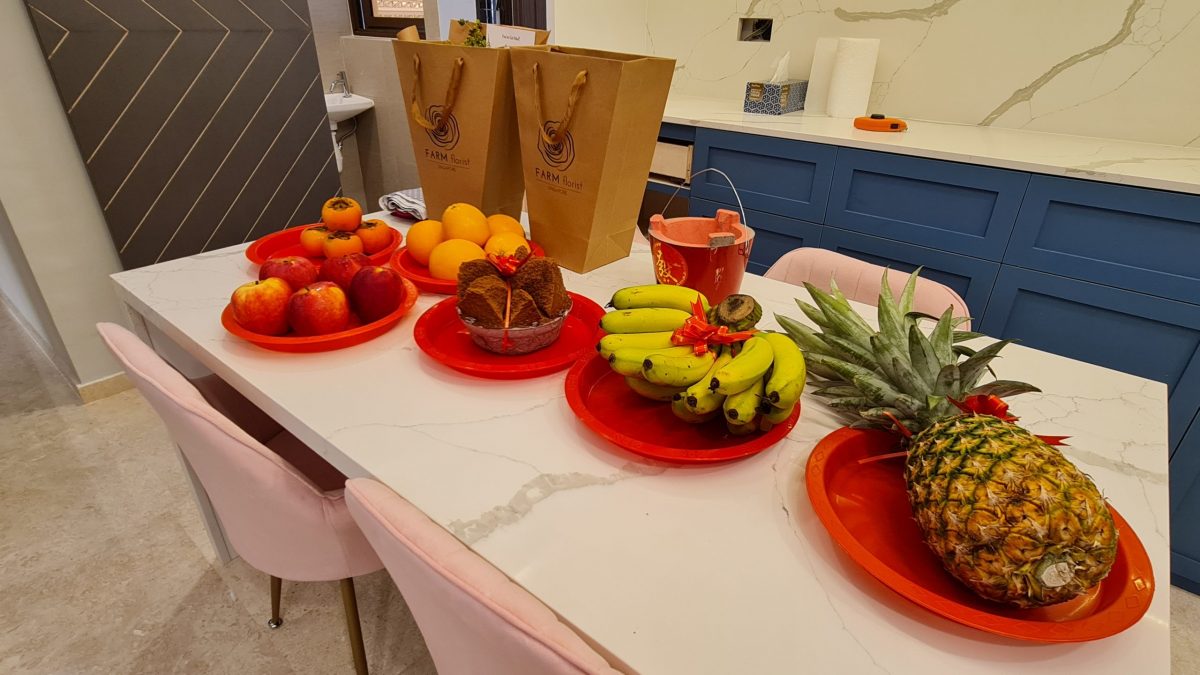 Advice to prospective homeowners looking to upgrade to a condominium
As this is G's third home, he has some advice for prospective homeowners:
"Settle your priorities (i.e. criteria for your new home) and do your sums beforehand. Get advice from your experienced friends and research online. Explore the potential areas that you want to live in. Get your in-principal loan approvals. Then, when going down to a property launch, be prepared to make the purchase on that day itself, as dithering too long may cost you your choice unit after which you will need to compromise. You don't want to be haunted by the "What If" question as you stand in your second choice unit.
"Also, the culture in condominiums is different from HDBs. Doors tend to be closed, there is a higher ratio of foreigners from different countries, and certainly, there are no Town Council services to rely on so please take care of the common areas, particularly for pet owners and smokers.
"Last but not least, each condominium will be managed by a Management Committee (MC) whose council members can consist of elected residents. Note the regular updates from the MC, which will consist of MCST advisories and notices as well as management decisions on upgrades and changes to the estate (which can affect you). You can sit in MC meetings, and for the latter, vote yea or nay to those proposed upgrades/changes."
G also advised homeowners to note that expenses will potentially increase with the upgrade. These include property tax, monthly maintenance and bank loan.
"So first, set aside a budget for renovations and new furniture. If your budget is tight, try to get your built-in fixtures, like wall-hacking, wiring, flooring, done first. You certainly don't want the inconvenience AFTER you've settled in. Expect some fluctuations in renovation expenses though, as things can change over time."
–
Moved into a new home and would like to share your experience with us? Let us know in the comments section below or on our Facebook post.
If you found this article helpful, 99.co recommends Upgrading to a condo: Why the 'ABSD remission' system should be abolished and Heng Swee Keat, here's your East Coast Plan ok?
Looking for a property? Find the home of your dreams today on Singapore's fastest-growing property portal 99.co! If you would like to estimate the potential value of your property, check out 99.co's Property Value Tool for free. Meanwhile, if you have an interesting property-related story to share with us, drop us a message here — and we'll review it and get back to you.
Condos for sale in District 15 (East Coast/Marine Parade)
The Line @ Tanjong Rhu
6 Tg Rhu Rd · D15
3
3
$2,749,000
The Meyerise
97 Meyer Rd · D15
3
3
$3,000,000
Verdor Residences
142 Joo Chiat Terrace · D15
4
2
$2,750,000
Park East
75 Jln Tua Kong · D15
3
3
$2,750,000
The Seawind
76 Lor M Telok Kurau · D15
1
1
$1,250,000
Marine Blue
89 Marine Parade Rd · D15
2
1
$1,550,000
The Line @ Tanjong Rhu
6 Tg Rhu Rd · D15
3
3
$2,850,000
The Line @ Tanjong Rhu
6 Tg Rhu Rd · D15
1
1
$1,050,000
Tembusu Grand
94 Jln Tembusu · D15
2
2
$1,900,000
Grand Dunman
2 Dunman Rd · D15
3
2
$1,944,600
The Continuum
1 Thiam Siew Ave · D15
5
5
$5,130,950
The Continuum
1 Thiam Siew Ave · D15
4
3
$3,092,250
Grand Dunman
2 Dunman Rd · D15
3
3
$2,192,400
Grand Dunman
2 Dunman Rd · D15
5
4
$4,048,000
The Continuum
1 Thiam Siew Ave · D15
3
2
$2,201,150
Grand Dunman
2 Dunman Rd · D15
4
3
$2,435,800
Liv @ MB
114A Arthur Rd · D15
4
4
$3,517,850
The Continuum
1 Thiam Siew Ave · D15
4
3
$3,300,000
Liv @ MB
114A Arthur Rd · D15
4
4
$3,896,000
Liv @ MB
114A Arthur Rd · D15
2
1
$2,041,000
About Terence Ang
Looking to sell your property?
Whether your HDB apartment is reaching the end of its Minimum Occupation Period (MOP) or your condo has crossed its Seller Stamp Duty (SSD) window, it is always good to know how much you can potentially gain if you were to list and sell your property. Not only that, you'll also need to know whether your gains would allow you to right-size to the dream home in the neighbourhood you and your family have been eyeing.
One easy way is to send us a request for a credible and trusted property consultant to reach out to you.
Alternatively, you can jump onto 99.co's Property Value Tool to get an estimate for free.
If you're looking for your dream home, be it as a first-time or seasoned homebuyer or seller – say, to upgrade or right-size – you will find it on Singapore's fastest-growing property portal 99.co.
Meanwhile, if you have an interesting property-related story to share with us, drop us a message here — and we'll review it and get back to you.
Join our social media communities!
Facebook | Instagram | TikTok | Telegram | YouTube | Twitter