For most couples, getting married means buying a HDB flat. Without HDB grants for couples, this can be a financial challenge — especially if you're planning a 3-day photoshoot in the Maldives, a banquet at The Capella and a honeymoon in Iceland. Thankfully, when you buy a resale flat or a flat directly from HDB (either through BTO/SBF/ROF* sales exercises), you're eligible for housing grants that can significantly defray the cost of your new home.
Various factors — such as household income — determine the HDB grant amount a couple can get. As a general rule of thumb, HDB offers a greater grant amount for couples buying resale flats via the Family Grant. This is 99.co's complete infographic and guide to HDB grants for couples, which include the more obscure (but no less important) grants you might not be aware of. Now, you can find out what grants you're eligible for, at a glance!
*BTO, SBF and ROF stands for Built-To-Order, Sale of Balance Flats and Re-offer of Balance Flats respectively.
(If you're on mobile, tap on the image to view the full-sized infographic.)
(If you're on desktop, right-click on the image and click 'Open Image in New Tab' to view and download the full-sized infographic.)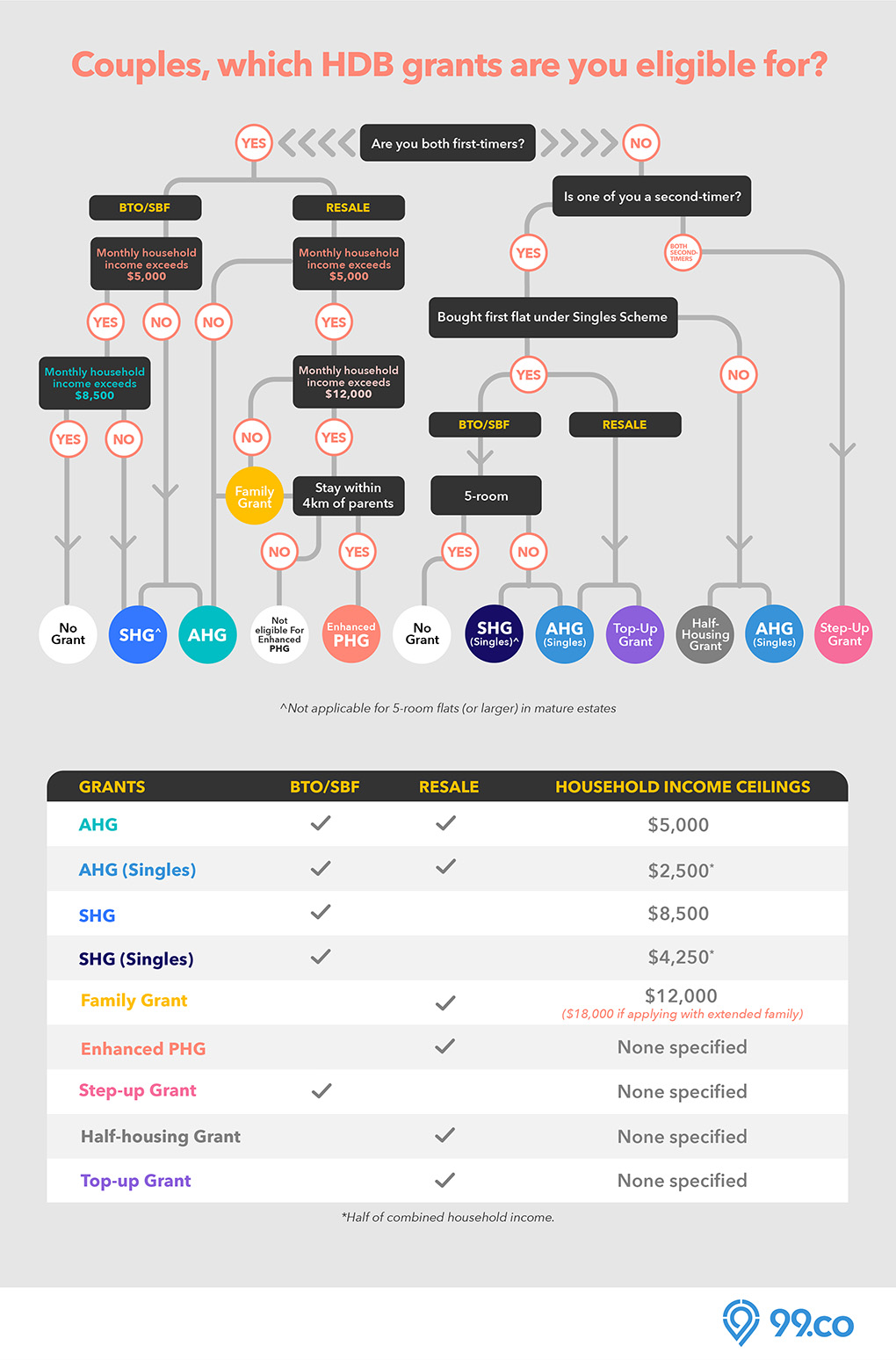 HDB grants for couples: BTO/SBF/ROF flats
All grants offered for BTO/SBF/ROF flats — with the exception of the Step-Up CPF Housing Grant — are tiered according to household income, so lower income households receive a higher grant amount. (Click the below links to access the exact grant amounts for each income bracket.)
If both applicants are first-timers:
If one applicant is a first-timer, and the other a second-timer:
If both applicants are second-timers:
If one applicant is a not a Singapore Citizen (Non-Citizen Spouse Scheme):
HDB grants for couples: Resale flats
Both applicants are first-timers:
One applicant is a first-timer, and the other is a second-timer:
For applicants who have previously received a Singles Grant:
For Singapore Citizen/Singapore Permanent Resident (SC/SPR) households with the SPR spouse now obtaining Singapore Citizenship status:
For applicants buying a resale flat within 4km of their parents (including nearby towns):
Are SBF and ROF flats eligible for the same grants as BTO flats?
Yes. Although if the SBF and ROF flat chosen has a low remaining tenure, the grant amounts may be lower.
What if my income assessment is deferred?
For BTO flats, the HDB announced in May 2018 that income assessment will be deferred until key collection for full-time National Servicemen (NSFs) and student applicants who are at or above the eligibility age of 21 and above. The deferment of income assessment for these couple applicants still qualifies them to apply for the Additional CPF Housing Grant (AHG) and Special CPF Housing Grant (SHG) upon BTO application.
How will the HDB grants for couples be disbursed?
All grants are credited into the CPF Ordinary Accounts of eligible Singapore Citizen applicants. No cash is disbursed.
If you found this article helpful, 99.co recommends 99.co's guides: HDB Loan or Bank Loan – Which one fits you better? and 99.co guides: Everything to know about paying for a resale flat
Looking for a HDB flat? Find the home of your dreams today on Singapore's largest property portal 99.co!