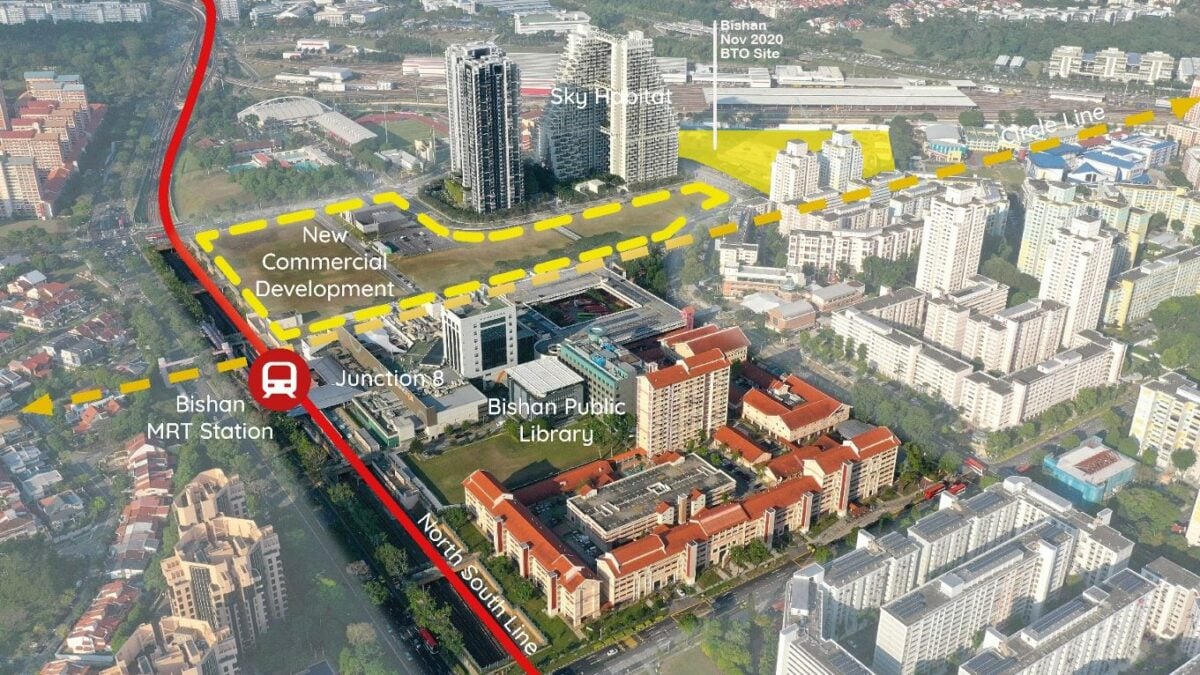 [This article has been updated with additional project information from HDB on 17 November 2020. The Nov 2020 Bishan BTO will be named
Bishan Ridges
.]
The upcoming HDB November 2020 Build-to-Order (BTO) sales exercise will feature five projects comprising of a total of 5,770 units. The 1,500-unit Bishan BTO, Bishan Ridges, is one of three projects in mature estates that will be launched.
Here's 99.co's detailed review of the Nov 2020 Bishan BTO:
Project name: Bishan Ridges
Location: Along Bishan Street 13/14
Classification: Mature estate
Number of units: 1,502
Blocks: 6 blocks of flats ranging in height from 22 to 39 storeys
HDB's estimated completion date: Q2 2026
Indicative price range (excluding grants):
| | |
| --- | --- |
| Flat type | Price range |
| 2-room Flexi (38 sqm) | S$121k – S$139k |
| 2-room Flexi (48 sqm) | S$151k – S$179k |
| 3-room | S$374k – S$470k |
| 4-room | S$528k – S$679k |
[Updated 17 November 2020. These are the official prices.]
Bishan Ridges – Introduction
By far, this is one of the most anticipated projects in the Nov 2020 BTO sales exercise. After all, this is only the third BTO launch in the history of Bishan (after Bishan Towers in August 2020 and the seniors-only Golden Jasmine in September 2006).
What really sets Bishan Ridges apart is its proximity to Bishan Town Centre, which is a regional hub similar to Paya Lebar, Tampines, Woodlands, Buona Vista and Jurong East. Out of these hubs, Bishan is third nearest to Singapore's city centre (after Paya Lebar and Buona Vista) and the nearest to the Orchard Road precinct.
The closest competition, in terms of price and location, for Bishan in this launch is the Bidadari BTO project, which we've reviewed here.
Here's the site plan for the Nov 2020 Bishan Ridges BTO:
Let's evaluate the pros and cons of the location and site of the Nov 2020 Bishan BTO, Bishan Ridges:
The Pros:
Bishan Ridges will be a five to seven-minute walk to Bishan MRT station, an interchange for both Circle and North-South lines, as well as Bishan Bus Interchange. There are also bus stops within a two- to three-minute walk from the site. Footpaths are likely to be mostly sheltered, with the exception of road crossings.
Bishan MRT is also connected to Junction 8 shopping mall, which has an array of restaurants, ATMs and banks, a Fairprice supermarket and a cineplex.
Bishan Town Centre also features a public library, community club and a variety of shops, kopitiams and services at blocks 503-513. There's a Giant supermarket at Block 512 currently.
There are a number of primary schools within 1km of the BTO, including Kuo Chuan Presbyterian Primary School right next door, Catholic High School, Guangyang Primary School and Townsville Primary School.
Bishan is also known for being the home of Raffles Institution, Raffles Junior College, and most recently Raffles Girls' School.
Eunoia Junior College has also recently opened in Bishan. Catholic High School, Kuo Chuan Presbytarian and Guanyang all have secondary school affiliates.
Superb recreational options nearby such as Bishan Swimming Complex, Bishan Stadium, Bishan Sports Hall, Bishan Community Club, Bishan-Ang Mo Kio Park, and the Kallang Park Connector.
High-floor units can enjoy stunning unblocked views.
Bishan Ridges will include attractive landscaping as well as sky gardens, so low-floor residents can still head up to enjoy a panoramic view.
Bishan Ridges will have a childcare facility, a kopitiam, a minimart and an assortment of shops.
The section of Kallang River that borders the condominium has been recently spruced up as part of PUB's ABCWaters initiative, making the area more attractive that the concrete canal it was previously:
In fact, this is how Bishan Ridges will look with the naturalised river in the foreground: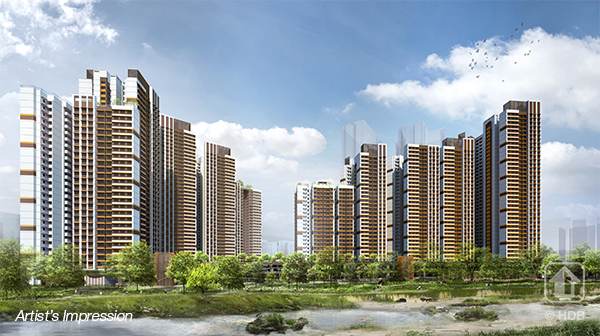 High lift-to-unit ratio. Block 532A has a mind-blowing SIX lifts serving six units on each floor. We've never seen this 1:1 ratio of lifts-to-units in a HDB development, and this is as close as a HDB can get to having 'private lifts' for residents!
In terms of the ratio of units with permanently unblocked views to the total number of units, Bishan Ridges has got to count as one of the best, offering 180-plus degrees of unblocked views from the northwest to the south. Southwest facing units (stacks 500, 502, 504, 506, 528, 530) above 14 storeys will also enjoy an unblocked view.
If you're wondering if there will be any form of noise pollution coming from the Bishan MRT depot acros the river, we feel that any potential noise will be very intermittent and typically softer than noise from schools and streets (i.e. not an issue).
The Cons:
2-room Flexi flats only available on short leases between 15 and 45 years (in five-year increments). These means these flats cannot be sold in the open resale market, and can only be returned to HDB in exchange for a fee for the remaining lease.
For the length of the short lease, prices for 2-room Flexi flats are expensive.
Higher prices than we first estimated. Prices for 3- and 4-room flats are city fringe pricing, on par with recently-launched BTO flats at Boon Keng and even higher than Dakota One (Aug 2020 launch).
Longest construction period out of the BTO projects in this sale exercise. Successful applicants will only receive their keys in 2026.
Because of how the architect chose to orientate the blocks, more than one-third of the four-room units here will have some form of exposure to the dreaded afternoon sun. On the other hand, northeast-facing units with a clear view of Kallang River will be exposed to the morning sun.
We expect 4-room flats here to be over 20 times oversubscribed among first-timer applicants. Go for 3-room flats and you may stand a slightly better chance. (Chinese quota expected to run out first, for both unit types.)
No 5-room units, but this is expected.
Balconies would've been nice, especially for river facing units. There are no units with balconies at Bishan Ridges.
Expect higher human traffic than usual due to proximity to primary and secondary schools, a popular park connector, and Bishan Stadium.
When the sun sets, floodlights from Bishan Stadium will dazzle residents of stacks that directly face the stadium. Early sleepers and those sensitive to strong lights should avoid these stacks.
The two-lane Bishan Street 13/14 might not handle increased vehicular traffic well. The BTO project has two separate entry and exit points, which may not be adequate during peak hours.
The blocks are set back from the Kallang River. This, we think, was done to seamlessly connect the common areas and facilities within the Bishan Ridges BTO and encourage the public to use these facilities. Residents could find themselves crowded out of playgrounds, for instance, by members of the public, especially on weekends and public holidays.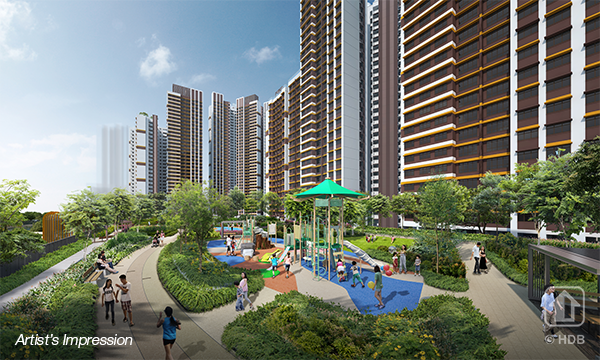 Important note:
Bishan has long been branded as one of the best HDB towns to live in. For those who are concerned about resale value, the price performance of resale HDB flats here is one of the best in Singapore, due not only to its status as a regional hub and relative proximity to the city, but also for the concentration of renowned schools within the town.
With plenty of landed housing, Bishan is also less densely populated than most other HDB estates in Singapore, although residents from nearby estates do come to Bishan to enjoy its many amenities.
But it appears that Bishan's best is still yet to come. According to the URA's Master Plan 2019, a Bishan Sub-Regional Centre is being planned. Essentially an expansion of the current Bishan Town Centre, this will be an "employment node that is integrated with community facilities to serve both residents and workers", in URA's words.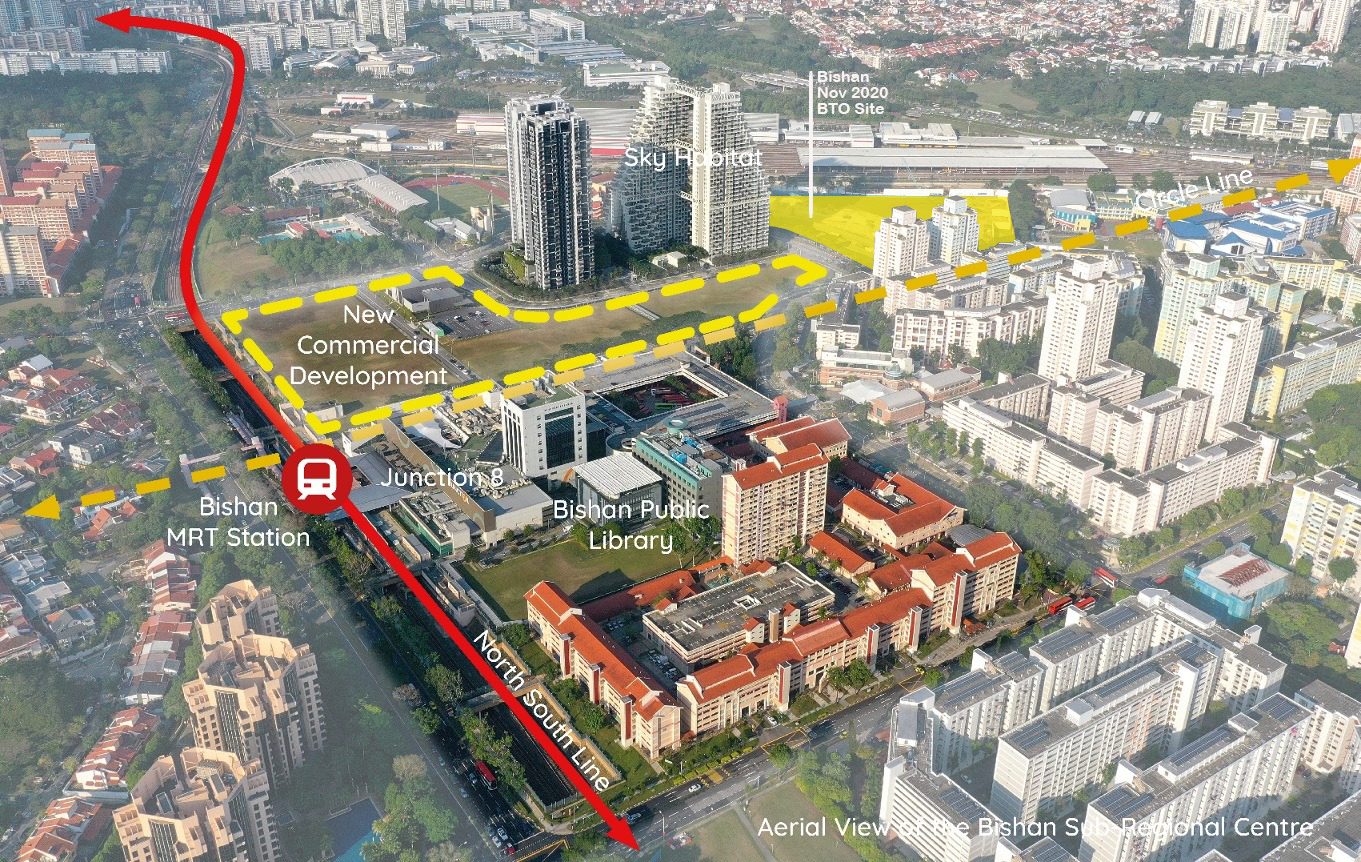 Not much else has been published about the hub at the moment, but it's worth pointing out the size of the land earmarked for "new commercial development", which is about the size of Jurong East malls Westgate and JEM combined.
What this means is that the lucky residents of this BTO project will in time be right across the road from a shopping mall or office tower, which will link seamlessly to Junction 8, the MRT and bus interchange.
And because the empty land near Bishan Town Centre has been zoned commercial, this BTO will be the last residential project to be launched in Bishan for some time. Due to the lack of land for new residential developments here following this BTO project, resale flat prices of this BTO is set to soar after the Minimum Occupation Period (MOP) because of the scarcity factor.
The true stars of the development will surely be the higher floor units with unblocked views. There won't be any future high-rise development in the towards the North and Northwest to block your views, while south-facing units on the highest floors can enjoy a spectacular view towards the city.
Read this: Bishan HDB flats with stunning condo pool view is the very definition of "free rider"
Bishan Ridges Nov 2020 BTO: Should you apply?
Yes, the pros for this Bishan BTO project are a little overwhelming, but we feel that HDB has gone a bit overboard with its pricing on this one, by at least 10%.
Still, as long you find that the prices are comfortably within your budget and don't mind a 2026 completion date, there is no reason not to ballot for the flats here if you're a Singaporean seeking your first home.
That being said, because tens of thousands of applicants will be fighting over the 1,500 units on offer, your lucky stars will have to be shining on you.
If you fail to receive a queue number or select a unit, don't write off the estate altogether. Resale HDB flats near Bishan Town Centre could also very well benefit from further development of commercial amenities. The stock of HDB flats here are also very diverse, from standard three-room units to spacious executive maisonettes, so there's something for everyone (pardon the cliche).
211 Bishan Street 23
Singapore 570211 · D20
3
2
$4,600
408 Sin Ming Avenue
Singapore 570408 · D20
-1
$1,400
191 Bishan Street 13
Singapore 570191 · D20
3
2
$1,000,000
148 Bishan Street 11
Singapore 570148 · D20
4
3
$1,020,000
116 Bishan Street 12
Singapore 570116 · D20
3
2
$4,500
195 Bishan Street 13
Singapore 570195 · D20
-1
$1,200
24 Sin Ming Road
Singapore 570024 · D20
2
1
$354,999
229 Bishan Street 23
Singapore 570229 · D20
-1
1
$1,000
148 Bishan Street 11
Singapore 570148 · D20
5
3
$6,000
158 Bishan Street 13
Singapore 570158 · D20
3
2
$4,800
Also, for those with children, Bishan is one of the best places to raise kids, with plenty of well-regarded schools across all levels. It's not by chance that the estate's residents have a reputation for being "elitist"!
---
Before you apply, check out our other Nov 2020 BTO reviews:
Upcoming Freehold Condo Launch: The Arcady @ Boon Keng
About Eliza Hamizah
Looking to sell your property?
Whether your HDB apartment is reaching the end of its Minimum Occupation Period (MOP) or your condo has crossed its Seller Stamp Duty (SSD) window, it is always good to know how much you can potentially gain if you were to list and sell your property. Not only that, you'll also need to know whether your gains would allow you to right-size to the dream home in the neighbourhood you and your family have been eyeing.
One easy way is to send us a request for a credible and trusted property consultant to reach out to you.
Alternatively, you can jump onto 99.co's Property Value Tool to get an estimate for free.
If you're looking for your dream home, be it as a first-time or seasoned homebuyer or seller – say, to upgrade or right-size – you will find it on Singapore's fastest-growing property portal 99.co.
Meanwhile, if you have an interesting property-related story to share with us, drop us a message here — and we'll review it and get back to you.
Join our social media communities!
Facebook | Instagram | TikTok | Telegram | YouTube | Twitter