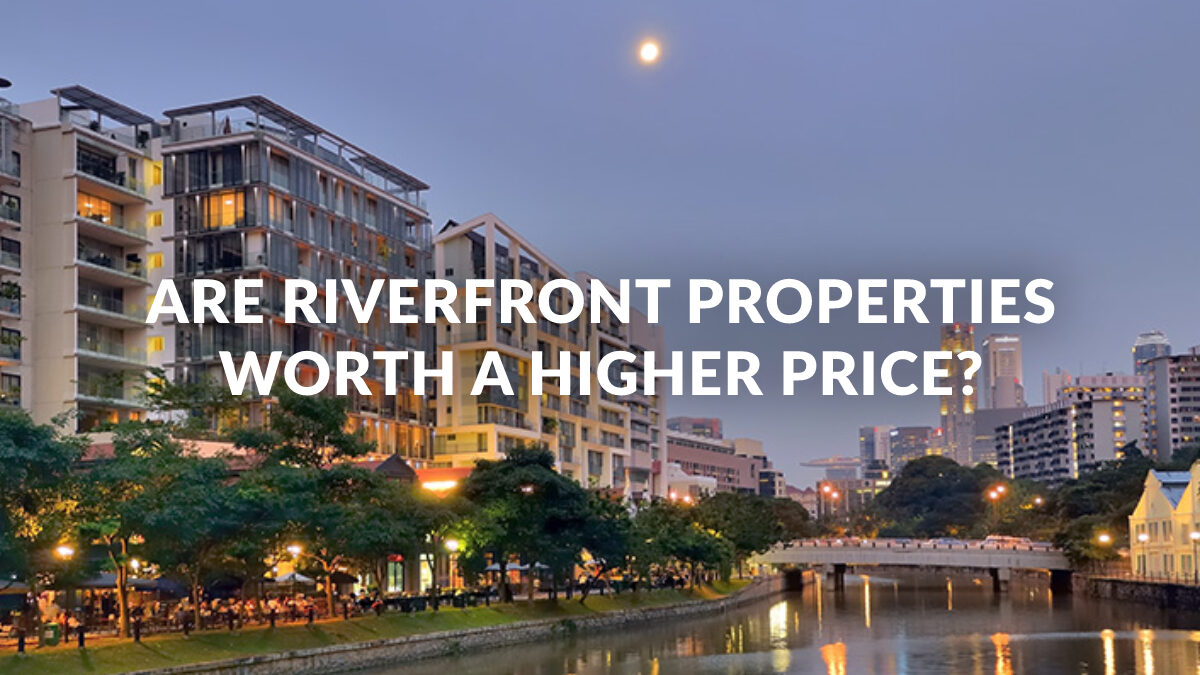 While it's clear that a seafront property can command a price premium, we're less certain when it comes to a riverfront property in Singapore. After all, our sunny island doesn't have many actual rivers to speak of; the longest, Kallang River, is barely 10km. Also, most rivers here are narrow channels of water with concrete banks. In fact, locals tend call these so-called rivers longkangs ("drains" in Hokkien) without second thought.
However, there are exceptions to the rule, such as the Singapore River, the upper stretches of the Kallang River, and Serangoon River. We were interested to find out if the properties along these rivers show any significant differences in value, so we did a little research on three locations with 99.co's analytics tools. Here are our findings:
Location 1: Robertson Quay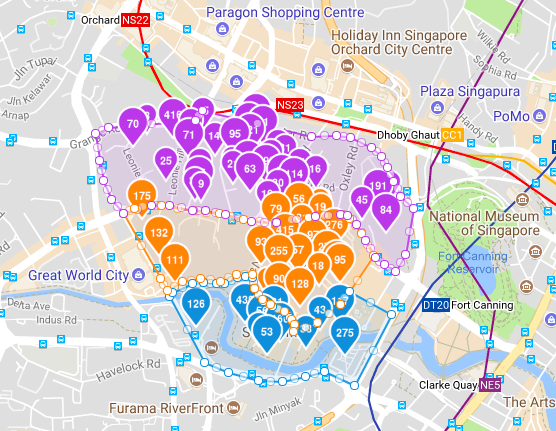 Background: Once a polluted waterway as a result of trading activity, this 3.2-kilometre long Singapore River has since been cleaned up and transformed into several lifestyle clusters, each with its own distinct character. For instance, Clarke Quay is a vibrant nightlife district, whereas Robertson Quay is quieter and more laid-back.
What we did: We specifically looked at the Robertson Quay area along the Singapore River, where the concentration of condos along Singapore River is the largest. We compared the condos in this area (10 of them) against condos in two adjacent areas — one just behind the riverfront area (River Valley, South) and the other closer to the Orchard Road shopping belt (River Valley, North). The areas are all part of District 9 (D9), considered a prime district in Singapore.
The date range of the comparison is the past ten years.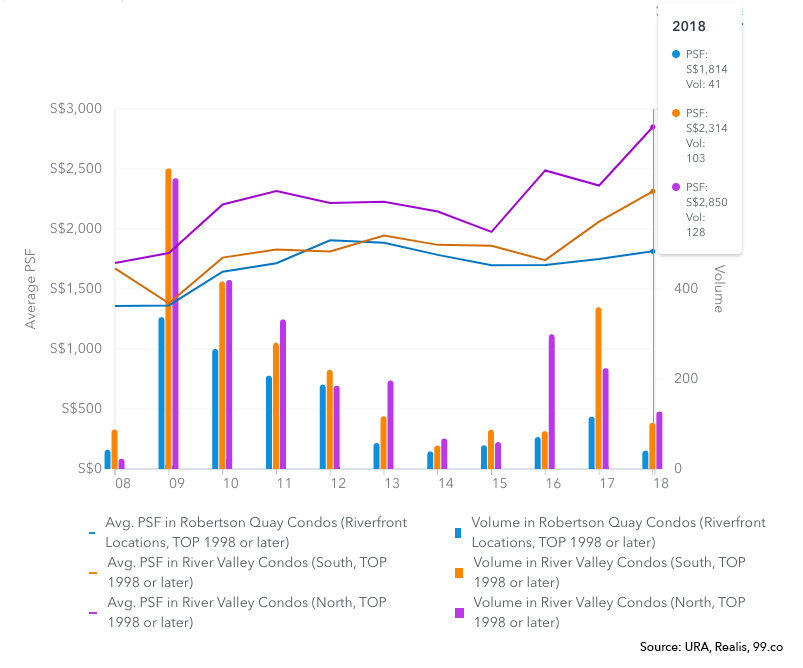 Analysis: Being situated next to the Singapore River didn't afford condos a price premium in D9. On average, condos at River Valley, North (nearer to Orchard Road), held an distinct per square foot (psf) price advantage over its riverfront counterparts throughout the years. Condos in River Valley, South had a roughly similar average psf price to Robertson Quay condos until 2015.
While the average psf prices in River Valley, North and South, increased significantly over the past two years, we haven't seen that being translated to the Robertson Quay properties. It's worth noting that average psf prices for condos in Robertson Quay is still 2.73% lower than 2013 levels, before cooling measures were put into place.
Verdict: Properties along the Singapore River do not hold a price premium over nearby D9 properties. One reason for this is property prices have been traditionally higher in the more sought-after estates nearer to Orchard Road, where there are also more practical amenities such as supermarkets and cinemas. A greater number of buyers in D9 could also prefer the quieter, more private surrounds of River Valley, North and South, as opposed to a home located in a high-traffic riverfront area.
Location 2: Bishan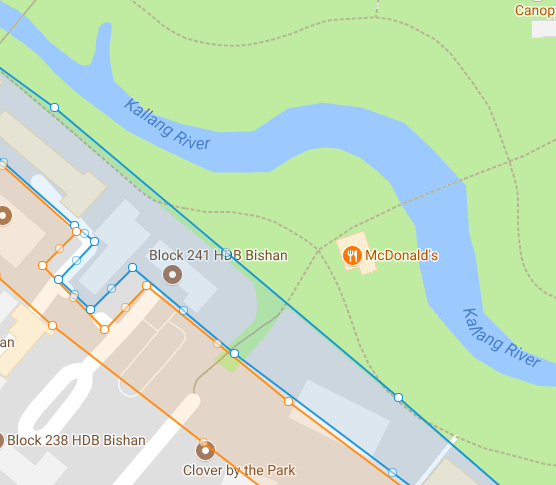 Background: As recently as 2008, the stretch of Kallang River that runs along Bishan new town was still an unsightly concrete canal that separated the estate from Bishan-Ang Mo Kio Park. The government announced a major project to naturalise the river in 2007, which started in 2009. When the project was completed in 2012, what was once a canal had become a winding river with grassy, gently sloping riverbanks. When you see the wildflowers and migratory birds, it's hard to imagine what this river once was.
What we did: Here, we're looking specifically at HDB flats. We compared prices between the row of flats directly facing Kallang River, and the row of flats directly behind it (where units have negligible to no river views). The HDB flats in this comparison were all built back in 1992, and consists of 4-room HDB flats and bigger.
The date range of the comparison is the past 15 years.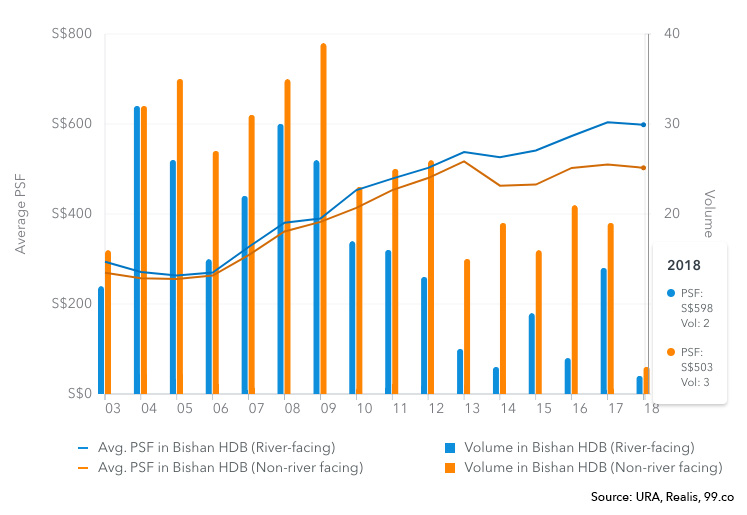 Analysis: Compared to the blocks directly behind, the average psf price premium of Bishan river-facing blocks never exceeded 9.42% pre-2014. (Bear in mind the river-facing units already had an unblocked views of Bishan-Ang Mo Kio Park.) Then, two things happened in 2013:
In March, Prime Minister Lee Hsien Loong officially opened the revamped Bishan-Ang Mo Kio Park and the naturalised Kallang River
In June, the Singapore government introduced a key property cooling measure in the form of the Total Debt Servicing Ratio (TDSR)
In 2014, the row of non-river-facing flats saw a relatively steep, double-digit decline in transacted average psf price — a 10.40% fall — presumably due to the new cooling measure reducing the number of qualified buyers.
Meanwhile, the row of flats facing the naturalised Kallang River fell 2.18% in average psf price. Remarkably, in 2015, the average psf price of the river-facing flats rebounded to 0.64% higher than 2013.
To date, the average psf price of the non-river-facing flats hasn't recovered to pre-cooling measure levels, whereas the average psf price of river-facing flats are now up by more than 11% compared to 2013. The percentage price premium between the two group of flats have also grew to a record high of 18.89%.
Verdict: Even the most conservative property analysts will find it hard to argue against the effects of having a river view on property prices in Bishan. Given that units that offer a view of a decent river is highly limited in Singapore (i.e. scarcity value), it can also be observed that river-facing properties may have greater resilience to negative external market forces.
Location 3: Hougang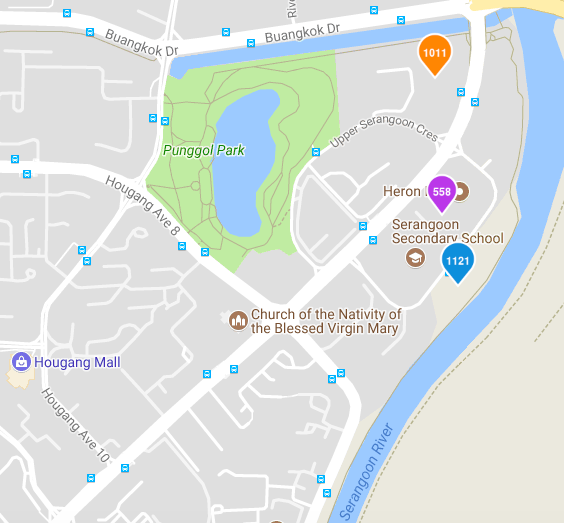 Background: Hougang (in District 19) is home to a number of condos in the vicinity of Serangoon River. The river — mostly untouched in its natural form — is about 50 to 60 metres wide at the Hougang section. On the opposite bank is undeveloped forested land.
What we did: We compared three such recently-completed, 99-year leasehold condos* in Hougang, namely:
Kingsford Waterbay (TOP: 2018; approximately 40% of river-facing units; project location in blue on map)
Riversails (TOP: 2016; approximately 3.5% river-facing units; in orange)
Boathouse Residences (TOP: 2015; 0% river-facing units; in purple)
*We did not include Heron Bay, which is an Executive Condominium.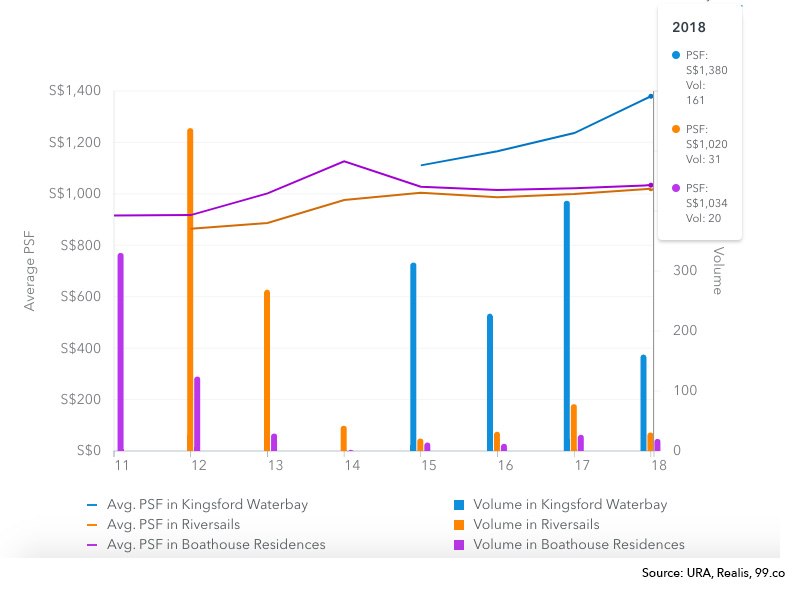 Analysis: At the launch of Kingsford Waterbay in 2015, units there were sold at average percentage psf premiums of 8.07% and 9.67% compared to Boathouse Residences (BR) and Riversails (RS) respectively. This premium grew to 33.46% (BR) and 35.29% (RS) at time of writing. Kingsford Waterbay currently has an average price of $1,380 psf for transactions in the past six months; a 6th floor, 689 sq ft river-facing unit there was sold — as a new sale — for $1,430 psf in May 2018.
In case you were wondering, there's no discernible average psf price differential — in District 19 — between condo projects that TOP-ed in 2015-16 and those that TOP-ed in 2018 and after, as below:

Verdict: The Hougang comparison clearly shows that, while a developer may price-in a premium for a riverfront project at launch (i.e. Kingsford Waterbay), the perceived advantage of a riverfront view or location among buyers could further increase the premium as time goes by. With another riverfront condo project — Riverfront Residences — launching nearby in June 2018, it'll be interesting to see how a competing project will be priced. Anything significantly below Kingsford's average psf price (say, $1,200 psf) could provoke a real buyers' frenzy.
Should I buy a riverfront property in Singapore?
While a riverfront property might not command as high a price premium as a seafront apartment in Singapore, the river itself matters. While the attraction of the Singapore River might pale in comparison to other amenities/pull factors of living in the prime district of D9, the story is different in out-of-central areas.
In Bishan and Hougang, we've seen how a peaceful and picturesque riverfront living environment can certainly turn heads. In the end, it all comes down to that old property adage: location, location, location.
---
Would you buy a riverfront property? Let us know in the comments section below.
If you found this article helpful, 99.co recommends D10 and D11 condos: Luxury and value next to Downtown Line stations and Eight-step guide to buying a new launch condo in Singapore