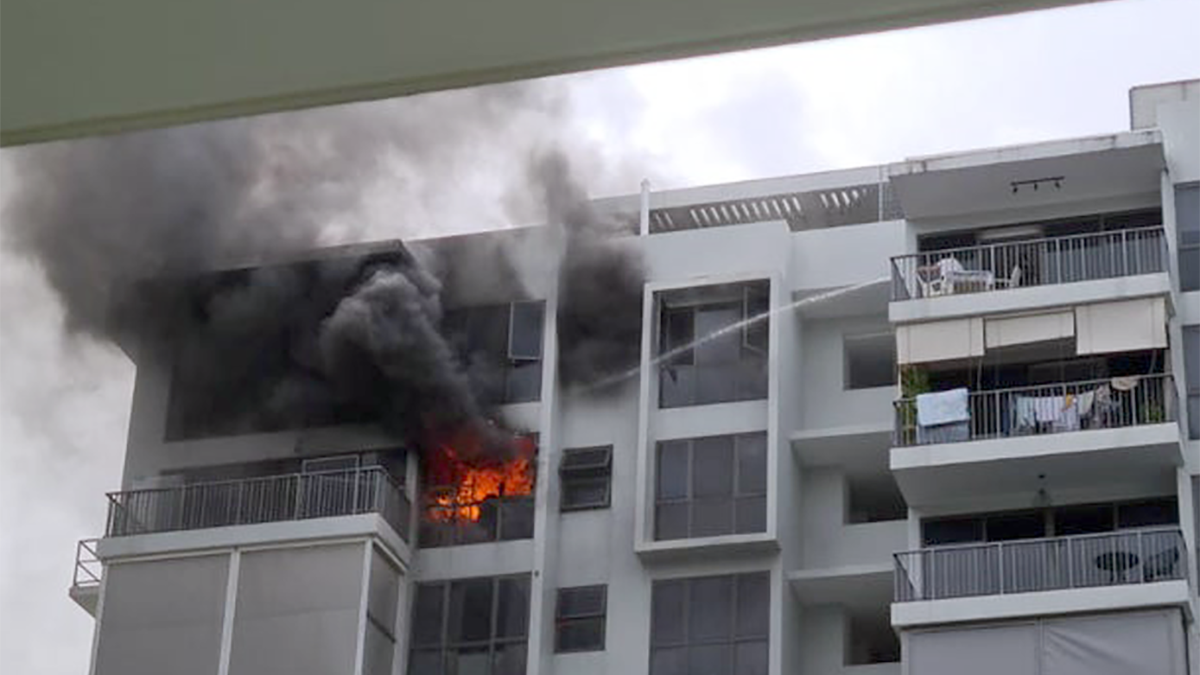 It's not much, but it's honest work. In the aftermath of the fire at Waterwoods condominium on Saturday (19 December), photos and a video surfaced of a kind samaritan neighbour attempting to put out the blaze from his balcony using a hose.
[Note: This article has been updated at 3pm on 20 December (Sunday) with first-hand account of the incident from a resident who was involved in attemping to fight the fire]
Fire trapped six occupants inside Waterwoods condo penthouse unit
The fire, which occured in the late morning, engulfed one of the five bedrooms of a penthouse unit at Block 19 of Waterwoods condo, an executive condominium in Punggol that was completed in 2016.
According to the Singapore Civil Defence Force (SCDF), six people were trapped in the unit when the bedroom caught fire. Wearing breathing apparatus, SCDF firefighters forced their way into the smoke-filled unit and rescued all six occupants.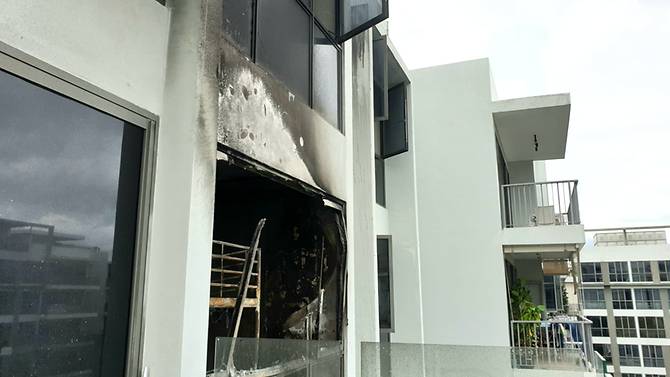 One of the rescued was found in the kitchen, while two people were found in an upper-floor bedroom directly above the one that caught fire.
The remaining three occupants were found precariously waiting on a ledge outside the upper floor toilet. "They were quickly brought in to safety through the toilet window," said SCDF.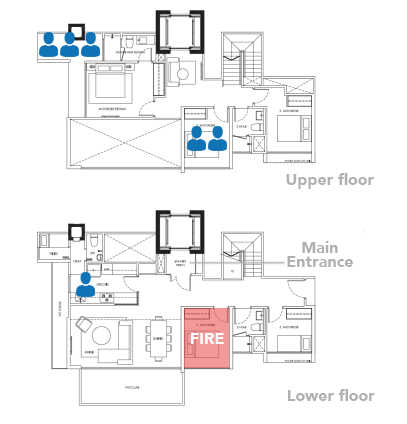 Five of the six occupants were brought to Singapore General Hospital for smoke inhalation, with one having refused to go to hospital, SCDF added.
Before the firefighters extinguished the fire using water jet, the unit's next door neighbour was filmed valiantly using a hose from his own home to put out the fire.
Neighbours sprang into action before SCDF's arrival
99.co got in touch with Mr Koh, a resident on the 14th floor in the same block who was involved in the attempt to hose down the fire. "My wife heard an unusual cracking sound, and my first reaction was that another unit was undergoing renovation works," he said.
"Then, our neighbours from the opposite block starting shouting across at us and pointing towards our direction. I took a quick glance and saw that the unit diagonally above had caught fire."
"I shouted back at the neighbours to call SCDF, to call 995," he added.
Mr Koh, who told 99.co he had previous training in emergency fire response, immediately went up to the 16th floor to knock on the unit's main door.
"I didn't know if anyone was inside at the time. I had wanted to see if anybody could provide us access so we can pull in the hosereel to fight the fire."
When there was no response, Mr Koh went along with another neighbour to the floor above to access the fire hosereel. They believed that the trajectory of the water would be more ideal if it was launched from one floor above the fire.
Thanks to the mandatory length requirement of 30 metres, they were able to pull the hosereel from the common area all the way into the unit and onto its balcony.
"We wanted to see if the water could reach the fire from the balcony," said Mr Koh. He explained that water from the hosereel's nozzle can reach up to six metres, which happened to be roughly the distance between the balcony and the room on fire.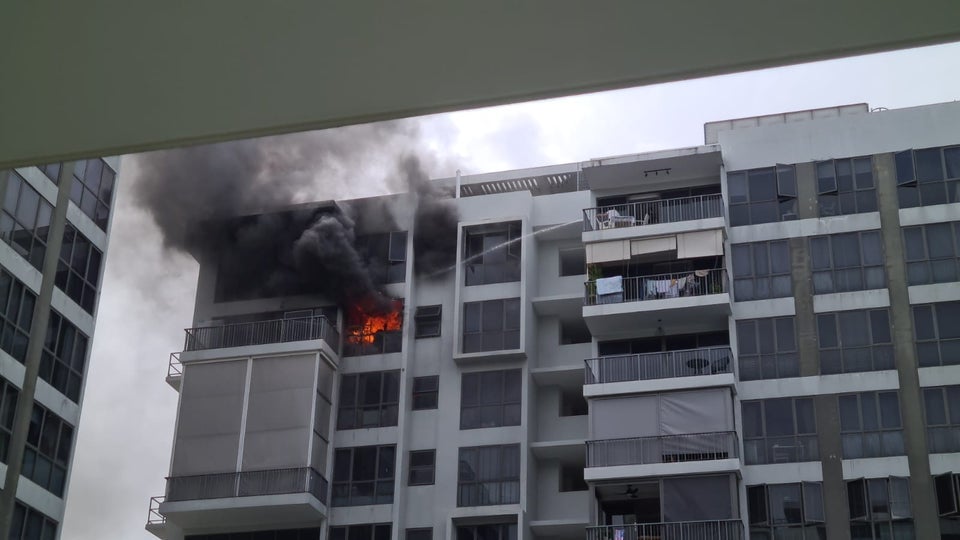 While fighting the fire from the balcony, Mr. Koh also spotted a teenage boy trapped inside the penthouse, on the upper floor directly above the burning room. "We tried to communicate with him and asked him if there was anyone else in the house."
"From his expression, he looked scared and was very flustered. [The boy] couldn't really shout over to us so we had to try to communicate through sign language," Mr Koh said. "We told him to stay calm, stay safe and reassure him that the SCDF is coming so he wouldn't panic or make any rash or wrong decisions."
Mr Koh eventually handed the hosereel over to the SCDF when they arrived on the scene a few minutes later, and proceeded to evacuate the block with other residents as the firefighters conducted their rescue and put out the fire.
Even though the neighbours' efforts appeared to do little to alleviate the inferno, it didn't stop them from trying. The act earned praise from netizens:


However, some also highlighted that using water could make things worse if it had been a "grease fire":
In case you're wondering if the neighbours were doing the right thing, here's a useful link to 'What kind of fires can be put out safely with water'.
Residents from affected block evacuated as precaution
In the video, we can see that the fire was so intense that the glass window panes were breaking off. About 100 residents from the affected block at Waterwoods condo were evacuated by security officers as a precautionary measure, but not before this kind neighbour did what he could until the firefighters arrived on the scene.
The cause of the fire is currently under investigation, the SCDF said.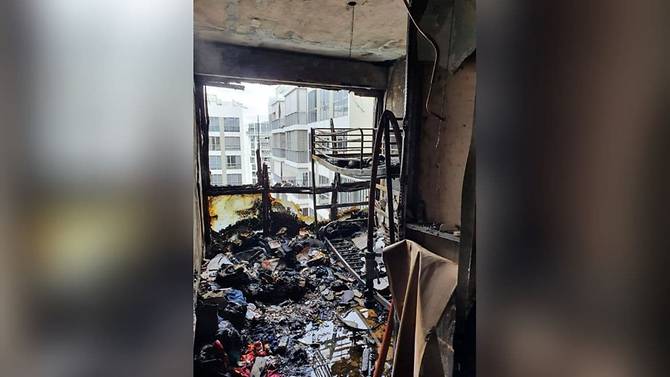 [Related article: 
5 unexpected steps you'll need to take when your house burns down
]
Living in a high-rise home? Here's what to do if there's a fire
If any part of your home catches fire and you're on a high-rise apartment, these are the steps you should take to ensure your safety and survival:
Do not panic. Staying calm increases chances of survival.
Call 995 as soon as you identify a fire and tell the operator your present location.
Remember that smoke rises and that it kills. Even if you can tolerate the smoke, get as low to the floor as possible and crawl to move around (for example, towards a safe exit)
Do not open the door until you have checked to be sure there isn't fire on the other side. Feel the door knob through a towel or an item of clothing. If it is hot, the fire may be just outside the door.
When opening a door, brace your shoulder or foot against the door and open with extreme caution. Should you be confronted with a high concentration of super-heated air or smoke, immediately close the door.
If its passable, use one of your pre-designated escape routes. If your escape route is blocked, it may be safer to return to your apartment or room.
Do not waste time gathering personal belongings, but shut the door and take your key if possible.
Do not use the elevator. It may stall due to heat or power loss.
If you must use an inside stairwell, check for smoke before entering it. Walk down (don't go up) and hold onto the wall or handrail. Do not run.
If you must return to your apartment or stay in your apartment because escape routes are blocked, open a window slightly to let smoke escape. Do not break the window as you may need to close it if there is smoke entering from the outside.
Do not jump. You may not survive the fall.
If you must remain in the apartment or within a room, close all vents and air ducts. Wet towels and sheets and stuff them in the gaps around the doors.
Listen to the firefighters' intructions and do as they say.
Good deed or potentially dangerous? Let us know how you feel about the firefighting neighbour at Waterwoods condo in the comments below.
Check out our other related articles: 4 totally unexpected (and deadly) home fire hazards and 5 things about home insurance we're sure you didn't know
Looking for a property? Find your dream home on Singapore's most intelligent property portal 99.co!
Upcoming Freehold Condo Launch: The Arcady @ Boon Keng
About Kyle Leung
Content Marketing Manager @ 99.co
Looking to sell your property?
Whether your HDB apartment is reaching the end of its Minimum Occupation Period (MOP) or your condo has crossed its Seller Stamp Duty (SSD) window, it is always good to know how much you can potentially gain if you were to list and sell your property. Not only that, you'll also need to know whether your gains would allow you to right-size to the dream home in the neighbourhood you and your family have been eyeing.
One easy way is to send us a request for a credible and trusted property consultant to reach out to you.
Alternatively, you can jump onto 99.co's Property Value Tool to get an estimate for free.
If you're looking for your dream home, be it as a first-time or seasoned homebuyer or seller – say, to upgrade or right-size – you will find it on Singapore's fastest-growing property portal 99.co.
Meanwhile, if you have an interesting property-related story to share with us, drop us a message here — and we'll review it and get back to you.
Join our social media communities!
Facebook | Instagram | TikTok | Telegram | YouTube | Twitter