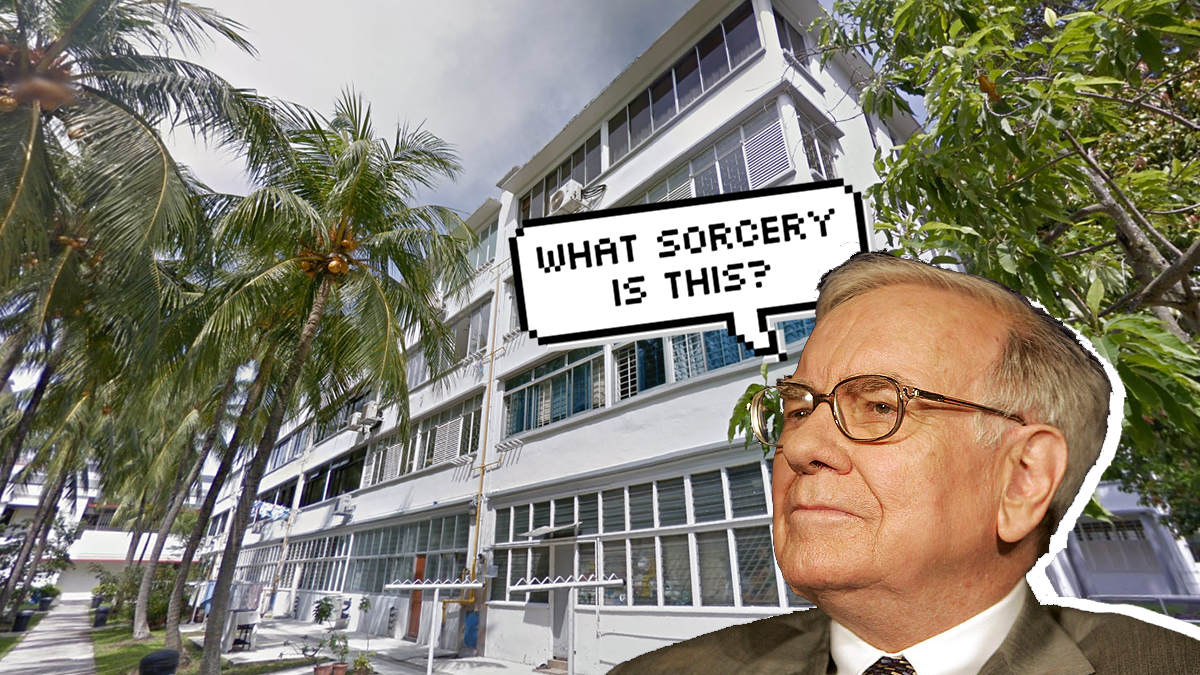 From the onlookers point-of-view, there are quite a few silly things Singaporeans are doing with their money these days, from pouring their life savings into seemingly overpriced latex glove stocks to forking out seven figure sums for leasehold public housing. The latest act of wanton extravagance? Splashing over a million dollars on an ageing HDB flat in Tiong Bahru with just 51 years of its 99-year lease remaining.
To be exact, a unit at Block 43 Moh Guan Terrace was sold in August 2020 for $1.088 million, which translates to $771 per square foot (psf). It also happens to be one of the old walk-up relics that doesn't even have lifts⁠—HDB never installed them because the design of the building doesn't support it.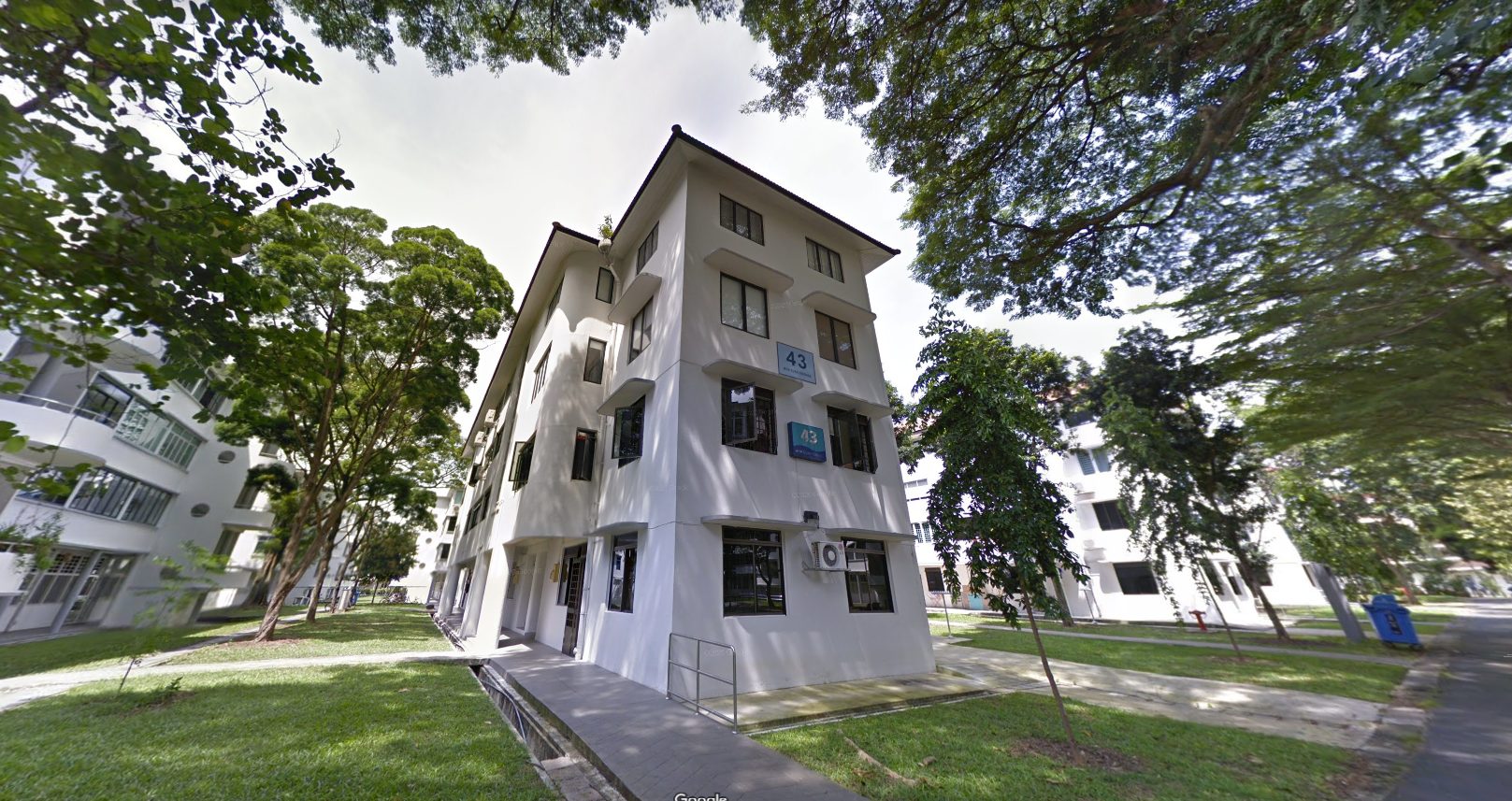 Over the flat's remaining 51 years of lease, the cost to live in it translates at least $1,800 a month, without factoring in home loan interest. 
Is forking out $1.088 million for a low-floor, 1,410 square foot HDB flat that doesn't even have lift access ever justified? Well, given that there are far newer flats in the vicinity (completed in the 2000s) that sell for about the same psf price, the answer seems at first to be a straight NO.
To illustrate the point, nearby flats at Kim Tian Vista (built in 2002) are going for around $700 psf and well under $1 million. Aside from lift access, some of them even come with spectacular views.
And with asking prices around $860,000 with 80 years of lease remaining, the cost for living in these (much) newer flat translates to a cost of about $900 per month, without factoring in interest.
So, not only did someone fork out $1.1 million for an old walk-up flat, he/she effectively did so at double the price of a newer flat in the same location.
And then there's the fact that, with newer flats built later than 2000, there is still room for capital appreciation, as the graph below shows: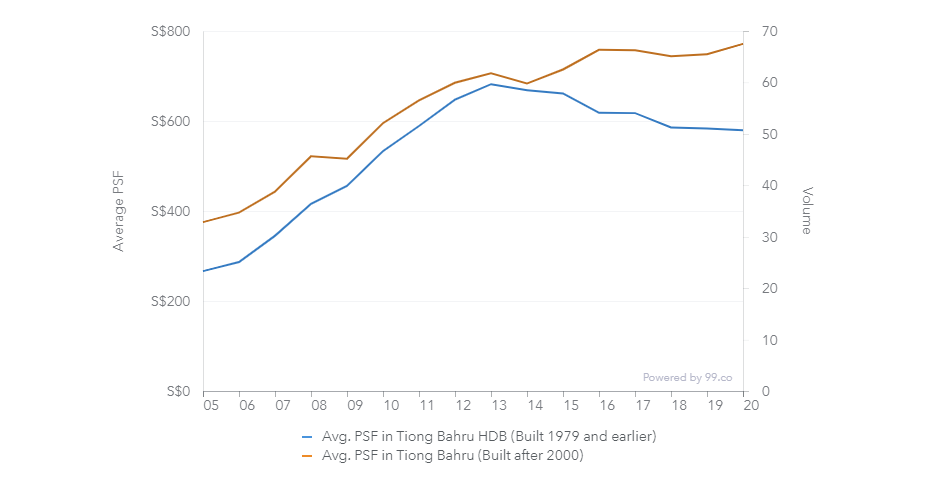 For old flats, it's a long road downhill (something we talked about in an earlier article).
But resale value isn't everything.
At least one thing's for sure, whoever bought the 47-year-old Tiong Bahru flat did not care much about resale value.
In fact, there are many more reasons why a buyer would stump up seven figures for this flat in particular. Some of these may even change the way you look at older flats.
If you're scratching your head by now, let us explain why a Singaporean in his/her right mind would buy the $1.1 million Moh Guan Terrace flat:
Reason #1: Nostalgia with practicality
Of all the city fringe districts, Tiong Bahru has got that unmistakable old-world charm that's anchored in the unique architecture of its preserved pre-war apartments.
The low-rise, walk-up flats at Moh Guan Terrace were built later on, in the early 1970s. These flats subtly mimic the art-deco architectural style of the older flats located in the actual conservation area to the east. The map below shows the $1.1 million flat's location relative to the conservation area: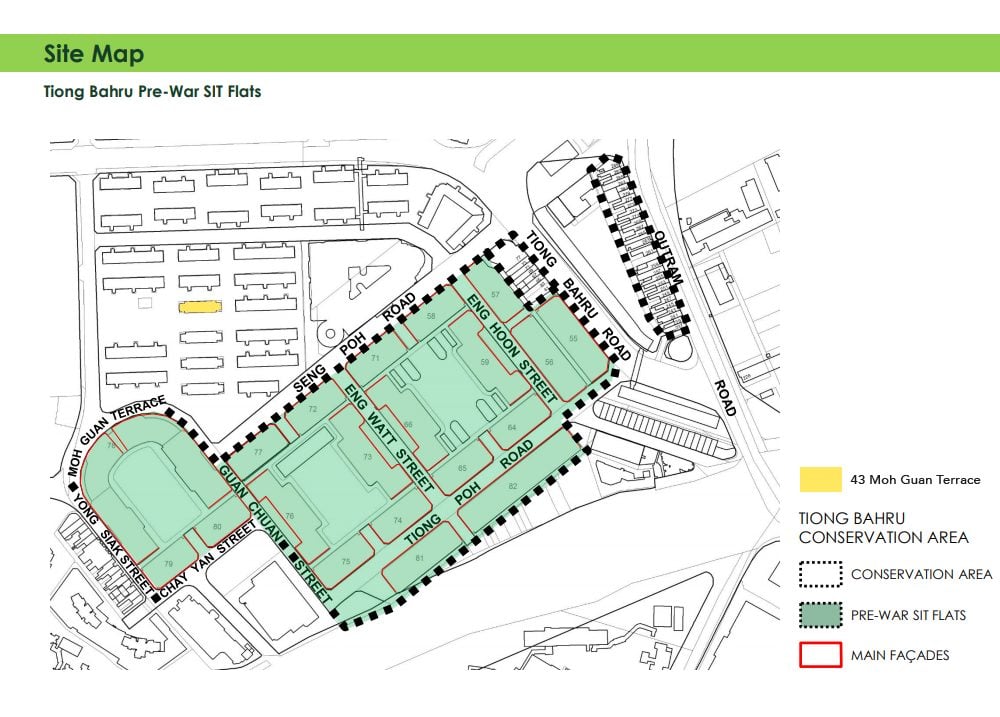 The buyer of the $1.1 million Moh Guan Terrace flat could've bought an even more distinctive, old-school looking flat that's actually located within the Tiong Bahru Conservation Area. But if he/she had done so, there would be much more restrictions on the refurbishing of the flat.
Imposed by the Urban Redevelopment Authority (URA) to preserve the unique characteristics of the pre-war flats, the restrictions include requiring owners to retain the original windows that come with a distinctive green glazing.
In contrast, owners of the flats at Moh Guan Terrace can soak in the area's nostalgic vibes, but also modernise their home as they see fit. It's the best of both worlds!
#2: Rental play
The flat is located in an area with high rental demand, with tenants drawn to Tiong Bahru's proximity to the city and its unmistakeable charm that has also attracted many complementary amenities like cafes and shops into the area.
In fact, Tiong Bahru is consistently one of the most searched neighbourhoods to rent on 99.co.
The $1.1 million dollar flat at Moh Guan Terrace is actually an amalgamation of two 2-room units. Hence, it comes with two main entraces, as the floor plan below shows: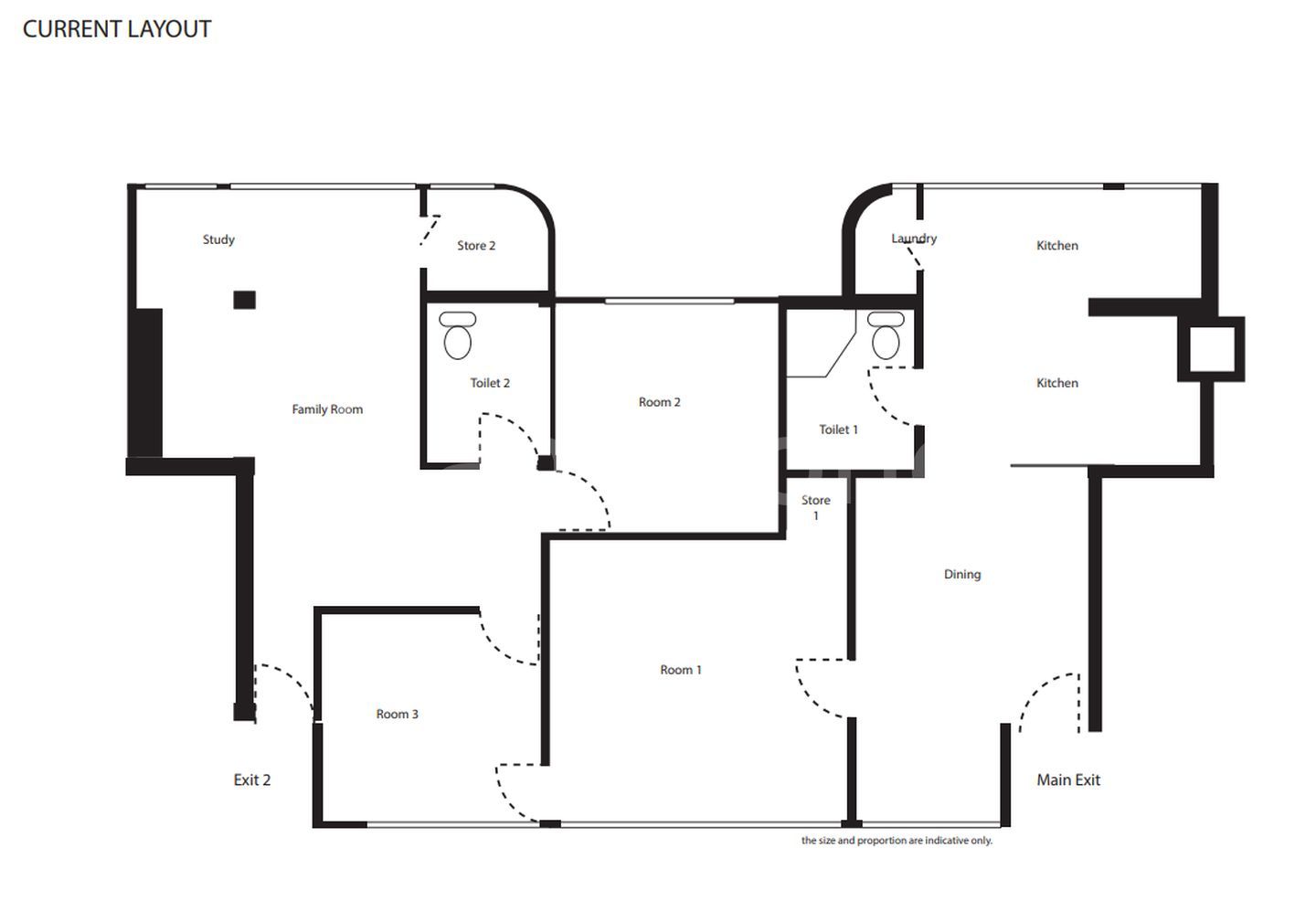 Singaporeans are only allowed to buy one HDB flat, but this is as good as it gets to 'skirting' around the rules. For the buyer of the conjoined Moh Guan Terrace flat, this is akin to buying two flats in one, with the possibility of renting out a section of the home like a standalone unit, much like a dual-key condo.
Looking at the above floor plan, the owner could, for instance, choose to rent out the left side of the flat*. Not only that, he/she can choose the size of the rented out premises by excluding or including Room 2 or 3 as part of the deal.
You rarely see this kind of flexibility, even for the standard jumbo flats where two 3-room flats are joined together.
If the owner chooses to rent out the left side of the flat inclusive of Rooms 2 and 3, he/she can potentially rake in $2,800 in monthly rental income, more than paying off the $1,800 monthly mortgage of the flat! (You can see similar flats available for rent here, at that price point.)
And once the buyer's five-year Minimum Occupation Period (MOP) is up, he/she can rent out the whole flat for nearly double that amount. Even if the buyer pays roughly $3,500 a month in monthly installments for a 25-year home loan, he/she stands to receive about 160% of that amount each month in rental income, if renting out the whole flat.
That's a staggering rental yield.
Forget about the 51-year remaining lease, this appears to be the ideal rental play for the property investor. One that even Warren Buffet might be jealous of.
*Under HDB rules, buyers of jumbo flats can rent out half the flat (with a separate main door) as long as both units aren't sealed off from one another (i.e. a locked door in between will suffice).
#3: A home office play
With work-from-home set to be commonplace even when the Covid-19 pandemic is over, more people are looking for layouts in residential units that can effectively be transformed into home offices.
And in Tiong Bahru, flats that were once residential homes were already starting to be used as commercial spaces.
In 2018, the URA officially rezoned 28 ground-floor residential units in Tiong Bahru for commercial use. The point is that Tiong Bahru is an attractive area to set up a business, considering the unique characteristics of the area. This trend is similar to why some companies insist on setting up shop in conserved shophouses.
For someone who'd like to run a home business without a storefront, a layout like the $1.1 million Moh Guan Terrace flat allows for a comprehensive office space to be sectioned from the whole unit.
Also, under the HDB Home Office Scheme, two non-residents are allowed to work in a flat that is used as the registered address for a business.
So if the buyer is someone who runs a small gig, this flat will allow him/her to save precious dollars from having to rent office space, while keeping the privacy of his home thanks to the separate main entrance.
Again, the $1,800 monthly mortgage looks like a steal, if the unit is to be used as a moolah-generating home office.
#4: A confident bet on SERS
Last but not least, the buyer of the $1.1 million Moh Guan Terrace flat must've been aware that blocks in the precinct have a high chance of being chosen for the HDB's lucrative Selective En Bloc Redevelopment Scheme, also known as SERS.
When a HDB project is announced for SERS, owners typically get a 'windfall'. Not only will they get a payout for their flats that is typically higher than market value, they will also be able to buy a brand-new flat, with a fresh 99-year lease, in the same town at a discounted price.
An example was how residents of Tanglin Halt, whose flats were chosen for SERS, received compensation and were also guaranteed new flats at nearby Dawson.
Although SERS is ultimately a guessing game, the odds are extremely good for the flats at Moh Guan Terrace. Being a low-density development in a prime area, land here is currently underutilised. An obvious clue is that the density here currently falls below the 2.8 plot ratio that the URA has attributed to this land parcel in its master plan.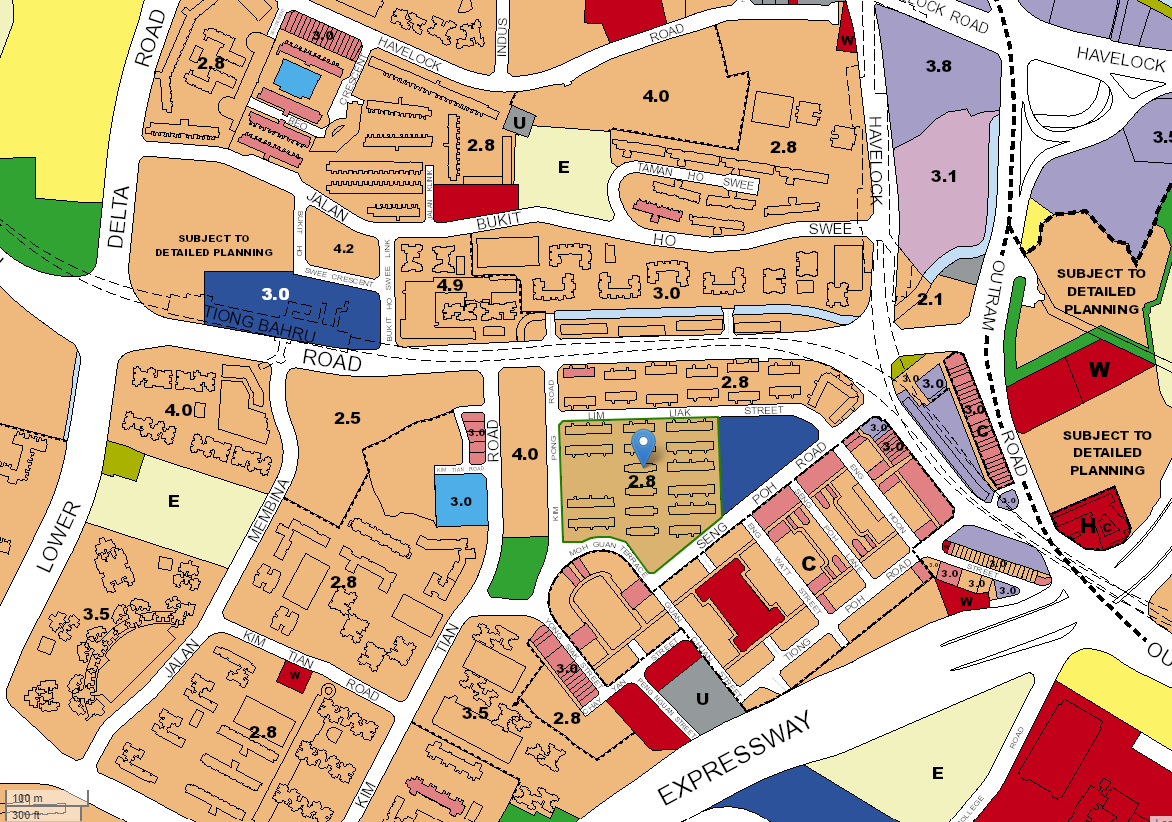 Underutilisation of land is a key criteria that property agents look for when recommending clients property with a high chance of en bloc, because it is cheaper for developers (in this case, the HDB) to acquire and redevelop with bigger margins.
This also goes back to our first point: If the buyer had chosen a flat within the Tiong Bahru Conservation Area, he/she would never benefit from SERS because conservation status would rule out any possibility of redevelopment.
Even if the Moh Guan Terrace flat isn't chosen for SERS, it will likely be picked for the Voluntary En Bloc Redevelopment Scheme (VERS).
All in all, it's unlikely that the buyer of the $1.1 million dollar flat will see the value of his purchase dwindle to zero when the flat's lease runs out in 51 years' time, because few sites in Singapore are as ripe for redevelopment as this!
Furthermore, bear in mind that a conjoined Moh Guan Terrace unit is very rare.
According to HDB records, this is only one of FOUR such flats in the entire estate of 28 blocks. If the buyer had missed this opportunity, it is unlikely that another one will come by anytime soon.
Right now though, the lucky owner of the Moh Guan Terrace unit is probably rubbing his/her hands with glee, even if most Singaporeans think it's money down the drain.
Clearly, it's a more astute decision than meets the eye. Better than any investment in the Covid-19 era, we dare say.
Do you agree with our take? Let us know your thoughts in the comments below!
If you liked this article, 99.co recommends Designer jumbo flat is first Ang Mo Kio HDB unit to break $1 million barrier and Eh, is it dumb to buy a 40+ Year Old resale HDB?
Looking for a property? Find your dream home on Singapore's most intelligent property portal 99.co!
Upcoming Freehold Condo Launch: The Arcady @ Boon Keng
About Kyle Leung
Content Marketing Manager @ 99.co
Looking to sell your property?
Whether your HDB apartment is reaching the end of its Minimum Occupation Period (MOP) or your condo has crossed its Seller Stamp Duty (SSD) window, it is always good to know how much you can potentially gain if you were to list and sell your property. Not only that, you'll also need to know whether your gains would allow you to right-size to the dream home in the neighbourhood you and your family have been eyeing.
One easy way is to send us a request for a credible and trusted property consultant to reach out to you.
Alternatively, you can jump onto 99.co's Property Value Tool to get an estimate for free.
If you're looking for your dream home, be it as a first-time or seasoned homebuyer or seller – say, to upgrade or right-size – you will find it on Singapore's fastest-growing property portal 99.co.
Meanwhile, if you have an interesting property-related story to share with us, drop us a message here — and we'll review it and get back to you.
Join our social media communities!
Facebook | Instagram | TikTok | Telegram | YouTube | Twitter