Implemented back in June 2013 by the Monetary Authority of Singapore (MAS), the Total Debt Servicing Ratio (TDSR) is a framework that safeguards borrowers against over-borrowing for their property purchase(s). In essence, the TDSR limits the amount individuals can spend on monthly mortgage debt repayments, based on a percentage of their gross monthly income. All banks and financial institutions in Singapore must adhere to the TDSR.
Currently, the total monthly debt obligations of a given individual or household—depending on whether the property is a single or joint purchase—is capped at 60% of gross income. While this might seem straightforward at first glance, there are quite a few conditions and exceptions that govern the TDSR.
To help you budget for your property and make savvy financial decisions, we've simplified what you need to know into seven points.
Outstanding debt obligations reduce the amount you can borrow
Although the maximum TDSR is 60% of an individual's fixed monthly income, any existing debt obligations will count against this and reduce the maximum amount you can borrow. These debt obligations include:
Credit card balances (including i

nstalment plans for items purchased)

Student loans
Car loans
Personal loans
Obligations as a guarantor
So, to obtain a higher maximum loan amount up to the full 60% TDSR, pay off as many debts as you can before your next property purchase!
There is a 'haircut' on variable income
Individuals will only enjoy the full TDSR if they receive a fixed salary (i.e. fixed income). Individuals with variable income (e.g. freelancers, odd-job workers, self-employed) are deemed "more risky" by lenders, hence only 70% of their total assessed income is counted towards the TDSR.
For example, if a self-employed professional earns $50,000 a year, only 70% of the $50,000 = $35,000 is counted. His/her TDSR would then be 60% x $35,000/12 months = $1,750, meaning only $1,750 a month can go towards debt repayment.
If the professional was employed full-time with the same salary, he/she would've gotten 60% x $50,000/12 months = $2,500, meaning $2,500 a month can go towards debt repayment.
So, generally, a home loan applicant with variable income can only get 70% of the loan amount that an applicant with fixed income can, under the TDSR framework.
There is also a 'haircut' on rental income
Similar to variable income, only 70% of rental income is counted!
You can use your investment assets to boost your TDSR
Good news for diversified investors.: According to the MAS, stocks, unit trusts, business trusts, debentures or bonds, gold, foreign currency deposits and structured deposits are liquid assets that can count towards your monthly income. What this means is that you can show proof of such assets to banks, and have them recognised as income to obtain a higher loan amount.
Note that there is also a haircut of 70% of total assessed income from your assets.
No haircut is required if you decide to pledge these assets to the bank or financial institution for a specific time period (e.g. four years)—a move most property buyers avoid.
Buyers of HDB flats and ECs are subject to an additional criteria
On top of the TDSR, buyers of new or resale Housing & Development Board (HDB) flats and Executive Condominiums (ECs) are subject to an additional, more stringent criteria, the Mortgage Servicing Ratio (MSR), on top of the TDSR. The MSR specifies that monthly mortgage repayments for the HDB flat or EC should not exceed 30% of your household income.
This means that, although you technically have 60% TDSR in this case, only half of this 60% can be used to pay off your mortgage (e.g. $3,000 out of a $10,000 gross fixed monthly income). The remaining 30% can go towards servicing other debts (e.g. car loan), if any.
Refinancing does not come under the TDSR framework, unless its an investment housing loan
After the TDSR was implemented in 2013, owner-occupiers who wanted to refinance their home loans at a cheaper interest rate faced roadblocks. In September 2016, the MAS fine-tuned its rules on refinancing, allowing all owner-occupants to be exempted from the TDSR framework when refinancing their owner-occupied housing loans as long as they pass their respective financial institution's credit assessments.
For investment housing loans, the TDSR framework still applies when refinancing. However, the owner may refinance his/her property loan above the 60% TDSR threshold if he/she meets the following conditions:
(a) commits to a debt reduction plan with his financial institution to repay at least 3% of the outstanding balance over a period of not more than 3 years; and
(b) fulfils his financial institution's credit assessment.
According to the MAS, this fine-tuning provides some flexibility for borrowers to refinance their investment property loans. At the same time, it encourages borrowers to right size their loans, so that they will be less vulnerable to future interest rate increases or any loss of income.
You can remortgage your paid-up home up to 50% of your property's value, without TDSR limitations
In March 2017, the Singapore government announced that the TDSR will not apply to mortgage equity withdrawal loans (MWLs). These are loans whereby property owners borrow cash against the paid-up value of their property. As long as the MWL and any outstanding mortgage amount do not exceed 45% of the property's value (i.e. loan-to-value ratio of 45% or below), the loan is allowed, and the MWL will not be factored into TDSR as an additional debt obligation.
This TDSR exemption will mainly benefit retired homeowners looking to monetise their properties.
Below's a cheat sheet summarising the most important aspects of the TDSR for you!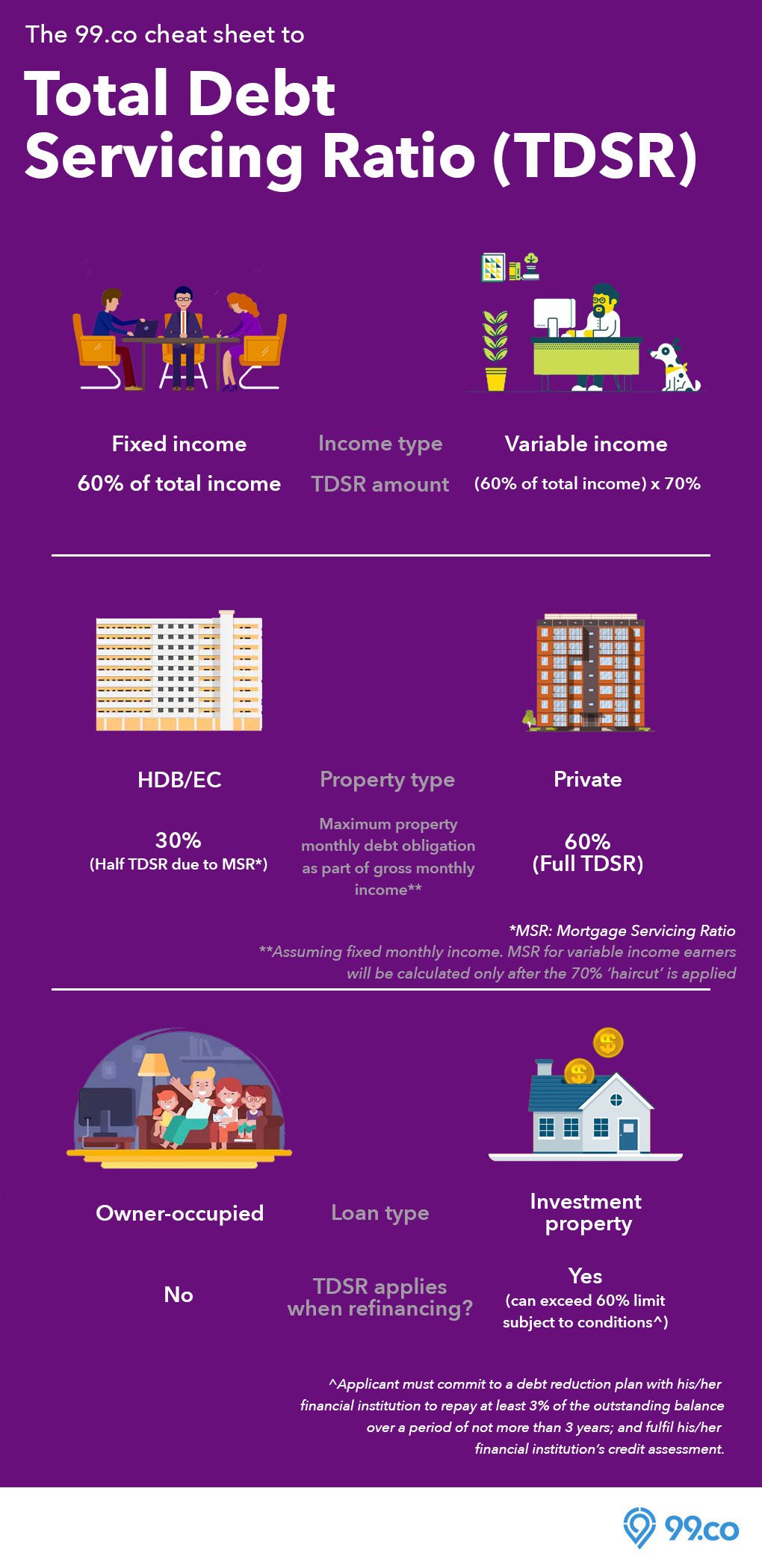 Voice your thoughts in the comments section or on our Facebook community page.
If you found this article helpful, 99.co recommends 7 Things To Note Before Taking A Bank Loan and CPF Housing Withdrawal Limits: What You Need to Know
Looking for a property? Find your dream home on Singapore's largest property portal 99.co!