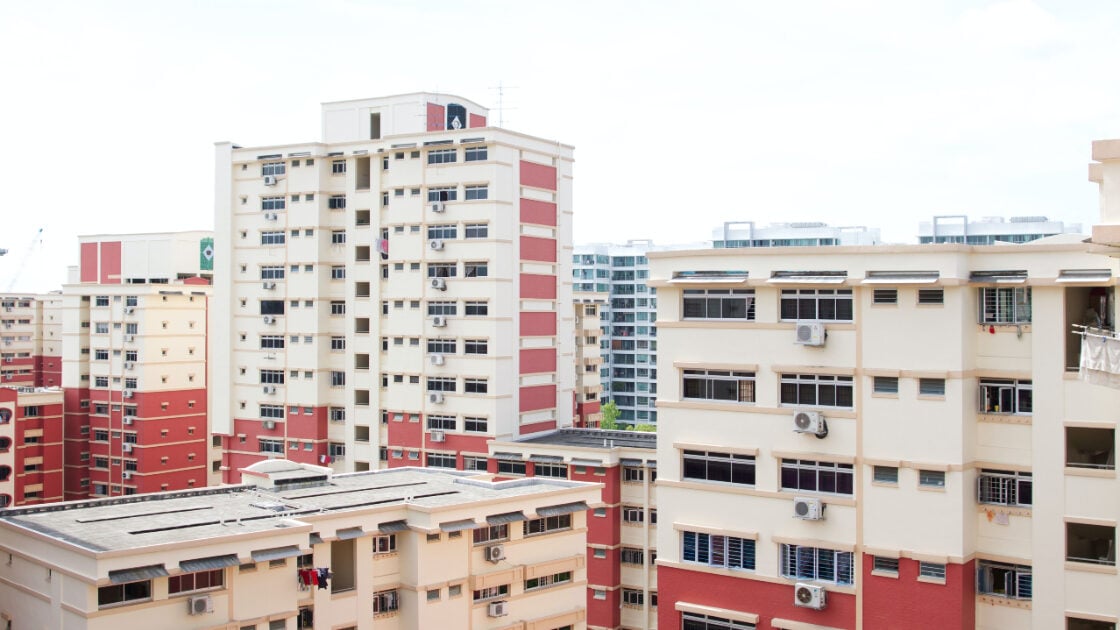 Update as of 24 June 2022: This article has been updated to include the latest TDSR, in light of the cooling measures announced on 16 December 2021.
Implemented back in June 2013 by the Monetary Authority of Singapore (MAS), the Total Debt Servicing Ratio (TDSR) is a framework that safeguards borrowers against over-borrowing for their property purchase(s).
What is Total Debt Servicing Ratio (TDSR)?
The TDSR is a cap on the total amount you can borrow, when applying for a home loan. In essence, the TDSR limits the amount individuals can spend on monthly mortgage debt repayments, based on a percentage of their gross monthly income. All banks and financial institutions in Singapore must adhere to the TDSR.
Currently, the total monthly debt obligations of a given individual or household –depending on whether the property is a single or joint purchase – is capped at 55% of gross income.
If you have variable income (e.g. working on commissions, getting rental income), your income counts as being 30% lower for the purposes of TDSR calculations.
Why does the TDSR exist?
The TDSR came about for two reasons:
The first reason is to prevent Singaporeans from being over-leveraged (i.e. accumulating too much debt for their property asset). This fear is grounded in the 2008/9 Global Financial Crisis – the economic crash was precipitated by people taking big home loans, which they couldn't actually afford.
The second reason is to slow the pace of property sales. When there are no loan restrictions, investors tend to purchase more properties, and prices often rise. The TDSR is, indirectly, helping to keep the cost of property manageable.
---
Key things to note about the TDSR
Don't confuse TDSR with true affordability
Note how variable loans factor into the calculations
If you're self-employed, under-declaring your income impacts your TDSR
Make sure you gather income documents early for TDSR assessment
1. Don't confuse TDSR with true affordability
Even though the TDSR cap is now 55%, that doesn't mean it's financially prudent to reach this amount. As a rule of thumb, your monthly debt repayments should not exceed 30 to 40% of your monthly income – regardless of what the TDSR allows.
You should also factor in your financial situation: if you have just started running your own business, for example, you should aim for a much lower debt limit than the TDSR's 55%. This will ensure you have enough savings to keep paying the mortgage, in case business goes south.
If you find that you're near the TDSR limit, there's a good chance your house or loan may be too expensive for you. Find a cheaper alternative.
2. Note how variable loans factor into the calculations
Some loans have variable repayment schemes. For example, personal loans and credit card loans often don't specify a fixed amount you have to repay. For these loans, note that the minimum required payment is used for the TDSR.
For example, say you have S$10,000 in credit card debt. For instance, the minimum repayment is 5% (or S$500). In such a case, only S$500 is added toward your TDSR limit.
If you have multiple credit lines (e.g. a dozen credit cards and several lines of credit), it's best to close the ones you don't use. Otherwise, calculating the minimum repayments for all of them will be a major headache.
3. If you're self-employed, under declaring your income can affect your TDSR
It may be tempting to under-report your income to avoid taxes. We can't advice you on the legal issues (we're not lawyers). But we can tell you that, if you understate your income, it becomes much harder to meet the TDSR requirement.
If you're self-employed, check out this post for more help on buying a home.
4. Make sure you gather income documents early for TDSR assessment
You will need to offer proof of your income. This can come in the form of tax statements, or simply payslips from clients (if you're self-employed). If you rely on variable income sources, such as rent or sales commissions, be sure to maintain a record of payments.
The tidier your income sources for the accountant, the quicker your TDSR limit is established.
You typically have to provide proof of income over the past six months to a year. As such, it's best to start early. In the 12 months prior to buying, be sure to carefully collect your pay slips, and avoid under-declaring your income.
---
How do I calculate my TDSR?
To calculate TDSR, take your monthly debt repayments, divide it by your gross monthly income and multiply it by 100%. This figure cannot exceed 55%.
Need some help determining your TDSR? Use 99.co's TDSR Calculator to find out your monthly mortgage limit.
Check out this TDSR calculation example for a better idea: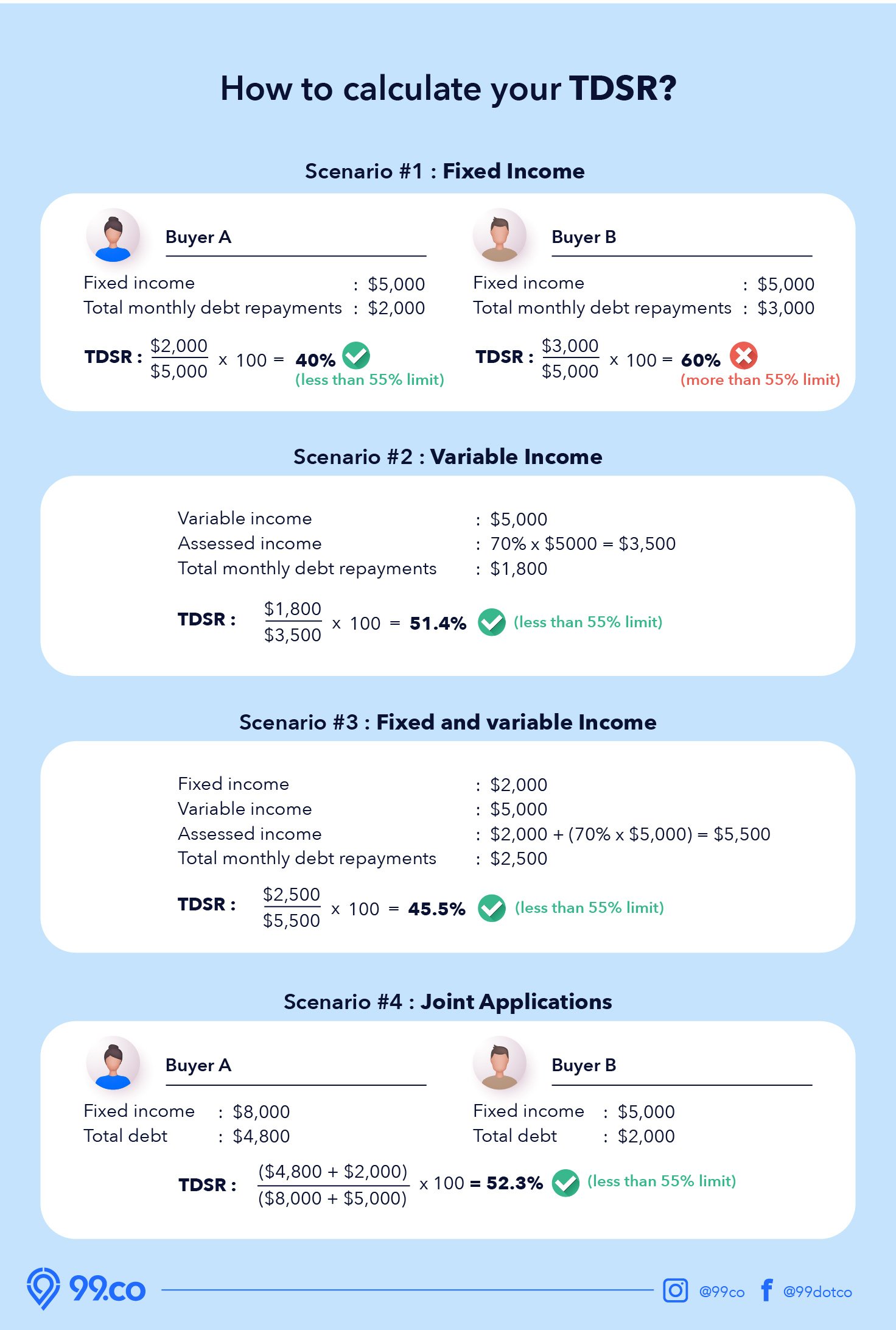 While this might seem straightforward at first glance, there are quite a few conditions and exceptions that govern the TDSR.
To help you budget for your property and make savvy financial decisions, we've simplified what you need to know into seven points.
1. Outstanding debt obligations reduce the amount you can borrow
Although the maximum TDSR is 55% of an individual's fixed monthly income, any existing debt obligations will count against this and reduce the maximum amount you can borrow. These debt obligations include:
Credit card balances (including i

nstalment plans for items purchased)

Student loans
Car loans
Personal loans
Obligations as a guarantor
So, to obtain a higher maximum loan amount up to the full 55% TDSR, pay off as many debts as you can before your next property purchase!
2. There is a 'haircut' on variable income
Individuals will only enjoy the full TDSR if they receive a fixed salary (i.e. fixed income). Individuals with variable income (e.g. freelancers, odd-job workers, self-employed) are deemed "more risky" by lenders, hence only 70% of their total assessed income is counted towards the TDSR.
For example, if a self-employed professional earns S$60,000 a year, only 70% of the S$60,000 = S$42,000 is counted. His/her TDSR would then be 55% x S$42,000/12 months = S$1,925, meaning only S$1,925 a month can go towards debt repayment.
If the professional was employed full-time with the same salary, he/she would've gotten 55% x S$60,000/12 months = S$2,750, meaning S$2,750 a month can go towards debt repayment.
So, generally, a home loan applicant with variable income can only get 70% of the loan amount that an applicant with fixed income can, under the TDSR framework.
3. There's also a 'haircut' on rental income
Similar to variable income, only 70% of rental income is counted!
4. You can use your investment assets to boost your TDSR
Good news for diversified investors. According to the MAS, stocks, unit trusts, business trusts, debentures or bonds, gold, foreign currency deposits and structured deposits are liquid assets that can count towards your monthly income. What this means is that you can show proof of such assets to banks, and have them recognised as income to obtain a higher loan amount.
Note that there is also a haircut of 70% of total assessed income from your assets.
No haircut is required if you decide to pledge these assets to the bank or financial institution for a specific time period (e.g. four years) – a move most property buyers avoid.
5. Buyer of HDB flats and ECs are subject to an additional criteria
On top of the TDSR, buyers of new or resale Housing & Development Board (HDB) flats and Executive Condominiums (ECs) are subject to an additional, more stringent criteria, the Mortgage Servicing Ratio (MSR), on top of the TDSR. The MSR specifies that monthly mortgage repayments for the HDB flat or EC should not exceed 30% of your household income.
This means that, although you technically have 55% TDSR in this case, only half of this 55% can be used to pay off your mortgage (e.g. S$2,750 out of a S$10,000 gross fixed monthly income). The remaining can go towards servicing other debts (e.g. car loan), if any.
Use 99.co's MSR calculator to find out your mortgage limit for an HDB or EC.
6. Refinancing loans doesn't come under the TDSR framework, unless its an investment housing loan
After the TDSR was implemented in 2013, owner-occupiers who wanted to refinance their home loans at a cheaper interest rate faced roadblocks. In September 2016, the MAS fine-tuned its rules on refinancing, allowing all owner-occupants to be exempted from the TDSR framework when refinancing their owner-occupied housing loans as long as they pass their respective financial institution's credit assessments.
For investment housing loans, the TDSR framework still applies when refinancing. However, the owner may refinance his/her property loan above the 55% TDSR threshold if he/she meets the following conditions:
(a) commits to a debt reduction plan with his financial institution to repay at least 3% of the outstanding balance over a period of not more than 3 years; and
(b) fulfils his financial institution's credit assessment.
According to the MAS, this fine-tuning provides some flexibility for borrowers to refinance their investment property loans. At the same time, it encourages borrowers to right size their loans, so that they will be less vulnerable to future interest rate increases or any loss of income.
7. You can remortgage your paid-up home up to 50% of your property's value, without TDSR limitations
In March 2017, the Singapore government announced that the TDSR will not apply to mortgage equity withdrawal loans (MWLs). These are loans whereby property owners borrow cash against the paid-up value of their property. As long as the MWL and any outstanding mortgage amount do not exceed 45% of the property's value (i.e. loan-to-value ratio of 45% or below), the loan is allowed, and the MWL will not be factored into TDSR as an additional debt obligation.
This TDSR exemption will mainly benefit retired homeowners looking to monetise their properties.
What happens if you don't pass the TDSR requirement
What can you do if you can't meet the loan amount you require because of TSDR limits?You have a number of options: the first, of course, is to buy a cheaper house. The second option is to just make a bigger down payment, or stretch out your loan tenure (both of these will reduce the amount you pay each month).
There are ways to raise your TDSR amount, that may not be obvious. Here's five of them:
Inform the bank of any bonuses or commissions you've earned
Use fixed deposits or share portfolios to raise your effective income level
Inform the bank of any rental income you earn
Exclude a co-borrower who holds too much debt
Reorganize your debt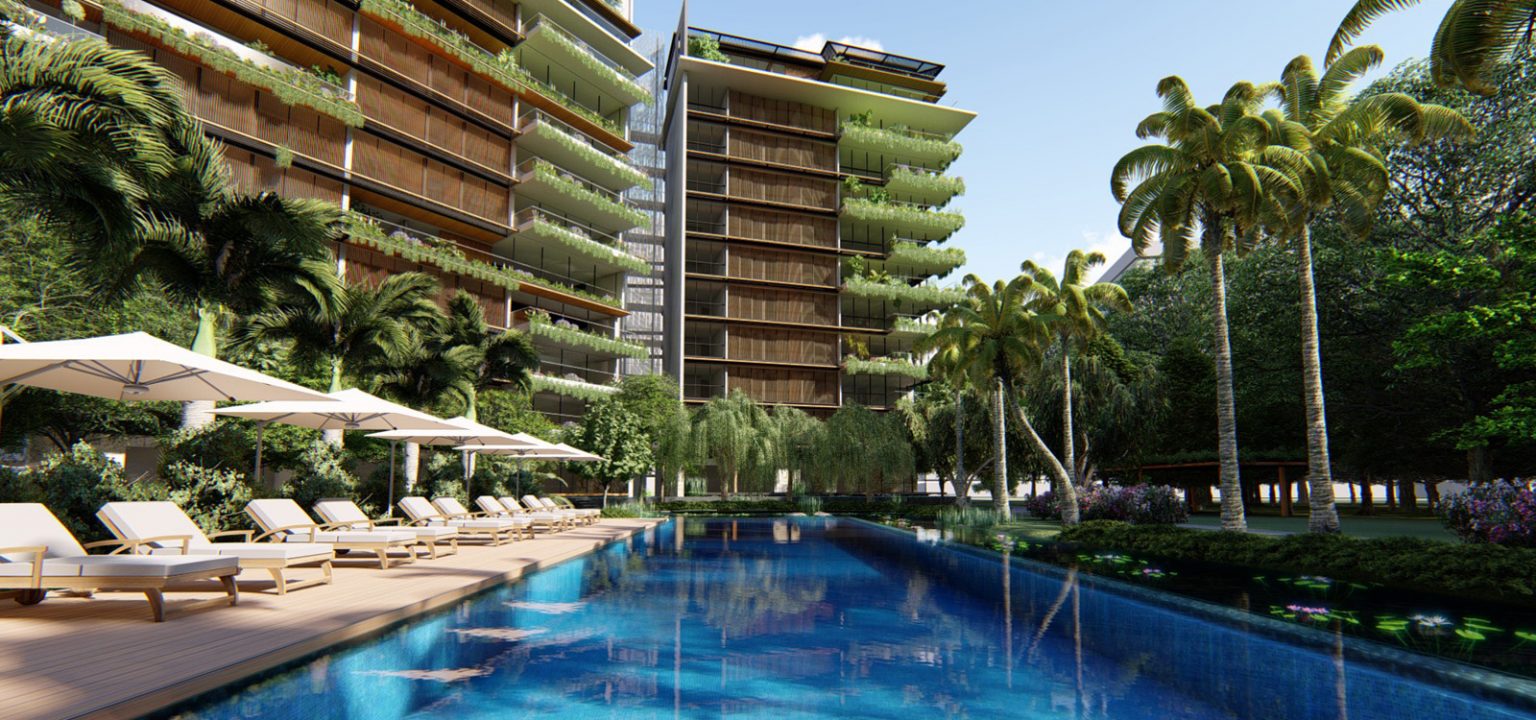 1. Inform the bank of any bonuses or commissions you've earned
Many banks, when assessing your income, default to looking at three months of your payslips. However, this may not accurately reflect your financial situation.
If you have earned any bonuses or commissions prior to the three months being assessed, for instance, the bank may be unaware of it.
You can highlight this to the bank, and provide the full 12 months of your payslips instead.
2. Use fixed deposits or share portfolios to raise your effective income level
If you have a fixed deposit with the bank, you can highlight this amount to the mortgage banker – the bank might consider you to effectively have a higher income level, if the deposit is sizeable enough.
The same can be done if you have an investment portfolio in your Central Depository (CDP) account. The exact amount of your holdings, in particular the dividend income from your investments, may contribute towards the what the bank considers as your income.
It is best to consult a mortgage broker, as they can help with the detailed paperwork to maximise the amount you can loan.
3. Inform the bank of any rental income you earn
If you currently earn rental income on any of your properties, be sure to declare it to the banks. This can add to your income levels, for the purposes of determining your TDSR.
For your declared rental income to be valid, you must have an active Tenancy Agreement (TA), with at least six months' balance tenancy from the date of your loan application. You must also have a valid stamp duty certificate from IRAS.
Do, however, note that rental income counts as variable income. This means the bank will consider only around 70% of the rental income, when working out your TDSR.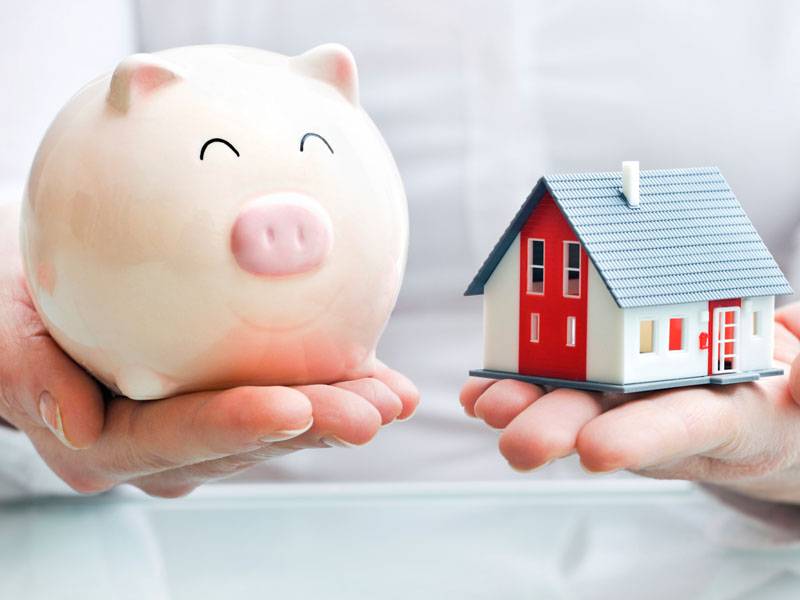 4. Exclude a co-borrower who holds too much debt
If there is a co-borrower for the property, such as your spouse or a parent, consider who among you has the biggest debt obligations. If most of the debt is on your co-borrowers, it may be better to exclude them and be the sole borrower.
Besides these methods, it's important to manage your monthly obligations to improve your TDSR numbers.
If you have substantial debts, it's advisable to start aggressively paying them down in the six to 12 months preceding your home loan application. The less you owe, the less likely you are to breach the TDSR limit.
Which leads us to…
5. Reorganise your debt
Your outstanding loans probably can do with some spring cleaning. Bear in mind the following to mitigate the impact of debt on your TDSR:
1) Avoid applying for new credit facilities, such as credit cards or personal loans, in the two months prior to a home loan application.
2) If you have an outstanding car loan, try to clear it at least one month before making a home loan application.
3) Refinance any existing home loan to obtain a lower monthly repayment amount and free up your TDSR, if you're out of a lock-in period.
4) Your credit report, which is what the banks use to check your debt obligations, is refreshed on a monthly basis. This means you always have at least a one-month head start, to clear any existing debts before your home loan application (you can obtain a copy of your credit report from the Credit Bureau of Singapore (CBS) website, for a fee of S$6.42).
5) Having never had debt before is not good either, as you'll lack a credit history that proves to banks you're a worthy borrower. A lack of credit history will cause your credit report to show a grade of "Cx", which means the system cannot assess how reliable you are with loan repayments. If you've never used credit before, take a small loan from the bank (S$1,000, or apply for a credit card and charge something to it), and then pay it back. You can do this in the month or two prior to your loan application.
---
Any other questions about TDSR? Leave it in the comments section below.
If you found this article helpful, 99.co recommends 7 things to note before taking a bank loan and CPF Housing Withdrawal Limits: What You Need to Know.
New launch alert! Welcome to Grand Dunman
About Elizabeth Tan
Elizabeth is a writer, a Harry Potter fanatic, and a Game Of Thrones addict.
Looking to sell your property?
Whether your HDB apartment is reaching the end of its Minimum Occupation Period (MOP) or your condo has crossed its Seller Stamp Duty (SSD) window, it is always good to know how much you can potentially gain if you were to list and sell your property. Not only that, you'll also need to know whether your gains would allow you to right-size to the dream home in the neighbourhood you and your family have been eyeing.
One easy way is to send us a request for a credible and trusted property consultant to reach out to you.
Alternatively, you can jump onto 99.co's Property Value Tool to get an estimate for free.
If you're looking for your dream home, be it as a first-time or seasoned homebuyer or seller – say, to upgrade or right-size – you will find it on Singapore's fastest-growing property portal 99.co.
Meanwhile, if you have an interesting property-related story to share with us, drop us a message here — and we'll review it and get back to you.
Join our social media communities!
Facebook | Instagram | TikTok | Telegram | YouTube | Twitter