We Singaporeans are known for being notoriously kiasu when it comes to enrolling our kids into primary school during the P1 Registration period every year.
So afraid are we of jeopardising our kids' future by placing them in the 'wrong' school, that the main criterion for placements in a primary school — living within a 1 kilometer radius — also becomes the main criterion in the property search.
It's not uncommon to see young couples instructing their property agent upfront that they want to find a home within 1km of, say, Tao Nan School because that's where they want their child to eventually study.
This article explains the Primary One Registration process, and why living within 1km of a primary school is such a big deal here.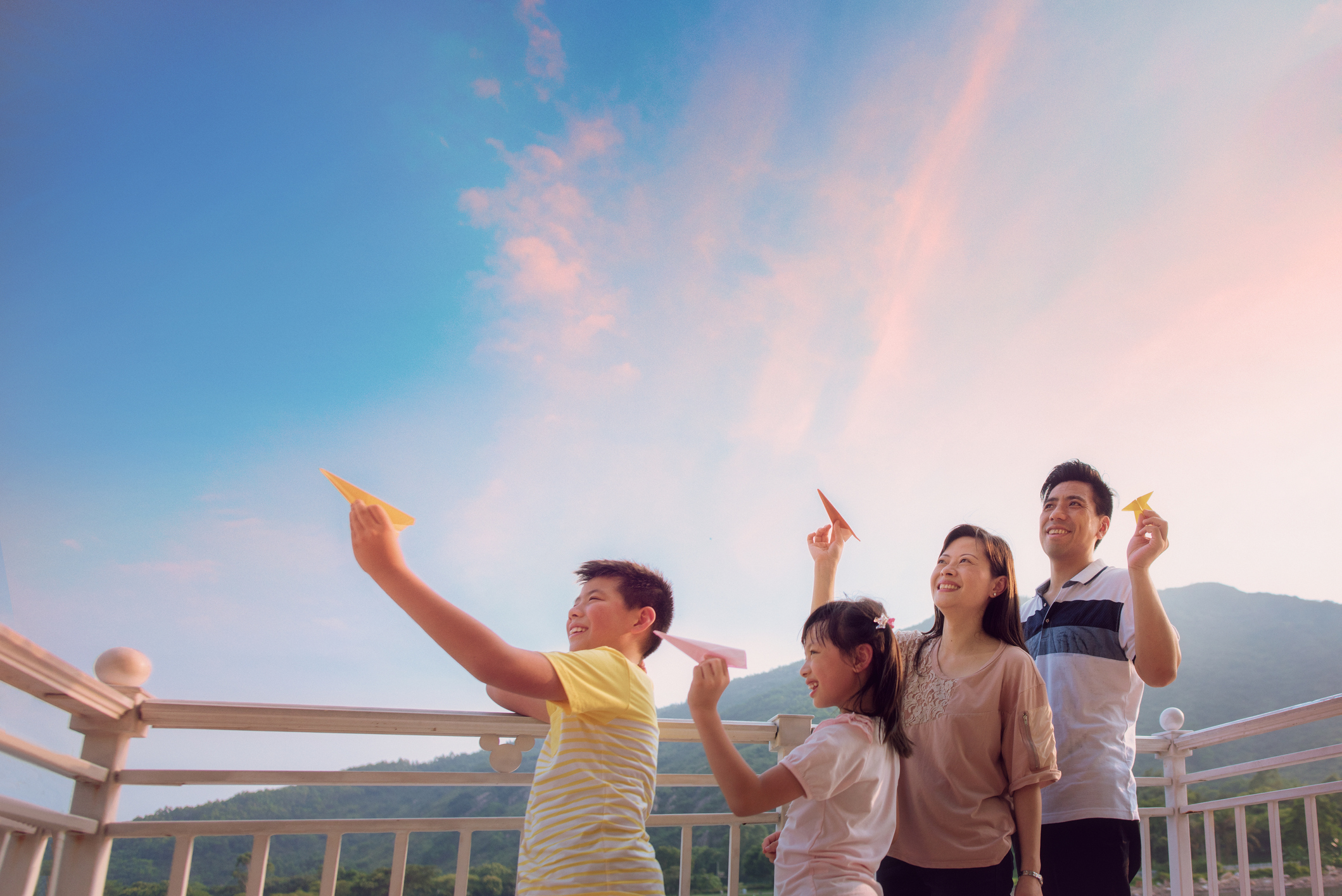 The quick guide to P1 registration and distance priority
Phase 1
If you already have a child studying in a primary school, you can register your younger child in the same school under Phase 1. The younger child will get an immediate and guaranteed placement.
Phase 2A
Next comes the phase for those with alumni, staff, advisory or management committee association with the school. Those from MOE Kindergarten located within the school will also get priority under this phase.
This phase came from merging the previous Phases 2A(1) and 2A(2), starting from the 2022 Primary One Registration onwards. It removes the priority children with parents in the alumni association previously enjoyed.
Phase 2B
Phase 2B is the phase where we see parents stepping up as volunteers/community leaders to increase their child's chances of placement.
This is also the phase for those with links to a church or clan that's associated with the school.
20 places will be reserved in each school for this phase. On top of that, one-third of the remaining vacancies from the previous phase will be allocated for Phase 2B.
Previously, the remaining vacancies were split evenly between Phases 2B and 2C.
Phase 2C
This is the phase for those with no affiliation to the school. So entry chances are purely based on distance and nationality. It's also why some parents look for properties within 1km of popular schools.
To ensure schools remain accessible and inclusive for those without affiliation, and increase the chances for those living near the school, MOE has increased the minimum number of places for Phase 2C to 40. In addition, two-thirds of the remaining vacancies will be set aside for this phase.
Those who have not yet registered under Phase 2C can then register under Phase 2C Supplementary.
Find out more details about the different registration phases here.
When balloting does happen in Phases 2A to 2C Supplementary, the priority sequence is based on the distance to the school:
Singaporean Citizens (SCs) living within 1km of the school
SCs living between 1km and 2km of the school
SCs living further than 2km from the school
Permanent Residents (PRs)* living within 1km of the school
PRs living between 1km and 2km of the school
PRs living further than 2km from the school
*For some schools, there's a cap on PR intake for Phases 2C and 2C Supplementary to minimise any concentrations of PR children in the primary schools. 
Most applicants for primary schools fall under Phase 2B or 2C
In short, having an address within 1km of the school puts you at the top of the list if balloting is required, which is usually the case with popular schools.
And starting from the 2022 Primary One Registration, the home-school distance will be calculated based on the school boundary, instead of from the centre of the school.
While this allows more households to fall within the 1km radius of the school, it also means more competition for the vacancies.
So if there's any particular school that your child must die die get into and you're not living within 1km of it, it's time to fire up 99.co and begin your property search.
On 99.co, all you need to do is click 'Choose Schools' when prompted in the search bar, select your school(s) of choice, set the desired distance to the school (the default is 1km) and click 'Apply Filters'. You may also add other filters, such as price range and property type (e.g. HDB).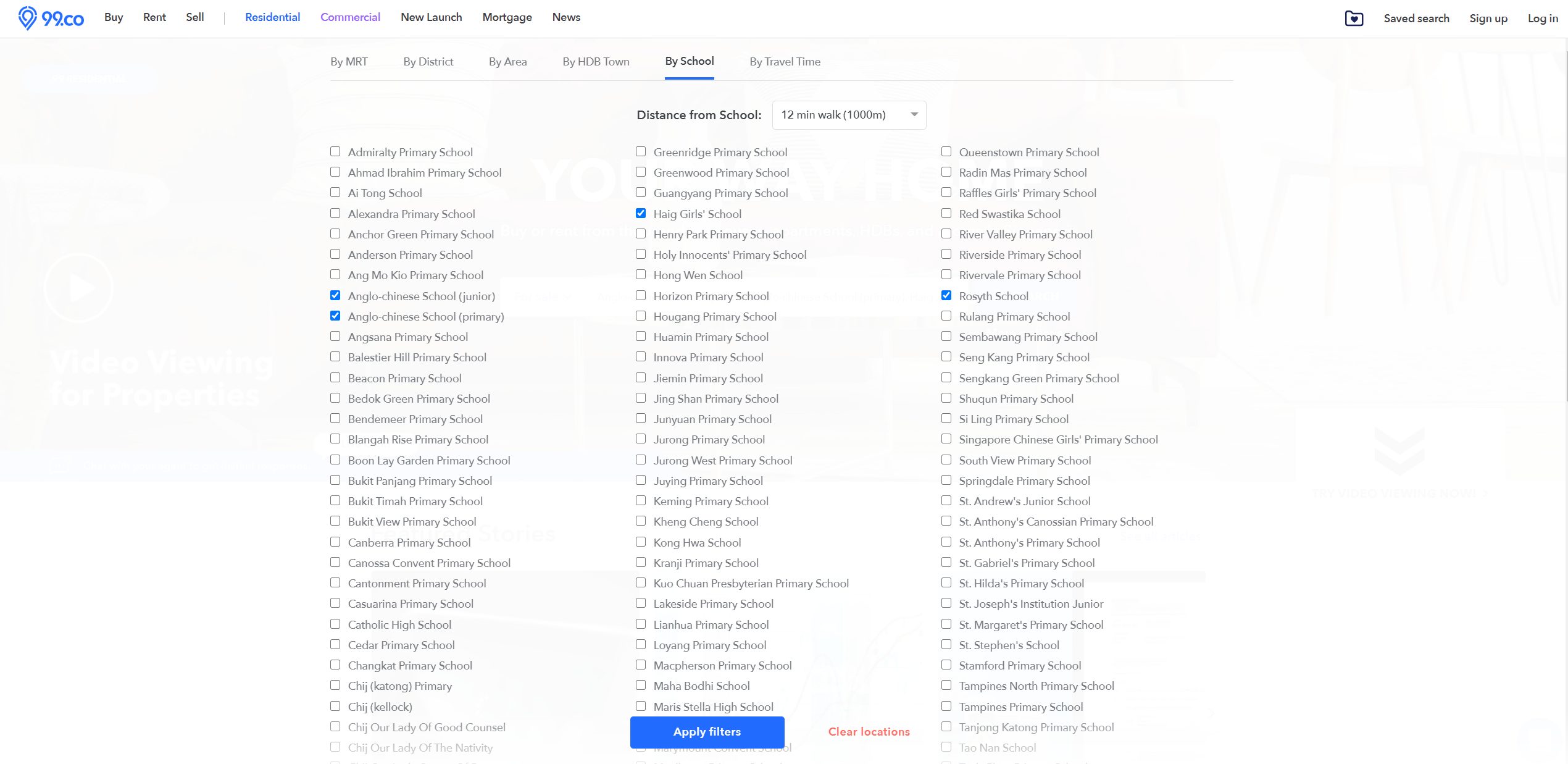 For popular schools, it's near impossible to get a placement in Phase 2C if you're not within 1km
To give you a sense of how hard it is, you can check the past registration rates of the various primary schools.
For instance, during the 2022 Primary One Registration (that recently ended), 88 (or nearly half of all) primary schools here were oversubscribed in Phase 2C. The most oversubscribed school was Princess Elizabeth Primary school, where 278 applicants were competing over only 55 vacancies.
With that, 83 of the oversubscribed schools had to conduct balloting. Out of these, 68 schools conducted balloting for only Singaporeans living within 1km of the school. So those living outside the 1km radius and PRs stood zero chance of being admitted.
So don't assume that your child will be a shoo-in even if you're not after an "elite" school. Here's the top 10 list of the most oversubscribed schools in Phase 2C of the 2022 Primary One Registration.
| | | | | | |
| --- | --- | --- | --- | --- | --- |
| Rank | Primary school | Location | Vacancy | No. of applications  | Ratio* |
| 1 | Princess Elizabeth Primary School | Bukit Batok | 55 | 278 | 5.05 |
| 2 | Nan Hua Primary School | Clementi | 40 | 191 | 4.78 |
| 3 | Northland Primary School | Yishun | 42 | 199 | 4.74 |
| 4 | South View Primary School | Choa Chu Kang | 40 | 177 | 4.43 |
| 5 | St Hilda's Primary School | Tampines | 41 | 144 | 3.51 |
| 6 | Nan Chiau Primary School | Sengkang | 81 | 274 | 3.38 |
| 7 | Chongfu School | Yishun | 49 | 157 | 3.20 |
| 8 | Rosyth School | Serangoon | 41 | 125 | 3.05 |
| 9 | Temasek Primary School | Bedok | 51 | 154 | 3.02 |
| 10 | Sengkang Green Primary School | Sengkang | 49 | 120 | 2.45 |
*Ratio based on 2022 Phase 2C no. of applications/no. of remaining vacancies.
Properties for sale within 1km of top 10 oversubscribed primary schools
440B Bukit Batok West Avenue 8
Singapore 652440 · D23
3
2
$650,000
450B Bukit Batok West Avenue 6
Singapore 652450 · D23
3
2
$699,000
644 Hougang Avenue 8
Singapore 530644 · D19
2
1
$418,000
338C Anchorvale Crescent
Singapore 543338 · D19
3
2
$560,000
805A Keat Hong Close
Singapore 681805 · D23
3
2
$688,888
927 Hougang Street 91
Singapore 530927 · D19
3
2
$599,999
412 Choa Chu Kang Avenue 3
Singapore 680412 · D23
3
2
$538,000
410B Fernvale Road
Singapore 792410 · D28
3
2
$598,000
674A Yishun Avenue 4
Singapore 761674 · D27
3
2
$3,888
The Criterion
7 Yishun St 51 · D27
3
2
$1,120,000
Note that you can't game the P1 Registration system as there are rules in place
The home-to-school distance is determined by the address on the parents' NRICs. This is also the official residential address to be used in the P1 Registration exercise.
Under MOE rules, a child who gains admission into a school through the home-school distance category (i.e. Phases 2A to 2C) is required to reside at the address used for registration for at least 30 months from the start date of the annual P1 Registration exercise.
The government has grown wise to many shenanigans over the years, such as buying a property near the school to get your child placed, and then moving out and renting out the place right afterwards. Or temporarily renting a unit near the school just to use the address, but never staying there yourself (e.g. subletting it to someone else).
Our advice? Don't do it. MOE officers conduct spot checks on the registered addresses, and there was a case where a father was charged in court and fined for it. Yes, it's a prosecutable offence.
But what if your home is under construction (e.g. a new launch condo)?
If your new home is not yet built (i.e. the Temporary Occupation Permit (TOP) is not issued yet), then you must produce the Sale & Purchase Agreement (for private property) or the Agreement For Lease (for HDB flat) as proof.
In addition, you must move into the property within two years of your child entering the school, failing which your child will be transferred out (ouch). So if you're buying a new launch condo, please take note of the TOP date.
Alternatively, consider renting a home within 1km of the primary school of choice for a lease duration of three years (from the date of the P1 Registration), during which you can rent out your permanent home.
Here's a cool tip: Even if you own an existing HDB flat, you can rent another whole flat to live in, provided the existing flat's Minimum Occupation Period (MOP) is over and you rent it out within a month of renting the new flat.
If, in the period after P1 registration, there are circumstances (e.g. divorce, financial issues) that require the child to move out of the registered residential address and outside of the 1km radius of the school, MOE needs to be notified. Your situation will then be assessed on a case-by-case basis, and more often than not, your child will be allowed to stay in the same school, rather than having to be transferred out.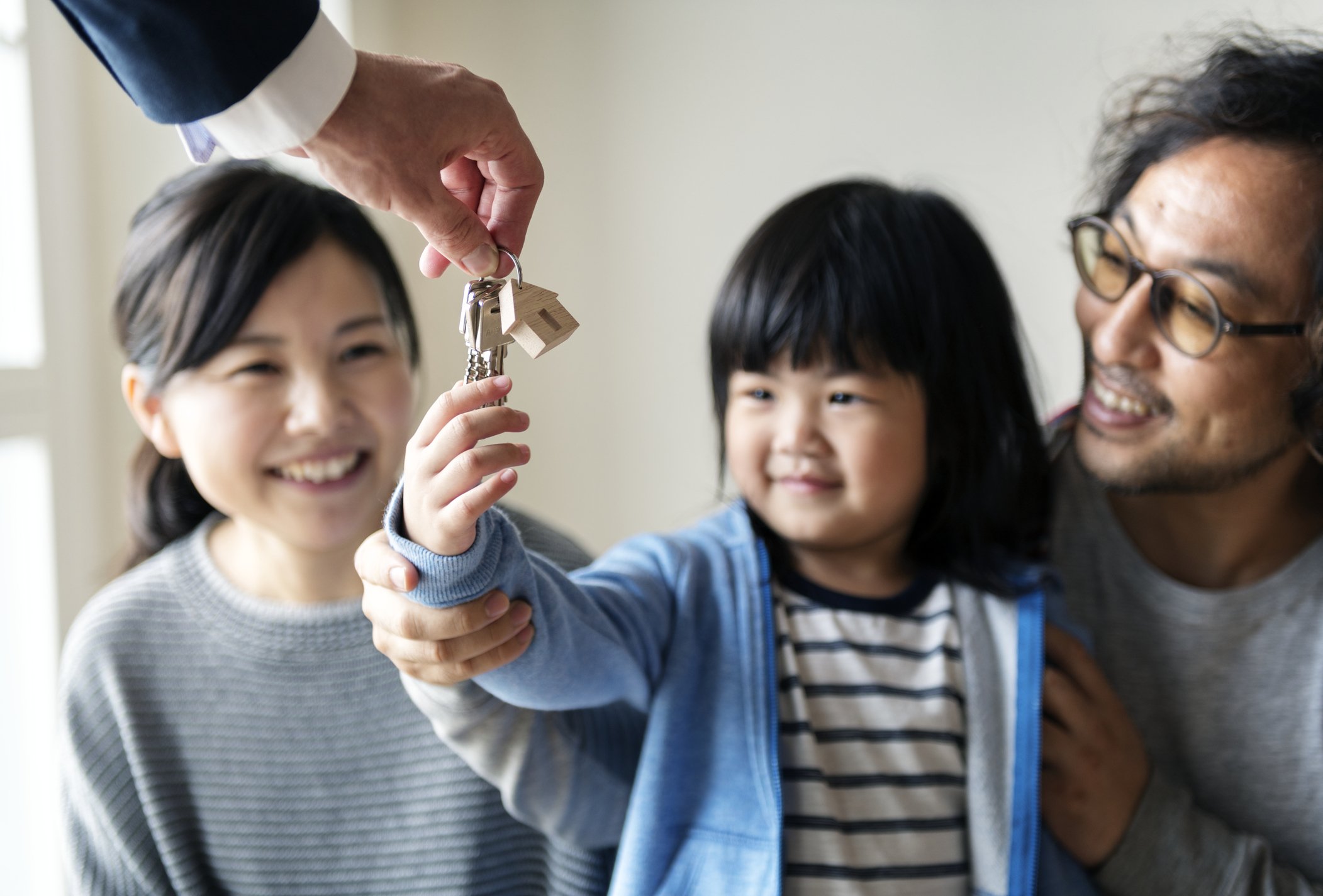 An important concern is your property value, after your child's schooling is done
After those six years of primary school, what comes next?
Well, if your property is within 1km of a good school, there's a high chance another — who was once in your position — will come looking. That bodes well for your property value, as well as its rentability.
Now the last in-depth study done on this was in 2015 by the National University of Singapore (NUS). It was found that, if a top-50 ranked school were to leave the area, private homes saw price declines of 8.5% within 1km, and 12.2% in the 1km to 2km radius. HDB flats fared better, but still saw losses of 5.1% in the 1km radius, and 2.4% in the 1km to 2km radius.
So, while a property in proximity to a popular school will also appeal to other groups of buyers, such as singles and investors, because of their resale value and rentability, other attributes and amenities are also important to help the home sustain its value in the event that the school relocates.
An example of primary school relocation is Nan Chiau Primary School, which moved from the former River Valley location to Sengkang in 2001.
Other key things to note when getting a property within 1km of a school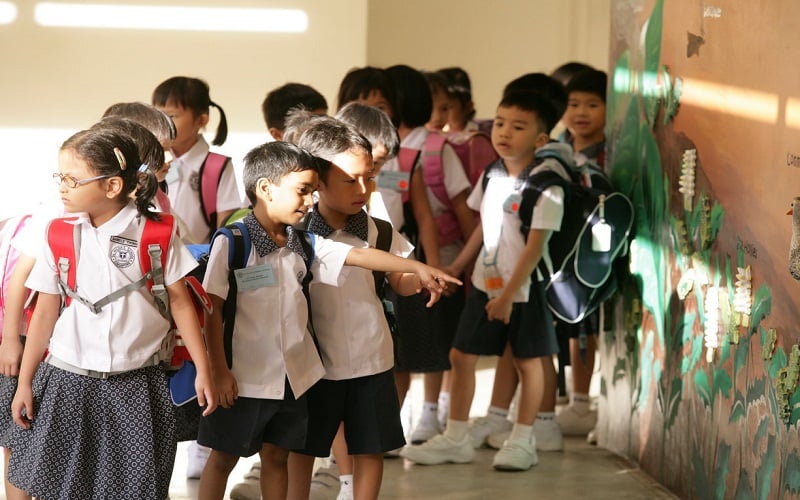 It might be worth paying attention to properties within 1km of more than a single school. Some homes even have FIVE schools within a 1km radius. You can do a reverse search and discover the number of schools within 1km of an address via OneMap.
Check if there's a convenient route to the school when choosing between the developments nearby. Two different condos may both be within 1km, but one of them may have a more direct route.
Make sure the school is really right for your child before you move. Visit a school's Open House, for example, and speak to the teachers and parents who have children studying there.
A rule of thumb is to buy a home within 1km, but not any closer than 300 metres to avoid congestion during the hour before and after school. Properties closest to the school compound may be noisier in the daytime.
If you live in or intend to buy a property in a yet-to-be-fully-developed area, check the URA Master Plan to find out whether any schools may be coming up. School sites are colour-coded pale yellow with the letter 'E', and smaller plots tend to mean future primary schools. However, the Master Plan does not specify when the schools will be built. That's up to the government to announce.
Even if you don't have a child, having a school nearby is a key consideration
Because again, having good schools nearby increases demand for your property. It also helps that the government maintains very 'clean' areas around school zones (e.g. no sleazy massage parlours), and nearby commercial properties tend to jump on the bandwagon (e.g. childcare/enrichment centres move in as well). These are all good for long term property appreciation!
[Additional reporting by Virginia Tanggono]
Does the 'within 1km of a primary school' criterion factor into your property search? Let us know in the comments below!
If you liked this article, 99.co recommends How the new home-school distance rule kept Princess Elizabeth Primary School oversubscribed 5:1 in Phase 2C this year and 12 affordable properties within 1km of top primary schools in Singapore.