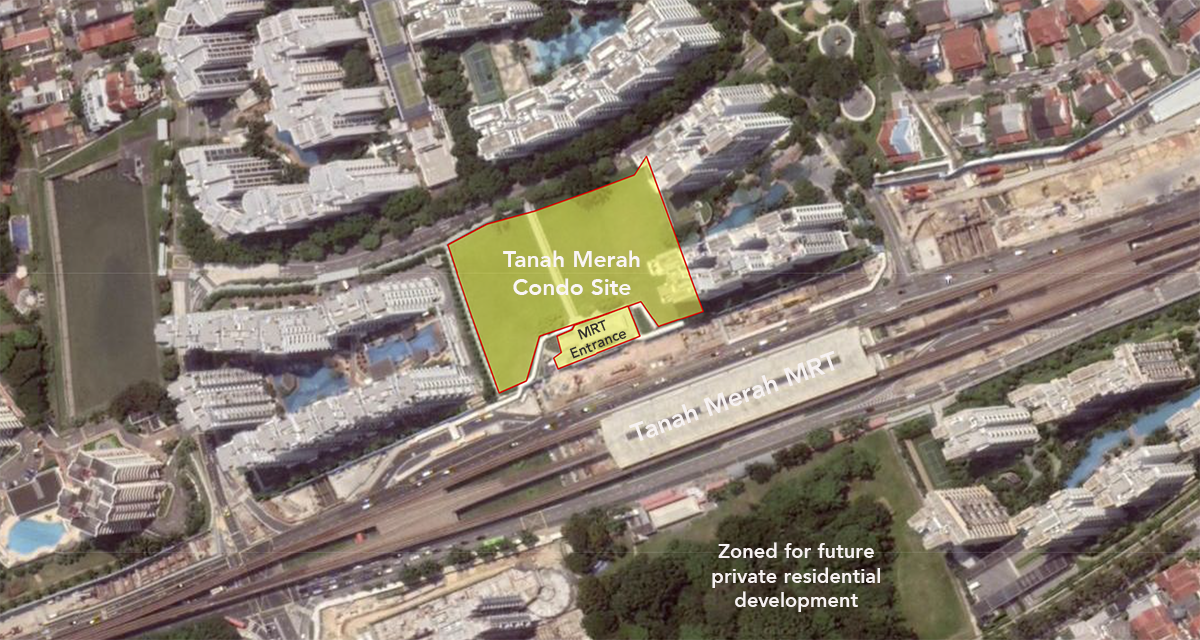 In October 2020, the conclusion of a Government Land Sales (GLS) exercise for a 'residential with commercial at 1st storey' condo site at Tanah Merah Kechil Link drew 15 bids from developers. To put things in context, the last time a GLS land parcel attracted the same amount of interest was in the second quarter of 2018.
Back then, at the height of the en bloc fever and just before the announcement of additional cooling measures, a similar total of 15 bids were received from developers eager for the opportunity to shape the new Holland Village.
Far East Organization won that 2018 Holland Village bid. For the Tanah Merah condo site this time, MCC Land (Singapore) prevailed. The bid – S$248.99 million or a land rate of about $930 per square foot per plot ratio (psf ppr) – was above media analysts' expectations of $850 psf ppr. Located right next to Tanah Merah MRT interchange, the site has an area of 8,880 square metres (sq m) and can potentially yield 265 condo units and 2,000 sq m of commercial space.
To get an idea of how bullish MCC Land's bid is, here's a table of the highest Outside Central Region (OCR) GLS bids ever recorded. The Tanah Merah condo site comes in third place, after Midwood (S$460 million; S$1,067 psf ppr) and The Garden Residences (S$446.3 million; S$965 psf ppr).
Highest OCR Government Land Sales (GLS) bids
– by per square foot per plot ratio (psf ppr)
Date
Project name (Site name) – Units
Highest bid submitted by
Bid amount
Psf ppr Price
Dec-17
Midwood
Hong Leong
S$460 million
S$1,067
Jul-17
The Garden Residences
Keppel Land and Wing Tai
S$446.3 million
S$965
Oct-20
(Tanah Merah Kechil Link site)
MCC Land
S$248.99 million
S$930
Aug-18
Sengkang Grand Residences
Capitaland and CDL
S$777.8 million
S$924
Jan-18
Whistler Grand
CDL
S$472.4 million
S$800
Here are the reasons why this Tanah Merah condo site garnered such keen interest, and ultimately a high bid:
#1: Lucrative retail opportunity
Putting the condo portion of the development aside for a moment, we'd like to point out that the Tanah Merah neighbourhood has been crying out for more retail, dining and commercial amenities, especially in the vicinity of Tanah Merah MRT station, to serve the roughly 30,000 residents that reside here and commute frequently by train.
Even if this is just one level of commercial amenities, the winning developer will be the proud owner of prime suburban commercial space with high footfall and constant rental income stream.
Considering this, the fact that MCC Land has went out of its way to bid for this Tanah Merah site is no coincidence at all. In 2014, the developer won the bid for a similar residential-commercial site connected to Potong Pasir MRT station. The resulting retail development, The Poiz Centre*, opened in 2019 and has been wildly popular with residents since.
So, when the Tanah Merah GLS came around, MCC Land wasn't ready to let this opportunity pass by.
With massive rental income potential, MCC Land will likely assume the role of main landlord presiding over the tenant mix at the Tanah Merah development, just like what they're doing with The Poiz Centre. This approach is way better than selling off the units as strata-titled shops to whoever wants to buy them. (We wrote an article explaining why strata malls are so bad.)
Ultimately, the commercial component of the Tanah Merah condo will be a win-win for developer and Tanah Merah residents. The 265-unit condo that will sit above will also fetch a premium because of the amenities right underneath it. It is also likely that MCC Land will apply to increase the gross floor area that can be assigned to commercial space, from the existing 2,000 sq m to about 5,000 sq m.
For 5,000 sq m of retail space, MCC Land can potentially rake in about S$600,000 in rental revenue every year, with a lifetime value in excess of S$100 million after accounting for inflation. Now the S$248.99 million bid doesn't look so expensive at all.
*The condo atop The Poiz Centre is the 731-unit The Poiz Residences.
#2: Crazy powerful Unique Selling Point
Now, there are a couple of Outside Central Region (OCR) condos that can lay claim to being right next to an MRT: the recently completed North Park Residences next to Yishun MRT, the newly launched Sengkang Grand Residences atop Buangkok MRT and the upcoming The Ryse Residences next to Pasir Ris MRT.
But there are two strategic advantages that this Tanah Merah condo site has that no other next-to-MRT site in the OCR can boast of. The first advantage is the airport. In fact, this development will hold the title of having the nearest, most accessible condominium to Changi Airport and Jewel via public transport.
As you can see below, the entrance to Tanah Merah MRT station (two stops away from Changi Airport) adjoins the condo site. Emerge from Tanah Merah MRT, and the commercial-residential development is the first thing you'll set foot on: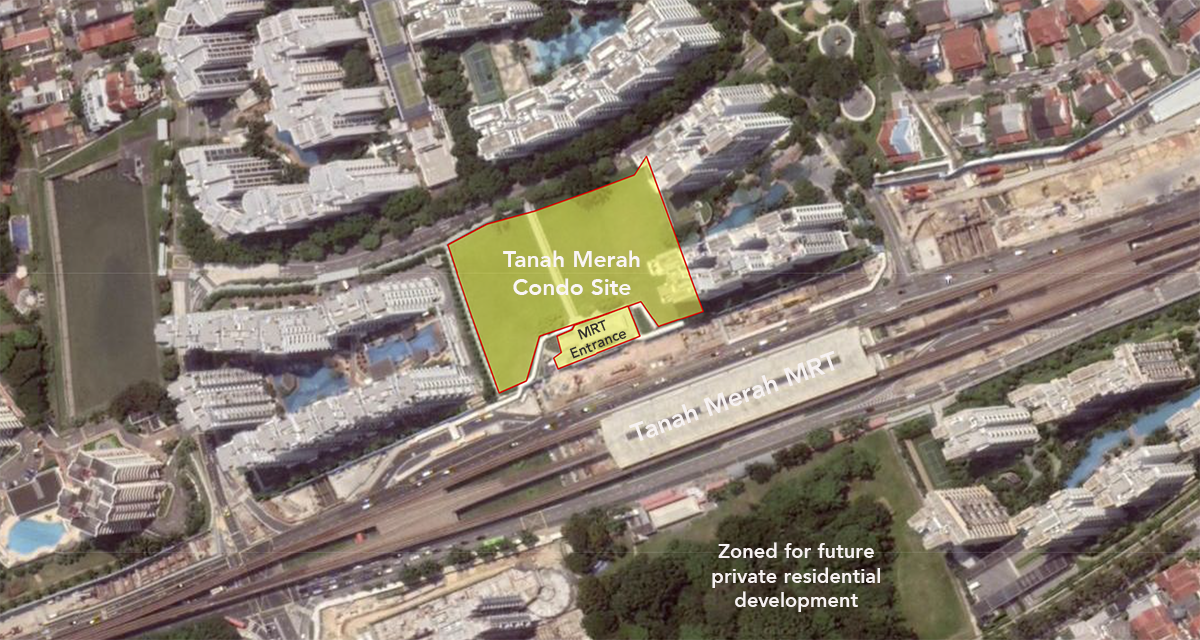 The second advantage is the fact that this development will also be the nearest condo to Changi Business Park (other than the ageing Changi Court condominium next to Upper Changi MRT station). Changi Business Park is a massive catchment area for expats, and rental demand for the new Tanah Merah condo is very high relative to other OCR condo clusters, including those near to an MRT station.
How do we know this? We assessed rental activity by calculating the ratio of rental contracts to the number of total units in OCR condo clusters for Q1 to Q3 2020, and Tanah Merah condos came out on top:
Rental Activity – OCR Condominium Clusters
Q1 to Q3 2020
No.
Location
Region
Rental Contract/
Total Unit ratio
Within 10 mins to
Business Park?
Within 20 mins to
Business Park?
Within 15 mins to
Airport?
1
Tanah Merah MRT
East
0.271
Yes
Yes
Yes
2
Upper Changi MRT
East
0.257
Yes
Yes
Yes
3
Bukit Panjang MRT
West
0.251
No
No
No
4
Punggol Central
North-East
0.246
No
No
No
5
Kembangan MRT
East
0.224
No
Yes
Yes
6
Faber Hill/West Coast
West
0.222
Yes
Yes
No
7
Lakeside MRT
West
0.221
No
Yes
No
8
Bayshore
East
0.210
No
Yes
Yes
9
Pasir Panjang
West
0.208
No
Yes
No
10
Simei MRT
East
0.189
No
Yes
Yes
11
Woodlands
North
0.189
No
No
No
12
Flora Drive
East
0.178
Yes
Yes
Yes
13
Kovan MRT
North-East
0.174
No
No
No
14
Pasir Ris MRT
East
0.171
No
Yes
Yes
15
Lorong Chuan MRT
North-East
0.171
No
No
No
We'd even go as far to say that, out of the entire Singapore, Tanah Merah is the only OCR location that deserves a city fringe pricing, because of its proximity to Changi Business Park and Changi Airport. Being four MRT stops away from Paya Lebar's regional business district is another bonus for condos near Tanah Merah MRT station, and the multiple tenant pools make it easy for investors to minimise rental vacancy.
Read this: FULL list of 2020 New Launch Condos in Singapore (+Analysis)
#3: Land in the OCR will only get more expensive from now onwards
With a bid of S$930 psf ppr, MCC Land would have to sell units here at a price of S$1,600 to S$1,800 psf to make a decent profit. This is even higher than RCR, city fringe projects such as Penrose and The Antares, but it is on par with Parc Esta – a Rest of Central Region (RCR) project that's one MRT station away from the Paya Lebar regional hub.
The fact that we're starting to see RCR prices in the OCR isn't only an indication of Tanah Merah's locational advantages, but also proof that OCR property prices is bridging the gap. On the whole, property prices in the Outside Central Region (OCR) have been outperforming other regions ever since the Global Financial Crisis of 2008/9, as the URA Price Index shows:
The rise in OCR prices that we saw in the past decade was partly driven by the rapid infrastructural developments such as the completion of multiple MRT lines, the growth of Jurong and Paya Lebar commercial hubs and the move of several international schools into the heartlands.
The improvements in amenities and connectivity increasingly turned buyers towards OCR homes, at the expense of RCR and CCR locations. The OCR appealed to many more demographics: upgraders, both local and PR/foreign first-time buyers, investors, expat tenants etc. This boosted demand and, in turn, prices.
In fact, the appeal of OCR condos was so resilient that private home prices in the region rebounded the strongest from the 2013 round of cooling measures, as the chart above shows.
In Q3 2020, in the middle of the Covid-19 pandemic, the price index for OCR condos have reached an all time high. Developers also sold a total of 1,357 units in the OCR in Q3 2020, the highest since Q2 2019. We believe that, with new amenities in the pipeline in the coming decade benefiting the suburbs, OCR condos will continue its impressive uptrend.
Developers like MCC Land know this; the Fear of Missing Out (FOMO) for this Tanah Merah condo site was very real among developers. And whenever a prime OCR land parcels pop up, we can expect a bidding frenzy like it's 2017 all over again.
[In January 2021, MCC Land announced that it will
jointly develop the Tanah Merah condo site
as a mixed-use project with Singapore-listed developer The Place Holdings and Malaysian developer Ekovest Development. MCC Land will hold a 51% stake in the joint development, whereas The Place Holdings and Ekovest Development will own a 20% and 29% stake respectively.]
---
How do you feel this latest Tanah Merah condo site compares to other OCR projects? Share your thoughts in the comments below!
If you liked this article, 99.co recommends Proof of profit for Aljunied's condos could drive Penrose demand: Analysis and 3 more condo sites are released by the government for 2020, and here's our analysis.
Upcoming Freehold Condo Launch: The Arcady @ Boon Keng
About Kyle Leung
Content Marketing Manager @ 99.co
Looking to sell your property?
Whether your HDB apartment is reaching the end of its Minimum Occupation Period (MOP) or your condo has crossed its Seller Stamp Duty (SSD) window, it is always good to know how much you can potentially gain if you were to list and sell your property. Not only that, you'll also need to know whether your gains would allow you to right-size to the dream home in the neighbourhood you and your family have been eyeing.
One easy way is to send us a request for a credible and trusted property consultant to reach out to you.
Alternatively, you can jump onto 99.co's Property Value Tool to get an estimate for free.
If you're looking for your dream home, be it as a first-time or seasoned homebuyer or seller – say, to upgrade or right-size – you will find it on Singapore's fastest-growing property portal 99.co.
Meanwhile, if you have an interesting property-related story to share with us, drop us a message here — and we'll review it and get back to you.
Join our social media communities!
Facebook | Instagram | TikTok | Telegram | YouTube | Twitter