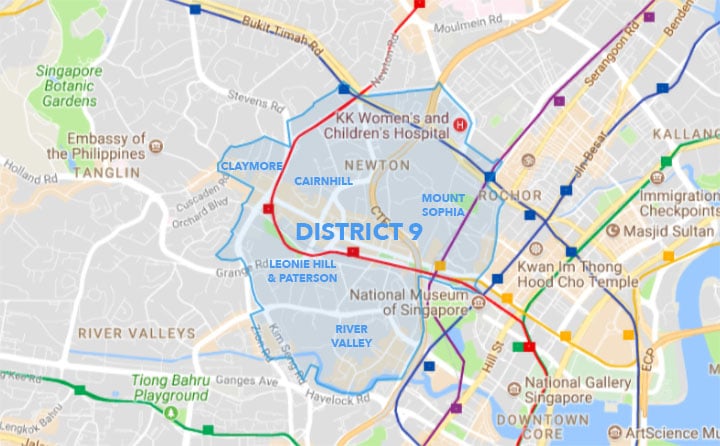 You probably know District 9 is considered the atas (Hokkien for "upscale") part of Singapore, where the well-heeled live in high-end and luxury condos. In truth, the district has separate neighbourhoods that each have their own distinct characteristics — some you might not even have known about. So, whether you're looking for a property in District 9 Singapore or just curious about the quirks of each D9 neighbourhood, this quick rundown will surely raise some eyebrows…
Cairnhill
Main highlights:
The heart of a central location

Quick access to Ngee Ann City (Takashimaya), Mount Elizabeth Hospital

Easy to get to Newton, if you want local hawker fare
Quirks:
A lot of car traffic because of the Central Expressway entrance and exit at Cairnhill

High density of tourists. Expect to be asked for directions all the time

Good for business people, because of the proximity to many hotels
Cairnhill should be one of the first places you consider if buying a property in District 9 Singapore. It has quick access to Somerset, Orchard, and Newton – they're all about the same distance away from the Cairnhill Road. It's really the epicentre of D9.
One notable feature of Cairnhill is that it's great for business people. You're always a short stroll from quiet hotel lobby for meetings, or an available conference room or event hall.
Notably, the Cairnhill Conservation Area and Emerald Hill Conservation Area offers unique, historically significant homes, and is popular among property investors for prestige and scarcity value. Price-wise, Hilltops is always popular; at a sale per square foot (psf) price of around $3,500, the condo can be considered cheap for its location. We also liked Cairnhill Nine so much, we wrote a glowing review for it back in 2016.
There have also been some iconic projects in the Cairnhill area by award-winning architects, namely The Edge on Cairnhill (Safdie Architects), Alba (Arquitectonica) and Orchard Scotts Residences (Arquitectonica).
Probably the most cost-effective way to live in Cairnhill, however, is to consider a unit at the older Cairnhill Plaza. This is a freehold development completed in 1978, and averages a mere $1,687 psf.
**[Browse all property listings in the Cairnhill neighbourhood of District 9 Singapore here.]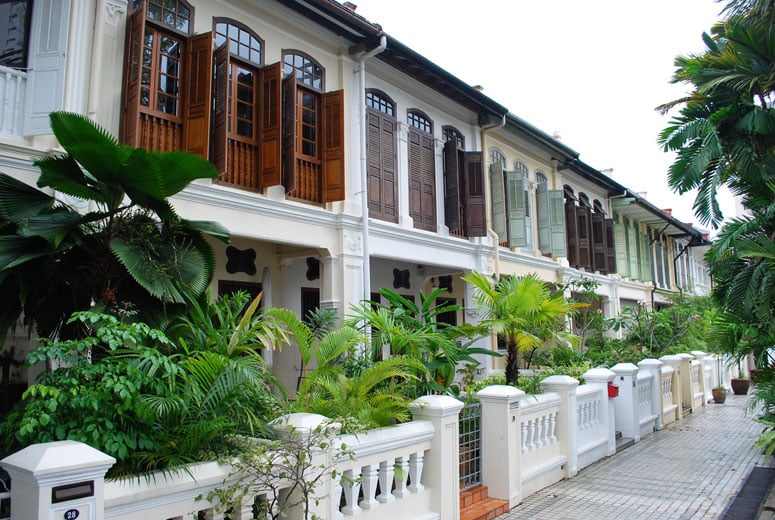 Claymore
Main highlights:
Edgy and risqué, due to its proximity to a red-light area (Orchard Towers), but actually very safe

A short walk from Shaw Centre, one of the best local cineplexes

Relatively close to Singapore Botanic Gardens

Great drinking area for District 9, with plenty of watering holes
Quirks:
One of the few areas in District 9 where it's easy to get a cab

Unlike Cairnhill, far less car traffic, hence a quieter neighbourhood with a more residential feel
Located an one of the main entrances to the Claymore neighbourhood, Orchard Towers is a building that's famous for sleaze (and the occasional drunken brawls), but don't let that dissuade you. Claymore is a very well-behaved area, close to the heart of the Orchard Road shopping district. The Claymore area also offers easy access to the new Claymore Connect shopping centre and Forum the Shopping Mall. The latter has a Julia Gabriel centre for children, and eateries like Jamie's Italian.
Behind Forum, you'll find Hard Rock Café and the legendary Ming Arcade (this was where Singapore's first disco opened). Ming Arcade is famous amount locals and foreigners alike, for the buckets of fried chicken and beer towers offered by Cuscaden Patio on the ground and basement floors.
Because of the various pubs here – from divey to high-end – you'll seldom be bored at nights. You can also stroll over to Shaw Centre for a midnight movie.
The Tate Residences, at around $2,776 per square foot, would be our first choice of residence here. This is a freehold unit completed in 2010, which is a stroll away from the nightlife area.
An older alternative, The Claymore, is also freehold. It's a little further up the road, but closer to The American Club and Tanglin Club. But this unit is pricier, averaging $2,938 per square foot.
Ardmore Park (technically within District 10) is the most famous condo in this area. This freehold, 330-unit condo was completed in 2015, and averages $3,171 per square foot.
Psst, if you live in the Claymore neighbourhood, you become the neighbour of billionaire investor and co-founder of Facebook, Eduardo Saverin. No guarantee he'll invest in your blogshop if you bump into him, though.
**[Browse all property listings in the Claymore neighbourhood of District 9 Singapore here.]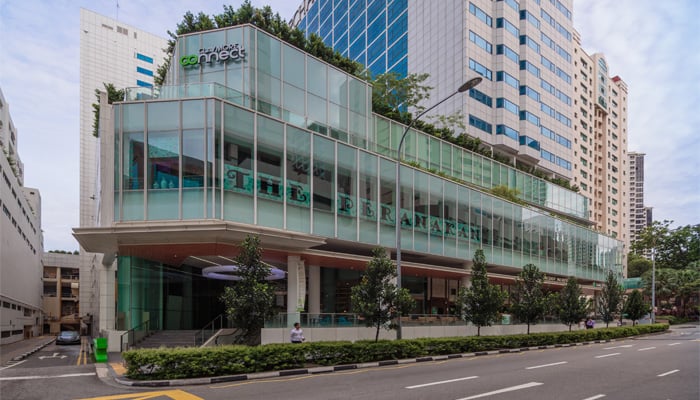 Mount Sophia
Main highlights:
Central but not congested

Access to great nightlife in the Prinsep area

Quick access to Selegie Road / Little India / Bugis

A lot of students in the area, from LaSalle, NAFA, or Kaplan. Landlords, take note
Quirks:
Least snobby part of District 9

On a hill, so walking might become a chore
Motorists heading to Orchard Road have to take a slightly roundabout route
The Mount Sophia area is often referred to as "Orchard but not Orchard". It's a little more out of the way than the other neighbourhoods here, as it's all the way past Dhoby Ghaut. But that plays into its advantage.
Mount Sophia is certainly still central, enough that you can drive to town in just a few minutes (or even walk for 12 to 15 minutes to get to Orchard Road, if you're so inclined). Because of its unique location, it manages to be central while still avoiding the traffic congestion common to Orchard, which mainly affects the thoroughfares of Orchard Road and Penang Road.
Mount Sophia also has access to great and cheap eateries at Sunshine Plaza and the nearby Prinsep area – the Prinsep stretch in particular features laid-back drinking spots. For variety, you can also take a slow stroll (about 12 to 15 minutes) into Little India, via Selegie Road.
Sophia Lodge is one of the most in-demand developments, for those who want to stay in this area. Averaging $1,564 per square foot, this freehold condo is right along Middle Road – you can also stroll straight down to Bugis if you like.
Sophia Residence, a newer freehold unit completed in 2014, will appeal to families. It's close to the School of the Arts (SOTA), as well as the Cathay Cineplex. It's about eight to 10 minutes' walk to Plaza Singapura. It's very well priced, at around $1,614 per square foot.
Also well priced is 1919, situated in a quiet corner of the Mount Sophia area. Averaging $2,223 per square foot, this condo exemplifies the best qualities of Mount Sophia: it's centrally located, without any of the noise pollution or traffic congestion.
But perhaps the landmark development in Mount Sophia is Sophia Hills, which will TOP in 2018. When completed, this will be the biggest condo in the neighbourhood, with 493 units. The 99-year leasehold project is also unique for the fact that there are three conservation buildings/bungalows within the compound, which will each function as a restaurant, a kindergarten and the condo's clubhouse.
Property watchers are also keeping an eye out on the en bloc of Casa Sophia, a 12-unit freehold condo with a reserve price of $36 million. The tender closing date for the collective sale is August 14.
**[Browse all property listings in the Mount Sophia neighbourhood of District 9 Singapore here.]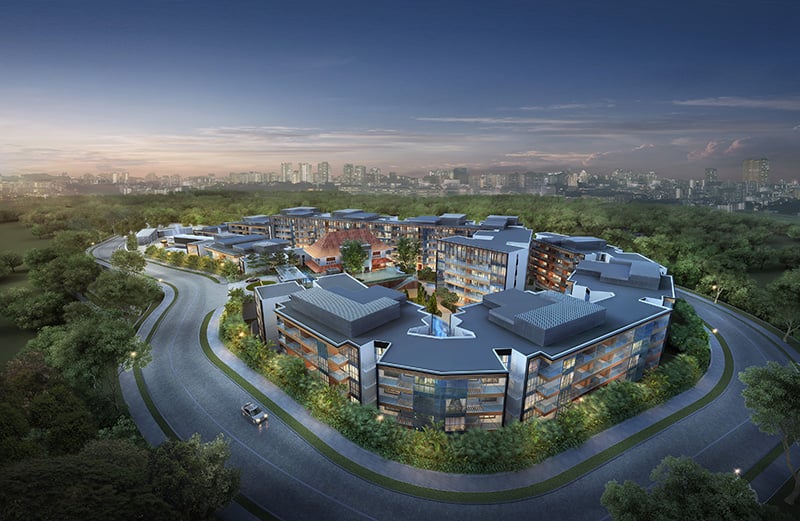 River Valley
Main highlights:
Most family-centric area in District 9

Lots and lots of food (of the higher-end variety

)

Near to Fort Canning Park and the Singapore River, for exercise and recreation

Access to international schools such as Chatsworth and ISS International School. UE Square also has a lot of enrichment and childcare options
Quirks:
Make sure you drive, this isn't the best-connected area when it comes to public transport

Good access to Clarke Quay and Robertson Quay, even though River Valley itself is quiet on the nightlife front

Popular with expat families; including a handful of Japanese expat families
38 Oxley Road, the former home of Singapore's founding Prime Minister Lee Kuan Yew, is in this neighbourhood
River Valley is an expatriate enclave, and is heavily residential. Row after row of condos fill the area, and many residents have children in one of the many nearby international schools. If you were to make a super, upmarket version of a typical HDB estate, it would look exactly like River Valley.
Actually, that's a good way to think of this place: HDB style living, if HDB dwellers all had six-digit bank accounts.
While River Valley is a quiet area (read: limited nightlife), it also has quick access to Clarke Quay, which is a perpetual party zone and Robertson Quay, a hip, more laid-back F&B cluster. The eateries in this area are notably fancy, with many niche, modern European and Japanese restaurants catering to the expat crowd.
Belle Vue Residences is a freehold condo located at the heart of the River Valley neighbourhood. Designed by renowned Japanese architect Toyo Ito (who also designed VivoCity), Belle Vue is a blend of nature and luxury in an unostentatious, most Japanese-like manner.
Vivace, a 999-year leasehold (read: as good as freehold) development, is well-located. It's close to UE Square, Robertson Walk, and Clarke Quay. At just around $2,244 per square foot, it's both a good investment prospect and an affordable home (in the context of District 9).
UE Square, an older development (1997) is just a 10-minute walk from Clarke Quay. It's a 999-year condo, averaging $1,908 per square foot. UE square also has a supermarket, eateries, and some retail outlets.
While Mohamed Sultan Road is no longer the nightlife mecca it once was, it's still got a great waterfront vibe along Robertson Quay. Plenty of good cafes and restaurants still remain here, and open till late. The Pier @ Robertson is close to this area, a freehold development at just around $2,206 per square foot.
[Recommended article:
Riverfront property in Singapore: Is the hype worth a higher price?
]
**[Browse all property listings in the River Valley neighbourhood of District 9 Singapore here.]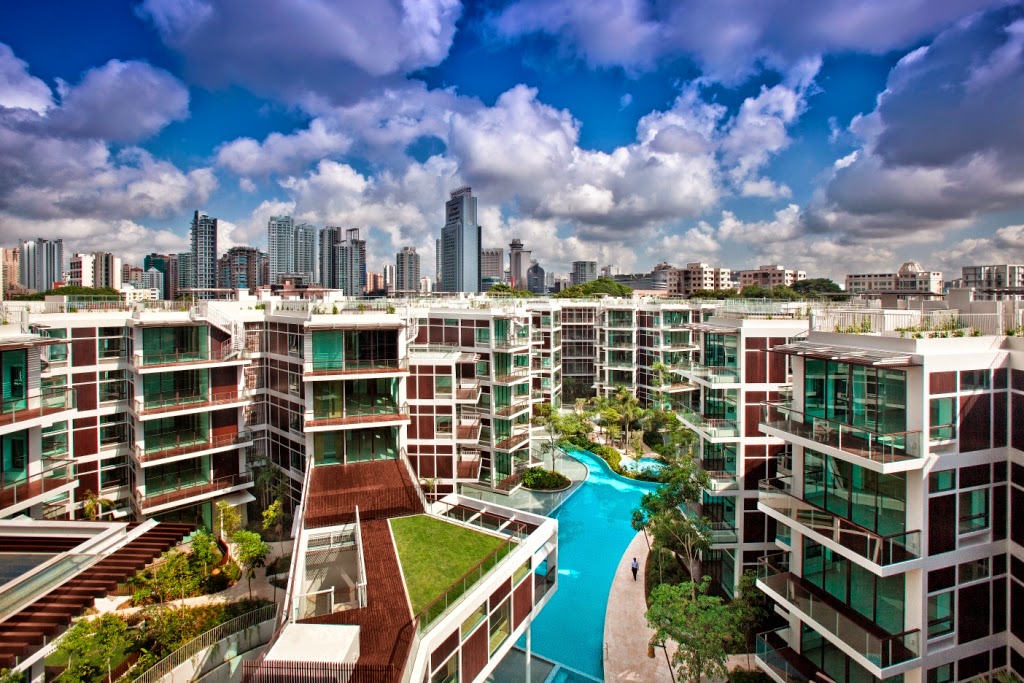 Leonie Hill and Paterson
Main Highlights:
Quick access to Somerset, without the traffic

International schools in the area

Very accessible by public transport
Quirks:
People who live in Leonie Hill are less than a 10-minute walk from Great World City, but no longer go as they're all sick of it

Good place to live for tenants who don't drive

Condos in this area receive healthy interest from foreign buyers
Sandwiched between River Valley and the Orchard Road shopping belt, Leonie Hill plays host to some of the most luxurious condos in Singapore. But because it's in a low-traffic area, the neighbourhood is still very low-key, unlike Claymore.
Even then, accessibility is quite good, especially for non-drivers. Most of Leonie Hill is within walking distance of Somerset and Orchard MRT stations. This area is also great for shopaholics, since places like Centrepoint, 313, and Orchard Central are just a 15 to 20 minute stroll away. You can even walk to Great World City from here, in an equal amount of time. Because all of this is within walking distance, tenants find that they get by without a car.
For families with children, the nearby SCAPE and Orchard Cineleisure can cover many weekend or afterschool entertainment needs.
The Metz at Devonshire Road is one of the better located condos here. This freehold unit is just past the 10-year mark (TOP in 2007). It averages just $2,800 to $3,200 per square foot, very reasonable given the location.
If you want to get even closer to Ngee Ann City and the heart of Orchard, consider Grange Infinite. At just $2,732 per square foot, its location can rival many Orchard Road locations in Cairnhill and Claymore that are just as centrally-sited.
Leonie Parc View is also well located, averaging $2,285 per square foot. This freehold condo has yet to cross its 10th year (TOP in 2009). It's equidistant from the malls of Orchard Road as well as Great World City.
The Paterson area is even closer to Orchard Road, and many properties here sit on the elevated ground of Paterson Hill. The most talked about property here is The Marq on Paterson Hill, a freehold luxury condo furnished entirely by French haute fashion label Hermes. A handful of units here boast their own private infinity pool. The average price here has dropped from its highs, now averaging $3,327 psf over the past year.
Finally, newer condos in this area have received a lot of attention lately. New Futura, a freehold luxury project launched this year, sold 91 out of 124 units so far. Already having received its TOP, the project also set a record high transaction price for 2Q 2018, with a penthouse unit sold for $36.28 million. Notably, about 7 in 10 buyers are foreigners and Singapore Permanent Residents, mostly hailing from Asian countries like Malaysia, Indonesia, China and South Korea.
**[Browse all property listings in the Leonie Hill and Paterson neighbourhood of District 9 Singapore here.]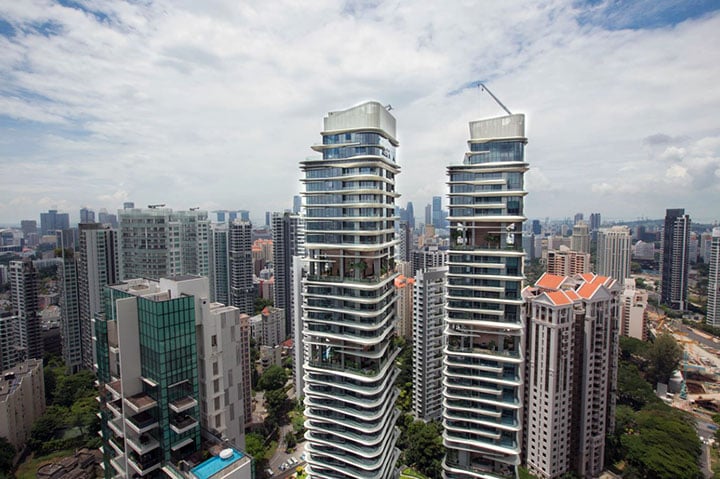 Should you buy a property in District 9 Singapore?
Overall, District 9 Singapore offers a wide variety of properties and condo developments at varying price points. From spectacular high-rises such as New Futura and Orchard Scotts Residences, to resort-like low-rise affairs such as Belle Vue Residences, there's something for every property buyer. If you're buying for investment, consider accessibility in some of these neighbourhoods (or the lack thereof). There's also happens to be a good mix of freehold and 99-year leasehold properties in D9. Browse them on Singapore's largest property portal 99.co
Which D9 neighbourhood holds the most value for the property buyer? Voice your thoughts in the comments section or on our Facebook community page.
If you found this article helpful, 99.co recommends The 99.co Property Report for 2Q 2018 (and 3 Key Takeaways) and How property buyers should react to the ABSD increase
Looking for a property? Find your dream home on Singapore's largest property portal 99.co!