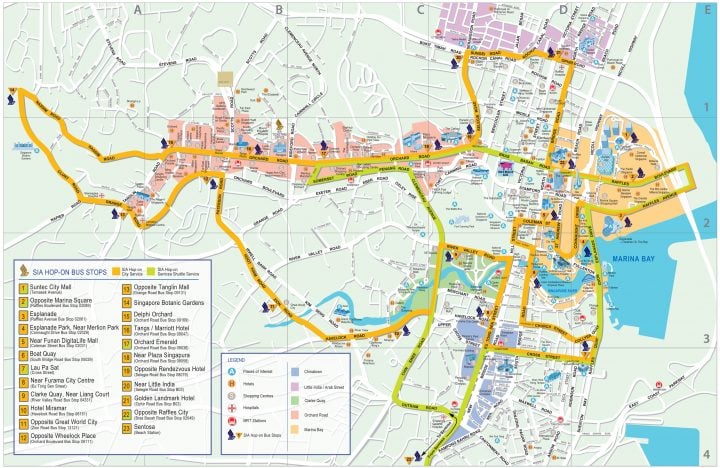 (Credits)
If you're moving to Singapore, and deciding where to live, the first few expat hotspots that you'll probably learn about are Holland Village, River Valley, and Bukit Timah. But if you want to explore your options and see what else Singapore has to offer, check out the handy neighbourhood guide that we've compiled for expats below!
One of the most populous neighbourhoods in the entire Singapore. If you stay here, be prepared to get frustrated by how crowded the MRT gets during peak period.
One of the oldest estates in Singapore, renowned for its good food. There's also a reservoir where you can go to kayak.
A quiet neighbourhood that boasts of a breathtakingly gorgeous town park (it's nicknamed Little Guilin, which really says it all). Perfect for expats who need to escape the hustle and bustle of city life.
There's IKEA at Alexandra Road, and all the hipster cafes and bars along Tiong Bahru. Not the most obvious choice for expats, but you won't be bored here.
With its plethora of community gardens, Bukit Panjang is arguably the greenest neighbourhood in Singapore.
One of the most expensive areas in Singapore, where the majority of the housing options are private properties.
This place has the best of both worlds: cheap hawker food for when you just want a simple meal, and glitzy rooftop bars for fun nights out.
A relaxed, chilled-out neighbourhood where you can find fish farms, dairy farms, and more.
Nearby plenty of tertiary institutions such as the National University of Singapore (NUS), but otherwise, just a regular HDB town.
Despite being known as one of the seedier parts of Singapore, Geylang is actually 100% safe. If you can't stand the smell of durian, though, we'd recommend that you steer clear.
Plenty of expats here, but Holland Village is accessible by MRT, making it a lot more convenient. This place is also brimming with eateries, including hotpot restaurants and watering holes.
Old-school neighbourhood which never fails to evoke heated conversations whenever Singapore's General Elections roll around.
Aka where all the backpackers on a budget stay. If you want to experience a different (and less structured!) side of Singapore, we say: go for it.
Singapore's second CBD in the making. You'll find Science Parks, Business Parks, and plenty of offices here.
Close to town, and there's plenty of shopping and good food. If you love being close to nature, you'll also appreciate the proximity to the Kallang River.
Marina Bay
If you're working in the CBD, living in Marina Bay will probably be the most convenient. Like Orchard and Tanjong Pagar, rents and housing prices here don't come cheap!
It's pretty pricey to live in the heart of Singapore's shopping belt – and even if you can afford it, you might want to think twice…
So close to Changi airport, you'll be home within an hour of touching down. It's also nearby East Coast Park, where there's plenty of cycling, skateboarding, and other fun to be had.
Used to be a quiet neighbourhood, but it's filling up with plenty of young couples who have just gotten their first BTO flat. However, in latest developments, the introduction of the Punggol Digital District is set to position Punggol as Singapore's mini Silicon Valley. 
Another old-school town, best known for its shopping centres where you can score discounted branded goods and cheap sneakers.
The playground of a melting pot of expats, River Valley is a hot favourite due to its proximity to CDB and its riverfront lifestyle. With its proximity to Robertson Quay, Clark Quay and Boat Quay, one can work, live and play with minimal traveling time in between. The hottest development in the vicinity is New Futura perched atop Leonie Hill!
It's always nice to be located near the waterfront, but of course, you can expect to pay a premium for that luxury.
Home to Chomp Chomp, which will make you fat, and NEX, which is great for retail therapy. You can get all you need in Serangoon – you won't even need to step foot into town.  
Plenty of people, malls, and food. It's well-connected and served by quite a few major highways, so driving to town will be a breeze.
Similar to Punggol, this is where plenty of young couples live. This neighbourhood isn't as close to Waterway Point and the other amenities in the area, though.
A mecca of good food and nightlife. You'll have to budget more for your dining expenses, though – those Korean BBQ meals don't come cheap!
Heartland, yet posh, at the same time. Why the oxymoron? Toa Payoh is definitely where the locals live, but housing is on the expensive side due to its proximity to town.
Closer to Johor Bahru, Malaysia, than it is to downtown Singapore. If you're on a limited budget, Woodlands could be a good choice. The Singapore American School is located in Woodlands, which explains why the neighbourhood is a popular choice among American expats. 
You've probably seen this neighbourhood on the news, and not in a good way. Amenities-wise, though, the recent expansion of Northpoint City is a huge upgrade.
For a more in-depth look at neighbourhoods in Singapore, check out 99.co's neighbourhood guide.
If you found this article helpful, 99.co recommends 5 unofficial expat enclaves in Singapore and Rental features to look out for: pet, wifi and cooking friendly places to live.